Branching out on your own as a professional mediator is an exciting endeavor, but it can also be quite daunting. If you've never run a business, or worked for yourself, launching a private practice could seem highly intimidating—or deceptively simple.
You might feel bogged down by the prospect of setting up shop, finding clients, and daily operational demands. Or, you might be underestimating the work involved in launching a practice, and actually sustaining it over the long term.
Gaining some insight into the process is key. Having a checklist of to-do's and things to consider will help you determine if running a practice is right for you. And you'll get a realistic sense of what to expect as you hit the ground running after mediation training.
So, let's look at 7 crucial steps in starting your own mediation practice, including examples, advice, and links to additional resources.
1. Define your target audience & mediation services
This is a key first step, and applies to any kind of business or start-up. Rather than declaring yourself a full service mediation practice, consider carving out a niche for yourself—family mediation, or personal injury, for example.
This way, you can focus on just one or two areas of practice, develop a positive reputation for those services, and more effectively target your business.
How should you determine your niche? Personal interests will play a role, but it's far more strategic to look at target audiences in the community you wish to serve. What kinds of dispute resolution services are in high demand by your target demographic? Where is the market least saturated?
Do your research, check out the competition, and see how you might position yourself to grow.
2. Map out start-up costs (both time and money)
Your mediation practice won't spring up and flourish overnight. Like any new venture, it will take time to attract clients, gain traction, and draw a full-time salary. It's quite likely you'll keep working your "day job" during the early days of your practice.
On the bright side, you won't necessarily have a high overhead. You could work out of a home office, and get by with a basic set of office supplies (laptop, printer, etc.). However, you will want to map out a budget for marketing and advertising—specifically a website and social media presence (more on this later).
Consider whether you have the time and expertise to handle this on your own, or if you'll need to hire help. What other start-up costs will you incur? What will your daily work schedule look like the first year or two?
Give some thought to the money and time you'll need to invest in your practice, so you can create a realistic action plan.
3. Start developing a web presence for your mediation practice
There is no doubt that having a quality web site and social media presence is essential, especially when you're striving to build up a brand new practice.
Many potential clients will begin their search for an ADR professional online. They will dig up reviews, scope out your services, compare you to competitors, and check out your social media profiles. It's all part of the natural shopping-around process.
Developing an effective web presence starts with some very simple steps, and fair bit of self-reflection. For example, you'll need to decide:
what sets you apart from other mediators (try formulating a "why choose us" list)
what specific services you will offer
logo and branding (what kind of image do you want to present?)
your core values (quality standards, commitment to professionalism, etc.)
images you'd like to use online to promote your practice (such as professional photos of you)
Take a look at this example from the Toronto-based Cooper Mediation. Here they have effectively outlined a "why choose us" list that highlights key selling points and core values: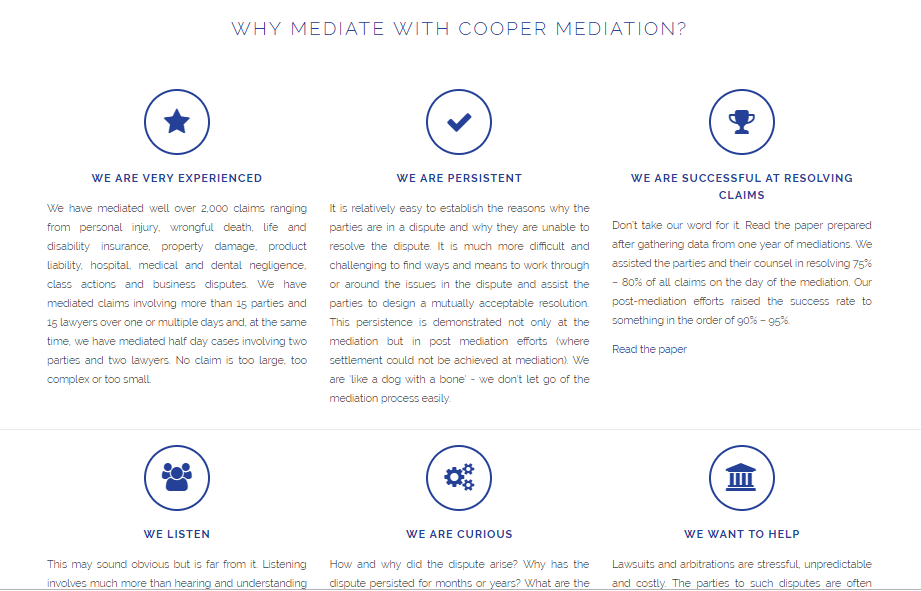 Start thinking about what your list would look like. Creating genuine, persuasive content for your website and social channels will be your biggest challenge. Start early, and jot down ideas for how you'd like to present your mediation practice online.
Related: 6 Indications You'd Make an Excellent Mediator
4. Create a strategy for securing your first 5 mediations
One of the biggest hurdles for new mediators is securing those first few clients. What's your plan for landing mediations in your first year of business?
Be open to doing pro bono work and co-mediations. Give talks and free presentations. What you'll miss out in fees you'll make up for in experience and, hopefully, client referrals.
If you live in Ontario, you could also join the Ontario Mandatory Mediation Program rosters, where clients will find you for mandatory civil and estate mediations. Another option is to look for work through mediation programs at other public bodies, such as the:
Workplace Safety and Insurance Board
Social Justice Tribunals Ontario
Information and Privacy Commissioner of Ontario
5. Ask for testimonials and leverage them wisely
You'll work hard for your first few mediations—so don't hesitate to ask happy clients for testimonials. Request recommendations in writing, get permission to share, and add them immediately to your website and social channels.
You can market yourself for days, but nothing is as persuasive as a satisfied client who is willing to sing your praises. Here's a look at how Morrow Mediation leverages testimonials on their website, to encourage trust and build credibility: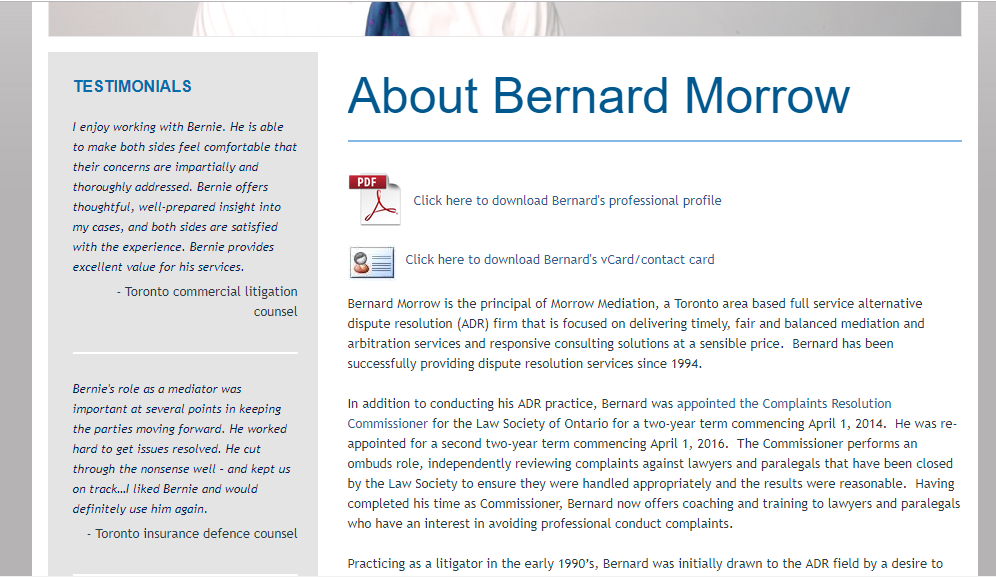 6. Work on your mediation CV and professional bio
Take stock of your professional background, and start compiling a mediation CV and bio for use with clients. Create the framework, include what feels relevant, and commit to adding to these documents as your practice grows.
Take a look at this example of a professional bio from Toronto mediator, Bernard Morrow (B.A. LL.B. LL.M. C. Med). This document gives you a good idea of what to include, and how to present, your own bio.
Continuously adding to, and refining these documents will help you reflect on your strengths, weaknesses, learning goals, and practice objectives.
7. Take advantage of ADR Institute resources & support
In order to become a Certified or Chartered Mediator, you'll need to join the ADR Institute of Canada, and a regional affiliate in your home province (see a list of affiliates and more information).
Once a member, you can access a range of services and benefits, that will help you grow as a professional mediator and practice owner. These include:
timely updates on mediation industry news
professional development training programs
professional networking opportunities
getting listed on a national database of professional mediators
guidance on building and managing your mediation practice
Are there other professional associations or groups you could join, to help you connect with peers and potential clients? Look at your local community for opportunities, and get the ball rolling.
Related: 3 Myths About Mediation Training & Practice in Canada
Have you completed accredited mediation training & certification?
This is really "step one" for anyone hoping to start a career in professional mediation. If you haven't already, find quality mediation training, and start working toward certification with the ADR Institute of Canada.
There are plenty of options out there. For example, at Kompass Professional Development, we offer online mediator training, which can be completed in just 12 weeks. The program is accredited by the ADR Institute, and meets criteria to apply for the Certified Mediator designation.
Research educational programs in your area, and consider whether you'd prefer an in-class, or online learning experience. Look for accredited training, and for courses taught by professional mediators/lawyers with proven experience in several areas of mediation and practice management.
Interested in learning more about accredited mediation courses at Kompass?
We'd be happy to talk with you. Click below to explore our program, and chat live with a knowledgeable advisor.