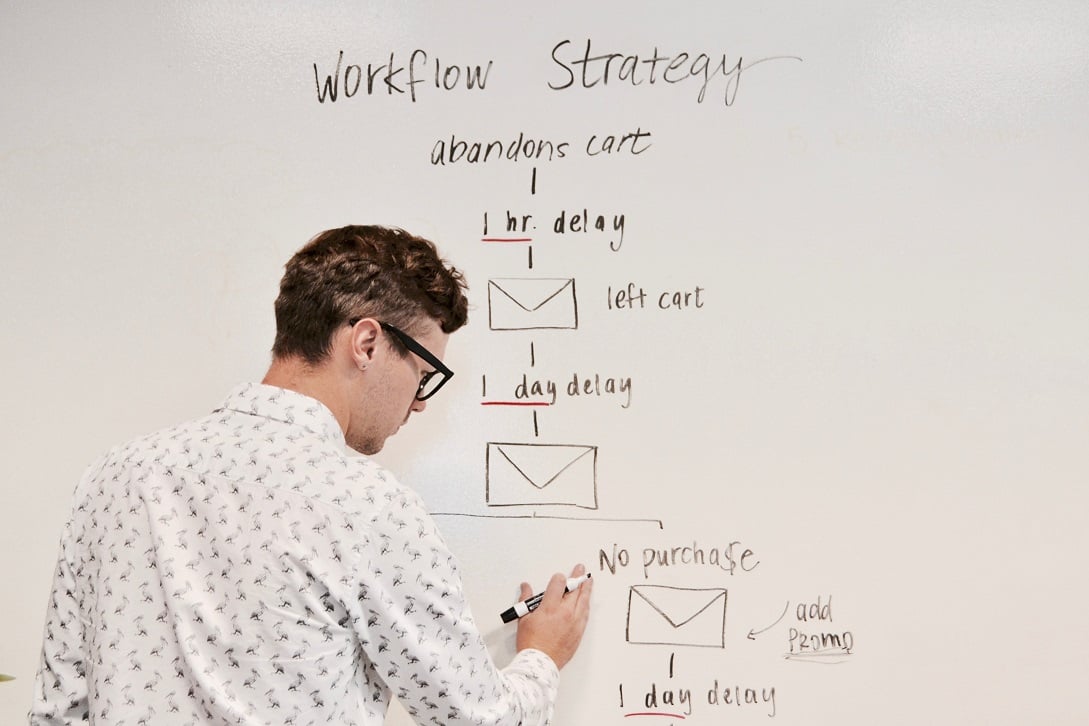 Overwhelmed by all the digital marketing channels, tools, and tactics out there, and don't know where to focus your efforts next?
Everyone who works in digital marketing is in the same boat. The field is evolving so rapidly, we're all struggling to keep up, and find ways to optimize our approach.
Completing a quality digital marketing certificate can be instrumental in staying ahead—provided the training is aligned with the skills you actually need, right now.
And therein lies the challenge. There are so many marketing training courses out there. And many offer good advice and strong takeaways, from skilled instructors who really know their stuff.
The problem is selecting a course that speaks directly to the digital challenges you're facing at work. Unless you have tons of time on your hands to study a comprehensive survey of digital strategies, you need training that gets right to the heart of the issues you're tackling. Quickly.
As you browse through your options, there are a few steps you can take to narrow the field. Start by answering these 5 questions about your goals, priorities, learning needs, and preferred study format.
This will get you a lot closer to your ideal digital marketing certificate—one that delivers the skills you actually need.
1. What are your top digital marketing challenges?
Digital marketing is a vast field. It encompasses everything from advertising and Search Engine Optimization (SEO), to social media, content strategy, user experience, and email marketing.
You don't necessarily need training in all of these areas. So, your first and most important step, is to rank the top marketing challenges you're facing right now, at work.
What key tasks are you struggling with? Do you need to upgrade your digital marketing skills to qualify for promotion, or move into a more interesting role?
Are you running your own business, and need help organizing a unified digital strategy?
Whether it's getting more engagement on social media, figuring out how online ads work, or improving your content marketing and SEO strategy — make a list of 2-3 top challenges you want help with.
Be as specific as possible about how these challenges relate to your daily work, your overall marketing goals, and your professional aspirations.
For example, don't just put "content" on your list. Elaborate on that a little. What aspect of your content marketing do you need to improve?
Are you struggling with blogs?
Not entirely sure what kind of content to share on your various social media channels?
Need fresh ideas for what to create?
Need help figuring out who your target audience is, and how to entice them?
Want to learn more about measuring the performanc of your content marketing with analytics?
The more you drill down, the better your chances of identifying a digital marketing certificate that directly serves your needs.
2. Which new digital marketing skills are your highest priority?
Now that you have your list of top online marketing challenges, you can easily figure out what new skills you need to meet those challenges.
For example, analytics and performance tracking may be an issue. You're working hard, and seeing traction online, but don't know exactly how to measure your success—and report it to your boss, colleagues, or other stakeholders.
You need to know which metrics to track, and how to interpret results to improve your tactics.
Or, you may need help creating buyer personas, so you can better understand and connect with your target audience through social media.
Many people struggle to optimize their website content, so they can attract and convert more customers. They need help with lead generation mechanisms, landing pages, contact forms, calls-to-action, etc.
Break down your marketing challenges into skills, so you know what to look for (and focus on) in a training program.
3. What learning environment works best for you?
It's also crucial to consider how you learn best, and what kind of training format will fit around your busy schedule. For example, do you have your heart set on a face-to-face program? A digital marketing certificate you can take at a local college or university, a night or two a week?
Or, is online marketing training your top priority? So you can eliminate the need to travel, and work on assignments from anywhere?
If you go this route, look for an online program that includes plenty of instructor access, interaction, and collaboration with peers. These elements will help you feel connected, engaged, and motivated to stay on track.
4. What length of training is ideal for you?
Next, consider how much time you can devote to training. On the one hand, an intensive program yields results quickly and has momentum. However, you may be too busy for 20+ hours of class a week. You may need a part-time course you can complete at your own pace, spread out over several months.
At Kompass, for example, we offer students a choice of two training formats. The first is an instructor-led, intensive 12-week digital marketing course that features weekly call sessions and on-going discussion groups.
The second is an instructor-supported model, where students complete the training at their own pace, within a 6-month period. They have access to pre-recorded lectures, and can contact the instructor as needed, to discuss challenges and resolve questions.
Both certificates are delivered entirely online. Required study time ranges from 7-20 hours per week, depending on which option you choose.
Defining your preferred learning environment, and your time constraints, will quickly eliminate some courses—and help narrow down your training options.
5. Does the training address your individual marketing needs and goals?
Another key element to consider when choosing digital marketing training, is how much the course adapts to each students' learning needs and goals.
For example, are there opportunities to bring your specific challenges to the table? Does the training include personal projects, where you can address and resolve a real marketing issue you're facing at work?
Your first priority should be to learn skills that help you overcome day-to-day digital hurdles. A truly valuable course is one that leaves you more confident and capable of performing your job.
Kompass digital marketing instructor, Javier Schwersensky, has made this level of personalization a key feature of his certificate program.
"This is really important, and something we've worked hard to achieve. The Kompass social media training is totally unique, because we tailor the program to each student.
Each student brings their learning goals and current social media challenges to class. And then we ensure the assignments and personal projects address those needs, so everyone gets what they want out of the training.
Whatever digital marketing issue you're grappling with at work, we want you to bring it to class, and we'll find a solution together. When students don't have a specific challenge to tackle, we present case studies to develop their skills. This is not a "one size fits all" program...it's totally customizable."
That list of digital marketing challenges/skills you made in steps 1 and 2? Ensure the certificate you choose addresses them directly, so you finish training with effective solutions you can use immediately.
Click here to read the full interview with Javier, instructor for our Social Media, Digital Content, and Online Marketing Certificate.
Interested in learning more about digital marketing training at Kompass Professional Development? Explore our unique approach and online learning format, to find out if this training is right for you.