Are you eager to take on a new challenge in your human resources career? Ironically, HR professionals spend much of their time helping employees with their career development, but they often neglect to devote the same care and attention to their own advancement.
The good news is that there are concrete steps you can take to improve your HR skills, impress your boss, and get where you want to go.
Read on for eight practical tips on how to advance your HR career.
TABLE OF CONTENTS
1. IDENTIFY YOUR HR CAREER GOALS
The first step is clarifying what career advancement means to you. Maybe you dream of rising through the ranks until you become an HR director or chief HR officer. Or maybe you've spent a few years focusing on one area of human resources (like recruitment and hiring) and are looking to move into another area (like employee development). It's important to remember that not every move you make has to be a step up the ladder—lateral moves can also be a way forward.
So don't aim for a promotion or accept an opportunity just because that's the natural HR career progression. Think about what you really want so you can define a clear goal to work toward.
Ask yourself:
What part of your current role do you find most fulfilling?
What aspect(s) of HR would you like to learn more about?
Where would you like to be in a year or in five years?
2. TAKE ADDITIONAL TRAINING
If you really want to advance your career, you need to continually expand your skills. Taking a short professional development course can be an excellent way to keep up with best practices and develop the HR skills you may not utilize in your current role.
Many colleges offer human resources management certificate programs that are designed for busy professionals. For instance, the program from Kompass is delivered entirely online and can be completed in as little as three months.
"The HR management certificate teaches students how to analyze and administer their organization's HR policies and ensure they are compliant with the respective legislation," says Kompass instructor Debra Wilson. She runs an HR consulting practice and has more than 25 years of experience in the field.
"Students learn how to strengthen their strategic planning skills and develop their own personal leadership style. They also learn how to design competitive compensation and rewards packages, use effective methods for recruitment and hiring, foster good employee relations, and support employee learning and development."
3. BE PROACTIVE
Stepping up to take on new tasks or implement new initiatives is one of the best ways to demonstrate the project management and leadership skills that can help you get ahead in the human resources field. Don't wait for responsibilities to be assigned to you—take ownership of your role and look for opportunities to create positive change.
For example, you might assemble a business case for remote or hybrid work to address employee concerns and improve retention. Or you might seek to improve efficiency by spearheading a move from a manual employee record system to a digital one.
Being proactive doesn't mean charging ahead without careful thought. You will need to consider who will be affected by your proposals and how your initiatives align with organizational goals. But there's no doubt that identifying what your company needs and acting on it through strategic initiatives can help you stand out as a rising star in the HR department.
4. ATTEND CONFERENCES
HR conferences offer two main benefits that can help you advance your career: the chance to network with industry leaders and the chance to learn about the latest trends in the human resources field.
To get the most out of the experience, it's wise to do some research beforehand. Review the list of speakers and attendees (if possible) and check out their LinkedIn profiles. Then look over the conference schedule and plan out what sessions you would like to attend. Take advantage of meet-and-greets and happy hours to introduce yourself and make a good impression.
Also, be sure to spend time roaming the expo floor. This is your opportunity to see some demos and get more information about HR products related to areas like employee communications and relations, talent retention, health and wellness, and more. By educating yourself on the newest offerings, you'll be able to determine which options will benefit your organization—and your career—the most.
An HR conference is a unique opportunity to meet and connect with a lot of different industry leaders
5. LEARN FROM MISTAKES
Everyone makes mistakes, and human resources professionals are no exception. According to an informal survey by the U.S.-based Society for Human Resources Management, some of the most common blunders include:
Getting too cozy with a job candidate and asking inappropriate personal questions
Being too quick to defer to management during an employer-employee dispute
Sharing confidential information with the wrong people
Relying too much on technology as opposed to a human touch
Being afraid to admit you don't know something
If you want to get ahead in the HR department, you need to use your mistakes as an opportunity to learn. Acknowledge the misstep, take responsibility, and let your team know what you're going to do to fix it.
By reflecting on an error and taking action to ensure it doesn't happen again, you can grow and move forward in your career.
6. LEARN FROM YOUR PEERS
Human resources is such a vast field that it's difficult to know it all, so establishing relationships with people who can offer expertise in different areas can be very beneficial. By connecting with other HR professionals, you gain a network of resources you can draw on for ideas and inspiration. As noted above, this is one of the main reasons to attend conferences.
Some companies provide formal mentorship programs, but you can also seek out your own informal arrangements. Having a mentor allows you to ask questions and seek career advice from a more seasoned professional. A mentor can share guidance, act as a sounding board, and provide a perspective born of experience.
Whether you need help sorting through a murky ethical issue, improving your leadership skills, or figuring out your HR career path, learning from your peers can be immensely valuable.
7. NETWORK WITH NON-HR PROFESSIONALS
It may not seem obvious, but establishing connections outside the HR department can be just as valuable to your career advancement. That's because getting to know non-HR employees can boost your communication skills, broaden your perspective, help you become more empathetic, and help you better understand your organization's culture. It can also be a good reminder of the purpose of your job and what your work means to a company's people.
If you hope to have a real impact and take on leadership positions like HR manager or HR director, you need to understand the people that make up your organization and how you can support them. So walk around the office, initiate chats in the break room, and reach out to leaders outside the HR world. It'll do you good.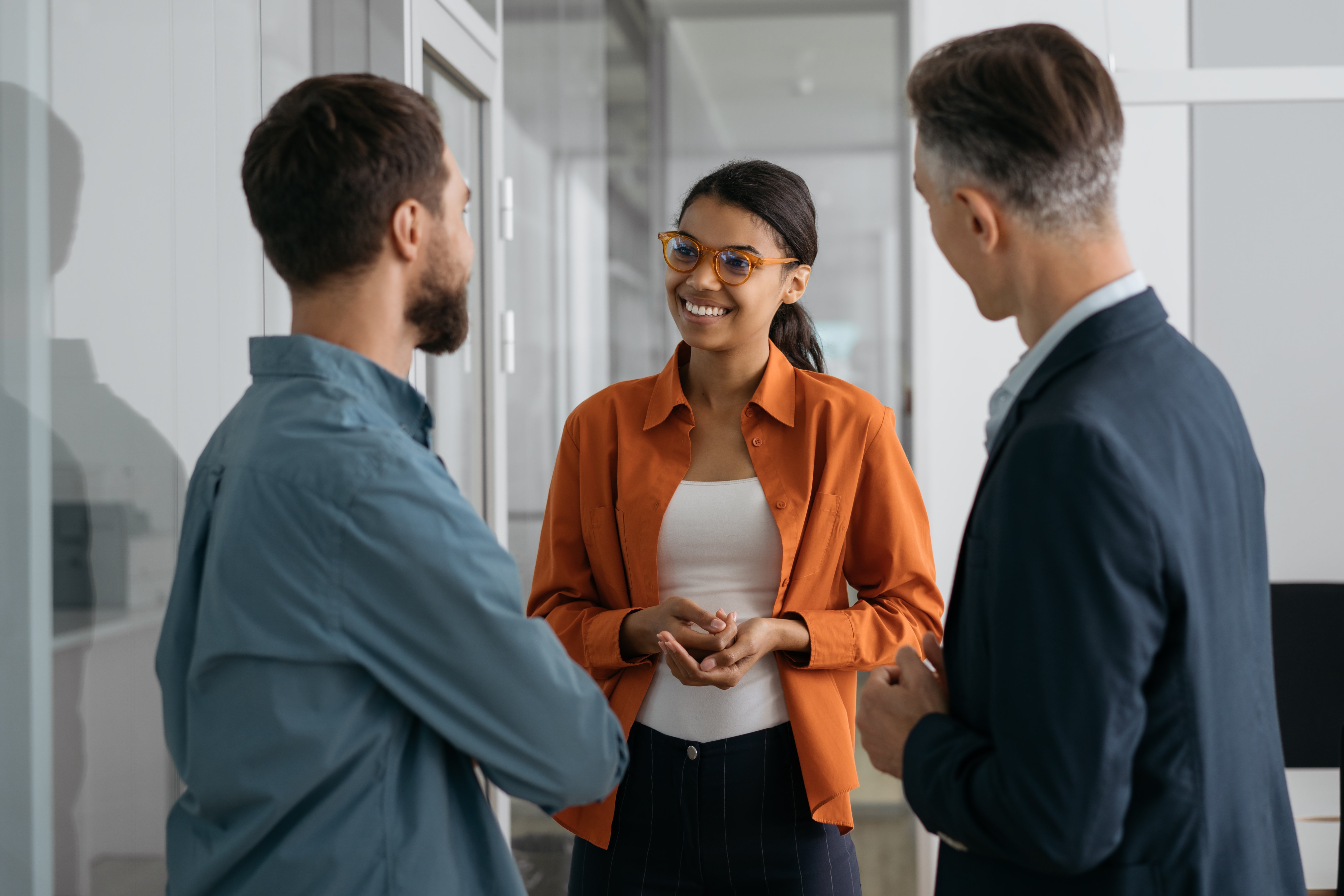 Getting to know people outside the HR department can help your career
8. CONSIDER CERTIFICATIONS
Earning an industry certification may be helpful to your HR career. CPHR Canada offers the Chartered Professional in Human Resources (CPHR) designation, which is recognized in most areas of the country. Ontario is the one exception; it has its own Human Resources Professional Association that offers three tiers of HR designations.
While it depends on the specific pathway you take, the requirements to become a CPHR generally include becoming a member of your provincial association, completing certain courses, passing a national exam, and accumulating between three and eight years of professional HR experience.
To maintain your designation, you must complete 60 hours of continuing education credits in a three-year period and pay an annual fee, which ranges between $335 and $595.
Whether the CPHR is worth it is up for debate. Some companies prefer to hire candidates who have it; others take no notice of it. Some HR professionals feel the CPHR is a valuable asset that can help your resume; other feel it's too expensive and doesn't provide much advantage in the job market.
Many people establish successful HR careers and move up in the field without getting the designation. However, it may be something to consider depending on your career goals.
NEXT STEPS: HR CAREER PATH EXAMPLES
Professionals within HR typically follow either a generalist or a specialist path to career advancement. Below are some of the job titles associated with each.
HR generalists often advance to positions like:
HR manager: Oversee day-to-day HR operations, including recruitment, onboarding, performance management, and employee relations. HR managers usually lead a team of assistants or coordinators.
HR director: Plan HR strategy, create policies, and decide how the department should be structured. HR director is a VP-level role that is typically less involved in daily operations.
Chief human resources officer (CHRO): Focus on strategic planning and ensure that HR goals meet company objectives. The CHRO holds the top position in HR and reports directly to the CEO.
On the other hand, examples of senior-level HR specialist roles include:
Compensation and benefits manager: Evaluate the cost and value of compensation and benefits plans and ensure compliance with relevant legislation.
Diversity, equity, and inclusion (DE&I) manager: Create a diverse and inclusive workforce and environment by addressing barriers and educating staff.
Training and development manager: Identify employee training needs, develop programs and materials, and measure the results.
WANT TO EXPAND YOUR KNOWLEDGE OF HR FUNDAMENTALS?
Eager to learn more about how to advance your HR career? Consider the online Human Resources Management certificate from Kompass Professional Development. Aimed at working professionals, the training is delivered online and can be completed in three to six months, depending on the pace you choose.
Coursework covers compliance, recruitment and hiring, compensation and benefits, performance evaluation, and employee relations.
Click below to get complete program details and chat live with a knowledgeable admissions advisor.