Photo: Moe Tabesh, CPA, CGA (left) at an event with Tony Robbins
Moe Tabesh is not your typical accountant.
He's lived a life full of adventure and danger, fleeing Iran during the war, getting thrown in jail, and starting life from scratch after finally escaping to Canada.
And he did all that before the age of 21.
After years of driving a taxi in Ottawa to save money for school, Moe finally completed university and became a Chartered Professional Accountant (CPA).
A few years ago he started his own accounting business, called Numetrica City. But it's no ordinary accounting business.
Just like Moe, Numetrica City does things a little differently. They go beyond your standard tax prep and bookkeeping services, offering next-level support and coaching to Ottawa entrepreneurs.
Moe also partnered with Herzing College Ottawa to support the next generation of accounting professionals.
He provides internships for our Business Management students, and continues to hire talented grads straight out of the program.
This week, we interviewed Moe to learn more about his business and background.
We talked about his partnership with Herzing, what it takes to be successful in accounting, and some great advice for overcoming adversity. Read on for the highlights.
Q:

You have a

really fascinating

life story. Can you share a litt

le about your background?
Moe: I immigrated to Canada in 1986, almost 35 years ago. I left Iran during the war with Iraq. I actually tried to escape by crossing the border through the mountains, but I was caught and put in jail.
I spent 3 months in jail, including 21 days of solitary confinement.
When I finally got to Canada, I started out as a cab driver and did that for about 5 years, just to support building a life here.
It was supposed to be short term to save money for school. But I got stuck there. Driving cab became a habit.
But in the back of my mind, I knew I wanted to do something more. I felt I had to make a change.
So I quit and enrolled in a Bachelor of Commerce program at the University of Ottawa. This was a big turning point in my life.
Q:

When did you start your accounting business, Numetrica City?
Moe: I officially started Numetrica City in 2017. But I'd been helping friends and family with tax preparation even while I was still in university.
After graduation I worked for at least 7 different accounting firms in Ottawa and the Canada Revenue Agency (CRA).
I worked in both tax preparation and tax assessment with CRA.
Q:

What kinds of accounting services do you offer?
Moe: We do the complete accounting package, including bank reconciliation, HST prep, corporate tax prep, personal tax, payroll and T4, financial statements, year-end, business coaching, and even marketing.
Everything we do is to help businesses grow and thrive.
Q:

How many Business graduates have you hired from Herzing College Ottawa?
Moe: We have hired at least 4 Herzing College graduates since we opened the business just a few years ago.
We have hired them to handle accounting and bookkeeping for several clients.
We assign them more clients as they build confidence. They learn how to use Dropbox, Slack, navigate the CRA website, do payroll, and all the different accounting tasks and applications we use at the business.
Some have become specialists in certain areas, such as payroll.
Q:

Why do you continue to hire Herzing graduates? What makes them special?
Moe: It's truly a win-win strategy. We provide internships for business and accounting students at Herzing College.
So they come to us as interns, and if they do well, we have the option to hire them.
We provide additional on-the-job training, guide them every step, so each student is groomed to become an employee.
Attitude is so important. We've had amazing Herzing students who show initiative, are willing to learn, and really help our clients, so we have offered them employment.
So far, several accounting students have fit in really well at our business, so we continue to hire from Herzing.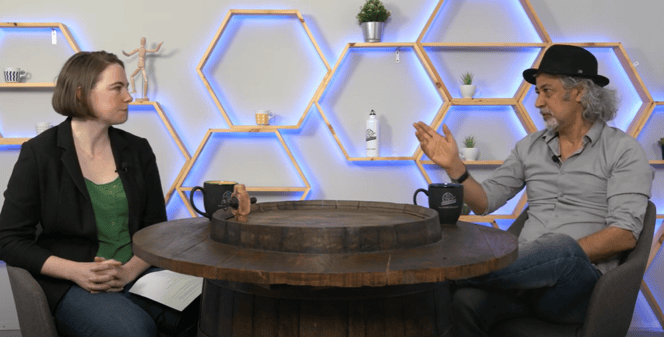 Photo: Moe Tabesh doing an interview on tax preparation with Kaitlin Kirk, CPA
Q:
Y
ou say accounting professionals are like
superheroes
. What do you mean by that?
Moe: When somebody starts a business, it becomes their whole life. If it goes bad, they lose their livelihood, their confidence, their career, their future.
Some businesses don't get good accounting services, or don't know what to look for in an accountant. They learn the hard way by actually losing their business.
I see accountants as superheroes because we can help save those businesses. We help identify problems, develop good financial strategies, help the business grow, and help the entrepreneur succeed.
Business owners are so important. They contribute to the Ottawa community, help others, and provide important services. As accountants, we want to support that.
At Numetrica City, our role is to guide and teach entrepreneurs how to make good business and financial decisions. We bring balance to their numbers. When local businesses succeed, the whole community benefits.
Q:

What are the most important qualities for accounting professionals? What's the secret to success?
Moe: The most important quality is being passionate about helping businesses succeed. And always looking at new ways to increase efficiency. In accounting, we have many techniques to help businesses.
You also need creativity, problem-solving, coming up with new ideas and strategies to save money and taxes and protect the client.
You need to listen to what the client wants, understand their goals, and tailor a strategy to help them meet those goals.
It's also important to empower and educate your clients about their financial situation. Teach them about the balance sheet, the trends, why certain numbers went up or down, and what they can do to make more money.
A great accounting professional helps business owners take charge of their finances, so they are better prepared for the challenges that come. The game is always changing.
Accountants are teachers and coaches. We help business owners think beyond, see what's coming next, and innovate.
This is what we're teaching the Herzing students we work with and hire. We look for those eager and talented students, and then we teach them even more!
Q:

What is your advice to someone who is struggling
and
wants a better career?
Moe: Never give up! Always look to the future. Embrace the challenge because it's making you grow.
I spent time in jail and in solitary confinement in Iran, but I never gave up. Tough experiences can really make you stronger and more successful. Don't wish your life was easier, wish to be stronger and better instead.
I did this when I drove a taxi. I would ask for strength and power for better opportunities. But you must be ready to seize those opportunities, to take the next step and keep moving your life forward.
Take it step by step and celebrate each milestone you achieve. You will feel so proud as you pass each stage of making your life better.
A big thank-you to Moe Tabesh for sharing his experience and insights, and for supporting our business students. We look forward to many more years of partnership!
Explore Numetrica City, a full service accounting firm that provides financial solutions to Ottawa businesses.
And check out Moe's YouTube channel for more interviews, fun videos, and information about the business.
Learn more about Business Management training at Herzing College
Herzing College Ottawa offers a 12-month Business Management program. Training includes a 4-week internship (with local employers like Moe Tabesh).
In addition to management skills, students learn accounting software, accounting procedures, payroll processing, financial statements, business law and ethics, and business math.
Wondering if this program is right for you? Reach out to Admissions for guidance and more information.
Click below to explore the program in more detail, and chat live with an Advisor today. We're here to help!