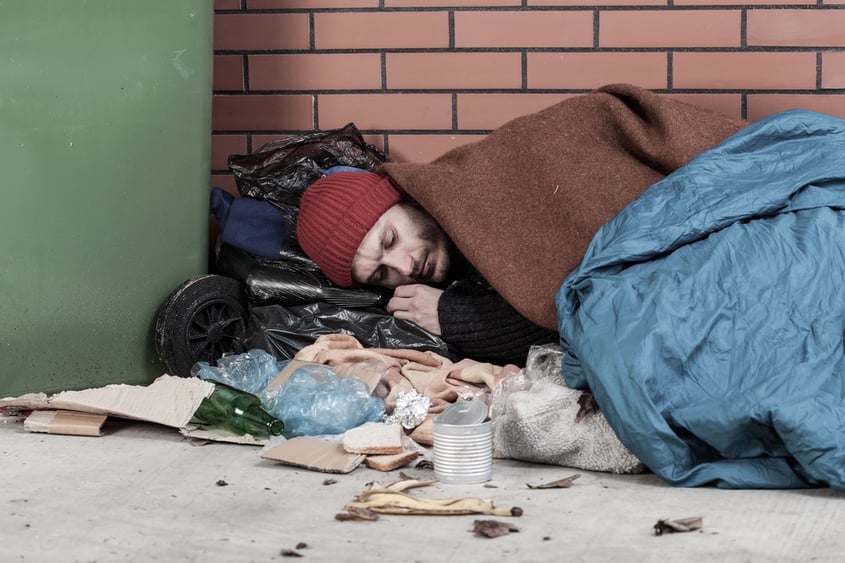 Supporting at-risk individuals within our communities is complex, challenging work. How do people end up in high-risk situations and environments? What factors combine to push some of us into extremely vulnerable and life-threatening circumstances?
And most importantly, how can social workers better understand the patterns and roots of self-destructive behaviors, and intervene with the right strategies for support and empowerment?
In this post, we look at some of the most recent research on addiction in Canada. We explore how substance abuse (and other forms of dependence) combine with poverty, homelessness, and mental health issues among our country's most vulnerable populations.
For students in CSW training, these stats and trends are important, because they reveal the many factors that combine to create at-risk situations. These are just some of the issues we need to understand better when developing and delivering community-based programs and services.
The Connection Between Addiction & Homelessness in Canada
A recent investigative report by Global News reveals that Ontario has the largest homeless population in the country—and that addiction is often the number one cause of the problem. In fact, all across Canada, addiction is repeatedly identified as the primary, or key contributing cause, of homelessness.
Homelessness complicated by addiction led to 17 deaths on the street among the small population of Thunder Bay last year. Toronto reported a shocking 70 homeless deaths during the first 9 months of 2017. Drug overdoses were identified as a leading cause.
Global News reporter Jordan Press interviewed several homeless individuals in Thunder Bay, who describe going to desperate lengths to feed their addiction, ingesting toxic substances such as hair spray and hand sanitizer when alcohol could not be obtained.
Community service organizations have introduced several programs to cope with the issue—including "harm reduction" programs that serve carefully measured doses of alcohol to help sufferers manage their addiction in a safe space.
Specifically which populations in Canada are most vulnerable to addiction and homelessness? Recent research shows
1) A large portion of Canada's homeless population is aboriginal: in some cities the percentage is as high as 90%, with addiction as a leading cause (CBC News)
2) 2,250 Canadian veterans are currently homeless due to alcoholism and drug abuse (National Post)
Of course, other factors play key roles in our country's homeless epidemic, including mental health issues, family conflict, job loss, and previous incarceration. Addiction however, stands out as a recurring theme—and a challenge community services workers face on a daily basis when striving to provide support services for homeless people.
Youth & Addiction: Patterns of Abuse
Did you know that at least 60% of illicit drug users in Canada are between the ages of 15 and 24? In a recent survey of Ontario youth, 42% admitted to using an illicit substance within the past year—and almost 50% of grade 12 students admitted to binge drinking within the same period.
Unsurprisingly, the Toronto-based Youth Pathways Study and research compiled by the University of Victoria Centre for Addictions Research, show that homeless youth are particularly prone to substance abuse. Some of the most prevalent drugs being abused by teens on the street include marijuana, cocaine, and amphetamines.
It's important to note that addiction is often not the cause of youth becoming homeless, but rather a coping tool young people use to handle the stresses of surviving on the street. In other words, being homeless is a high risk factor for addiction.
Inhalants are another increasingly challenging factor in youth addiction. "Huffing" is now recognized as a widespread problem across Canada. It is estimated that one in five students have tried inhalants by the time they reach Grade 8, experimenting with products often found in their own homes, such as:
Volatile Solvents: gasoline, cleaning fluids, paint thinners, hobby glue, correction fluid, and felt-tip markers
Aerosol and spray cans: Hair spray, spray paint, and cooking spray
Gases: chloroform, halothane and ether, as well as gases found in commercially available products, such as butane lighters and propane tanks
Screen Addiction a Growing Problem Among Canadian Youth
Research shows rising levels of stress and mental illness among Canadian teens—pressures that are pushing some young people toward other kinds of addictions.
A 2016 study by the Centre for Addiction and Mental Health in Toronto found that 13% of participants (ranging from grade 7-12) showed symptoms of a video gaming addiction.
Out of 10,400 students surveyed, one third demonstrated signs of depression and anxiety, and nearly two thirds spent several hours a day in front of screens (including video games, smartphones, and tablets).
Screen addiction is emerging as a dangerous trend among Canadian young people, who are using tools like online games and social media, as a means of "escape" from mental and emotional pressures. Unfortunately, these "escape routes" are doing more harm then good, often increasing feelings of isolation, worthlesness, and anxiety among teens.
For CSWs, understanding what triggers addiction in young people, and the forms those addictions can take, is absolutely key to identifying the right support programs, and mapping a path to recovery.
Are you interested in learning more about the role CSWs play in helping at-risk populations? Considering CSW training and looking for top-rated programs in the Toronto area?
Take a look at the Community Services Worker Diploma offered by Herzing College at the Toronto campus. Click below to learn more about training, explore a detailed list of CSW courses, or chat live with a friendly advisor. We're here to help!