Business management students pose for a class photo at the Herzing College Ottawa campus
There are a lot of business diplomas out there. There are general programs in business administration. There are specialized programs, covering everything from accounting and payroll to supply chain management.
At all our campuses combined, Herzing offers 8 different kinds of business training! Which one should you choose?
If you want to run a business or lead a team, you're probably leaning toward management training. And if you've landed on this blog post, maybe you're considering Herzing for that training.
At the very least, you want to know what business management programs teach, how courses prepare you for a great job, and why you should invest time and money in this path.
This is exactly what we're covering in this post. Read on for what to expect from a quality business management program, including skills, career support, and overall student experience.
By the end of this post, you'll have a much better idea of whether this diploma program is right for you.
Fast Facts about our Business Management Program
Let's start with the basics. Here are some essential facts about Herzing's Business Management program.
Campus: Herzing Ottawa
Length: 12 months
Schedule: Full time (20-25 class hours per week)
Number of courses: 21
Internship: 4 weeks
Instructors: Craig Kennedy and Dr. Clinton Friesen
Craig has 20+ years of teaching experience, and is an expert in motivating business students to achieve their full potential. He's well known for his skill working with students of all ages and backgrounds.
Dr. Friesen has extensive business experience in management, consulting, marketing, accounting, and human resources. He holds a Masters degree from the University of Ottawa, and a PhD from Andersonville Theological Seminary.
What business skills will you graduate with?
Business management training covers a very wide range of skills. The goal is to prepare you for the challenges of managing a team or running an office—so you need experience in every department.
By the time you graduate from the program, you'll know how to:
use a complete accounting software package to perform a range of accounting tasks
operate payroll software to prepare employee cheques (in accordance with federal and provincial regulations)
develop marketing strategies for product pricing, promotion, and distribution
manage staff and lead a team (human resources training)
create business documents with professional writing techniques (memos, reports, emails)
perform basic math calculations related to business transactions (bank services, interest and payment plans, purchase orders and invoices, selling prices and markups)
understand basic business law and ethics related to contracts and sales, and consumer protection
deliver an excellent customer experience (resolve complaints, supervise client services teams, best techniques for customer service)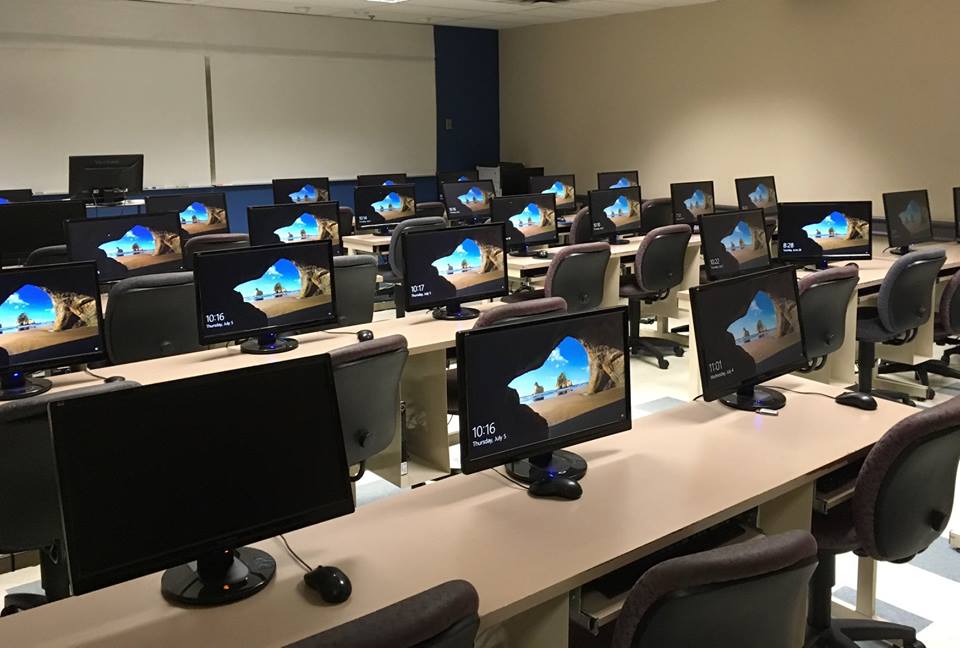 Where the learning happens! A typical classroom at Herzing College Ottawa
What jobs will you qualify for?
If you already have business experience, a management diploma will help you qualify for supervisor roles straight after graduation.
But, if you're just starting your career, you'll likely start in an entry-level office position—and work your way up by proving your abilities over time. Typical job titles include:
Business Manager

Administration Officer

Account Executive

Sales Associate

Business Development Officer

Client Services Manager
You have a lot of options in terms of where you'll find work. Our business management graduates get hired by government agencies, local businesses, banks, insurance companies, retail stores, and sales organizations.
Here are just a few Ottawa organizations who have hired our Business grads:
Earnscliffe Strategy Group

Carefor Health and Community Services

Canadian Food Inspection Agency

Camco Acura Automotive Group

Aramark

Revenue Canada

Harris Computer System

Minto Group
Wherever skilled office staff are needed, you will find opportunities for employment—including charitable organizations and not-for-profit associations.
You can choose the field or industry that inspires you (finance, fashion, education, technology, non-profit) and aim for office management roles at those organizations.
Think about where you'd like to build your management career...the kind of values, products, services, and work environment you're really interested in.
Find out where this Herzing graduate got hired: Meet Gladys: My Experience in Herzing's Business Management Program
Career Support: Landing your first business management job
This is a really important point. You want to choose a business management college that actually helps students land their first job after graduation.
This includes things like providing a guaranteed internship with your program. And career support services to help you with key steps, like:
creating a professional resume and cover letter
doing mock interviews to build your communication skills and confidence
using online job search tools and websites
At Herzing Ottawa, we have a pretty amazing career support team, led by Joseph Perrera. They find great internships for business students, send out their resumes to industry contacts, and make sure everyone is well prepared for interviews.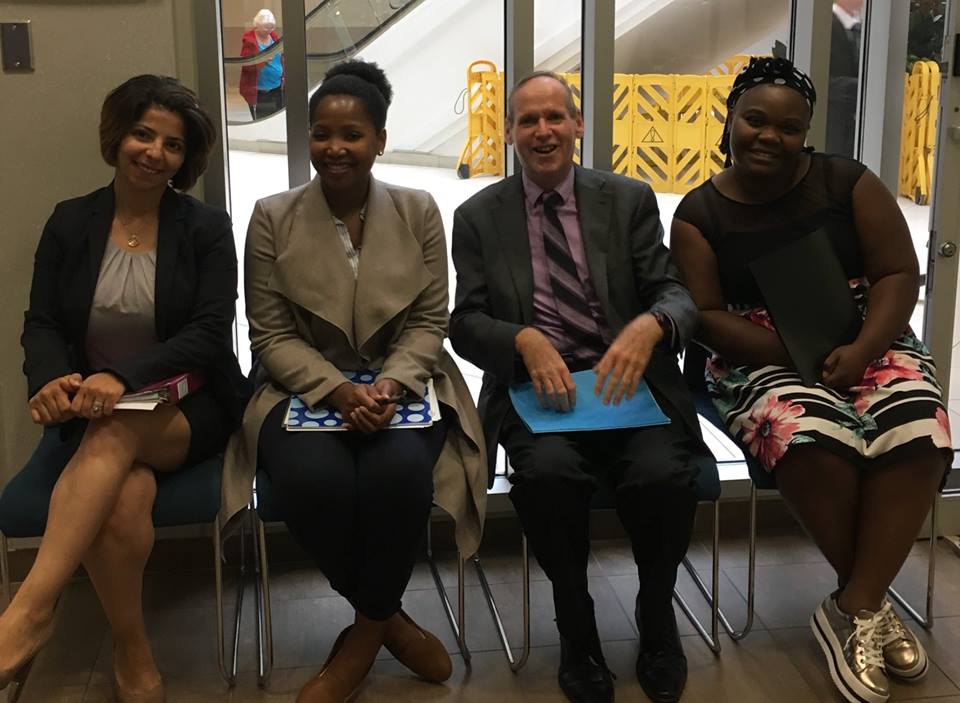 Herzing students waiting to have mock interviews with the career support team (Ottawa campus)
No matter which school you end up choosing, make sure they have a really strong career support department.
Tip: How do you know how well a college prepares students for the workforce? Look at their Graduate Employment Rates. This tells you how many grads actually get hired after completing the program.
We're really proud of our employment rates. In 2019, 94% of our Business Management grads had found work in a related field (stats are based on the most recent available information).
Student Experience & Life on Campus
When it comes to life on campus, and overall student experience, every school is different. You need to find a place where you'll feel comfortable, supported, and inspired to do well.
And that really depends on your preferences. At Herzing, we focus on things like small classes, so everyone gets the help they need from the instructor. And we hold a lot of fun events on campus, like dressing up for Halloween, to keep the atmosphere friendly and fun.
We also do community service projects, hold dinners for students, and raise money for local charities.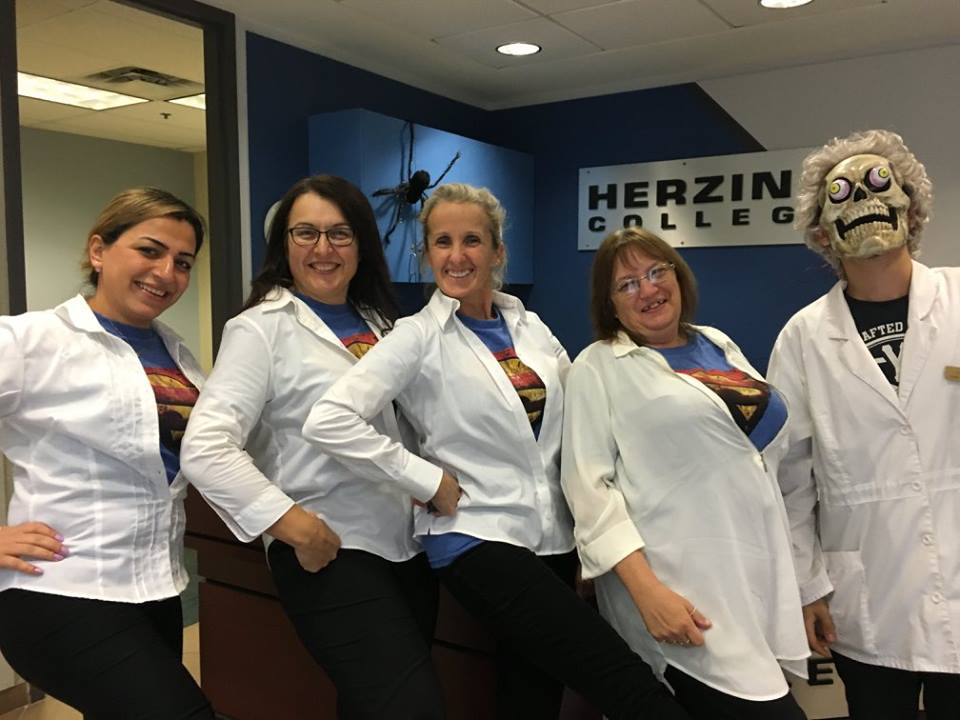 Herzing gets into the Halloween spirit at the Ottawa campus
Our students work really hard, and are serious about their career goals. But we want to make sure they really enjoy the college experience, make good friends, and have a little fun along the way.
We really do think of our campus as a family. You'll find some other schools encourage a more competitive atmosphere, or "high intensity" approach. We focus more on teamwork.
One isn't necessarily better than the other. It just comes down to what you're looking for in terms of overall student experience.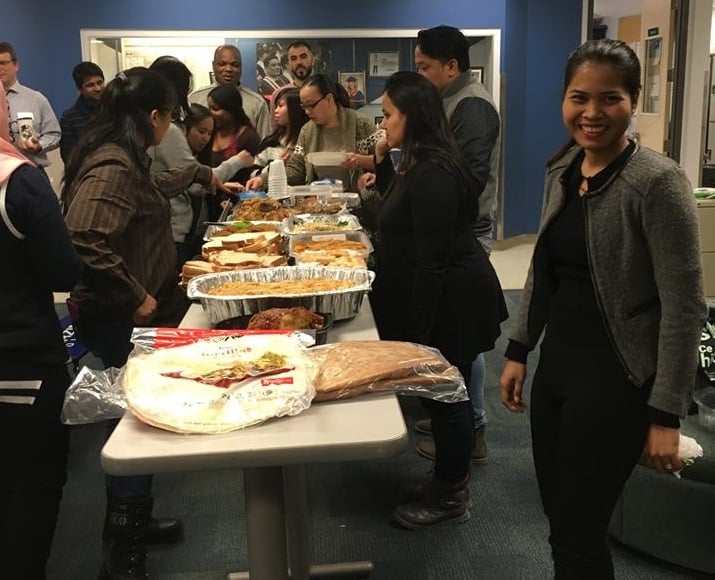 Potluck dinner to celebrate Herzing students who are finishing their programs and getting ready to graduate
Next Steps: Learn more about business management training
If you want to dig a little deeper, and learn more about Herzing's Business Management program—or business training in general—there are two important steps to take next.
First, you can check out the Business Management page, and see a program overview, course list, and information about careers. Second, you should connect with an Admissions Advisor by email or online chat.
The Advisor will answer your questions about business training, and talk to you about your career goals, interests, and previous experience.They will help you figure out which business program is right for you, and explain important details about application requirements, tuition, and financial aid.
Click below to get started. Explore Herzing's Business Management program and chat with an Advisor online. We're here to help!