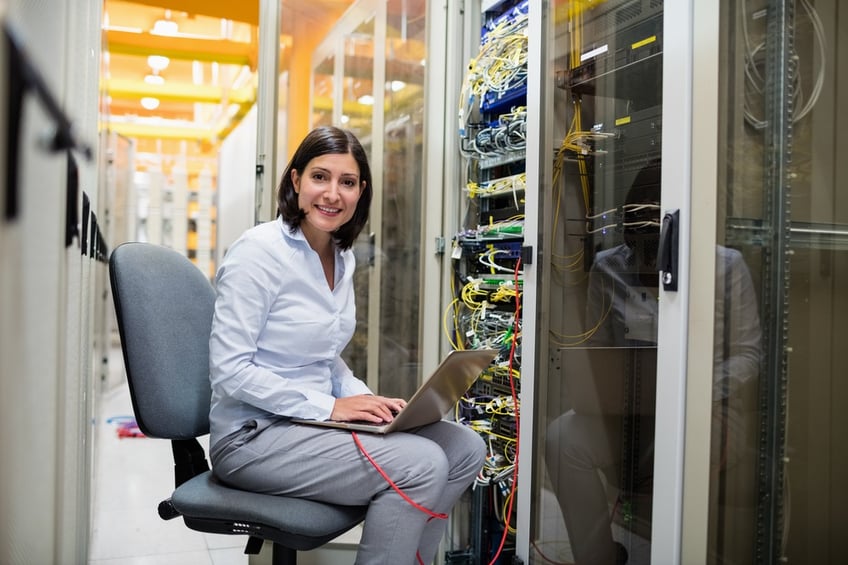 Careers in networking span a range of working environments, hard and soft skills, and technical aptitude. Some roles involve overseeing networks in a small business environment, while others focus on designing large-scale, highly complex networking solutions. Some networking professionals work as help desk analysts, and others specialize in cyber security.
So where does the role of network operations analyst fit into the equation? And would this career be a good fit for you?
Let's take a look at what an operations analyst does, the special skills needed to excel in this position, and the job outlook for analysts in Ontario right now.
Primary Responsibilities of the Network Operations Analyst
If you look at job postings and IT career information resources, network operations analysts are often referred to by several different names, including:
Network Support Analyst
Network Operations Centre Analyst
Associate Network Operations Analyst
Essentially, all of these job titles refer to the same position—and the same set of responsibilities. The primary goal of all network operations analysts is to maintain an efficient, secure, up-to-date network, and above all else, minimize network and service downtime.
As a network analyst, you would likely work in a data centre that provides services to many different institutions and organizations. As such, a key part of your role would be to resolve technical issues for these clients by quickly resolving problems, responding to questions, and walking users through technical solutions.
What exactly would you be doing on a regular basis as a network operations analyst? Typical, everyday duties would include:
monitoring daily performance of the operating environment and applications: LAN/WAN systems, routers, switches, firewalls, VoIP systems, servers, storage, backup, operating systems and core applications
quickly identifying and resolving technical issues (like performance problems, security breaches, or outages)
responding to all alerts and customer requests—and escalating issues when needed (to more experienced or specialized technical teams)
documenting all actions, and updating technical procedures and administrative processes
performing basic systems testing and operational tasks (installation of patches, network connectivity testing, script execution, etc.)
recommending solutions to improve and update network operations
Because computer networks run 24-7, and need continuous monitoring and quick problem-resolution, this job often includes shift work. You may need to work evenings and/or weekends, as part of a rotating team of operations analysts.
What are the Most-Wanted Skills for Network Operations Analysts?
Obviously, technical knowledge is essential to excel in this role. Employers will expect solid academic credentials (such as a computer networking diploma) as well as IT certifications, such as CISCO CCNA and CompTIA A+.
An entry-level (junior) operations analyst position won't require much prior work experience, but will demand fast on-the-job learning. Other important hard and soft skills include:
excellent customer service skills (ability to put clients first, follow established customer service protocols, and deal with requests and technical issues with professionalism and diplomacy)
strong written and verbal communication skills (for documentation, coordinating with co-workers, and handling client issues)
superior problem-solving skills
staying calm and focussed in a high-pressure, fast-paced work environment
strong attention to detail
genuine interest in networking; researching and staying up-to-date on emerging tools and technologies
Job Outlook for Network Operations Analysts in Ontario
The Government of Canada Job Bank reports stable demand for computer network technicians and analysts across Ontario, and in major city centers like Toronto.
Positions are expected to open up due to retirements, and steady IT and communications industry growth. Overall, this profession received a 2/3 star-rating from the Job Bank for employment prospects over the next several years.
This means that while there are jobs available for analysts, new graduates can expect to compete for entry-level roles. In order to break into this field, students should begin by completing a comprehensive training program that includes relevant networking certifications - and if possible, complete an internship to gain some industry experience before graduation.
Anyone hoping to pursue an operations support or administrator career must be prepared to keep on learning, and aggressively pursue higher levels of accreditation, in order to provide the most efficient and up-to-date service to employers.
Think you're up to the challenge?
Interested in learning more about careers in networking—or looking for a highly-rated computer networking program in Toronto?
Explore the Network Systems Technology training delivered by Herzing College at the Toronto campus. Click below to learn more about this 12-month diploma, see a detailed course list, or chat live with an academic advisor. We're here to help!