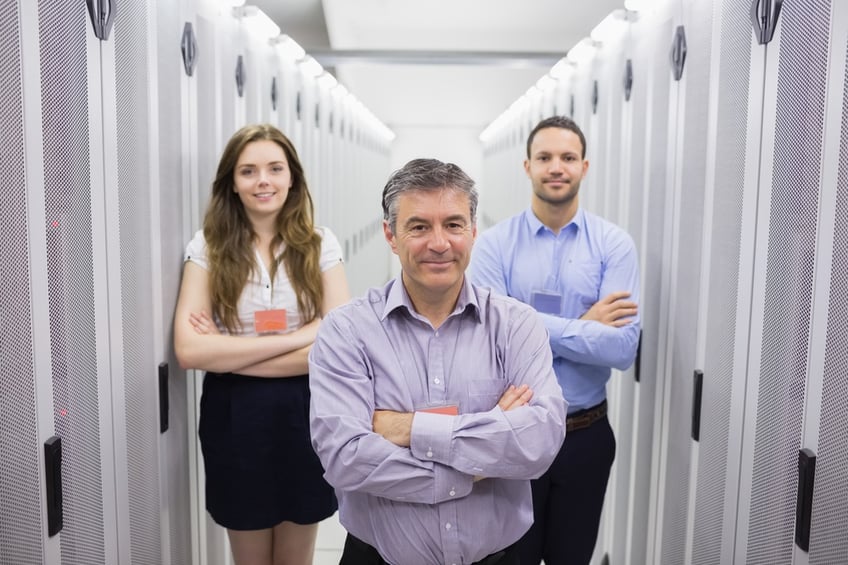 The latest employment research by the Canadian government looks good for network technicians and administrators in Quebec. In December of 2016, the province received an overall 2/3 star-rating for job prospects in networking, and Montreal scored 3/3 stars for employment outlook in network administration.
Growth in the IT sector, our increasing reliance on computer technology, and a shortage of skilled workers in networking are driving the positive trend, which is expected to continue for the next several years.
Specifically, the research shows significant opportunity for advancement from network technician positions, to managerial network admin roles. But as in any profession, only the best will compete for top jobs. This begs the question: what does it take to launch and advance a successful networking career, and take advantage of the current swell of opportunities?
Whether you're just starting out, or already enrolled in network administration training, start by considering these tried and tested tips for longterm success.
Choosing reliable network administration training
Researching and selecting quality network administration training is an obvious, but nonetheless essential, first step for anyone hoping to launch a career in networking. A good program will provide you with fundamental theoretical knowledge and hands-on skills—the foundation you will use to secure an entry-level networking position straight out of college, and continue to build on while progressing in the field.
The diploma you choose should be no shorter than one year in length, delivered by experienced networking professionals, and include an internship. The curriculum should definitely cover material you'll need to prep for key networking certifications (such as the CCNA and CompTIA A+ exams).
Before enrolling, tour the campus to check out the computer lab and equipment you'll be working on. Ask questions about where your internship will take place, and about the work history and credentials of program instructors. Read reviews current and previous students have published about the quality of the network admin program. A good college can be a tremendous launching pad for your IT career. It's worth investing time and energy in making an informed decision.
Pursuing network admin certifications for better jobs, higher salary
While your network administration diploma will help you earn a few foundational IT certifications, it is important to continue expanding your knowledge and credentials by challenging more advanced exams.
Additional certifications can have numerous career-boosting (and salary-enhancing) benefits for network admins. Melissa Snider, winner of SearchNetworking's Career Success Story contest says that even though she has a university degree in information technology, she still needs certifications to excel at work:
"If people want to be taken seriously as networking professionals, they must earn some kind of certification. Usually this starts with Network+, but it can't end there. Network+ is good for basic networking literacy, but it will be necessary to build upon that foundation to do well in the workplace."
CompTIA Security +, Cisco CCNP, and Microsoft Certified Solutions Associate (MCSA), are just a few of the certifications considered essential for computer networking professionals. Widely noted benefits of additional certifications include:
more job offers (more competitive CV)
higher salary
added credibility during a career change
indisputable and internationally recognized proof of skills
With the help of a good post-secondary program and ongoing certification, Snider went from food service supervisor to regional LAN administrator in charge of six company locations, in just a few short years. She credits continuous learning for her success, and has these words of advice for networking newbies:
"Work is always a learning process, especially in IT... keep studying and learning as much as you can. Don't think you know it all or that there's nothing left to learn. There's so much stuff out there, and it just keeps coming."
Transitioning from Network Technician to Network Administrator
If you actively pursue professional development and perform well during your first few years on the job, you will likely find yourself up for a management network admin position.
Many professionals consider promotion to management as the ultimate career destination and accomplishment. But getting promoted doesn't mean you've crossed the career finish line. It's a doorway to greater challenges, responsibilities, and often new stresses for first-time IT network managers.
Consider this recent post on the popular IT forum, Spiceworks, where a member asks for advice transitioning from "techie" to network admin for a 600-student school. The previous manager had already left, so he asks for feedback on where to start and what pitfalls to avoid.
Netwrix picked up on the thread and wrote an excellent piece on the struggles of new network admin managers. Their post contains important insights for anyone making the transition into an IT management role. Key takeaways to remember include:
Documentation is everything.
Whether you're stepping into a new position or already established in a manager role, ensure documentation is accurate and up-to-date (including hardware, peripherals, phone and conference systems, software licenses, maintenance contracts, etc.).
Get a handle on security and system back-ups.
Verify which data and system information needs to be backed-up, and what security and disaster recovery measures are already in place. Be sure to review who has access to the network, and change network admin passwords.
Seek input from your team.
Listening is crucial for new network administrators. Check in with any team members you're managing, or your end-users, to learn more about the system you're in charge of, particular requirements, user needs, etc. Build relationships with your colleagues and you will benefit from their collective knowledge and experience.
Interested in learning more about starting (or furthering) your own network administrator career?
Looking for a reliable, comprehensive network administration diploma in Montreal?
Consider Herzing College's Network Administration Certification Training, delivered at the Montreal campus. Visit the program page to see a complete list of courses, career information, admission criteria—or to chat live with a friendly advisor. We're here to help!