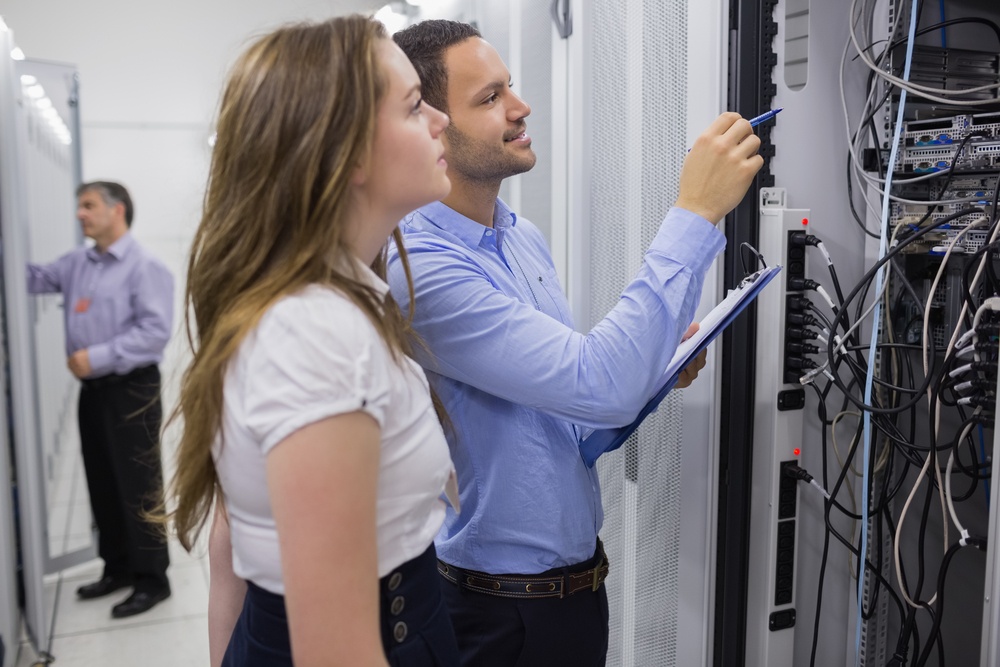 So, you're considering an IT career, and leaning toward training as a computer network technician or administrator.
Demand for networking specialists is fairly consistent across Canada, and starting salaries in this field are quite competitive. A healthy job market makes investing in this training path a smart move—provided you choose the right program.
With so many IT training options out there, both off and online, it can be extremely challenging for students to know which institutions to trust. Where should you put your tuition dollars, your time, and your energy?
Start by considering the hallmarks of effective career training. Evaluate the computer networking programs you're considering against these 4 key criteria—and you'll find the ideal program for you.
1. Is the Computer Networking Instructor a Proven Expert?
The quality of the computer networking training you receive depends almost entirely on the expertise of the instructor. A quality school will provide information on the professional qualifications, credentials, and work experience of their networking instructor(s)—and this information should be easily accessible on the website.
Look for how many years of experience they have in the field of IT and computer networking. Also, look for why they enjoy teaching. What motivates and inspires this person to help students succeed?
The best instructors combine technical expertise with a passion for teaching, and that's exactly what you'll want to find when comparing programs.
Important: In addition to looking at the instructor's background, pay close attention to the overall reputation of the college or training institution. How long has the school been in operation? Do you see good reviews online from past students? What impression do you get from the website and social channels?
2. Does Coursework Include Prep for Relevant Networking Certifications?
In addition to earning a diploma or degree, networking professionals challenge exams to earn industry-recognized certifications. These certifications are accepted across the globe as proof of skill, and are often required to apply for networking jobs.
A quality networking program will outline which certifications students will be prepared to earn following completion of training, such as COMPTIA (A+, Net+, and Linux+), MCP, MCTS, MCSA, MCSE and CCNA.
Take a close look at the course descriptions to learn which certifications are covered.
3. Does the Computer Networking Program Include an Internship?
If you're just starting out in networking, and don't have any work experience, you'll definitely want to choose a training program that includes an internship. This is a valuable asset for two main reasons:
1) An internship offers students a way to immediately apply concepts taught in training, which helps them entrench important skills through practice, and build confidence in their new abilities.
2) A few weeks of job experience gives newcomers to the field a chance to make connections with potential future employers (you may get hired during your internship). And even if you don't get a job offer from that particular employer, you will finish training with a stronger resume, and be better prepared for interviews.
4. Does the College Provide Stats on Graduate Employment?
When you're comparing networking schools and programs, it's important to prioritize colleges that are transparent about employment and salary rates.
After all, the reason you're looking for IT training is to get a great job, and start earning a competitive salary. You deserve to know how successful the college has been in helping students achieve this goal.
On the program section of each school's website, look for a list of companies who have hired graduates of the computer networking program—or the average employment rate of students who complete the training. How many grads got hired last year or semester? You'll want a college with at least an 80% employment rate.
It's also helpful to look for statistics on the starting salary you can expect to earn. Quality training institutions stay up-to-date on the latest salary projections for each program/career, so students are fully informed before enrollment.
You can cross-check the salary data you find on college websites with the latest research from Statistics Canada, at the Job Bank website. For example, here's an official report on network support technician salaries in Ottawa. This information is updated every three years.
So, if you look at these 4 factors when comparing schools, you'll have effectively covered:
college reputation
instructor expertise
relevant course content
built-in work experience
outcomes: employment rates and salary expectations
Once you've satisfied each of these requirements, you'll have found the ideal computer networking program to launch your career.
Looking specifically for quality computer networking training in Ottawa?
Fill out the Request Information form at the top right of this screen to learn more about Herzing's Computer Networking Diploma. Get fast, free information on courses, internships, employment rates, admissions, etc.
Or, simply chat live with an advisor right now, and get your questions answered. We're here to help!