Since it first opened back in 1970, Herzing College Ottawa has helped more than 9,000 people prepare for rewarding new careers.
We offer streamlined diploma programs in a diverse range of fields, including healthcare, business, design, legal studies, and technology.
But when it comes to choosing a college, you need more than just a list of programs. You should also know exactly what to expect in terms of facilities, amenities, and services.
In this post, we walk you through the many features of Herzing College Ottawa that can help you kick-start your career.
Curious about our campus? Here's what you need to know.
WHERE IS HERZING COLLEGE OTTAWA?
Herzing College can be found on the lower level of the St. Laurent Shopping Centre, directly across from the OC Transpo entrance.
The full address is:
1200 St. Laurent Boulevard, Box 225
St. Laurent Shopping Centre, Suite 408
Ottawa, ON
K1K 3B8
WHAT ARE MY TRANSPORTATION OPTIONS?
Thanks to its convenient location inside the mall, the Herzing campus is ideally situated for public transit. St-Laurent Station is served by the O-Train (Line 1) as well as several major bus routes.
And for those who prefer to drive, free mall parking is abundantly available.
WHAT FACILITIES ARE AVAILABLE ON SITE?
Classrooms are outfitted with everything students need for effective hands-on learning.
So, for example, our Computer Networking Technology students dig into routers, switches, and servers, while our Personal Support Worker students practise with hospital beds, wheelchairs, and lifts.
In addition to well-equipped classrooms, the campus features a common area with tables, chairs, and a bank of computers. It's an excellent place to get some homework done either before or after class.
Lockers are available for student use.
And of course, students are just steps away from the restaurants and stores inside St. Laurent Shopping Centre.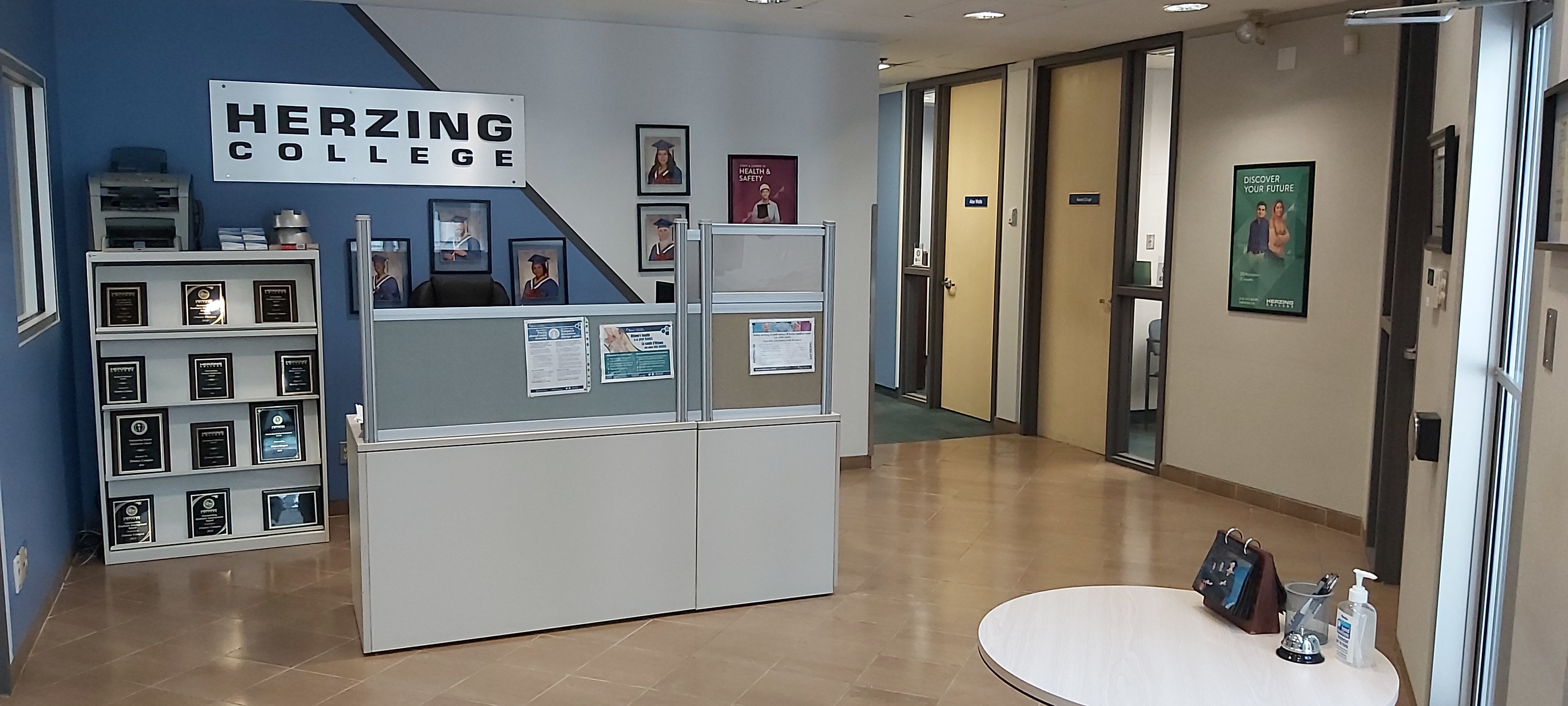 The reception area inside Herzing College Ottawa
WHAT SERVICES DOES HERZING COLLEGE OTTAWA OFFER?
All students at Herzing College Ottawa can access services like:
☑️ Funding guidance—Our funding specialists can take you through all the different options for scholarships, grants, and loans. They'll work with you to determine what types of financial aid you may qualify for.
☑️ Ongoing skill development—The Herzing Open Education Program (HOEP) allows eligible graduates to take additional courses for free. You can enrol in as many courses as you want up to the value of what you originally paid for tuition.
☑️ Career support—The majority of our programs include a work placement to help you get actual experience in your selected field.
Our career services team will also connect you with local employers who hire our grads, help you develop an effective resume, and even conduct mock job interview sessions to get you ready for the real thing.
CAN I TOUR THE CAMPUS?
Absolutely! We welcome the chance to show you around so you can check out what we have to offer.
Simply contact our admissions team. A friendly advisor can provide more info about the campus and set up a time for you to see it for yourself.
LEARN MORE ABOUT HERZING COLLEGE OTTAWA
Conveniently located inside one of the city's biggest shopping centres, Herzing College Ottawa offers an ideal combination of programs, facilities, and services.
You can earn your diploma in 12 months or less. And most of our programs include internships, so you can get practical experience in your field and graduate ready to hit the ground running.
Click below to get more details on our programs, book a tour, or chat live with an advisor. We're here to help!