Updated December 2022
Considering a career in computer-aided design (CAD) and drafting? Wondering about your job options after graduation? You've come to the right place.
There are several different career paths to choose from. CAD is a broad field, with applications in architecture, mechanical engineering, and industrial design.
Some CAD training programs specialize in a certain area, such as architectural drafting. Other colleges offer combination programs that teach drafting software and skills in several domains.
The type of training you choose will determine your career options.
At Herzing College Montreal, our Computer-Aided Design & Drafting program includes instruction in all three major domains:
☑️ Visualization & Animation in Engineering Design
☑️ Manufacturing & Mechanical Engineering Drafting & Design
☑️ Architectural / Engineering/ Construction Building Design
Students work through each domain, learning the skills needed to get hired as CAD technicians and draftspersons.
After graduation, they usually find work with two main types of companies:
1) architecture/construction companies
2) mechanical engineering firms
What's the big difference between CAD jobs in architecture versus mechanical engineering? Let's take a look.
CAD and Drafting for Architectural Design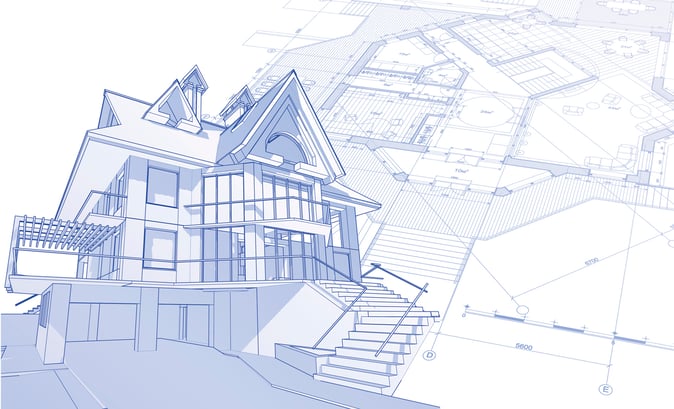 Example of architectural drafting
Architectural drafters translate building ideas into drawings, schematics, and blueprints. They work with architects, engineers, and builders to bring design concepts to life.
In CAD training, students study building systems and structures from the ground up. They learn how to produce site, foundation, and framing plans, as well as layout drawings for electrical, HVAC, and plumbing systems.
They also learn advanced modelling, rendering, and animation skills, which are used to create highly realistic images and video "walk-throughs" of new building concepts.
Students spend many hours learning today's most in-demand building and modelling software, including:
☑️ AutoCAD
☑️ Autodesk Architectural Desktop
☑️ Autodesk 3ds Max
Employers include architectural firms, construction companies, and design firms.
Some architectural drafters are self-employed. They work for several different architectural/design firms and set their own schedule and pay rates.
CAD and Drafting for Mechanical Design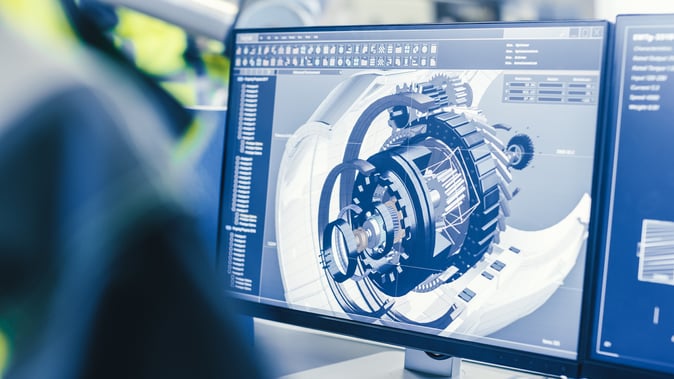 Example of mechanical design and drafting (engine design)
Mechanical drafting focuses on the design and production of everyday mechanical objects and machinery.
They make detailed drawings and 2D and 3D models of mechanical devices, tools, machines, and components. These drawings become the "instructions" used for assembly and manufacturing.
Mechanical and industrial drafters work on everything from simple lighting fixtures to engines, powertrains, and complex machines.
The mechanical portion of Computer-Aided Design training focuses on engineering design and drafting software, including:
☑️ AutoCAD Mechanical
☑️ Autodesk Inventor
☑️ SolidWorks
Students use these tools to create drawings of parts, assemblies, orthographic projections, product animations, and 3D presentations.
Employers for mechanical/industrial drafters include manufacturing companies, engineering firms, and electro-mechanical companies.
Job Outlook for CAD Technicians in Quebec
According to the latest report from the Government of Canada Job Bank, there is moderate (steady) demand for CAD technicians in Montreal.
How much money can you expect to make? The Job Bank says the median salary for CAD technicians in Quebec is about $52,000.
At the high end, CAD technicians in Quebec are making more than $74,000 per year.
CAD instructor Roberto Romano built a successful architectural drafting career in Montreal before joining the faculty at Herzing College. He says Montreal offers good employment opportunities for new CAD graduates:
"Montreal offers a good range of job opportunities in architectural and mechanical drafting.

Many of our students get job offers from their internship. The internship is a really great opportunity to show your skills, impress the employer, and receive an offer of employment."
Learn more about CAD training & careers
Still have questions about starting a CAD career, or what to expect in training? Your next step is to speak with Admissions.
An admissions advisor can explain CAD program requirements, career paths, tuition costs, financial aid, how to apply, and more.
Chat live with an advisor to get your questions answered and plan your next move. Or click below to explore Herzing's Computer-Aided Design and Drafting program in more detail. We're here to help!