Sustainability is a major issue in architecture today. A growing number of homeowners and commercial developers are looking to create environmentally responsible structures that blend harmoniously with the surrounding ecosystem.
Canada consistently ranks among the top countries for green building projects, with hundreds of such structures being built every year.
So what does it take to launch a career in sustainable architecture? Keep reading to learn about the essential hard and soft skills you need to impress an employer and advance in this field.
TABLE OF CONTENTS
UNDERSTANDING SUSTAINABLE ARCHITECTURE
Before we get into specific skills, let's explore what sustainable architecture actually is and why it's so important today.
Definition and Key Principles
Sustainable architecture focuses on preserving the environment by using eco-friendly building methods and materials. A sustainable building is one that satisfies the client's needs, is functional and safe, and has the least possible impact on the surrounding ecosystem.
Three key principles of sustainable architecture are:
Environmental stewardship: Consider the structure's impact on air, water, land, and global climate. The goal is to be energy- and water-efficient, use as many renewable resources as possible, and limit waste and emissions.
Social responsibility: Consider the structure's impact on the occupants' happiness, health, and productivity. This includes things like air quality, temperature, and using natural light rather than artificial light.
Economic prosperity: Consider the structure's impact on a corporation's bottom line. Does the design avoid wasted resources and cut down on operating costs?
Keep in mind that just having a few solar panels does not make a building "green." Sustainable architecture is bigger than that. It embodies a long-lasting, holistic commitment to environmentally responsible living.
This field is about protecting precious natural resources and promoting a better quality of life for all.
Importance in Modern Architecture
Construction projects typically consume large amounts of energy and resources like timber and stone. They also produce a lot of waste. As people become more aware of the need to conserve our natural resources and lessen our impact on our planet, the demand for energy-efficient, cost-effective, environmentally responsible structures is on the rise.
That means professionals with green building skills and sustainability expertise have an important part to play.
Role in Addressing Climate Change
Carbon dioxide (CO2) emissions are the number one contributor to global warming, and the built environment is a huge part of that. In fact, buildings are responsible for 40 per cent of CO2 emissions worldwide, according to Architecture 2030. Most of that comes from building operations—it takes a lot of energy consumption to power heating and air conditioning systems, refrigerators, water heaters, etc., which is why sustainable practices are so important.
By designing buildings that run on renewable energy, consume less water, and strategically use sunlight and shade, sustainable architecture professionals can help cut emissions and slow the effects of climate change.
TECHNICAL SKILLS FOR A CAREER IN SUSTAINABLE ARCHITECTURE
If you want to thrive in the sustainable architecture field, there are certain technical skills you'll need to master. Below are the most important ones.
Sustainable Design Skills
Creating a truly eco-friendly, green building requires understanding the various elements involved. Sustainable design skills include knowing how to:
Optimize the use of natural elements, like shade, sunlight, wind, and rainwater
Select sustainable building materials that can be reused or disposed of without causing pollution
Reuse existing materials as much as possible
Maximize energy efficiency and water conservation
Use native vegetation in landscaping
Limit waste
Ensure designs meet building code requirements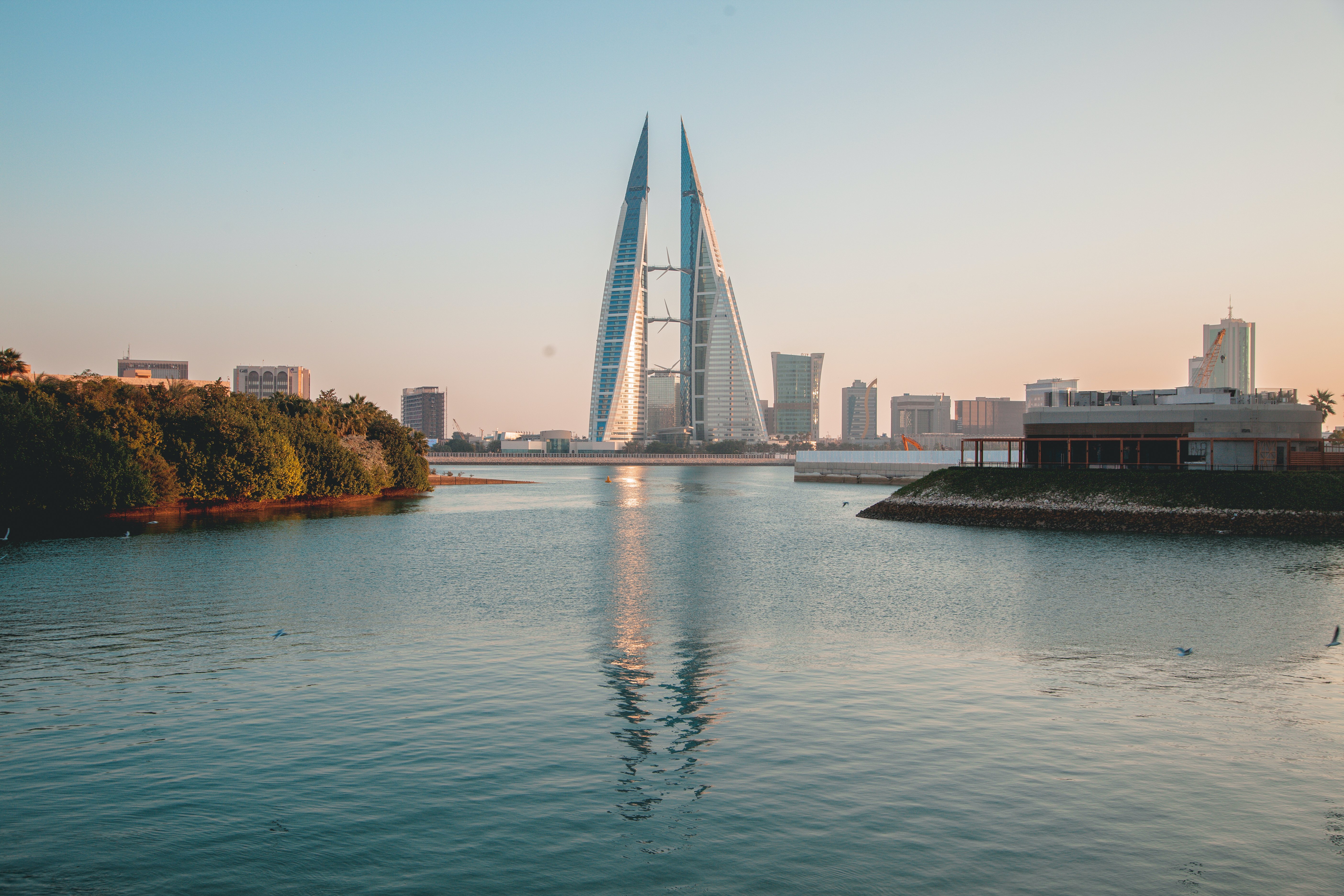 The World Trade Centre in Manama, Bahrain, features three turbines on sky bridges between the two towers to harness the power of the desert wind
Architectural Software Skills
Working in sustainable architecture involves producing 2D and 3D drawings, plans, elevations, sections, and models. That means being comfortable with architectural software.
"We work with many different software packages, including AutoCAD, Revit, SketchUp, Twinmotion, Photoshop, and InDesign," says architect and Herzing instructor Moncef Noual. "Other software is used in engineering for light simulation and energy modelling."
Sustainable Construction Techniques
You should be familiar with sustainable building materials and production techniques, their environmental impact, and how they may be used for different parts of a structure.
For instance, it's important to choose building materials without volatile organic compounds (VOCs). VOCs can affect air quality and are found in products like paint, carpet, upholstery, particleboard, and adhesives.
You may also want to consider using green roofs or materials with a high Solar Reflectance Index (SRI) to reduce the heat island effect in urban design.
Leadership in Energy and Environmental Design (LEED)
Administered by the U.S. Green Building Council (USGBC), LEED certification is a rating system that signifies a structure meets accepted standards for environmental responsibility. It's used and recognized worldwide, and anyone aspiring to work in sustainable architecture should strive to align their designs with LEED criteria.
LEED certification is also available for individuals with green building skills. The LEED Green Associate is aimed at those just starting out in the field. To earn this credential, you must pass a multiple-choice exam. There are no official prerequisites, but you should be familiar with LEED and sustainable design principles through self-study, formal education, or work experience.
"As climate change is happening around the world today, LEED is taking a more prominent role in the construction industry," says Herzing instructor Sam Graceffa, who has more than two decades of experience in sustainable architecture. "Having knowledge in LEED or being certified in LEED will lead to endless career advancement possibilities within the architecture field."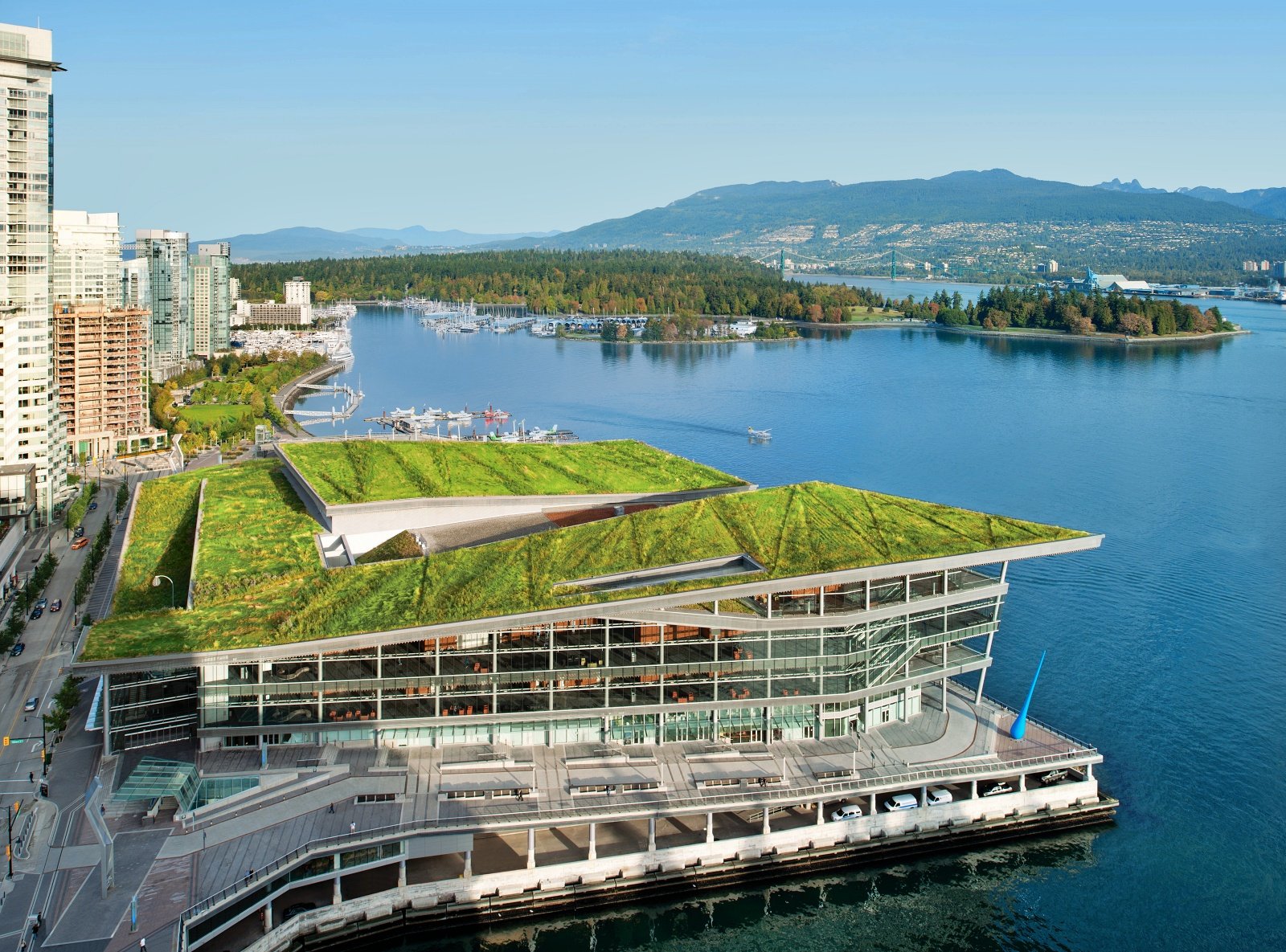 The Vancouver Convention Centre West was the first convention centre to achieve the highest level of LEED certification. It features a six-acre living roof that acts as a natural insulator. Photo credit: Greenroofs.com
SOFT SKILLS IN SUSTAINABLE ARCHITECTURE
Success in this field also requires a range of non-technical abilities, such as:
Creativity and Visualization
The ability to think outside the box and develop innovative designs is critical. You will constantly be challenged to balance visual appeal, functionality, and sustainability.
"Creativity is the most important skill of all in sustainable architecture," says Sam. "Most successful students have artistic or creative skills along with good spatial vision. Also, it's very helpful if you can visualize concepts in 3D."
Collaboration and Teamwork Skills
You might envision yourself working alone behind a computer, but the reality is quite different. Expect to be a team player.
"You need to work in collaboration with other people," says Moncef. "In architecture, nobody works alone. You will be working with architects, engineers, and designers, and you have to be able to collaborate to meet all the requirements and bring a project together."
Communication Skills
You'll constantly be dealing with co-workers or clients, so you need to be able to communicate effectively.
"If you want a career in sustainable architecture, you will also need soft skills like good communication—the ability to truly listen to the client and fully understand their needs and requirements," says Sam.
"After all, architecture is a client-driven domain. You must have a strong sense of customer service."
Problem-Solving Skills
Virtually every sustainable architecture project runs into a snag somewhere along the way. You need to be prepared to adapt to changing circumstances and come up with workable and innovative solutions.
That can mean a lot of back and forth as you refine your designs. "Students should understand that maybe they won't get a good result with the first sketch," says Moncef. "They might need to revise it many times."
HOW TO DEVELOP SKILLS IN SUSTAINABLE ARCHITECTURE
There are generally two paths to a career in sustainable architecture.
Go to University to Become an Architect
One option is to go through the process of becoming a licensed architect. That route typically involves getting a master's degree, completing a lengthy internship, and passing a provincial exam. Twelve university programs are accredited by the Canadian Architectural Certification Board, and most include some coursework in sustainable design.
Go to College to Become an Architectural Designer
A much quicker option is to complete a college-level sustainable architecture program that prepares you to become an architectural designer or CAD technician. You can complete your diploma in about two years. You won't be eligible for architect licensing, but you will be qualified to produce blueprints and technical drawings for architecture firms, construction companies, and land surveyor firms.
At Herzing College Montreal, our sustainable architecture diploma covers practical drafting skills along with the principles of sustainable design, renewable energy, and green building technologies. You can expect a very solid grounding in AutoCAD, with plenty of hands-on projects to get practice designing different types of buildings.
"We teach all the essential technical skills and competencies, such as AutoCAD, building codes, and sustainable building standards and techniques. However, we also teach other skills that are key for building a successful career in this field," says Sam.
"These include good working habits, resourcefulness, and the ability to balance design with environmental impact and ecological footprint. This is the complete package today's employers are looking for."
START BUILDING THE SKILLS YOU NEED FOR A CAREER IN SUSTAINABLE ARCHITECTURE
Herzing's sustainable architecture program is just 24 months long, including a 13-week internship. It's delivered at our Montreal campus as well as online.
Still have questions? Your next step is to speak with an admissions advisor. They will walk you through the program, discuss your interests and career goals, and guide you through the application process. They can also answer questions about financial aid, tuition, and career options.
Click below to explore the program and chat live with an advisor. We're here to help!