Broadcasting has come a long way over the last 20 years. The internet and new forms of digital media have completely changed the way we produce, share, and consume news. They've even changed what we consider news.
Where traditional broadcasting training focused on radio and television, new programs are expanding to include other key channels - like podcasting, YouTube, and the wide world of social media content production.
Dreaming of a career in broadcasting? There are more career options now than ever before.
And that's why Herzing has developed a new and improved Broadcasting program...to ensure our grads are completely prepared to grab those opportunities.
Herzing has always been a leader in broadcasting training. And that's because our program is designed and delivered by Bev Edmondson, a veteran of the Winnipeg broadcasting industry with more than 25 years of experience.
Over the past few months, Bev has been busy re-designing the program, adding new courses, and expanding the curriculum to cover new skills in digital media.
We asked her to walk us through the changes, and tell us exactly how students will benefit from the new and improved program.
Here's what you need to know.
Q: Bev, can you walk us through the biggest changes to the Broadcasting program?
Bev: We've made some really substantial changes to the old Radio and Television Broadcasting program.First of all, we changed the name of the program. It is now called Broadcasting and Media Communications (because this field is about so much more than radio and television).
We have introduced a new 12-month curriculum that will be available starting in January (the original training was 9 months long).
The new Broadcasting and Media Communications program offers training more specific to online ventures, new media, and social media. We have added courses on podcasting, creative writing, writing for online media, and public relations.
In addition to that, we are making our production classes longer, to include more trending elements. And the internship has been extended to six weeks (from 4), so students will have more time out in the field.
Besides these major changes, we will incorporate some new strategies into our existing curriculum. Our copy-writing course will still include all the writing basics, but we are adding units on branding, guerrilla marketing, and native advertising.
Overall, the broadcasting program has been extended from 903 hours to 1150 hours.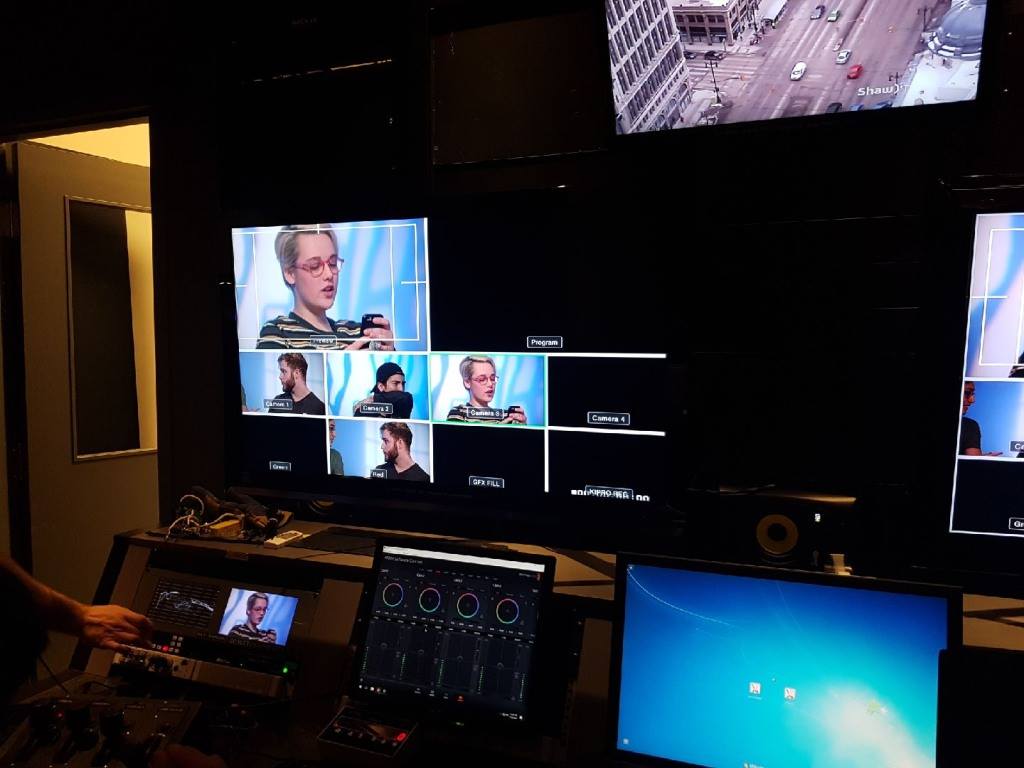 Herzing Broadcasting students do a wide range of hands-on projects to get practice using industry-standard equipment and software
Q: What inspired all these changes to the Broadcasting program? What's the goal here?
Bev: The main goal is to ensure Herzing College stays ahead of the curve in broadcasting training. The industry is evolving, and we're evolving right along with it.
Media changes, but creativity endures! We are still teaching all the creative aspects and fundamentals of the industry. We are simply adapting and expanding our approach, so students will be fully prepared for an ever-changing media landscape.

Q: How exactly will students benefit from this new & improved training?
Bev: More and more, I find students coming into the program who want to be self employed media mavens, YouTubers, titans of Twitch, or do it all. They want to explore many different aspects of media, and they want a range of career options.
The truth is, you can't be a one trick pony in this industry. I say this all the time. Versatility is key.
Our Broadcasting program has always taught skills that work for both traditional radio/television broadcasting and online media. But now we are doing specific things that new media incorporates that radio and TV don't. In addition to writing for the ear, our broadcasting students will learn to write for the eye - for digital audiences.
We're also putting more emphasis on quick video roll-out. For example, how to shoot video with your phone that requires little editing. These changes reflect the skills today's media companies are looking for.
The main benefit to students? They get cutting-edge training that gives them a really strong start in the industry.
Here's a quick clip of Bev talking about the program and how it's unique.
Q: What kinds of hands-on, in-studio projects will students be doing?
Bev: This program is very hands-on. There is regular testing, to meet provincial education standards, but most of the marks come from hands-on assignments and projects.
We do a lot of presentations, so students get the chance to use industry equipment and master various broadcasting techniques. For example, at the start of our journalism course, we do presentations on high impact news stories. Each student is given a story to research and present, and it must include video of the event.
Topics we have done include 9-11, Columbine shootings, War on Terror, the assassination of JFK, the life and death of Princess Diana, and the Boxing Day tsunami of 2004.
We also do Music Genre presentations. Students select a genre and talk about its history, main influences, major artists and social impact. They must present video or audio of the music of that genre.
Some of the Video Production projects we assign are:
- How-to videos
- Public Service Announcements (PSAs)
- Green screen interviews
- Mini documentaries
Audio production is also an area where students have a lot of fun. We do old style radio dramas, audio birthday or holiday cards, and a Foley sound project, where students make their own sound effects and dub in silly voices over conversations.
It's fun and really inspires creativity. Gone are the days where we only write and produce news and commercials!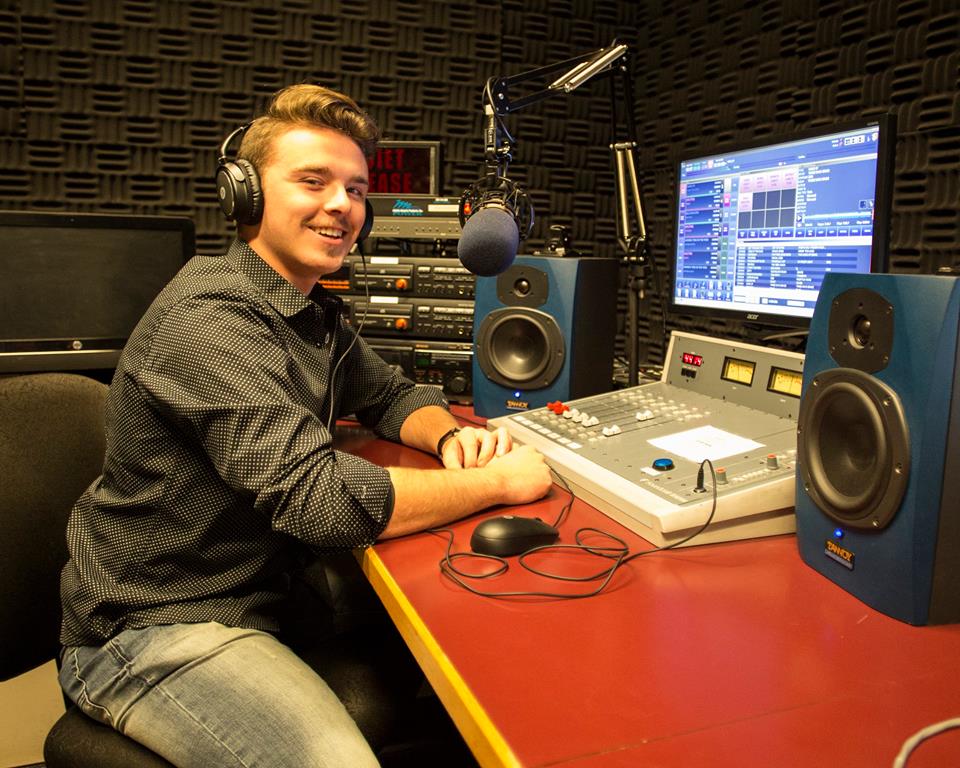 Herzing has its own radio studio where students can practice announcing and record shows
Q: Where do Broadcasting students do their internships? Who hires them after graduation?
Bev: Manitoba Media has been very open to taking practicum students from Herzing College. Finding practicums is so much easier now than it was ten years ago, because a lot of the people I am dealing with are graduates of our program! They trust our training and have faith in our grads.
Bell Media has been a great partner for us. Many of our graduates work at Virgin Radio and 99.9 BOB FM. We have a wonderful advertising partnership with TSN, where our students do the Jets' starting lineup on their radio broadcasts.
Media partnerships are so important to our Broadcasting program. Corus Entertainment and Evanov Communications also provide internships, and so do the rural stations owned by Golden West Broadcasting.
I always tell students the rural markets are great for getting your foot in the door. Interns get a meaningful amount of on-air time, and these practicum placements often result in jobs after college. This year, Golden West hired half our summer graduates!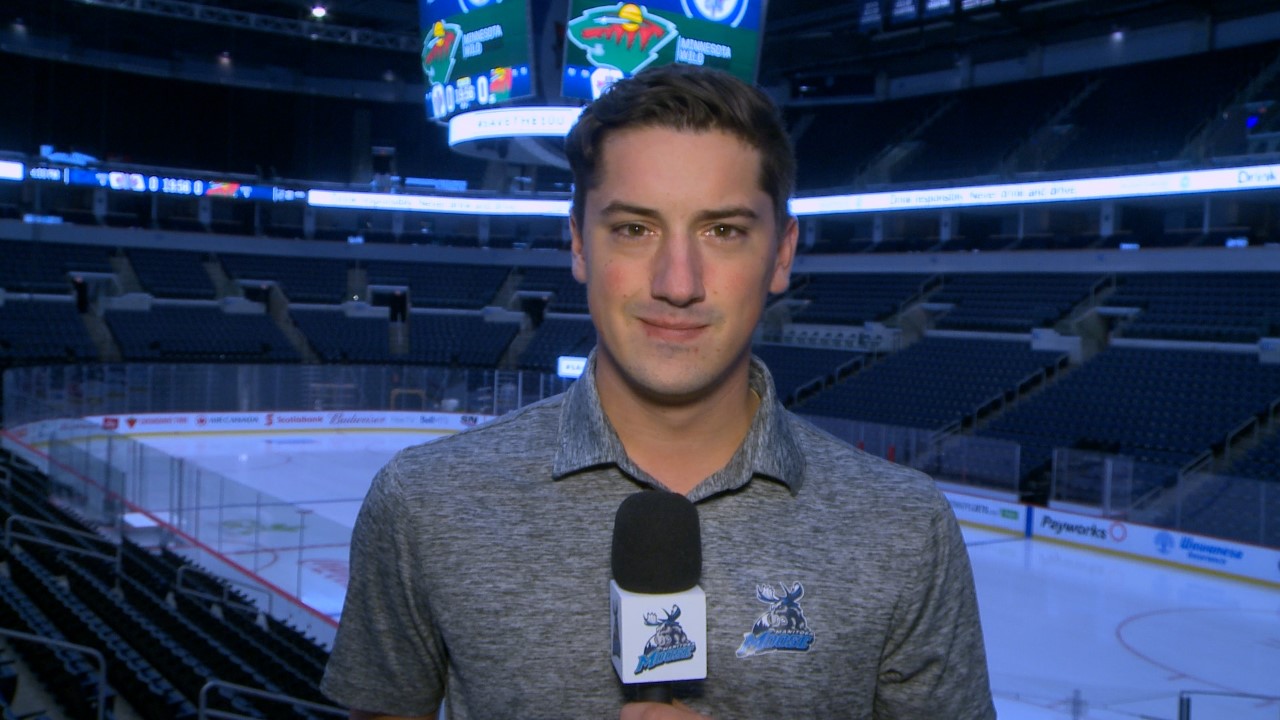 Herzing Broadcasting graduate, Austin Siragusa, completed the program in 2016 and now works as a Digital Content Producer for the Manitoba Moose/True North Sports + Entertainment (Click to read a full interview with Austin about his experience in the program)
Q:The new Broadcasting program is also available online. Can you explain how the online version will work?
Bev: Yes, for the first time ever, the Broadcasting diploma will be offered as a Flex-Ed program…meaning you can do parts of it online from home.
However, students will need to come in to the campus around once a week, when we're doing on-air, audio and video courses.
The writing and advertising courses can all be done from home. We will also have some live and pre-recorded feeds that online students can tune in to. Our top goal is to make sure the online program has all the fun and excitement of the campus version.
Q: How does this new training compare to other broadcasting programs in Winnipeg?
Bev: We believe that this new program is going to provide a more well-rounded education for the changing media environment. There are several media programs available in Winnipeg and they are all solid. They are also all different.
Our goal is to serve content creators who want to do it all – work in radio, television, online, new media, social media, or become a media entrepreneur. With Herzing's Broadcasting and Media Communications program, you can do this in one short year.
If you are the next YouTube sensation, radio DJ, or sports commentator, we can help you make your dream a reality.
Learn More About Herzing's New Broadcasting Program
Herzing College Winnipeg offers a 12-month Broadcasting and Media Communications Program, which includes a 6-week internship. Courses cover both traditional and new media content production, including radio and TV broadcasting, digital content, marketing, sales, and public relations.
Want to learn more about training, careers, the new program, or how to apply? Chat live with an Advisor right now.
Or, click below to explore the program. We're here to help!