Some people are drawn to broadcasting and media communications because they want to get in front of the camera or microphone. Others are passionate about behind-the-scenes work like writing, producing, promoting, editing, and researching. And still others are interested in digital content creation and social media management.
Careers in communications and media encompass a fairly wide range and can be both creative and technical. Keep reading to learn about 10 top examples, divided into categories for easier navigation.
TABLE OF CONTENTS
RADIO AND TELEVISION PRODUCTION CAREERS
If you like the idea of working behind the scenes to make a production come to life, here are a few careers in broadcasting you may want to consider:
Career #1: Producer
Producers plan, organize, and develop radio and television productions. They make sure on-air content meets audience needs and editorial standards.
Producers are involved in pitching story ideas, suggesting story angles, booking guests, managing resources, and checking quality. They organize all segments of a program and coordinate the technical details to get a show to air.
Essential skills: Producers must have excellent research, organization, communication, and teamwork skills. They should be good at coming up with fresh ideas for program features, and they must be able to pivot when news breaks or circumstances change.
Career #2: Program Director
Program directors decide what kind of content their stations will offer and when each show will run. They set the tone and direction that creates the station's unique identity. In fact, in some cases, they are known as brand managers.
Program directors consider budgets, ratings data, audience demographics, and other factors when selecting and scheduling content. They're responsible for ensuring that what the station puts out aligns with the needs of advertisers and sponsors as well as the target audience.
Essential skills: Leadership and decision-making skills are critical. Program directors need to be creative and adaptable and possess strong business skills. They typically have many years of industry experience before moving into this role.
Career #3: Broadcast Technician
Broadcast technicians are the people who set up, operate, and maintain the equipment used for transmitting live or recorded content. That includes things like audio mixing consoles, satellite receivers, master control switchers, and other electronic news gathering (ENG) gear.
Broadcast technicians may also monitor signal strength and clarity or switch between different feed sources. They can work in studio control rooms or in vans or trailers for remote broadcasts.
Essential skills: Along with a good understanding of broadcasting equipment, technicians must have excellent problem-solving and communication skills. Employers look for candidates who pay attention to detail and work well as part of a team.
Career #4: Camera Operator
Camera operators capture footage for news reports, music videos, live events, and other productions. They frame each shot, follow the action, and adjust focus and exposure to ensure the images meet quality standards.
Some camera operators work in studios, where setups are fixed and camera movements are minimal. Others work on location, where they need to account for lighting levels and weather conditions.
Essential skills: Camera operators need to pay close attention to detail and communicate effectively with other crew members. They may be called on to make quick adjustments to capture the right shots. This can be physical work, especially for those who use Steadicams.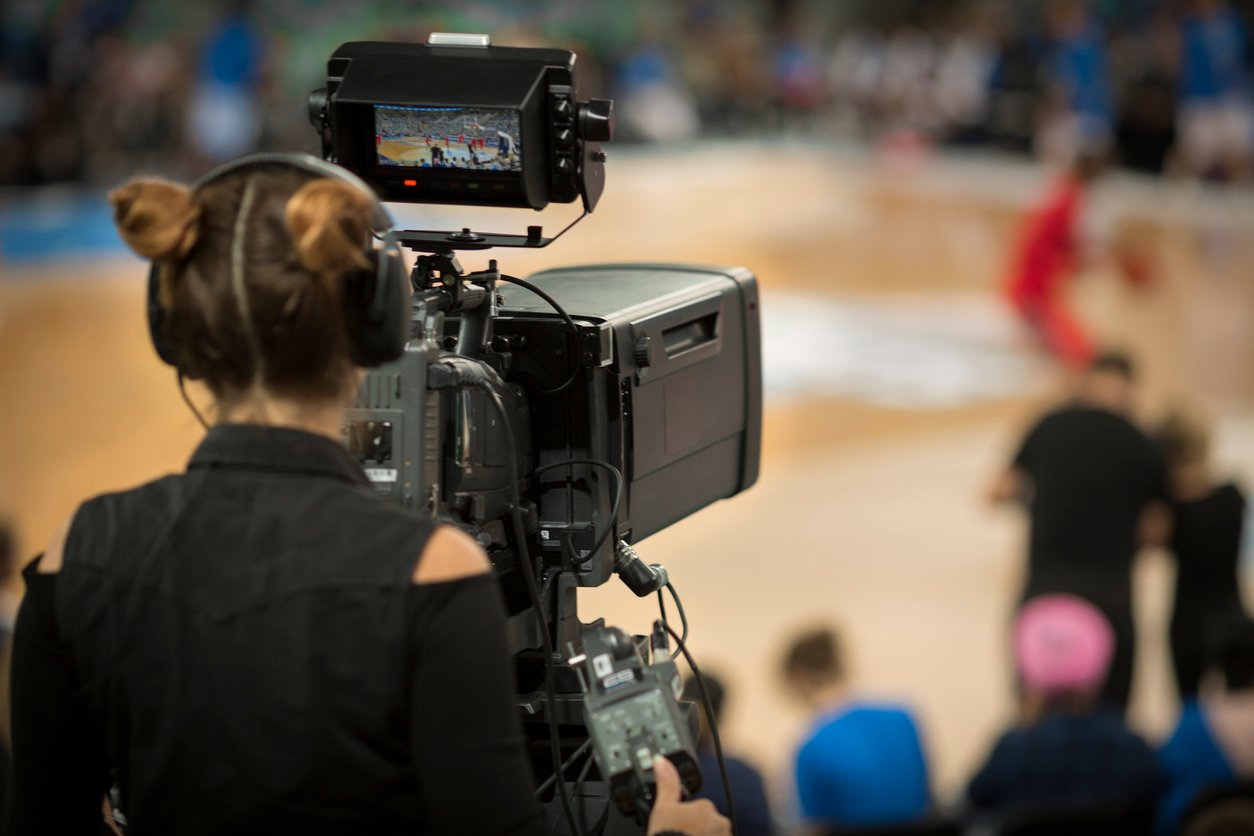 Camera operators are in charge of capturing the action
JOURNALISM ROLES IN MEDIA
A variety of career paths are also available for those who dream of keeping the public informed about current events and the deeper meaning behind them. Below are a few examples.
Career #5: News Reporter
News reporters gather information about events and issues and distill it into a story that their target audience can understand. They observe events, analyze documents, and conduct interviews. They are also expected to verify their facts and follow ethical journalism guidelines while meeting tight deadlines.
Essential skills: Reporters need research and investigative skills as well as top-notch writing and communication abilities. They must be adept at making people feel comfortable enough to talk and asking probing questions to get to the heart of a story.
Career #6: On-air Host
News anchors, podcasters, and other on-air hosts deliver informative and entertaining content to audiences on radio, television, or online. They read scripts, introduce segments, and interview guests. Sometimes they also provide commentary or question reporters who are live in the field.
Essential skills: Presentation and interpersonal skills are key in this role. On-air hosts need to be able to engage their audience and speak clearly and confidently. They must also understand their target demographic so they can tailor their delivery appropriately.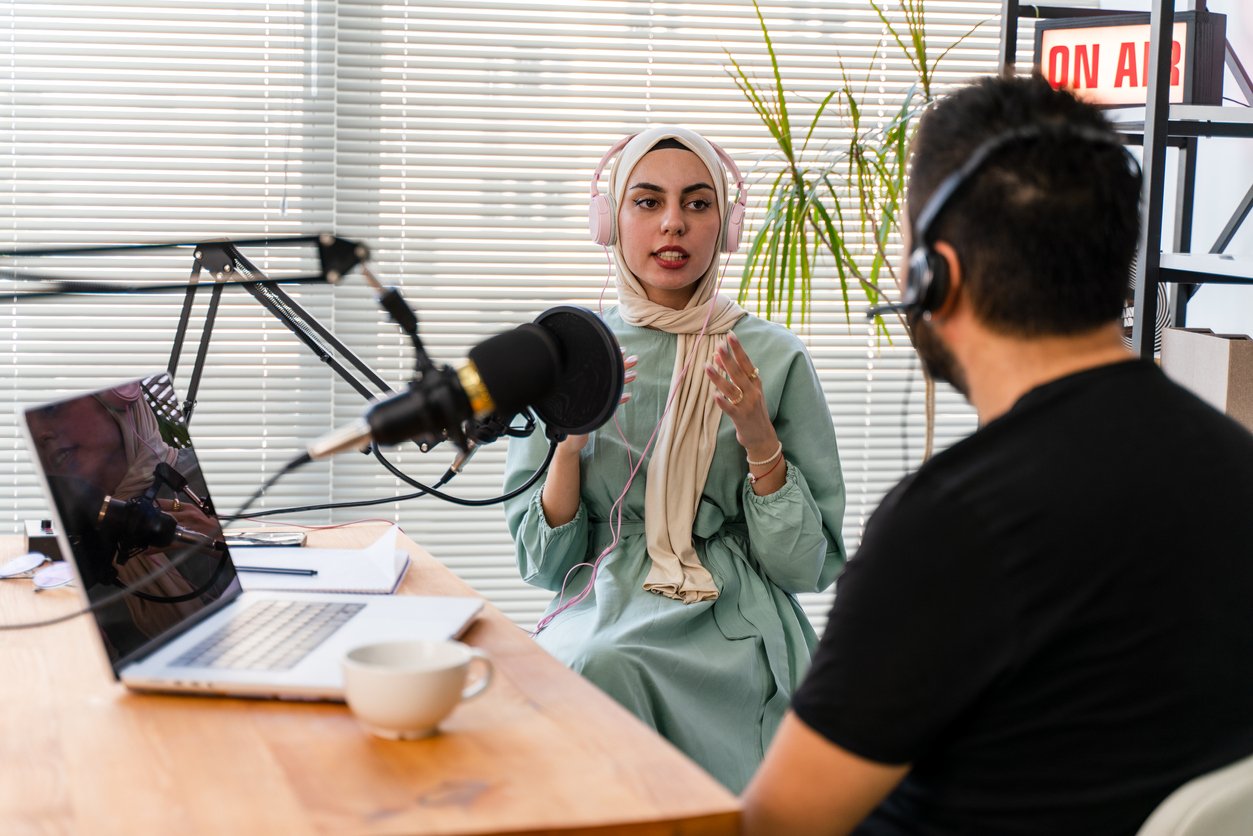 On-air hosts must be personable and engaging
Career #7: Documentarian
Documentarians create in-depth visual productions about real-life events or experiences. Their tasks often include conducting research, planning the story, writing the script, gathering footage, and editing the final product.
Essential skills: As with most other media jobs, succeeding as a documentarian requires solid research, writing, interviewing, and organizational skills. People in this career also need to be familiar with audio and video production techniques.
MULTIMEDIA CONTENT CREATION JOBS
Creating content for digital media—TV, websites, social media platforms—is another avenue you could pursue. Have a look at the following career possibilities:
Career #8: Graphic Designer
Graphic designers design and produce images for television productions and online media. That can include anything from a show's opening graphics to illustrations for particular segments to animated ads that promote the program.
Essential skills: Graphic designers must be skilled at producing clear images that convey meaning and evoke emotion. This requires creativity and attention to detail as well as a thorough understanding of graphic design software.
Career #9: Video Creator
Video creators shoot, edit, and package engaging videos for websites and social media channels. A growing number of businesses hire creators to produce and post video testimonials from clients, how-to videos that show how to use the company's products, behind-the-scenes videos that showcase company operations, etc.
Essential skills: In addition to being creative and having a keen eye for detail, you need to be comfortable with production software. That means being able to balance colours, adjust the audio, and make smooth transitions. You should also have strong knowledge of platforms like YouTube, Instagram, and TikTok.
SOCIAL MEDIA MANAGEMENT CAREERS
The world of social media offers great alternative careers for journalists who have more of a marketing bent. That brings us to the final job on our list.
Career #10: Social Media Strategist/Manager
Social media strategists develop plans to use channels like Facebook, Instagram, YouTube, and X (formerly known as Twitter) to increase web traffic and boost brand awareness. They create original content, set a posting schedule, and analyze the effectiveness of campaigns.
In larger companies, they might set the strategy and assign the actual implementation to other content creators.
Essential skills: Social media managers should be excellent writers and communicators who can engage audiences on different platforms. They must understand when and how often to post as well as what kinds of content appeal to their target demographic.
GROWTH PROSPECTS FOR BROADCASTING AND MEDIA CAREERS
So how many jobs are available in broadcasting? What's the outlook for this field?
According to the Government of Canada Job Bank, journalists have moderate-to-very-good prospects in most provinces, while producers and directors have a good outlook in Manitoba, Quebec, New Brunswick, and Newfoundland and Labrador. Announcers should see steady demand in Ontario and the Prairie provinces.
Regional data also tells a positive story. Between 2023 and 2027, the Ontario government estimates there will be 200 job openings for broadcast technicians, 500 openings for announcers, and up to 700 openings for journalists. And Manitoba expects to have more jobs available in each of those categories than people to fill them.
Herzing instructor Bev Edmondson has more than 25 years of experience in the broadcasting industry. She says the field is full of opportunity.
"Radio still offers a lot of full-time jobs. Audio production houses have jobs," says Bev.
"There are also huge opportunities in journalism. It often starts in a smaller market or behind the scenes in a larger market, but then you can work your way up to being in front of the microphone or the camera in journalism because there still is a tremendous need and desire to have that material."
Video production and social media are especially strong growth areas, according to Bev.
"I think right now is primo video production time. More companies want how-to videos and testimonials on their website and more videos posted on their social media. So there is a lot of opportunity in video production. Social media provides a lot of media jobs."
HOW TO PREPARE FOR A CAREER IN BROADCASTING AND MEDIA
College-level programs in broadcasting and media communications are an excellent way to learn the skills and know-how to get into the media industry. Topics range from an overview of today's media industry to the specifics of camera operation, writing, producing, podcasting, and announcing for news stories, documentaries, investigative reports, entertainment shows, and more.
Training usually takes about a year to complete. Some programs include an internship with a media company, allowing you to get hands-on experience and make industry contacts even before you graduate.
Herzing College's broadcasting and media communications program is delivered online and is only 12 months long, including a six-week internship.
Visit the program page below for info on courses, admission requirements, and career paths, or to chat live with a friendly advisor. We're here to help!