Herzing Cup winner Sam Brownell (center) with Career Development Director Caroline Glowatski (left) and Director of Educational Funding Michelle Moncado (right)
Each year, Herzing College hosts a competition among its campuses for the best student presentation.
The national winner gets flown to the College's annual meeting to share his or her story and receive the Herzing Cup.
President Henry Herzing says the goal is to showcase students' abilities.
"I advanced the idea of the Herzing Cup to recognize the communication skills of our students. Technology comes and goes, processes come and go, but good communication skills are always valued."
The 2019 and 2020 winners, Joseph Fourre and Sam Brownell, both happen to be products of the Broadcasting and Media Communications program at Herzing College Winnipeg!
We caught up with these talented graduates to get their thoughts on the award and find out how their experiences in the program have impacted their lives.
Here are the highlights of our conversation.
Q.

Can you share a bit about your background?

Sam: I was born and raised in Winnipeg, and after high school, I went to university for a few years before deciding that isn't what I wanted to do. I took some time off to think about what I wanted to go into and ultimately decided broadcasting was the right place for me.

Joseph: I grew up in northern Manitoba, raised by my grandparents. I left home at 15 and didn't discover writing until my early 30s. I worked with CBC Radio and then my hometown newspaper as an editor, and loved it.

However, when my youngest son was diagnosed with autism in 1999, I left the industry and became a long-haul truck driver so I could keep my son close. After I suffered a horrendous trucking accident in 2017, I realized I didn't want to drive truck anymore.

This led me to a period of depression, addiction, and homelessness. In 2019, I decided it was time for a change.
Q.

What made you choose the Broadcasting and Media Communications program at Herzing?

Sam: I had heard about the program from an old friend who had gone through it a few years before me. He raved about the school and everyone who works there. His recommendation is one of the main reasons I chose Herzing over other similar programs.

Joseph: The inspiration came from a desire to return to a career I loved so very much but had been removed from for a very long time. I needed to learn the new technology. A past graduate and long-time friend (and now wife) suggested Herzing as a potential pathway to my return to the industry.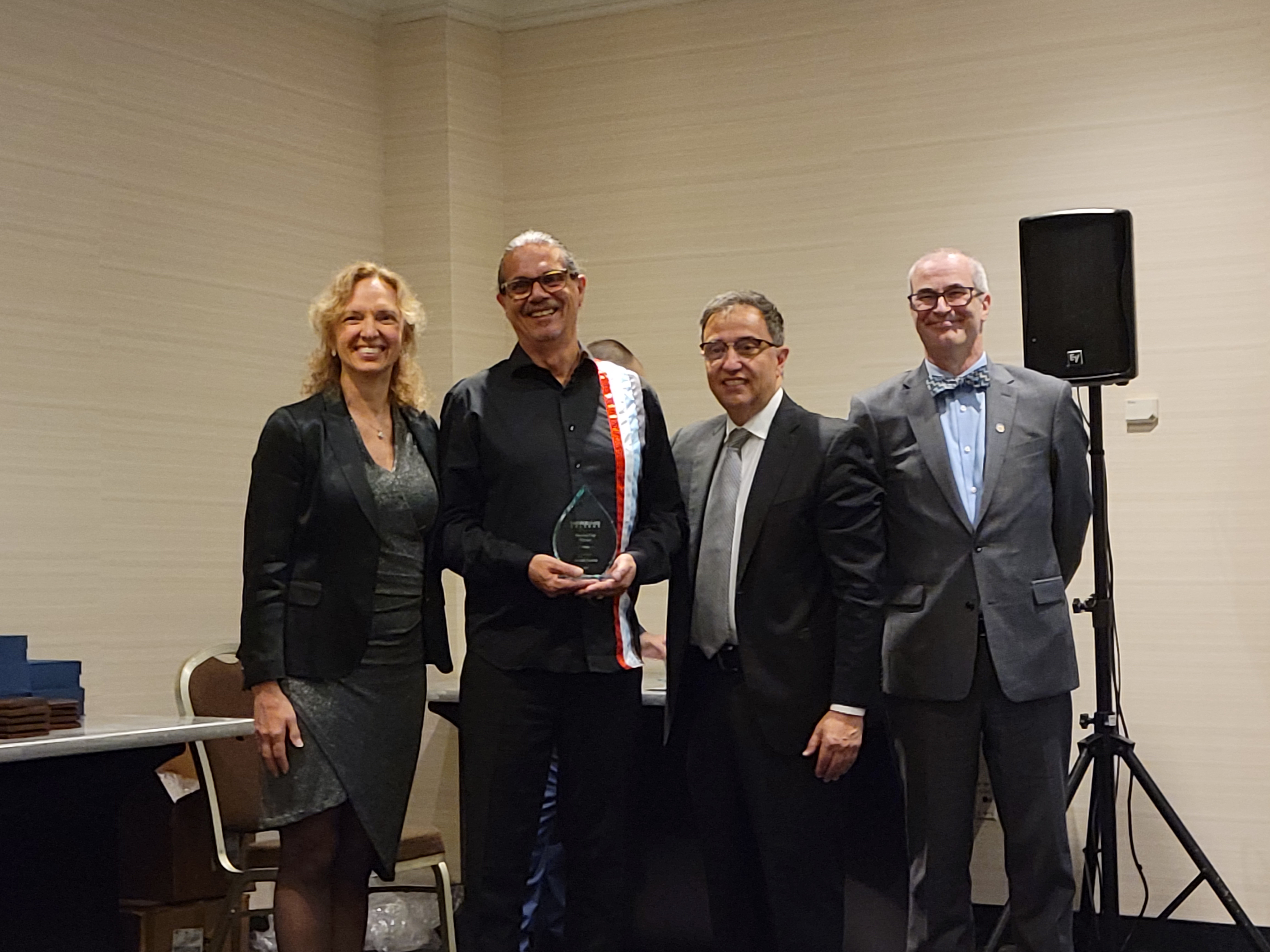 (left to right) Renee Herzing, Herzing Cup winnerJoseph Fourre, Herzing COO Frank Cianciaruso, National Director of Academics Robin Day
Q.

What was your overall experience in the program?
Sam: My overall Herzing experience was incredibly positive. From day one, I could tell that the instructor, Bev, really cares about her students and wanted every one of them to succeed, both in class and in the real world.
The course wasn't about just being able to repeat something you read or were told. It was about being able to use these skills both in day-to-day life and in your career.
Joseph: My experience was excellent. Bev delivered the course in a very professional manner and when she realized I needed a personal approach, she was there with understanding and encouragement.
At 55, starting over again in a classroom of much younger classmates was quite overwhelming. But Bev helped me every step of the way, even convincing me not to quit and that I could do this.
Q.

How did the program prepare you for a career?

Sam: I feel like I am ready to help my future employers in whatever aspect of the business they need help in, from audio and video editing to news writing and announcing and writing for online media.

Joseph: I learned all the technical aspects of the industry, to the point where I have started my own production companies J2 Entertainment and White Stone Wolf Productions. All of this would not have been possible without the lessons learned at Herzing.
Q.

What does receiving the Herzing Cup mean to you?

Sam: Receiving this award showed me that I can thrive when I put my all into something, and I shouldn't fear limitations or hearing no from people because there will be other opportunities to shine.

Joseph: Winning the Herzing Cup was a great honour, and winning it early in the program gave me the confidence to continue and not give up.

I work part time in the addictions field, and I tell clients that you can achieve anything if you are willing to do the work. Changing a life is not easy, but if you make the commitment to yourself and do the work, your life will change. Mine did.
Q.

What advice would you give someone who is considering Herzing College?

Sam: I would tell them that the Broadcasting and Media Communications program is the place for them no matter what their background is. You get the opportunity to try a little bit of everything and specialize in whatever it is that you love doing.

You need to be prepared to put in the time and effort, but in return you will gain useful skills that will help you be successful once you're done with school.

Joseph: Herzing has that family atmosphere, and they are not only committed to your success, they care about you and are willing to go the extra mile to see you succeed. I would recommend Herzing to anyone that is trying to forward their future and change their lives.

I always say that if education can be delivered in the right way, it can change lives. And I believe Herzing does just that.
LEARN MORE ABOUT THE BROADCASTING AND MEDIA COMMUNICATIONS PROGRAM
The Broadcasting program at Herzing College Winnipeg teaches the creative and technical skills that can help you get hired.
Training covers reporting, writing, editing, podcasting, audio and video production, on-air announcing, and more.
The program takes just 12 months to complete, including a 6-week internship at a local media company or broadcasting station.
Click below to get full details on the program and chat live with an Admissions Advisor. We're here to help!