International commerce is the business of importing and exporting goods. It's a massive industry worldwide, and a key part of Canada's economy.
Canada does billions of dollars worth of trade each year. In 2017, Quebec alone exported and imported over $80 billion in goods.
Exploring your options for a career in business? Why not consider the growing field of international trade?
Whether you want to start an import/export business, or help an existing company buy and sell products in foreign markets, there are numerous opportunities in this field.
Training is quick to complete, and leads directly into entry-level import/export jobs where graduates can learn the business and begin growing their careers.
Here's a look at why Montreal is an ideal place to get started.
1. Demand is good for international trade jobs in Montreal
The most recent employment report from the Government of Canada Job Bank shows very positive trends for international trade occupations across Quebec. If you're concerned about landing a job after college, and want to choose a field where demand is high, you're on the right track with a career in international commerce.
For example, two common entry-level job options for international commerce grads are customs official and import/export clerk. Both of these roles received 3/3 stars for demand in the latest Career Outlook Report—the Job Bank's highest possible rating.
Here's a closer look at the employment forecast and median salary for import/export clerks in Montreal.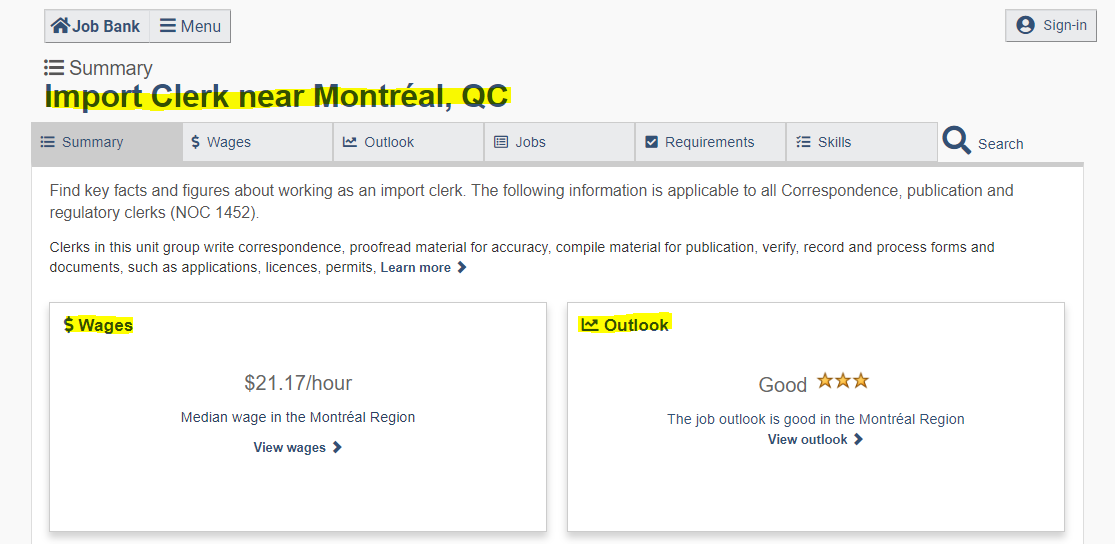 Interested in learning more about what an import/export clerk does? Take a look at this post for a description of the role, key duties, pros and cons, and related skills.
And here's the latest data for the role of customs inspector in Montreal.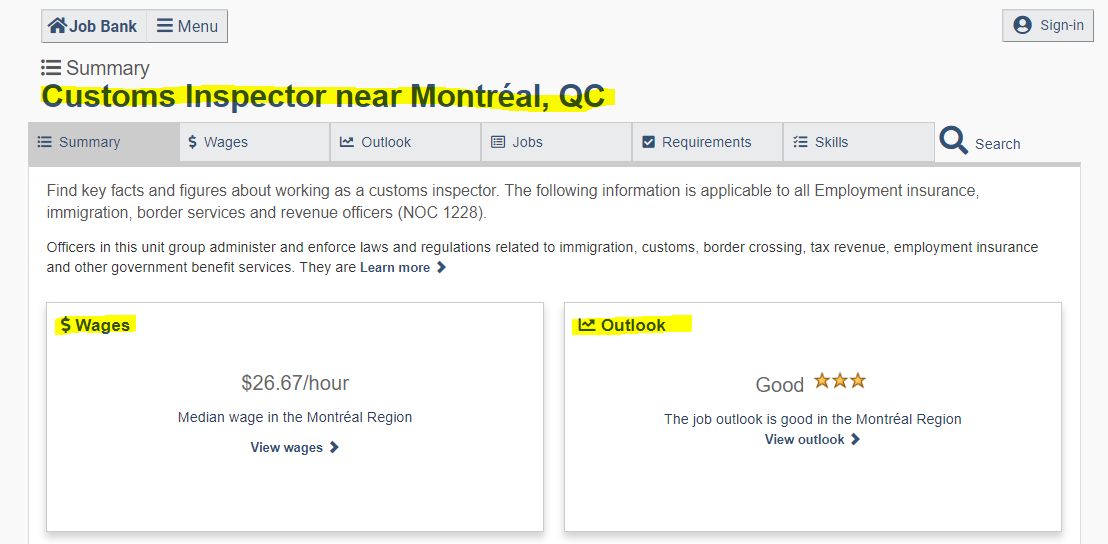 Herzing's graduate job placement rate for the International Commerce Program reflects these trends. A full 100% of available 2018 graduates for this program were hired in a related field, after completing the training.
2. Quebec is a fast-growing hub for international trade in Canada
In 2017, the value of Quebec's exports hit a whopping $85 billion. That same year, the Canadian Federal Government made Quebec City and Lévis a designated Foreign Trade Zone (FTZ) point—an initiative designed to stimulate and encourage international trade.
FTZ points help trade businesses access foreign markets, and reduce/eliminate duties and taxes on goods imported into the FTZ point. Obviously, this gives Quebec importer/exporters a big advantage and competitive edge — including businesses located outside the geographical area of the FTZ point.
Bottom line: Quebec is Canada's ninth official FTZ point, and a clear sign that the government is dedicated to promoting local and international trade within the province, and all across the country. Excellent news for anyone planning a career in this field.
3. Start your own import/export business
Interested in becoming an entrepreneur? Montreal is an excellent place to launch an Export Trading Company (ETC), or become an import/export merchant.
You could connect Quebec companies with foreign markets, and broker deals to ship and sell products abroad. Or, you could buy merchandise from overseas and find buyers here at home to purchase those goods for resale.
Quality international commerce training will prepare you to navigate the laws of international trade, understand the global supply chain, find profitable foreign markets, and create a marketing/business plan.
This diploma program is an solid first step to launching your own business, and becoming a self-employed importer/exporter.
4. Complete your diploma in international commerce in just 14 months
If you're looking to avoid the time and expense involved in earning a university degree, a diploma in international commerce is an excellent alternative. Many programs are well under 2 years in length.
Herzing's diploma, for example, takes just 14 months to complete (full time), and includes a guaranteed 8-week internship to kick-start your career. The coursework is comprehensive, and covers the following theory and skills:
the laws of international trade
how to legally ship goods into, and out of, Canada
the paperwork and documentation required to import/export products (shipping quotes, invoices, customs clearance, cargo receipts, etc.)
how to analyze global markets to see where opportunities are, identify possible risks, and get a competitive edge on other importer/exporters
how to select and coordinate international shipping
how to negotiate with producers, suppliers and distributors
how to process international payments
how to create an international business plan, and market your goods to buyers overseas
order processing and inventory management
5. Qualify to Become a Certified International Trade Professional (CITP)
Herzing is an accredited educational partner of the Forum for International Trade Training (FITT)—the world's leading export-import training and certification expert.
This means our International Commerce Diploma meets FITT educational standards, and prepares students to qualify for the Certified International Trade Professional (CITP) designation.
The CITP designation is the gold standard for professionals involved in international commerce. It is recognized across the globe as symbol of competence and credibility.
The first step in becoming a CITP is completing an accredited program in international commerce. Then, once you have finished 12 months of relevant work experience, you can apply for membership with FITT, and earn the CITP designation.
From there, you can access FITT's additional training resources, get industry updates, and take advantage of services designed to support international business professionals.
Is International Commerce right for you?
If you're interested in learning more about training, and want to confirm that an import/export career is right for you, we strongly suggest meeting with an Admissions Advisor.
An advisor can walk you through admission requirements, courses, and the skills/qualities needed to excel in this field. You can determine if the program is a good fit for your goals and needs, learn about financial aid, do a campus tour, and much more.
Click below to get started. Explore the program, request free information, and book your personal appointment with an Admissions Advisor. We're here to help!