Did you know that graphic designers can build successful careers designing hockey equipment like pads and helmets?
No? You're not alone. Neither did Vince Arnone or his parents. In fact, Vince never even considered studying graphic design.
He started out in a sporting goods business program, on track to become a sales rep, when he realized he wanted something different.
For years, Vince had been playing around with hockey pad designs, even selling a few ideas as a freelancer. But he never believed it could turn into a lucrative full-time career.
Instead, he focused on side projects and taught himself some basic Adobe design skills. It wasn't until he tried landing a real graphic design job that Vince realized he needed more training.
He enrolled in the Graphic Design program at Herzing College Toronto, learned the software, honed his craft, and kept right on making those hockey pad designs.
Two short years later, Vince has been recruited as a Content Creator for TSN, and NHL stars across North America are wearing his custom designs.
Turns out becoming a hockey equipment designer isn't such a crazy idea after all.
Check out this interview to get Vince's review of our Graphic Design program, and learn more about his growing career.
Q: Can you tell us a bit about yourself? What were you doing before you enrolled at Herzing College?
Vince: I grew up in Brampton, Ontario. After high school, I moved to Georgetown to attend Fleming College and take their Sporting Goods Business program.
Before that, I'd thought about going into electrical, but wasn't sure about doing something I wasn't really passionate about.
So I chose the Sporting Goods program because I loved designing hockey equipment and wanted to get into the industry.
Q: When did you get interested in Graphic Design?
Vince: I realized that Fleming's program led to becoming a sporting good sales rep, which didn't really interest me. I wanted something more hands-on.
My main interest was designing hockey equipment. I was always drawing and designing hockey pads and other equipment. My mom asked me, if you could do anything in the world, what would it be? I said, I want to design hockey pads!
Graphic design was the natural starting place. It was a way into the sporting equipment design field, and the skills I needed to make tangible designs I could share with other people.
So while I was still at Fleming, I started teaching myself graphic design. I learned Photoshop and Illustrator, working after class to develop my skills.
Q: What made you choose Herzing's Graphic Design program?
Vince: After I graduated from Fleming, I built up a name for myself designing hockey equipment and was already doing projects with companies. So at that point, I didn't think I needed any formal graphic design training.
But when I started looking for more work, I realized I didn't have the right skillset to get hired as a graphic designer. Employers wanted experience with software, design tools, and techniques that went way beyond the experience I had designing hockey equipment.
So I started looking for a hands-on Graphic Design program I could finish quickly. Many programs were 3 years, but I didn't want to invest that much time.
I researched schools in the GTA and saw that Herzing had a good track record, wasn't too expensive, and you could start any time. Plus, the program is only 10 months long.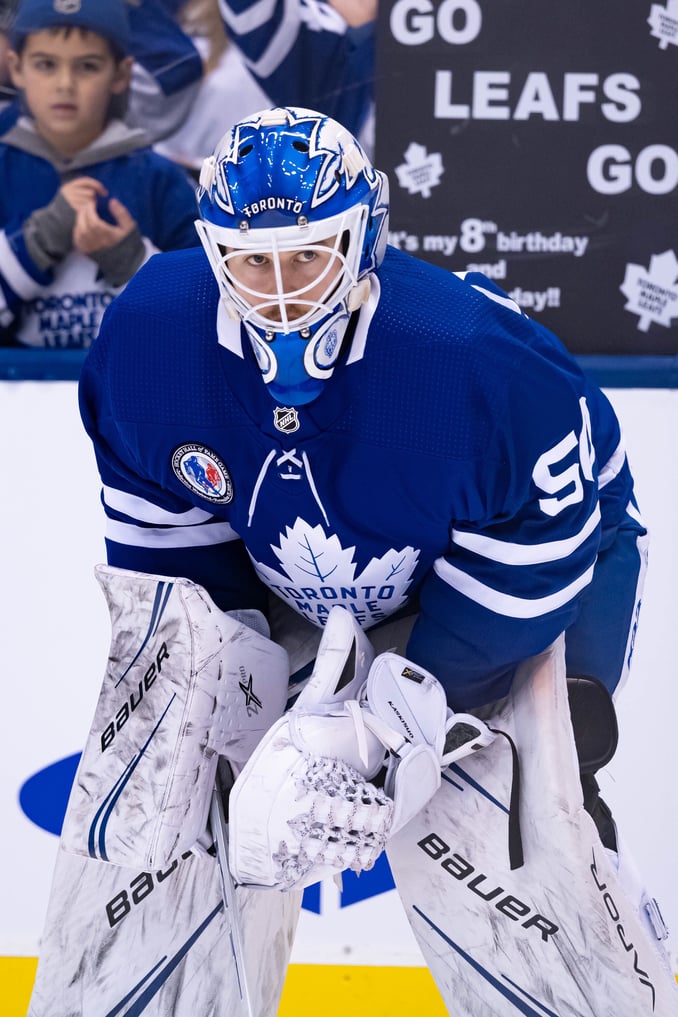 Vince designed this helmet for former Leafs goalie, Kasimir Kaskisuo
Q: How was your experience in the the program?
Vince: I loved the program. Going in, I wasn't really excited about heading back to school. I thought the classes would be huge like in most college and university programs.
But there were only about 8 people in my class. And the instructor, Miguel Suarez, was basically the greatest guy in the world.
All the students had friendly competition with each other. We'd all talk about projects, problems we were having, creative ideas. It was a very friendly and welcoming environment. A great setting to improve your skills.
I also really liked that there wasn't a lot of theory. We did a ton of graphic design projects and it was very hands-on.
Also, the admissions experience was really great. The Advisor led me on a great tour, really helped me understand what to expect. The staff at Herzing is extremely supportive.
Q: What was your favourite part of the Graphic Design program?
Vince: The best part was going out on field trips with the instructor, Miguel. If there was a cool new mural or sculpture or piece of art, he'd take us out and help us get inspired.
In this class, we were treated as artists, not just designers. We studied street art, fine art, and a lot of other influences.
Q: Did you struggle with any of the design courses or topics?
Vince: Animation was never my strong suit. Learning animation was tough for me. But for other students, animation was no problem at all. We all had different strengths and weaknesses.
Q: What was the internship like? Where did you work?
Vince: I did my internship at Wild on Media. They specialize in outdoor advertising and interactive marketing experiences.
Basically, I was making mockups of their ads. Companies came to us for marketing plans and services, and they did a lot of design work for ads.
I was using Photoshop and Illustrator on a daily basis. Often, we would get a project without a lot of clear direction, so I had to adapt and think on the fly.
The experience made me more self- reliant, and more independent as a designer and problem-solver.
Q: You ended up getting hired by TSN, right? How did that come about?
Vince: After graduation, I kept doing side projects in hockey designing, working freelance for a few months.
There came a point when I decided I wanted a full-time position at a company. I took my time to find the right fit.
One day, I noticed TSN had started writing articles on a pair of Air Jordan skates I'd designed. I'd been posting my designs on Instagram, which is probably where they saw them.
Obviously, I follow TSN, so I decided to just message them. I said I noticed they'd been writing about my designs, and maybe there was a good partnership opportunity there.
They replied saying, yes, come in and talk to us. I met the guys, we talked. and they were excited to bring me in. I started working at home on one-off graphic design projects.
After two months, they brought me to the office to join full-time. My title at TSN is Content Creator. I'm working at the Scarborough office.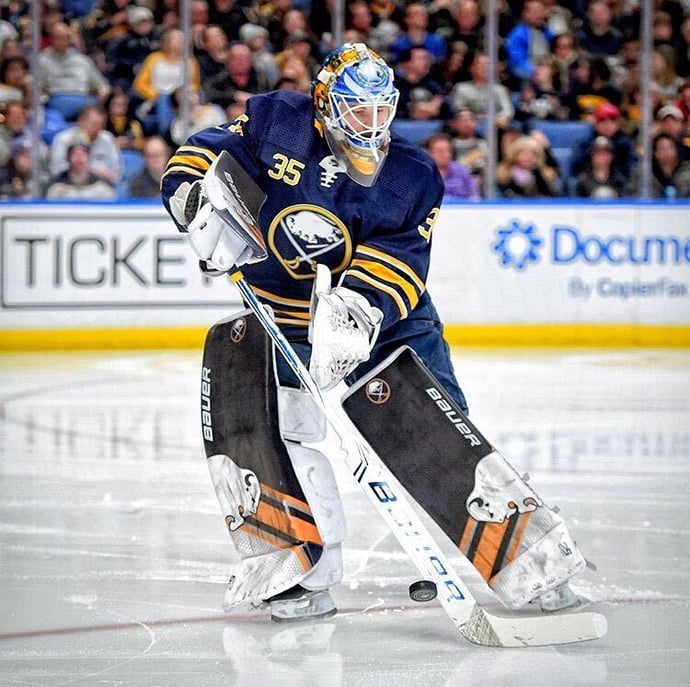 Vince designed these leg pads and gloves for Linus Ullmark of the Buffalo Sabres
Q: What are some major graphic design trends you're seeing at work right now?
Vince: VR is going to be the next big wave of graphic design. Animation and 3D are also growing fast. I think these are skills you'll need to really stand out and advance in graphic design.
Q: Any advice for future Graphic Design students?
Vince: If you're passionate about it, go for it. Graphic design is all about passion. It's also essential to be constantly learning.
What you learn in school is just the beginning. If you're ready to keep pushing yourself to develop your skills, you can do very well in this industry.
The most important thing is to have that drive to keep improving and growing.
A big thank-you to Vince for catching up with us this week. Congratulations on all your success! We're looking forward to seeing more of those incredible hockey pad designs.
Check out Vince's website to see more examples of his work: http://www.thevincenzoarnone.com/
Check out his Instagram.
Learn more about Graphic Design training at Herzing College
Herzing College Toronto offers an accelerated 10-month Graphic Design program. Training includes a wide variety of hands-on projects, plus a 6-week internship at a local company.
If you're interested in learning more, your next step is to speak with Admissions. An Admissions Advisor will walk you through the program, including costs, financial aid, and upcoming start dates.
Click below to explore the Graphic Design program in more detail, and chat live with an Advisor now.