Graphic Design instructor, Miguel Suarez at his home office in Toronto, Ontario
Miguel Suarez began teaching Herzing's Graphic Design program in 2017. But his passion for art and design began much earlier, when he was a teenager growing up in the Philippines.
Miguel moved to Canada just after high school and began looking into college training options. Through a twist of fate, he missed the application deadline for design school, and enrolled in a culinary management program instead.
From there, Miguel embarked on a winding career path that took him across Canada and throughout the Caribbean, working in hotels and doing freelance graphic design projects on the side.
Finally, in 2008, he discovered Herzing's graphic design program through a family connection. During training, the instructor noticed Miguel's talent, and after graduation hired him as a teaching assistant.
Fast-forward 10 years, and Miguel has taken over the program as instructor. Coming full circle from student to teacher, he now helps other talented designers hone their craft and launch successful careers.
This week, we interviewed Miguel to learn more about the graphic design program, and the wide range of job options available in the field.
Meet the teacher, explore the training, and see if you're destined for a career in graphic design.
Q: Miguel, can you tell us about your education and professional experience in graphic design?
Miguel: My graphic design life started when I was 16 years old. I was put in charge of designing my high school yearbook, back home in the Philippines.
I volunteered that summer, doing the graphic design work, while under the tutelage of the in-house designer, who trained me to use Photoshop. I was hooked.
Soon after, I moved to Canada, arriving just after the enrollment deadline for design school. So I ended up attending the George Brown College chef school instead.
I spent the next several years doing freelance graphic design jobs, while working in hotels across Canada and the Caribbean.
In 2008, I returned to Canada and signed up with Herzing's graphic design program. I discovered Herzing through my father, who was actually attending the college at that time.
I studied with two highly respected teachers, Jerzy Galecki and Alan Wong, and graduated in 2009.


Q: How long have you been teaching at Herzing College Toronto?
Miguel: Shortly after graduating from Herzing, I was asked to be a teaching assistant under the instructor, Jerzy Galecki. After a year and a half, I was invited to teach the course on Adobe Flash.
Later, the president of Herzing College Toronto asked me to take over the graphic design program, after Jerzy's departure in 2017. I've been the instructor ever since, and it's been incredibly rewarding.
My students are my daily inspiration. I love designing lessons specific to their needs, and watching them grow into amazing graphic designers.
I am so proud of our graphic design graduates and what they have achieved in their careers.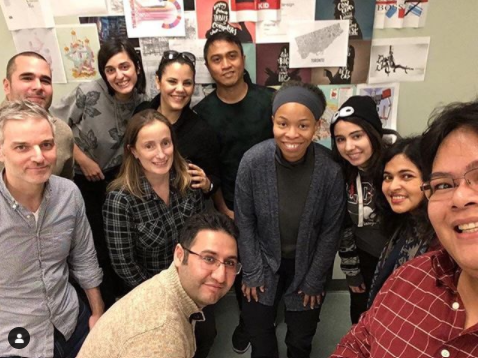 Miguel Suarez (far right) with graphic design students at Herzing College Toronto
Q: What are the most important graphic design skills students learn in your class?
Miguel: Most of my students already come from some form of creative background, whether it's a casual hobby or lifelong passion. One of the most important skills they learn at Herzing is how to adapt their creativity to the ever-changing field of graphic design and visual art.
The driving force behind this adaptability is a healthy imagination, seeing what others cannot see, and being able to bring others into our "invisible" world.
Adaptability also means being very aware of trends that clients have grown accustomed to (whether those trends match your personal taste or not).
In this industry, there's huge value in knowing how to control and manage your imaginative spirit to adjust to the needs of clients. This is what employers are looking for in new hires. This is what pays the bills!
We explore and develop this balance every day in Herzing's graphic design program.


Q: Can you describe a few graphic design projects students do in your class?
Miguel: They do a lot of hands-on projects, which are mostly driven by their own interests. We work with a variety of Adobe Creative Cloud software, as well as some open-source software, so the students are constantly being challenged creatively.
There are the classic favourites like illustrating a car and designing your own currency. But I tend to add a twist to all the projects I assign.
For example, I had a student whose drive was to learn how to do game art. So I was inspired to incorporate game art design into some of our projects.
It was so successful that one student even got hired to be a game art designer shortly after he graduated from the program!

We treat each project as if it were a real creative brief, for a real client. In this way, students get prepared for real graphic design work scenarios.
Check out examples of student work and class photos on Instagram under #herzingdesign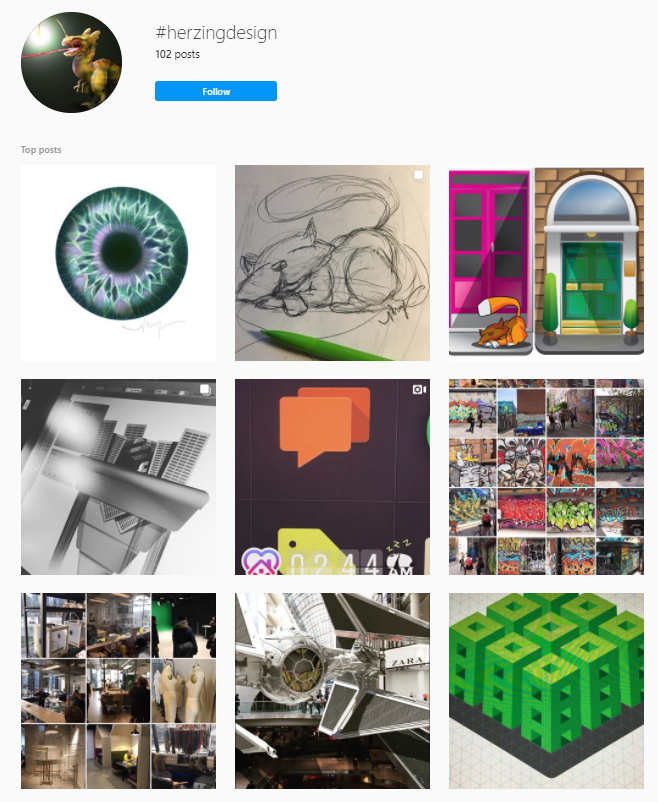 Q: Graphic design has evolved tremendously over the last 20 years. What are some of the biggest trends?
Miguel: I am happy to see the return of hand-drawn art, and its application to a modern design
environment.
Classical animation is making a massive comeback in the gaming industry, as well as video content creation. Demand for classical art skills is on the rise, so students who paint and draw can benefit from this trend.
Old art styles are also making their way back into Typography, layout, and even animation.
Due to the advancement of photographic tech in smartphones, more and more users are being inspired to be more creative and explore new heights.
This of course creates jobs in app development and UI/UX in place of web design; and motion
graphics, video, and animation content creation, in place of your standard printed images.
There has also been an increase in augmented reality and changes to how movies are created.
With the skills they develop in class, students in Herzing's graphic design program have the amazing opportunity to venture into so many creative fields.
It is truly an exciting time to be a creative designer!
Q: Do you teach students of all ages and skill levels?
Miguel: Yes! There has been a very good mix of people in my program, thus far. I find that each
student has something special to share with the rest of the class.
As long as you have a strong yearning to learn, it doesn't matter what age or background you belong to.
Q: What are the different graphic design career paths? Where can a new graduate find work?
Miguel: Entry-level positions could vary from doing small in-house designs to working remotely on bigger projects.
A student who can be adaptable, and has a strong portfolio, will have no problem securing that first job.
Students with strong graphic design software knowledge can pursue many different career paths. Our graduates can do print, illustration, web design, UI/UX design, mobile app design, game design, video content marketing, content creation, film, animation, and the list just goes on.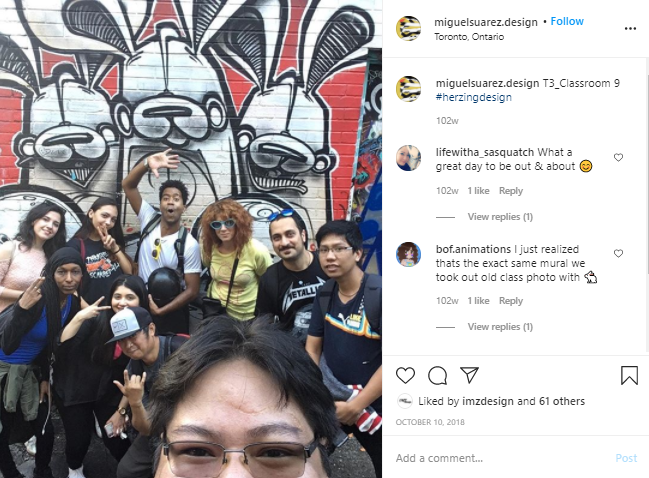 Miguel with his students on a field trip in Toronto
Q: What is the key ingredient to be successful in your graphic design program?
Miguel: It's simple. You must be eager and hungry to learn. Attitude is the key.
Q: What's the best thing about being a graphic designer?
Miguel: For me, it's learning new skills. Graphic design is so versatile that it's almost impossible to run out of applications for it. For artists, it is very rewarding to do what you love and get paid for it.
It's one of those career paths that doesn't really feel like a job most of the time. And it's portable. You can live and work from anywhere in the world, as long as you have a laptop and a strong wi-fi connection.
Graphic designers make the world a more beautiful place, one project at a time.
Thank you Miguel for sharing your expertise and passion for graphic design. We're so lucky to have you on the faculty at Herzing College Toronto!
Learn More About Graphic Design Training at Herzing
Herzing College Toronto offers a 10-month graphic design program that includes a six-week internship. Students learn a wide range of print and digital design skills, including hands-on training in Adobe Illustrator, InDesign, Photoshop, and Dreamweaver.
Each student graduates with a professional design portfolio and real work experience.
If you're interested in learning more, your next step is to speak with admissions. An admissions advisor will guide you through the program, including class schedule, careers, tuition, and financial aid.
Chat live with an advisor right now. Or click below to explore the graphic design program in more detail. We're here to help!