Students practising health care aide techniques at Herzing College Winnipeg
Updated March 2023
Are you considering becoming a health care aide? Chances are, you have probably already started researching health care aide courses in Winnipeg. The city has several colleges that offer this program, so there are many options to choose from.
Most health care aide programs deliver similar courses and teach similar skills. They take the same amount of time to complete, include an internship, and promise good employment opportunities after graduation.
If programs are so similar, how do you know which college offers the best health care aide course?
You need to find the school that goes above and beyond basic requirements. You want the highest quality training delivered by the most experienced instructors.
Most importantly, you want a program that includes additional instruction in cutting-edge skills employers really want.
Over the years, Herzing College has developed a reputation for exceptional health care aide training. That's because we have some very special people developing and teaching this course.
What makes Herzing the number one provider of health care aid training in Winnipeg? Take a look at six key features that really set us apart.
1. Our Health Care Aide course is taught by licensed nurses
Your success as a health care aide depends on the expertise of your instructor. If you want to build the best skills, you need to learn from the best teachers. This is true for every profession, but especially important for healthcare roles where patients' lives are at stake. You want to ensure the training you receive is up to date and thorough.
At Herzing, we've been fortunate to attract some of the best health care aide instructors in Winnipeg. Every single one of our instructors is a licensed nurse.
Take Nancy Scott, for example. Nancy is a registered nurse (RN) with over 20 years of experience, who actually started her career as a health care aide.
Nancy helped develop our health care aid course and has been teaching the program for many years. She stays in touch with employers throughout Winnipeg, and constantly updates the training with new skills.
The result? An extremely high-quality program that fully prepares students for work. This is the most cutting-edge, comprehensive health care aide course you'll find in the city.
"Nancy Scott is amazing. She just doesn't stop! From the moment you walk in on the first day, she welcomes you and explains every little detail and truth about the career.

In every possible way, Nancy goes above and beyond to prepare her students. She researches the Winnipeg job market. She talks to employers to find out what they're looking for in new hires. Nancy supports her students every step of the way."

Sheri Richard, Health Care Aide graduate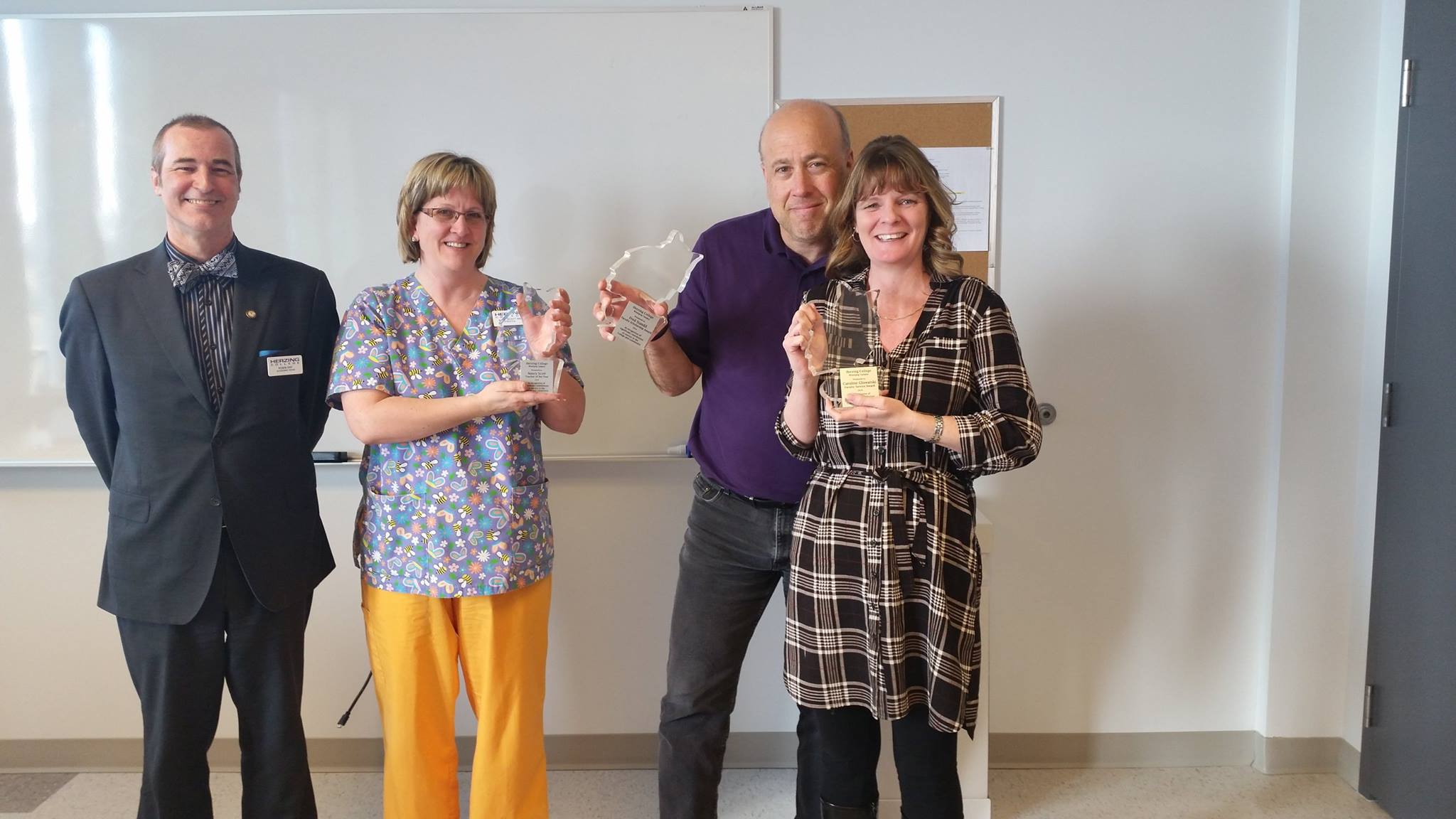 Nancy Scott (centre) wins Instructor of the Year award at Herzing College Winnipeg
2. Training includes the certificates employers want
When you research health care aide courses, you'll find that most programs include standard certificates in First Aid, CPR, and Non-violent Crisis Intervention. This is a normal part of this training.
But Herzing's health care aide course goes further. We include those three standard certificates, plus a certificate in P.I.E.C.E.S, which is from the Alzheimer's Society of Canada and teaches students how to care for patients with dementia.
Instructor Nancy Scott explains how the P.I.E.C.E.S certificate adds value to health care aides.
"I speak with dozens of employers in Winnipeg, asking them which skills are most lacking right now in health care aides. They told me that training in P.I.E.C.E.S is one of the top things they look for.

They say they definitely prefer to hire health care aides who already have this certificate. So we added it to the program to give Herzing grads an advantage when competing for jobs."
Read our full interview with Nancy Scott: Winnipeg Needs More Health Care Aides: Should You Get Training?
3. Our Students Get a longer health care aide practicum
The practicum is one of the most important parts of any health care aide course. This is when you get to work with real patients in a real Winnipeg personal care home.
Almost every college includes a practicum in their health care aide course. So how is Herzing different?
There are two unique things about our practicum:
1. It's longer. Most colleges offer a six-week health care aide practicum. Ours is eight weeks long.
2. It's fully supervised by our instructors. Our licensed instructors support students through every step of their work placement. Other colleges don't offer this level of supervision.
Nancy Scott explains:
"Our work placement runs for eight full weeks and is fully supervised by our instructors, who are all licensed nurses. Other colleges have just six weeks of practicum, and the students are usually spread out at different facilities, with limited supervision.

Herzing students do their practicums all together at a Winnipeg personal care home, where licensed nurses from Herzing oversee and guide their learning for the entire eight weeks."
This fully supported practicum makes a huge difference for our students. It helps them develop practical skills and confidence, so they're more prepared for life at work.
That's why so many Herzing graduates get hired straight out of their practicum.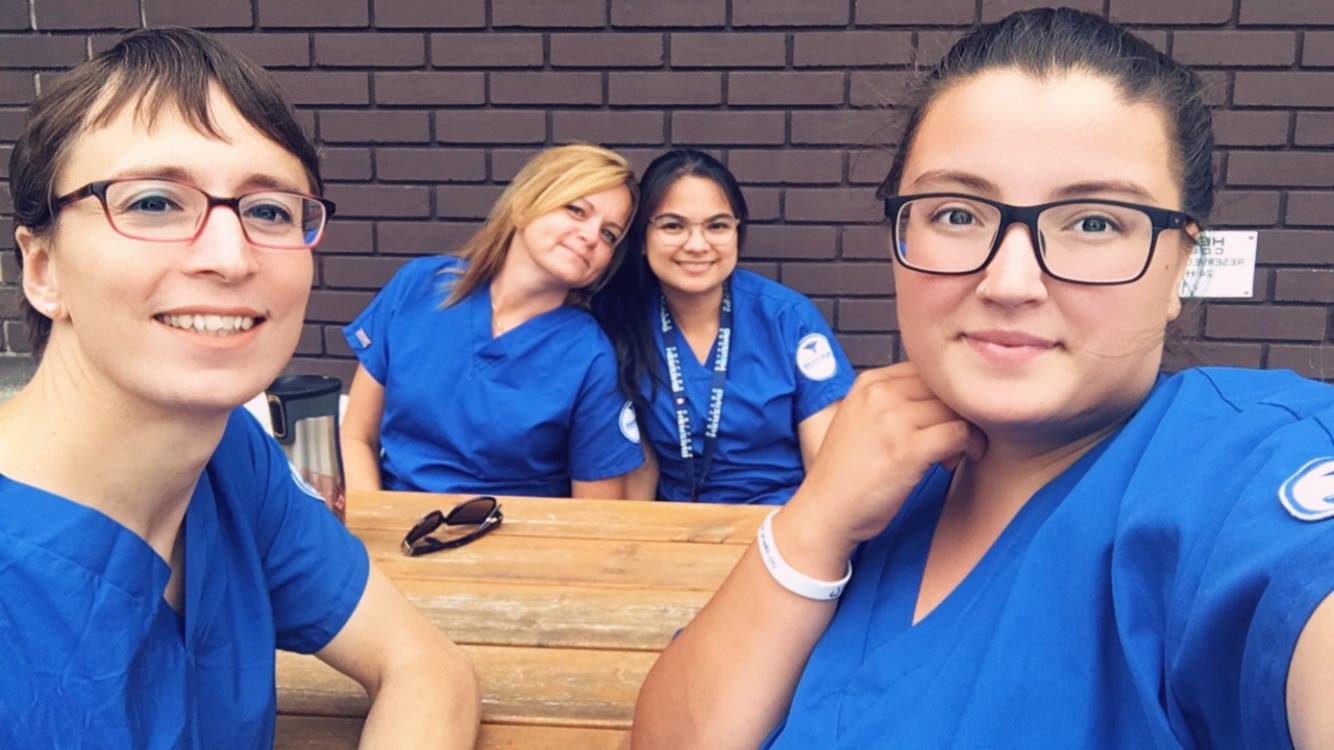 Herzing health care aide students on practicum at Extendicare Oakview Place in Winnipeg
4. extra hands-on training in health care aide skills
Health care aide training involves much more than sitting in class and studying patient care techniques. Good programs include a lot of lab work, including simulations of real patient scenarios, and hands-on training in care techniques.
This is another area where Herzing really stands out. Our health care aide course really focuses on hands-on skills.
Students get to experience the real role of a health care aide and what it feels like to be a patient. It's a very unique learning experience and excellent preparation for work.
"Students really love the lab work, where they get to practise health care aide skills on each other. We do brushing teeth, feeding exercises, moving each other with safety techniques—even spending time in a wheelchair.

They practise all the ways they'll be helping clients, really experiencing what the patient is going through.

We also have a fully equipped kitchen—which not many colleges have. Instead of just studying nutrition in class, we get to plan meals and cook together. It's truly the best way to learn, and a lot of fun!

- Instructor Nancy Scott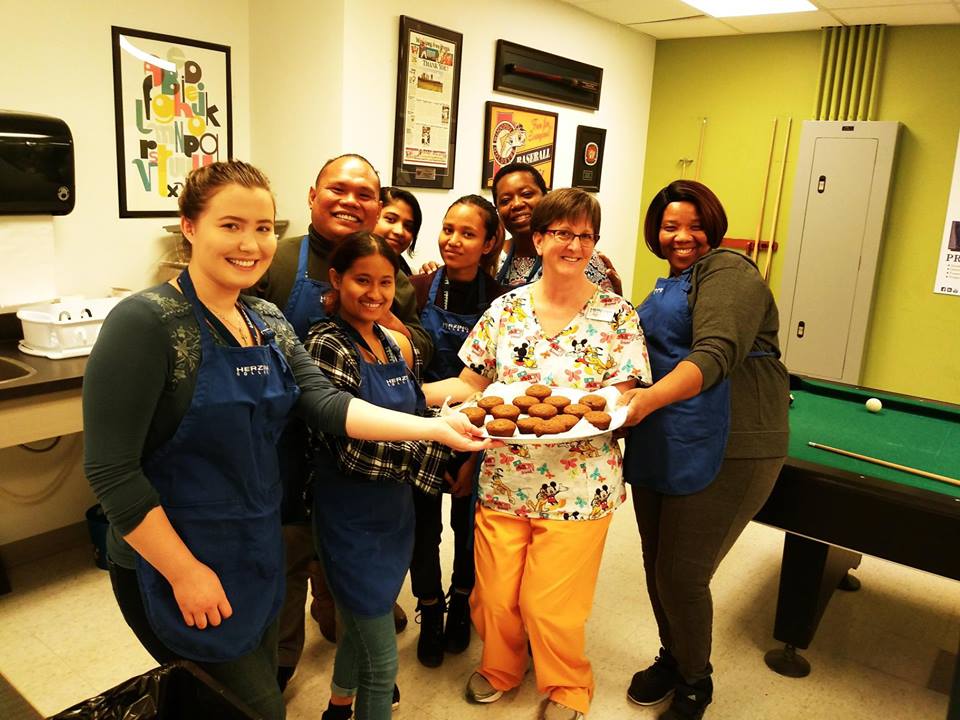 Nancy Scott with health care aide students, preparing healthy meals in the Herzing kitchen
5. our graduates get hired!
Health care aides are in high demand in Winnipeg. But that doesn't mean it's easy to find a great job after college. Employers are picky about who they hire and are always looking for the most prepared, skilled applicants.
When you're comparing health care aide colleges, be sure to look closely at graduate employment rates. What percentage of the school's students find jobs after graduating? This is a really good way to judge the quality of the training and ensure you choose the best possible school.
Herzing has an excellent track record in graduate employment. This shows how much employers respect our program and how easily our graduates are able to find work.
"I got hired at the place where I did my practicum. And I've had a promotion to receive more guaranteed shifts, and have always had full time work hours since I started."

- Sheri Richard, Health Care Aide graduate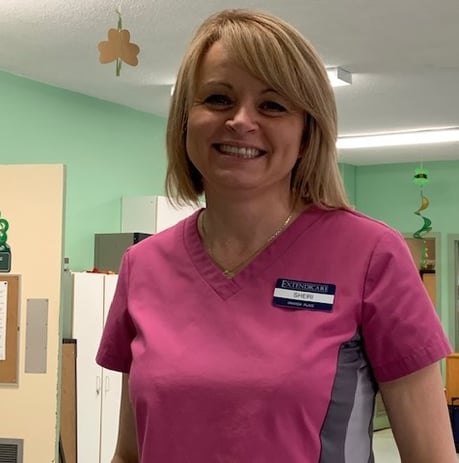 Herzing health care aide graduate Sheri Richard at Extendicare Oakview Place in Winnipeg
6. Most caring & supportive health care aide instructors
Last, but certainly not least, we have to emphasize how truly caring Herzing's instructors are. The health care aide classes are small, the teachers are friendly, and there's a great family atmosphere.
Our health care aide course is challenging, but the instructors are there to support students every step of the way. It's the perfect program for people who really care about helping patients and want to develop the best possible skillset.
"I chose Herzing because the college has an excellent reputation. I knew the health care aide course would be challenging. But I also knew that by the time I graduated, I would be fully prepared for a successful career in this field. I graduated with total confidence and ready for work."
- Susan Zirk, Health Care Aide graduate
Want to learn more?
Herzing College Winnipeg offers a 6.5-month Health Care Aide course. Training includes an eight-week practicum, several important certificates, and total support from expert instructors.
If you're interested in learning more, your next step is to speak with admissions. Chat live with an admissions advisor now, or click below to explore the training in more detail. We're here to help!