Herzing Health Care Aide students pose for a photo
Are you considering becoming a health care aide (HCA)? Wondering what's involved in training, and whether you'd be a good fit for this career?
There's no one better to talk to than Nancy Scott, RN. Nancy has been teaching full-time for 20 years, and actually helped develop the Health Care Aide Program at Herzing College in Winnipeg.
She started as a health care aide herself, and has brought years of experience, dedication, and passion to the program. In fact, it's because of Nancy's commitment to excellence that Herzing now offers the most comprehensive, cutting-edge health care aide training in Winnipeg.
Winnipeg, and Manitoba as a whole, has a serious lack of trained HCAs. Our rapidly aging population (and limited health care resources) is creating strong demand for health care aides trained in the latest patient care techniques.
We interviewed Nancy this week to learn more about who is an ideal candidate for this career. We talked about what students can expect in training, what makes Herzing's program so unique, and typical job opportunities out in the field.
Here's everything you need to know.
Q: Nancy, what special qualities are required to be successful as a health care aide?
Nancy: There is no doubt that patience and compassion are essential qualities for health care aides. But critical thinking and problem solving skills are also extremely important.
In fact, "problem solving" is the number one thing employers ask for in HCAs. At work, you'll have supervising nurses around to ask for help, but employers really want health care aides who can tackle problems and make decisions on their own—without too much input from supervisors.
In my classroom, students see the terms "discretion" and "critical thinking" big and bold on the blackboard, right from day one.
This is the real focus of the training: building the knowledge, confidence, and skillset needed to make smart decisions for patient health and safety.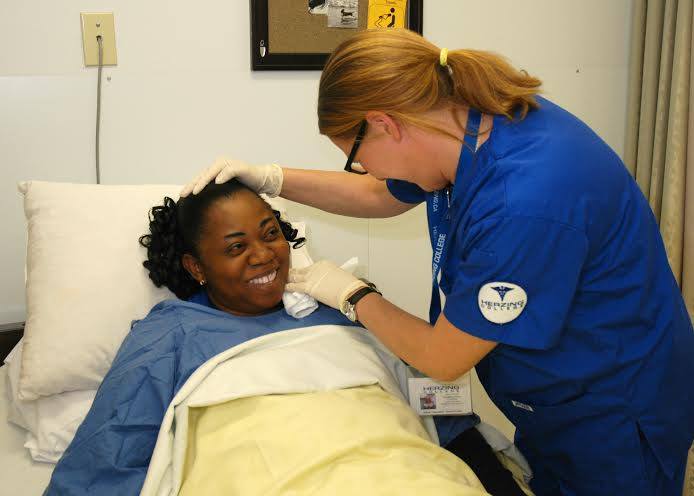 Herzing health care aide students practise patient care techniques
Q: What kinds of backgrounds do your students come from?
Nancy: The health care aide program at Herzing is extremely diverse. We have a good mix of men and women, and students ranging from 17 to 63 years of age!
This program attracts students from all walks of life. I've worked with people who have a Grade 8 education, and others who hold PhDs.
Right now, I've got two students fresh out of high school, several mature students who are starting new careers, and quite a few recent immigrants to Canada.
In general, 50 to 75 per cent of my students are people who are new to Canada. I've found that caring for elders is often engrained in their cultures, and they naturally understand the skills involved in becoming a health care aide.
Q: What is most unique about Herzing's health care aide program?
Nancy: There are a few really important differences in how we run our health care aide program. I would say the most important difference is Herzing's practicum.
Our work placement runs for eight full weeks and is fully supervised by our instructors, who are all licensed nurses. Other colleges have just six weeks of on-the-job training, and the students are usually spread out at different facilities, with limited supervision.
Herzing students do their practicums all together at a Winnipeg personal care home, where licensed nurses from Herzing oversee and guide their learning for the entire eight weeks.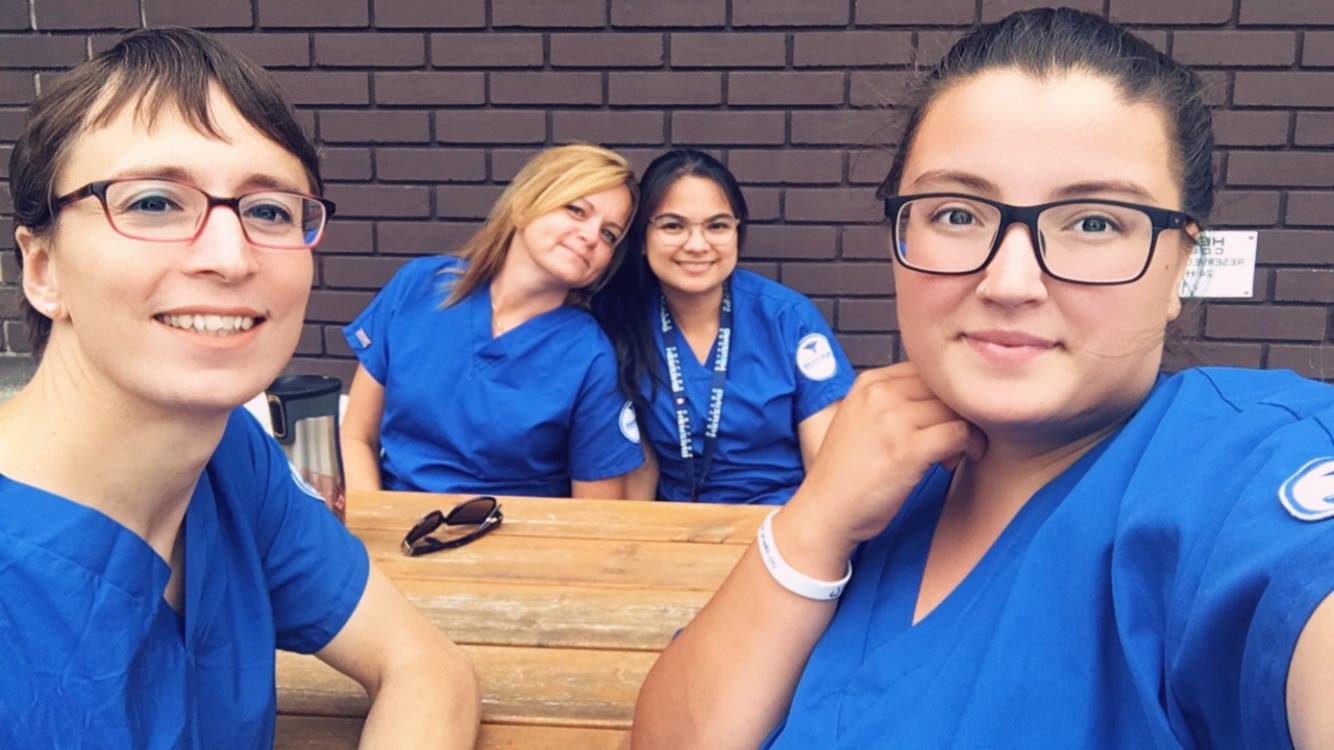 Herzing health care aide students starting their practicum at Extendicare Oakview Place in Winnipeg
The other major advantage of our program is the cutting-edge certificates students earn during training.
For example, we offer the P.I.E.C.E.S certificate, from the Alzheimer's Society of Canada. For this certification, students learn all the different aspects of caring for patients with dementia—including physical, intellectual, emotional, and social/cultural considerations.
Having additional certificates gives Herzing grads a huge advantage when applying for health care aide jobs after college.
I spoke with dozens of employers in Winnipeg, asking them which skills are most lacking right now in health care aides, and what they want most in new applicants.
They told me that training in P.I.E.C.E.S is among the top things they look for. They said they'd definitely prefer to hire health care aides who are already certified.
That's why we've added this training to Herzing's program, in addition to standard certificates in CPR/First Aid, and Non-Violent Crisis Intervention.
Another unique feature I'd like to point out is Herzing's fully-equipped kitchen and laundry room facilities for health care aide students. Not many colleges have this.
We get to plan and cook meals together (for the nutrition part of the training), and students get hands-on experience taking care of other household management tasks.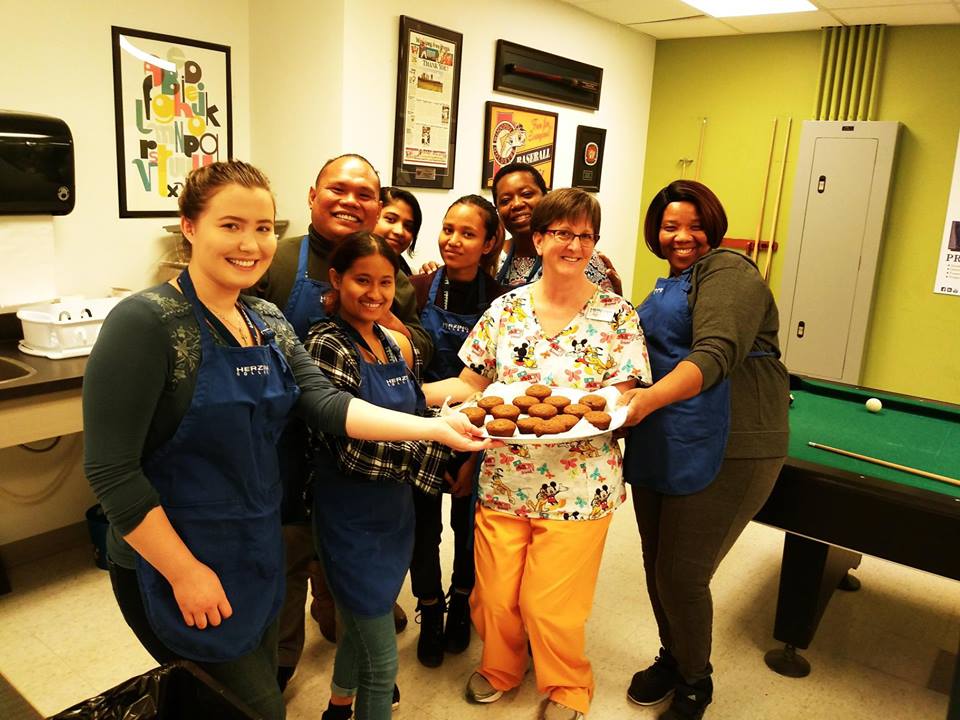 Nancy and her health care aide students practise cooking skills in the Herzing kitchen
Q: What are some typical challenges students face in your classroom?
Nancy: Because many of our students are new to Canada, I'd say English language challenges are very common. But Herzing offers really great peer-mentoring services for ESL students (and any other student who needs support), which helps a lot.
We've had hundreds of people who are still learning English successfully complete our health care aide training, so don't let a language barrier hold you back!
Q: In your experience, what do students love most about health care aide training?
Nancy: I would say the hands-on parts of training are most popular. Students really love the lab work, where they get to practise health care aide skills on each other.
We do brushing teeth, feeding exercises, moving each other with safety techniques—even spending time in a wheelchair. They practise all the ways they'll be helping clients, really experiencing what the patient is going through.
That's huge for building empathy, learning technique, and gaining confidence in their new skills.
And most of all, everyone who graduates from Herzing says they love the practicum most. This is where students get to work with real patients in a care home—it's what training is all about, and the last transition from classroom to employment.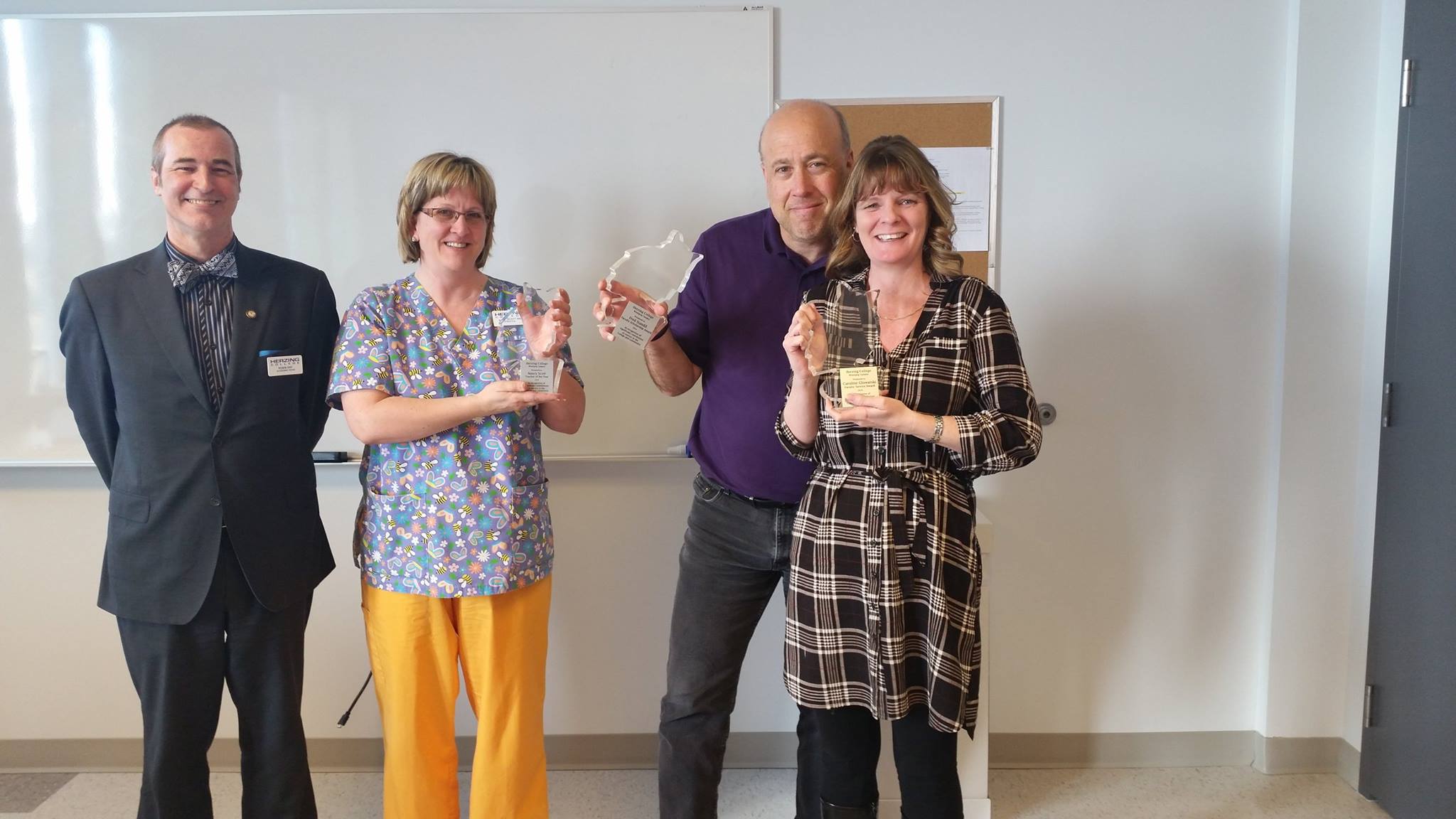 Nancy Scott (centre) wins Herzing's "Teacher of the Year" Award
Q: Where do Herzing health care aide graduates get hired?
Nancy: Our health care aide grads can (and do) find work in any hospital in Winnipeg. Many are employed in personal care homes, such as Oakview Place and Riverview. Others have been hired by home care companies, including Comforts of Home Care, and Home Instead.
It's very common for our students to get hired straight out of their practicum, which is really great. We always tell students, "Get ready: you're going on an eight-week job interview!"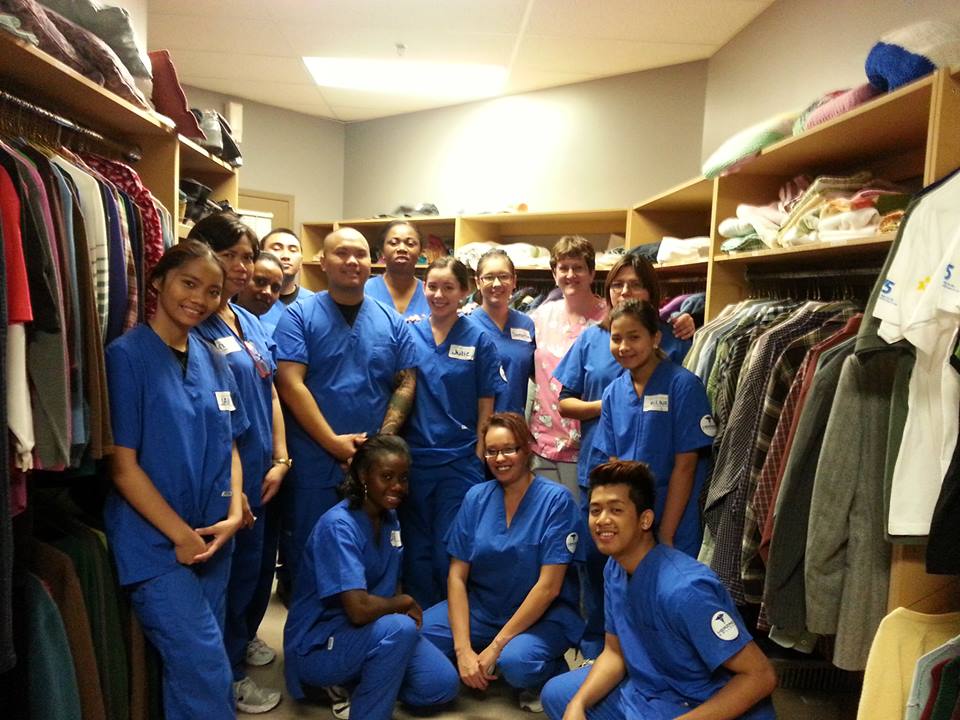 Nancy and her students volunteering at Siloam Mission, serving lunch & sorting clothes
Q: What are the biggest misconceptions or "myths" about health care aides?
Nancy: The biggest myth about health care aides is that they just "clean up" after clients. People don't think they're actually important members of the health care team. This is completely untrue.
Health care aides are incredibly valuable to the patients, families, and nurses they work with. They watch over patients very closely, and are usually the first to notice changes in behaviour and health.
Essentially, health care aides are the "eyes and ears" of the nurses. Plus, they provide a level of emotional support and practical care patients can't get anywhere else. That's why we're seeing such a spike in demand for this role.
Q: Any final words of advice for someone considering becoming a health care aide?
Nancy: If you're truly passionate about a career where you can help others and make a big difference, go for health care aide training. Here is what I write on the board, the first day of every HCA class:
Your ideal job is one that you love and are good at, that someone will pay you for, and that makes a difference in the world.
The truth is, after more than 20 years in health care, I'd never want to do anything else. I love my job, and I'm always happy to come back from vacations. This is my true calling.
If you feel that way about becoming a health care aide, I'd be very happy to welcome you to my classroom!
Learn more about Health Care Aide training at Herzing College Winnipeg
If you'd like to learn more about Herzing's Health Care Aide program, your next step is to speak with admissions.
Chat live with an admissions advisor right now, or click below to explore the program and request information. We're here to help!