Think you have a natural talent for organizing and decorating spaces? Considering becoming an interior designer, but have no idea how to get started?
You've come to the right place! In this post, we provide a mini-roadmap for starting a career in interior design. You don't need a university degree to break into this field. But you do need solid training, hard work, some natural talent, and some professional design experience.
How do you get the ball rolling? Here's your step-by-step guide to choosing a diploma program, building the right set of skills, and getting your foot in the door at a design company. Let's get started.
Step #1. Nail down what an interior designer actually does
A lot of people confuse interior design with interior decoration. They are not the same thing. An interior decorator is a stylist. They focus on colours, furnishings, and final touches. They don't decide or alter the architectural structure of the rooms they're working on.
An interior designer, on the other hand, knows how to design a space from scratch. They analyze their client's needs, create drawing plans and blueprints, and supervise the building/renovation process from start to finish.
Interior designers understand acoustics, lighting, building codes, materials, the construction process, accessibility, safety....and how to style a room. They do it all!
Interior designers work on homes, offices, retail stores, hotels, and institutional and cultural buildings (hospitals, museums, schools, libraries, etc.)
Step one to becoming an interior designer is understanding the key differences between "decorative styling" and "designing." And that's because designers need very specific training and technical skills to start their careers. Which leads us to step two.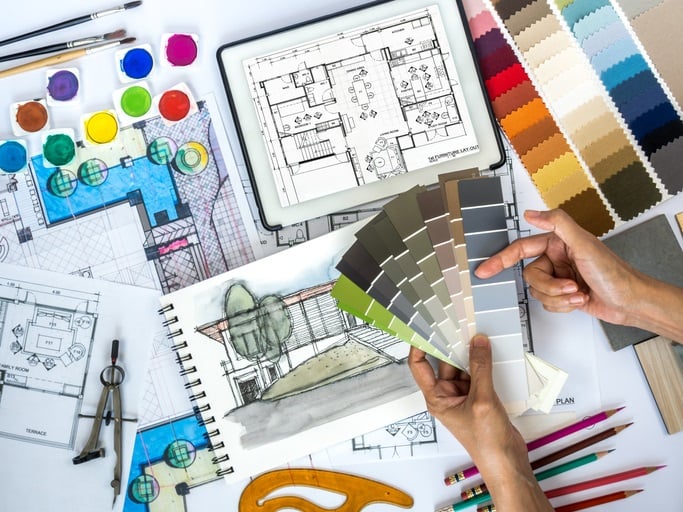 Interior designers need a range of technical skills, including precision sketching, AutoCAD software, space planning, and colour theory
Step #2: Find a Quality Interior Design College
You don't actually need a university degree to be successful as an interior designer. So, many students opt for college-level interior design training. They choose a shorter diploma program, which prepares them for the job market much faster than a 4-year degree.
How do these diploma programs work? Most are under 2 years in length. At Herzing College Montreal, for example, our Interior Design program runs for 18 months, full-time.
Diplomas are shorter because they eliminate much of the theory and philosophy taught in university-level interior design courses.
Instead, they focus on the practical, technical design skills you'll need to get hired. These include:
Computer-Aided-Design (CAD) software, like AutoCAD

Adobe Photoshop

3D modelling software (like SketchUp)

Building codes

Freehand sketching and drawing

How to select building materials, textiles, and finishes

Functional, safe space planning

Interior lighting design

How to design for residential, commercial, and industrial spaces
There are a lot of interior design colleges out there. What should you look for in a quality program? Key features to notice include:
strong focus on interior design software

hands-on training through multiple design projects (which will allow to really practice and apply your software skills)

a guaranteed interior design internship (this is absolutely crucial for getting work experience before you graduate)

good graduate employment rates for the program (here's an example of our interior design employment statistics)

positive overall reputation of the college

positive admissions experience (staff are helpful, and can thoroughly answer all your questions about the training)
"One of the most important keys to success in interior design is knowing industry-standard design software, inside and out. You need to be totally comfortable using these tools, and ready to learn and integrate new technology as well"
- Sergkei Theocharis, Interior Design Graduate, Herzing College Montreal
Step #3: Meet with Admissions, Enroll in a Program
Let's say you've found 2-3 interior design schools that you really like. Your next step is to speak with admissions advisors at each school, to find out which college is your best fit.
We strongly recommend going in person to campus. This is the easiest way to check out the facilities, feel the atmosphere, and get your questions answered face-to-face.
You might even be able to drop in on an interior design class, and meet the instructor. The truth is, a lot of design programs look the same online. To make a smart decision, you need to visit each school, and get in-depth information about why you should choose one program over another.
Once you've made your decision, the admissions advisor can also help you with:
completing an application

choosing the best financial aid options

figuring out your class schedule

helping you get settled
Related: Is an Interior Design Diploma Right For You? What to Expect in Class
Step #4: Complete an Interior Design Internship
As we mentioned in step #2, an internship should be part of your interior design training. Usually, the internship happens at the end of the program, after you've developed your skills and are ready for some real-world design challenges.
You could be placed at an interior design firm—or with a business that offers different kinds of design services.
Herzing Interior Design grad, Sergkei Theocharis, completed his internship at Primo International. Primo is a leading home furnishing company that serves clients across Canada and the United States.
During his internship at Primo, Sergkei worked on product designs, showroom space planning, and a wide range of other projects.
"I worked on a lot of different projects during my internship. I helped the marketing team, did renderings for catalogues—every day was something new. It was a really good experience."
For many students, the internship is a pathway to permanent employment. This was true for Sergkei, who got hired full-time at Primo, soon after graduation.
He is now a professional Designer/Merchandiser, travelling throughout Canada and the US, working on various design projects with the company.
"I design concepts for special projects, and have gone twice to the US to help stage products at showrooms there. When we stage the showrooms, we really transform the space into something unique and special. Working as a designer for Primo, I have the freedom to experiment and create something really original."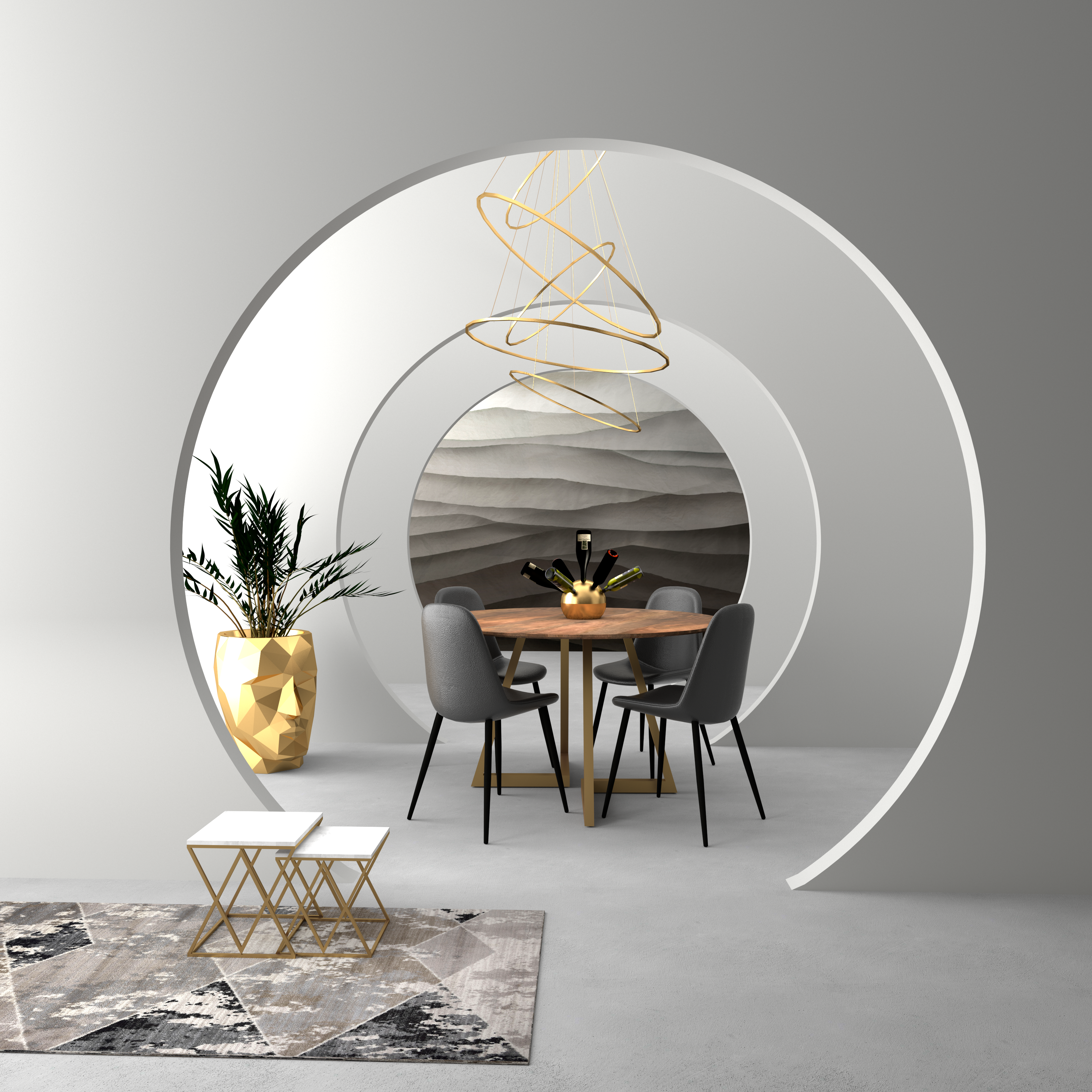 Rendering Sergkei produced for the Primo International design catalogue
Step #4: Build Your Interior Design Portfolio
Let's say you don't get hired straight out of your internship. Or, you'd rather land a job somewhere else. You need a professional interior design portfolio that showcases your talent to potential employers.
You'll start by adding the projects you completed in school. A good program includes projects for both residential and commercial design, so you'll have some variety in your portfolio.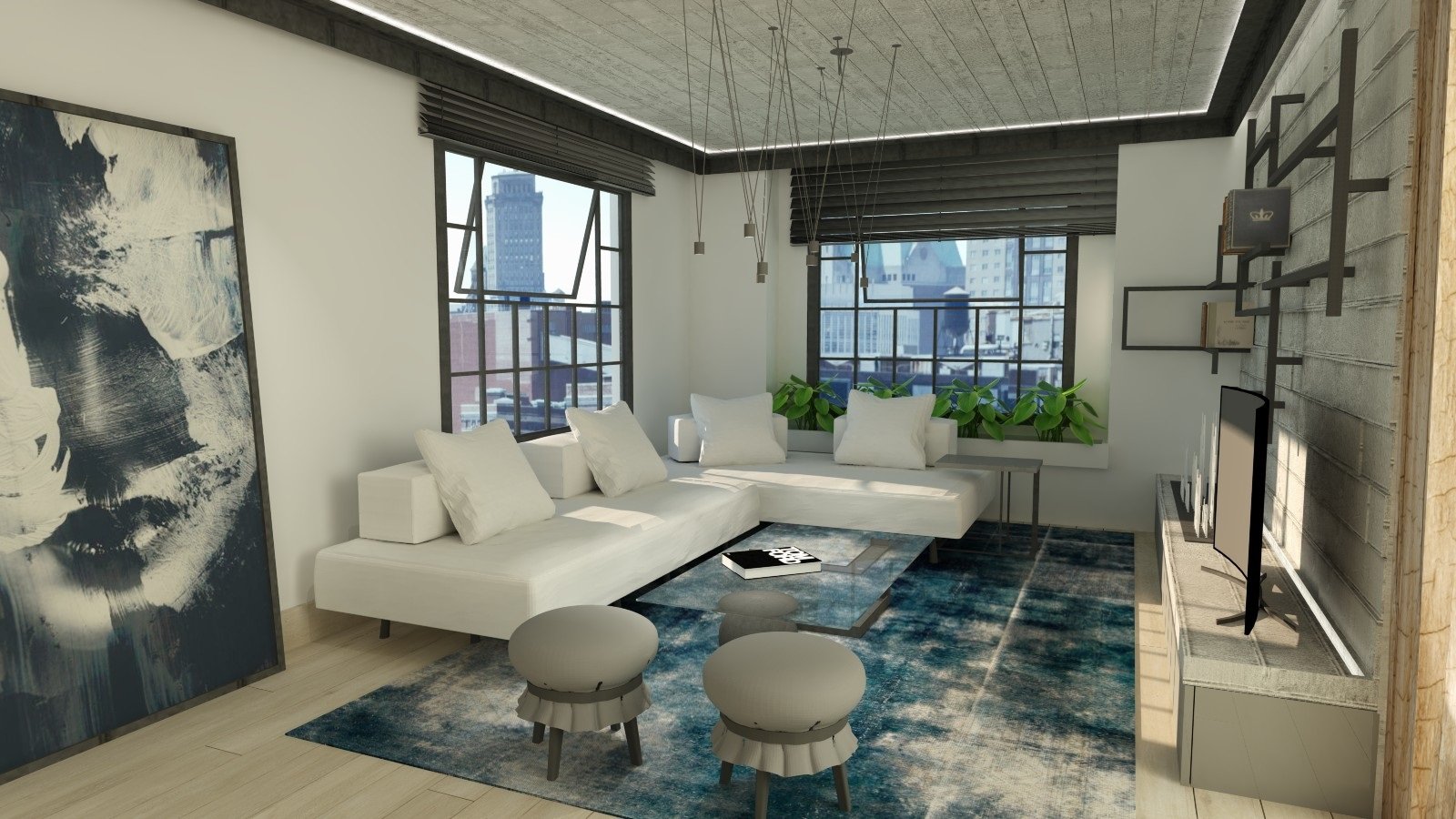 A residential interior design project completed in class at Herzing College Montreal (Credit: Sergkei Theocharis)
You can compile some really great examples into an Instagram account like Sergkei did. Check out his collection of work here: @theo___design
Look to friends and family for your first few jobs. And consider doing some work for free, so you can gain experience, and add more professional examples to your portfolio.
An employer wants to see your technical skill and design creativity. Doing a few jobs "pro-bono" is well worth it, if it gets you hired at a great company!
Check out this interview with Sergkei, to hear about his experience in training, and see some really great examples of his work: Meet Sergkei: Interior Design Grad Lands Dream Job at Primo
Step #5: Still wondering if Interior Design is right for you?
There are a couple of ways to get help making your decision. If you're not 100% sure interior design training is right for you, we recommend checking out the Career Exploration Kit.
This is a fun, interactive quiz that tells you if you're ready for college training, and which program is your best match. There's also a helpful section on financial aid options. Click to start your personal assessment now!
Rather speak to a real human?
Get in touch with our Admissions team. Our Advisors are experts in matching people with programs. We can walk you through the skills needed to succeed in the interior design program—to ensure you're a good match.
We can also help with applications, financial aid, international students, and booking a campus tour.
Click below to visit the Interior Design page, where you can chat live with an Advisor, or submit a request for free information. We're here to help!