The purpose of an interior design portfolio is to showcase your skills and abilities. Whether you're looking to work for an established firm or strike out on your own, you need to demonstrate that you're a talented and capable professional who can be trusted to produce quality work.
An intimidating task, to be sure! But not to worry. We put together this comprehensive guide to explain how to make an interior design portfolio that represents you and your work in a professional, visually appealing way.
Read on to discover how to put your best foot, and designs, forward.
TABLE OF CONTENTS
UNDERSTANDING YOUR AUDIENCE
The first step is figuring out who your interior design portfolio is meant for. It's important to choose your approach based on the type of client you want to attract or the type of employer you hope to impress. For instance, a design firm may be interested in your technical drawings, whereas a potential client will probably want to see before-and-after pictures.
Ensure that you tailor the content of your portfolio to your target audience. You might have stunning photos of residential living rooms, but they won't help you much if you're trying to get into store or hotel design.
Herzing instructor Laura Garner has over 10 years of experience in the interior design field. She suggests starting by defining your niche.
"Think about what kind of interior design work you're most into—maybe you love eco-friendly design, or you specialize in high-end residential projects. Once you've got your niche, do some research on who your ideal clients are and what they care about. Think about their age, lifestyle, and interests. Use this information to pick projects from your portfolio that they're likely to love," she says.
"Finally, think about where your target audience spends their time online—maybe it's Instagram or LinkedIn—and tailor your marketing efforts accordingly. By understanding your target audience and presenting your work in a way that speaks to them, you'll be more likely to attract clients who are excited about what you do!"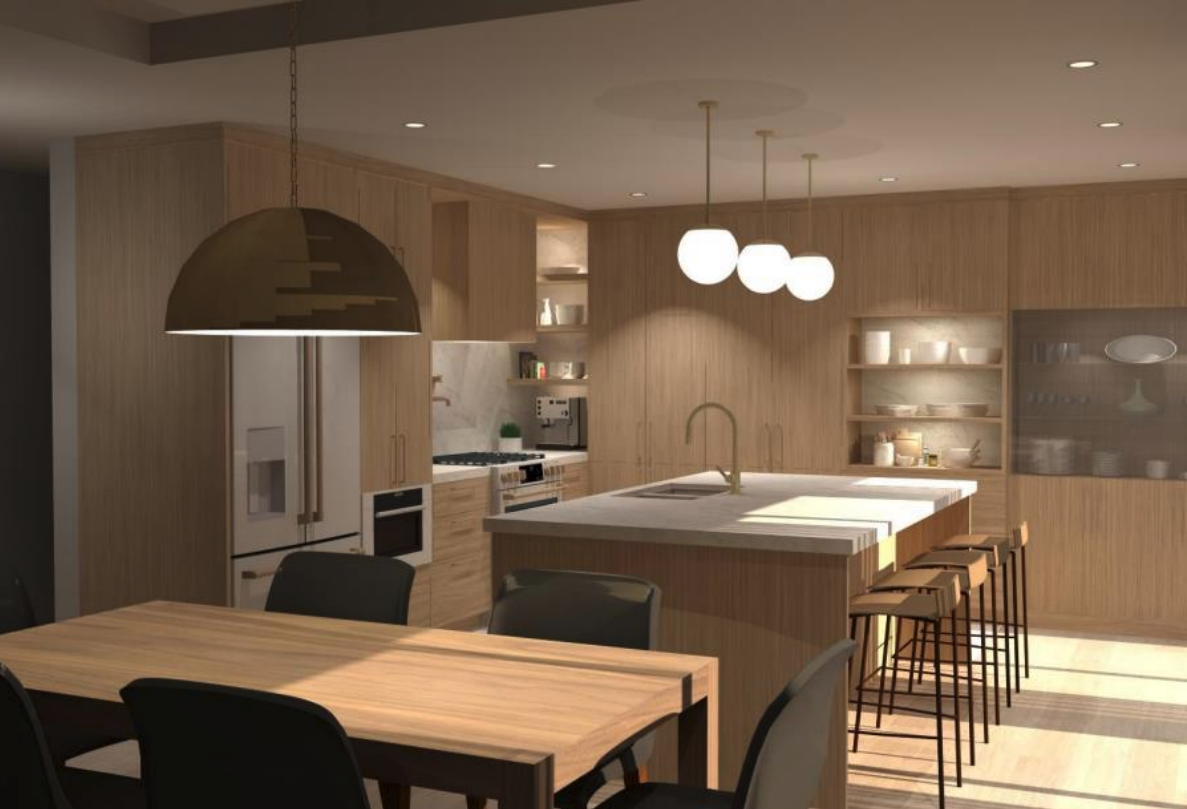 A kitchen rendering. Courtesy of Herzing graduate Nathalie Bourret
GATHERING YOUR WORK SAMPLES
Your goal is to "wow" your audience and show what you are capable of, so choose your samples carefully. Ensure all the photos and videos of your completed projects are high quality. You don't need to hire a professional interior photographer to get the best shots; you just need to follow a few simple tips.
Use High-Quality Photos and Videos
"Make sure you're taking your photos and videos during the day when the natural light is at its best. Consider investing in a high-quality camera or using a smartphone with a good camera," advises Laura.
"Use a tripod to keep your camera steady and experiment with different angles to find the best composition. Always make sure the space is clean, decluttered, and styled to make it look its best."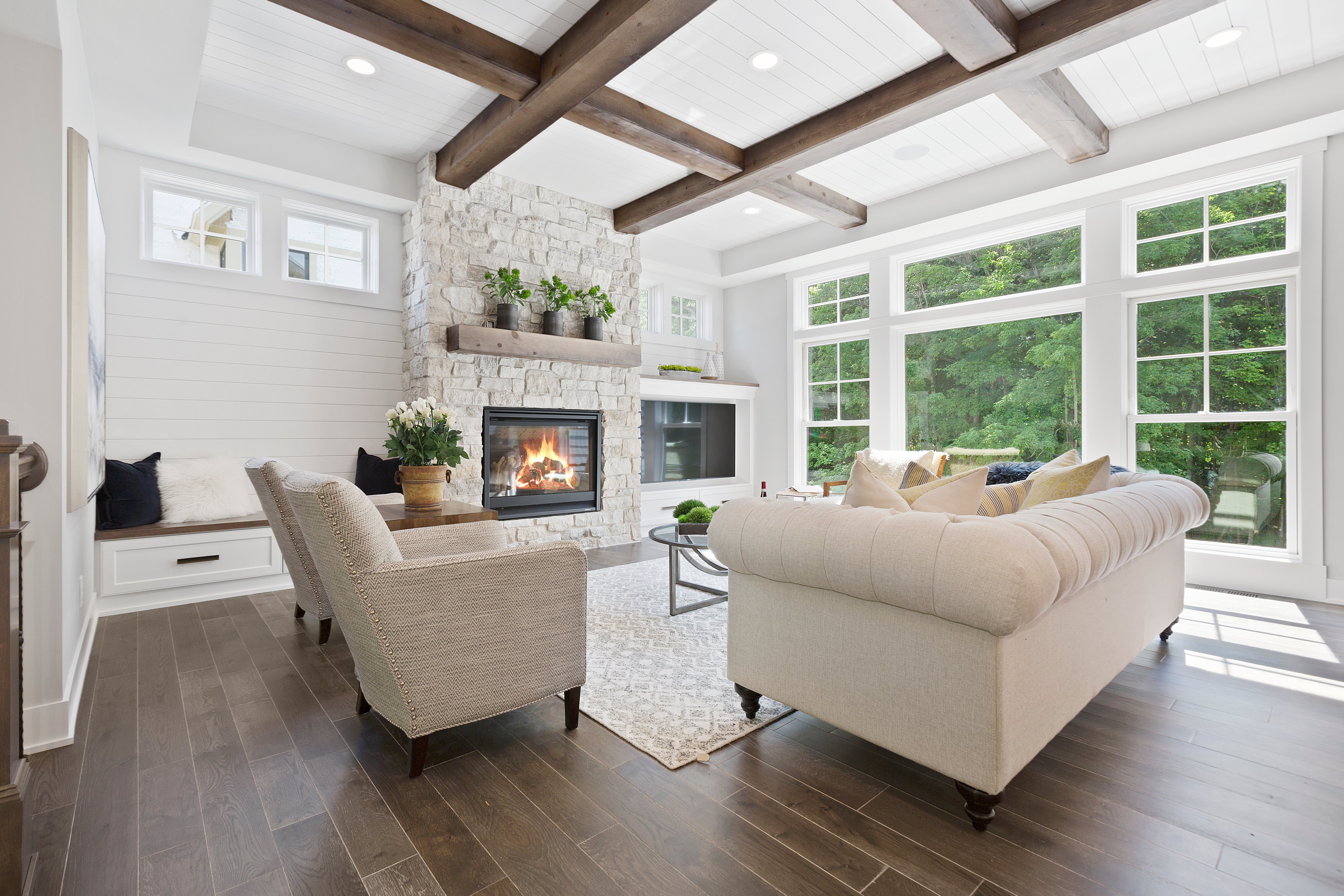 Choose your best high-quality photos for your portfolio
Once you've taken your photos, review them with a critical eye. Watch out for blurriness and pixelation. "Don't be afraid to edit them using photo editing software like Photoshop to adjust the brightness and make the colours pop and the details stand out," says Laura.
Include Various Completed Projects
If you're new to the field and are making your first interior design portfolio, you can use the designs you made during your training to showcase your creative process. A good interior design program includes projects for both residential and commercial design, so you should have a variety of options.

3D rendering of a primary bedroom, with furniture choices. Courtesy of Nathalie Bourret
If you're fortunate enough to have real-world projects, be choosy about what to include. Try to use examples and mood boards of different rooms—bedroom, kitchen, bathroom—to illustrate your work in various contexts.
It's also a good idea to include preliminary sketches, hand drawings, and interior renderings in your portfolio. That allows you to document your workflow and design process for prospective employers or clients.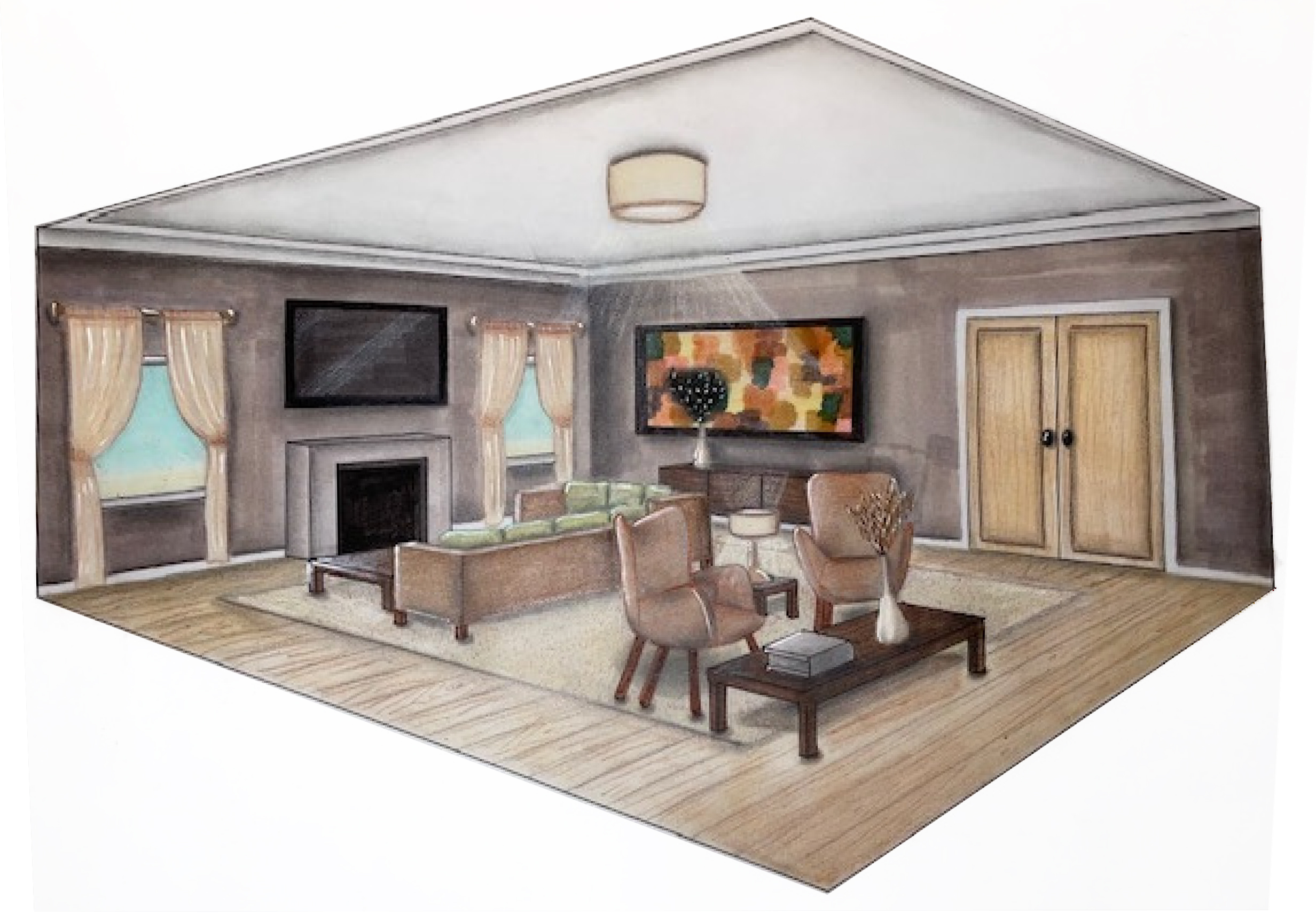 Hand-drawn sketch of a living room. Courtesy of Herzing graduate Janelle Kelleher
CREATING A COHESIVE THEME
Your interior design portfolio should reflect your unique personality and design point of view. It should be a curated collection of your best work, organized around a cohesive theme that highlights who you are as a designer.
"Think about your personal brand and the style you want to convey through your work. What colours, patterns, and design elements do you tend to gravitate towards? What kind of aesthetic do you want to present to your audience?" says Laura.
"Once you have a clear vision in mind, you can use that as a guide for selecting and presenting projects that align with your personal style. You can use similar colours, textures, patterns, and typography throughout your portfolio to tie everything together."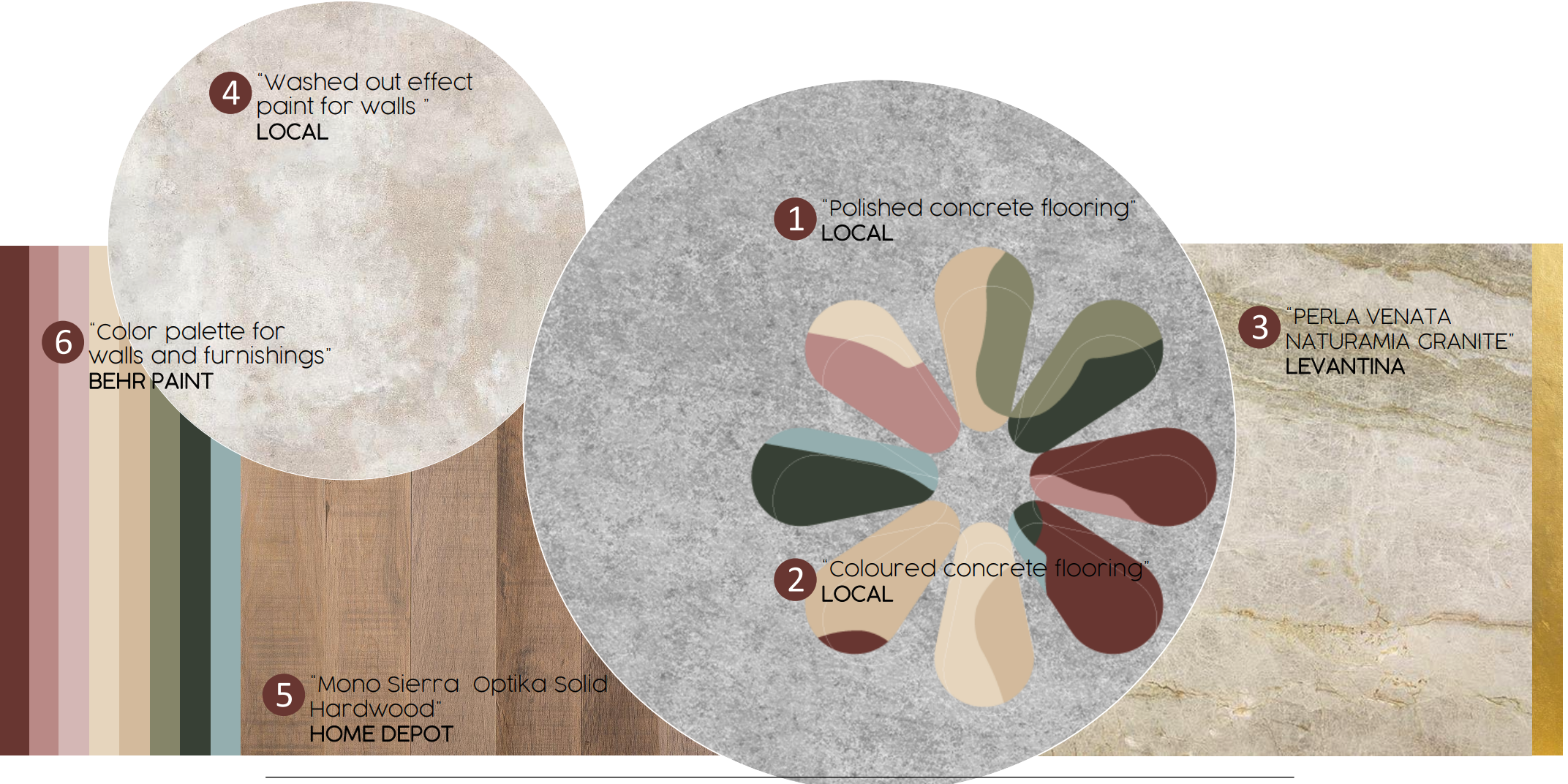 Sample board of colours and materials. Courtesy of Herzing graduate Catalina Vergara
Keep your theme in mind when selecting a portfolio template. You'll want one that enhances your photos and complements your design philosophy. That might mean a classic white background or something with more colour. The number of photos you have will also dictate the type of layout you choose.
Most portfolio templates are in landscape orientation, but you could also go with a portrait perspective or even square. Play around with different options to see what works best.
Plenty of free templates are available, but paid ones typically offer more customization options. Whichever route you go, make sure you tweak the final portfolio design so that it's uniquely yours. The last thing you want is for your portfolio to look too much like someone else's!
PRESENTING YOUR WORK
Whether you're planning to go with a digital version of your portfolio or print a physical copy (many people do both), there are a few presentation tips you can follow to make your interior designer skills stand out.
Make effective use of white space
White space allows the viewer's eye to rest so they can absorb the visual information without feeling overwhelmed. It's critical to use the appropriate amount of white space around each image or chunk of text to balance elements and create a harmonious layout that flows effectively. This can help your portfolio design have the maximum impact on your audience.
Add quotes from satisfied clients
Every time you successfully complete an interior design project, you should ask for testimonials—and then include those positive quotes in your portfolio. You want prospective clients to know you can be trusted to produce quality work, and having glowing reviews from happy customers can go a long way towards that goal.
Include a headshot and brief
Resist the temptation to hide in obscurity! Potential clients want to know who you are as a person so they can see if they can imagine working with you. Being able to put a face—and a personality—to the name can be key to getting hired. So ensure you share a photo of yourself on your portfolio and include a short write-up that talks about your passions and skills. It can make a big difference.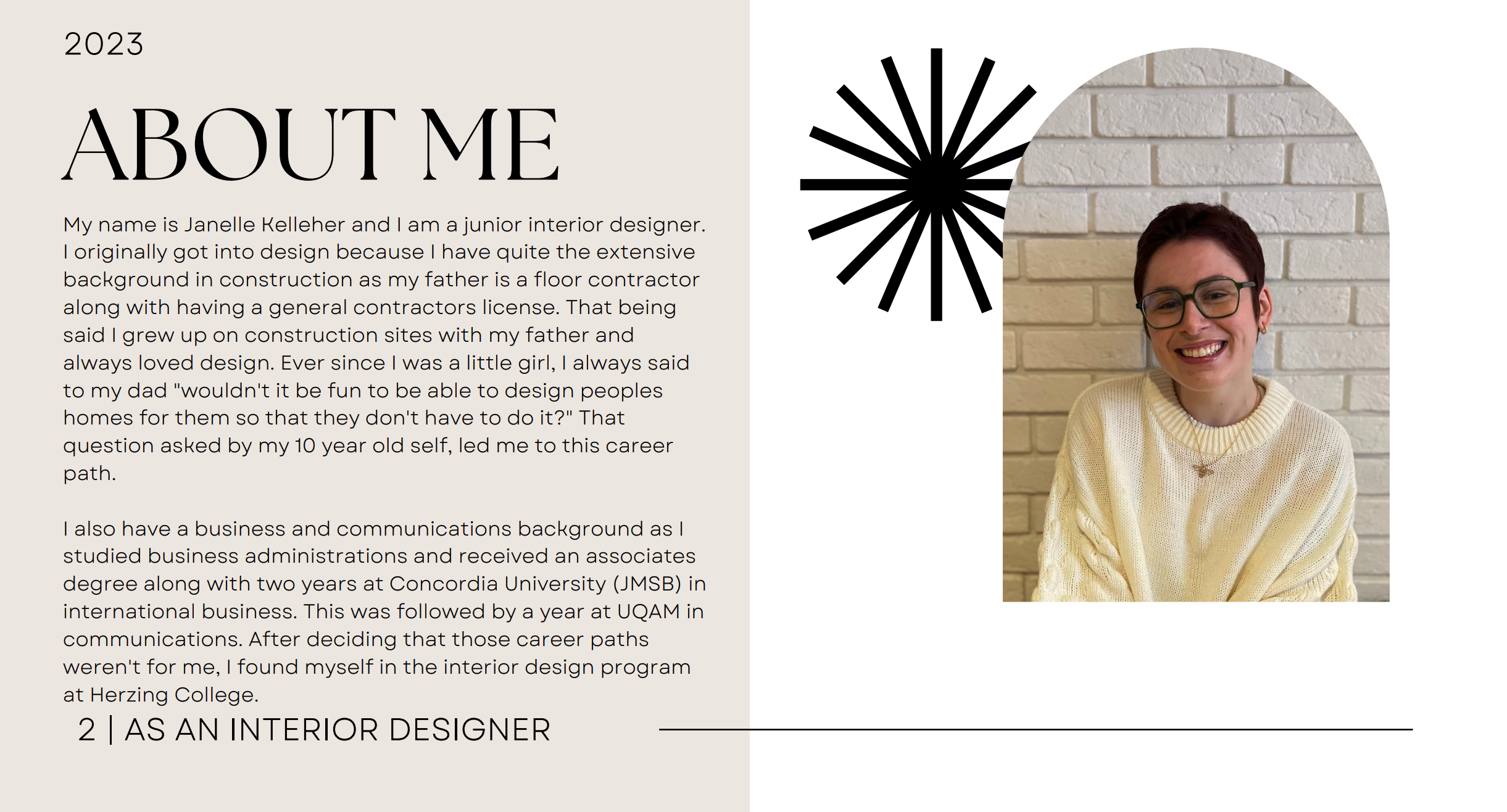 Including a headshot and brief write-up can be a great way to introduce yourself to potential clients. Courtesy of Janelle Kelleher
UTILIZING DIGITAL TOOLS
Technology can help take your interior design portfolio to the next level and really highlight your technical skills. You may want to:
Create a portfolio website
Most potential clients and employers will expect you to have a digital presence. If they can't find you online, they may not consider you legitimate enough to work with. And having a portfolio website has a lot of obvious benefits, as Laura points out.
"More people can see your work! That means potential clients and employers can easily check out your design projects. You can also update your online portfolio whenever you want. So if you finish a new project, you can add it right away and make sure your portfolio is always up to date."
Your website doesn't have to be super fancy; it just needs to be uncluttered and easy to navigate. If you're not comfortable with coding, try using a platform like Behance or a website builder like Wix or WordPress.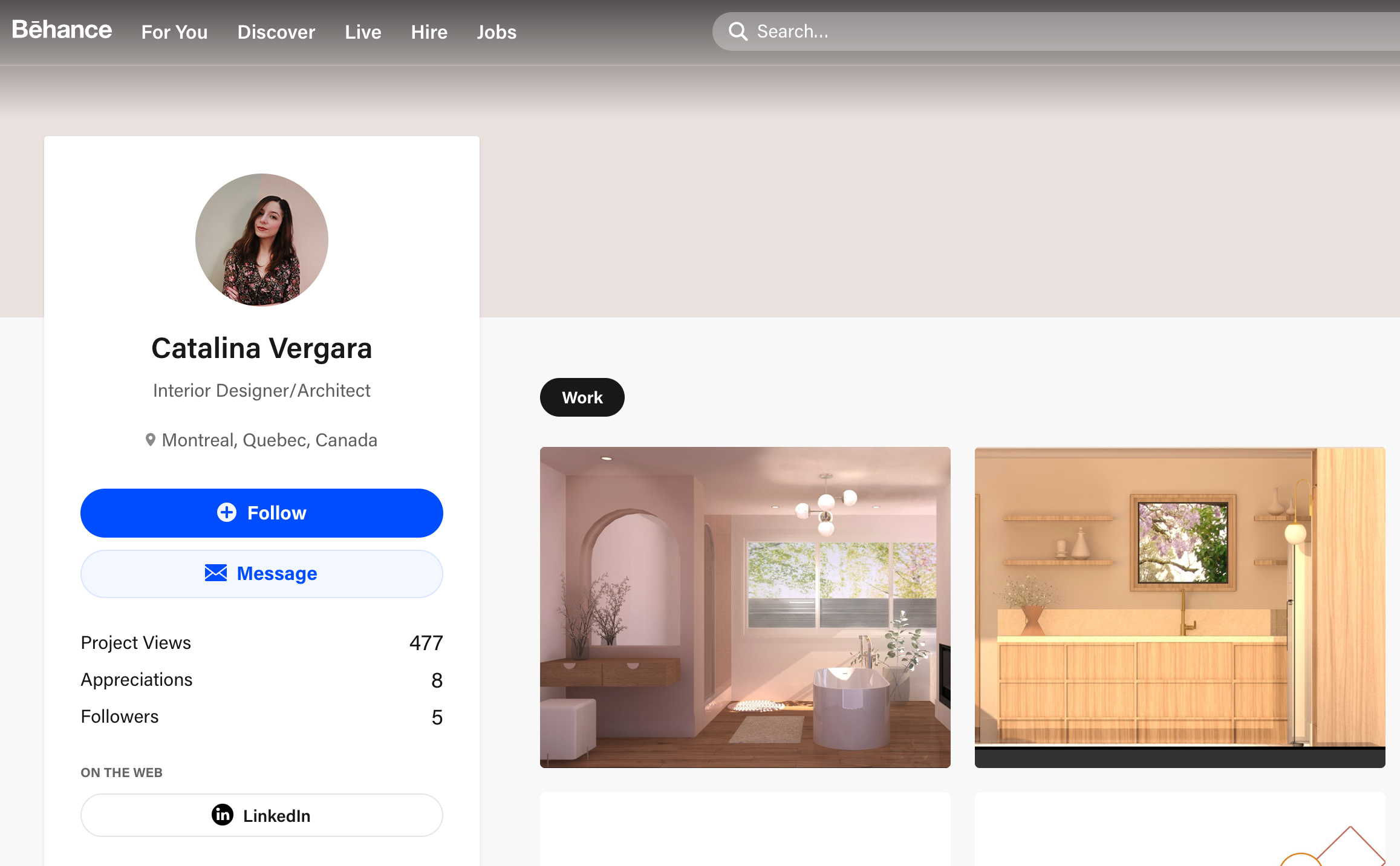 Behance profile of Herzing graduate Catalina Vergara
Integrate social media links
Part of sharing your story and building your brand involves incorporating links to your social media channels (provided you've kept those channels clean and professional!) This builds trust and allows your audience to get to know you better. If you're creating a print portfolio, use QR codes instead of links.
FINALIZING YOUR PORTFOLIO
A digital portfolio should be saved in PDF format. If you're going to be emailing it, watch the file size—five to 10 MB is recommended. If the file is too large, it can take too long to download. You can get around this by using a file-sharing service like WeTransfer or a cloud storage platform like OneDrive, Dropbox, or Google Drive.
Remember that an interior design portfolio is not a one-and-done kind of project. You should update it regularly as your career progresses.
Laura's final advice:
"To create a strong interior design portfolio, ensure it's up to date with high-quality images that tell a consistent story. Update it roughly once a year, and curate it to only include projects relevant to your target audience. Include a variety of styles and project types and provide context for each project to help people understand your approach," she says.
"Your interior design portfolio is like your resume—it shows off your skills and helps attract potential clients. Overall, your portfolio should show off your creativity and professionalism, and make potential clients excited to work with you."
BUILD YOUR PORTFOLIO WITH HERZING COLLEGE
Explore the 18-month interior design program from Herzing College Montreal. Training is delivered online and includes a guaranteed eight-week internship.
Our students complete designs for residential and commercial spaces and learn how to present them using industry-standard software. They graduate with a professional portfolio of designs to show employers and are fully prepared for their first job.
Still have questions? Your next step is to speak with an admissions advisor. They will take you through all the details of course schedules, costs, financial aid options, application procedures, and more.
Click below to learn more about the interior design program and chat live with an advisor. We're here to help!