When it comes to training for a new career, you want to be sure the school you choose has the complete package: skills-driven programs, supportive staff, and modern equipment.
That's precisely what you get at Herzing College Winnipeg. We offer hands-on training to help you prepare for new opportunities in fields like business, healthcare, technology, media, and more.
But many prospective students have questions about what to expect from our campus in terms of facilities and services. What unique features do we have that can help you along your career journey?
Read on for all the details.
WHERE IS THE HERZING COLLEGE WINNIPEG CAMPUS?
Herzing College is housed in a two-storey building about a 10-minute drive west of downtown. It's very close to Polo Park, the biggest shopping centre in the city.

The full address is:

1700 Portage Ave.
Winnipeg, MB
R3J 0E1

WHAT ARE THE OPTIONS FOR GETTING TO AND FROM CAMPUS?
Student parking is available on site at a cost of $40 per month. If you prefer to get around on two wheels, bike racks are available near the building so you can lock up.
Herzing College is also very accessible by public transit. Several bus routes have stops near the campus.
WHAT FACILITIES ARE AVAILABLE ON SITE?
In addition to the usual computer-stocked classrooms, the Herzing College Winnipeg campus has facilities like:
☑️ A computer lab—There's a dedicated space with computers for student use. Plus, students are welcome to use the computers in any classroom that isn't actively being used for teaching.
☑️ Broadcasting studios—Our on-site studios are fully equipped with everything our Broadcasting and Media Communications students need for audio and video production: cameras, microphones, green screen, condenser, mixing board, etc.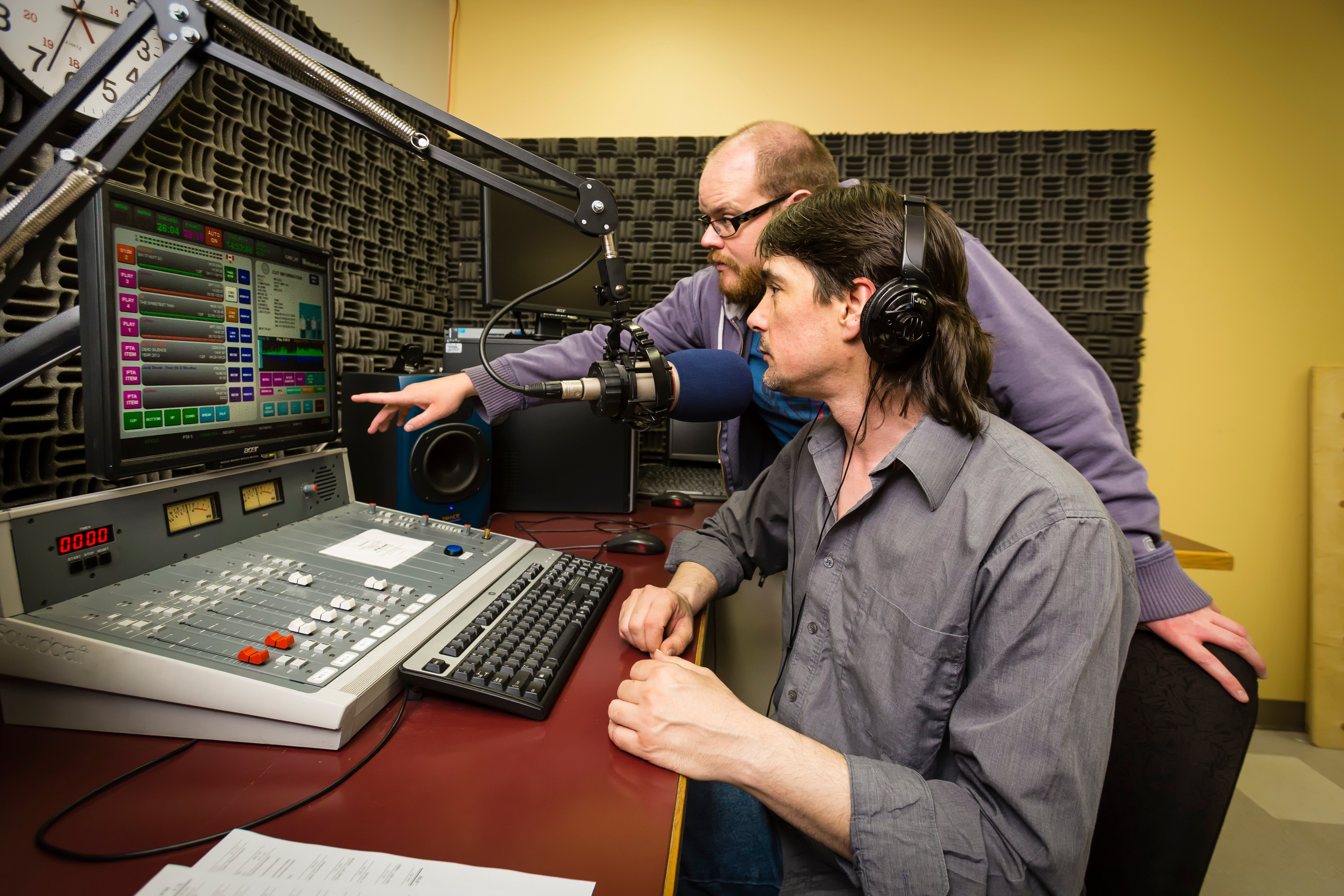 One of the broadcasting studios at Herzing College Winnipeg
☑️ A simulated healthcare environment—Our Health Care Aide students hone their skills on the same equipment used in the real world, including wheelchairs, hospital beds, and lifts.
☑️ A quiet room—Students have access to a comfortable, welcoming space for prayer and other quiet activities.
☑️ A student lounge—During lunch time or a study break, students can kick back and relax in the lounge, which features a fridge, stove, microwave, vending machines, pool tables, and plenty of seating.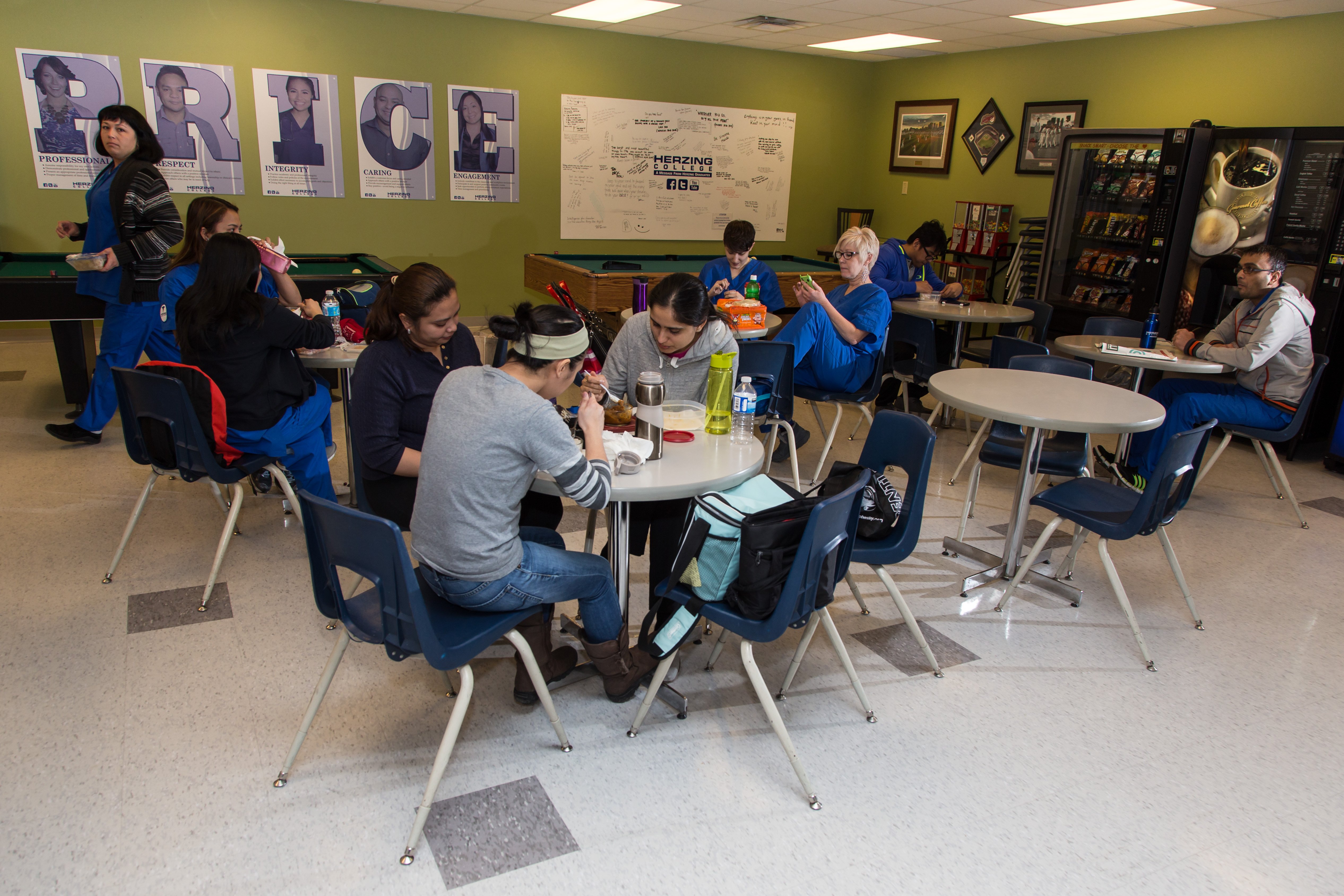 Herzing students relaxing in the lounge
WHAT SERVICES DOES HERZING COLLEGE WINNIPEG OFFER?
When you enrol at Herzing College Winnipeg, you can take advantage of the following:
☑️ Student counselling—We're dedicated to helping students overcome any obstacles that could keep them from achieving their goals. Staff in our student support office can offer one-on-one help with academic issues and provide counselling for personal or social problems.
☑️ Financial aid guidance—Our Educational Funding team will explain the various funding options and help you figure out what federal or provincial aid you may be eligible for.
☑️ Continuing skill development—Under the Herzing Open Education Program (HOEP), once you complete your training, you'll receive credits for the tuition you paid. You can then use those credits to take additional courses at no additional cost.
☑️ Career support—Each of our programs includes an internship or practicum to allow you to get hands-on experience in your chosen field. We can also help you build your resume, find and apply for jobs, and practise your interviewing skills.
CAN I GET A TOUR OF THE CAMPUS?
Of course! We're always happy to show prospective students around our facilities.
To arrange a tour, reach out to our admissions team. An advisor will answer any questions you have and set up a time for you to check out the campus.
LEARN MORE ABOUT HERZING COLLEGE WINNIPEG
The Herzing College Winnipeg campus was custom designed to provide the resources, amenities, and services students need to prepare for a new career.
All of our programs can be completed in a year or less. And each one includes an internship with a local company or organization, so you can get valuable experience for your resume even before you graduate.
Click below to learn more about our programs, book a campus tour, or chat live with an admissions advisor. We're here to help!