With so many options for career training in Toronto, you want to be sure you choose the right school.
And that means digging into the details of exactly what each institution has to offer—not just in terms of programs, but also facilities and services.
You might already know that Herzing College Toronto offers a variety of diploma programs in the fields of business, design, technology, legal studies, and healthcare. But you likely still have questions about what to expect when you show up at our door.
In this post, we explain all the other features of our campus: the facilities and amenities we provide that can help you launch your new career.
Let's get started.
WHERE IS THE HERZING COLLEGE CAMPUS IN TORONTO?
Herzing College occupies a 30,000-square-foot facility in North York. Roughly 60 per cent of the space is taken up by the skilled trades division, while the other 40 per cent is dedicated to diploma programs.

The campus is located at:

11 Kodiak Cres.
Toronto, ON
M3J 3E5

HOW CAN I GET TO AND FROM CAMPUS?
Free student parking is available on site.
Plus, the campus is easily accessible by public transit. The Sheppard West station is within a 10-minute walk and offers subway services and bus connections.
WHAT FACILITIES ARE AVAILABLE ON SITE AND NEARBY?
Classrooms are fully equipped with the computers, software, and other program-specific items students need to optimize their learning experience.
For instance, our personal support worker lab is outfitted with mannequins, squat chairs, and medical equipment so that students can practise their skills.
Students at the Toronto campus can also take advantage of:
A common area with resource materials and several communal computers. It's a great place to do some quiet reading or focus on completing assignments.


Lockers to secure belongings


A lounge where students can sit to relax and eat lunch


Several fast-food restaurants close by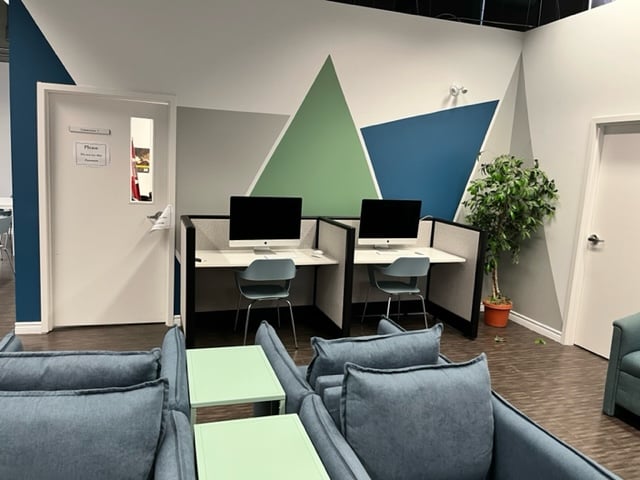 The common area has comfy chairs and computers for student use
WHAT SERVICES DOES HERZING COLLEGE TORONTO OFFER?
At Herzing College Toronto, we're strongly committed to helping our students succeed. That's why we offer:
☑️ Funding guidance—We understand that many students need help covering the cost of their education.
Trained Herzing staff can walk you through the various options for grants, loans, and scholarships and show you what sources of funding you may be eligible for.
☑️ Continuing skill development—Through the unique Herzing Open Education Program (HOEP), eligible graduates can enrol in additional courses from any of our other programs at no extra cost.
You can take as many courses as you like up to the value of what you paid for your original diploma program.
☑️ Career support—Every diploma program at Herzing College Toronto includes an internship to help you gain actual work experience before graduation.
Plus, our Career Development Department can help you locate suitable job openings, create your resume and cover letter, and get ready for interviews.
CAN I SEE THE CAMPUS FOR MYSELF?
Definitely! We encourage prospective students to check out our facilities.
Arranging a tour is simple: just reach out to our admissions team. An advisor would be more than happy to answer your questions and set up a time for you to walk through the campus.
LEARN MORE ABOUT HERZING COLLEGE TORONTO
Centrally located within the GTA, Herzing College Toronto has everything you need to prepare for a rewarding new career.
Our diploma programs are focused on the skills today's employers want. They range from nine to 14 months long, and each one includes an internship with a local organization.
Need more info?
Click below to explore our programs, connect live with an advisor, or book a tour. We're here to help!