Photo: Business students and instructors eating lunch together at the Herzing Winnipeg campus (2019)
Thinking about taking Business Administration training? Looking to switch careers, upgrade your office skills, or get your first job in this field?
No matter your background, age, or level of experience, this program can help you reach your goals. Business administration is one of the most flexible diploma programs out there.
But if you've done some research, you'll notice this program is a little different at each college. Every school has its own version of the training.
So, what's it like to study Business Administration at Herzing? What can you expect in class?
In this post, we break down the most important features of our diploma program.
We also spoke with some recent graduates to get their opinion on the courses, instructor, internship, and more.
Here's everything you need to know.
Get Trained for many different business administration positions
One of the best things about studying Business Administration at Herzing, is getting trained for several different office positions. This program is designed to prepare students for jobs in many areas of business, including:
Marketing

Sales

Client services

Human resources

Office management

Accounting
By the time you graduate, you'll have a good foundation in every department. You'll understand how they all work together to help a business succeed.
You will also figure out which role is best for you.
Some students know exactly which department of business they want to work in—but other aren't completely sure. This training help you explore all the options, and find the path that really fits your strengths and career goals.
Most importantly, you will have choices for jobs. Our grads are ready for many entry-level roles:
Account Manager
Administrative Assistant
Office Manager
Marketing Assistant
Client Services Representative
Sales Representative
Accounting Assistant
Learn
today's most important
office computer software programs
Many of our Business Administration students enroll in the program to improve their computer skills.
Some already have experience in business, but don't know the latest software programs. Others are completely new to office work, and need to build their technology skills from scratch.
The courses for this program focus heavily on the office software you will need to get hired. Students spend a lot of time learning and practicing programs like:
Microsoft Word

Microsoft Excel

Microsoft PowerPoint

Microsoft Access

Microsoft Outlook
Business Administration graduate, Maria Aquino says the software training was her favorite part of the program.
"I'm really enjoying the Microsoft Word, Excel, and Access database training. It's great learning how to be proficient in these programs. These skills are useful in almost every field of work, and you need them to get hired in business."
Learn from experienced, caring
business
instructors
Herzing's Business instructors have been teaching with us for decades. These are some of the most dedicated and experienced instructors you'll find at any business college in Winnipeg.
They are known for their expertise, caring approach, and effective teaching style.
Karl Raynes said he was surprised by how much his instructor knew about running a business. He learned so much that by the time he graduated, Karl was able to start his own company.
"The instructors were very approachable and knowledgeable. Whatever questions I had, they knew the answers on the spot.

I even tried to catch them out with some challenging questions, but they were always quick to respond.

The assignments were straightforward and the skills we learned were relevant and practical. Overall, it was a very good experience."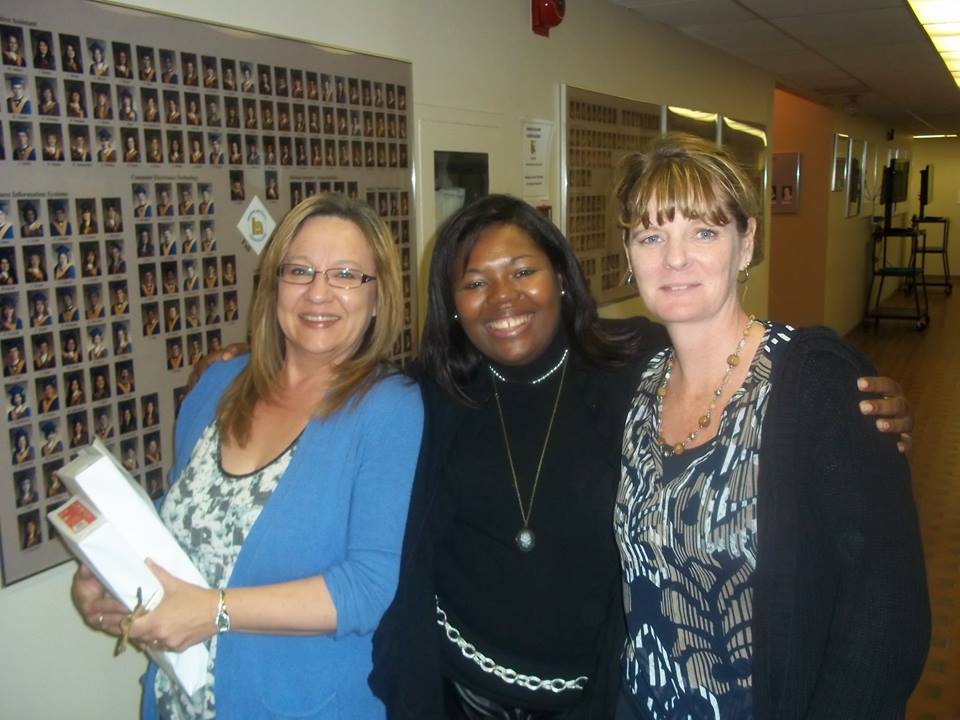 Business administration student, Maudelyne (centre), stands with instructor Sandy Graham (left) and Caroline Glowatski (right) at the Herzing Winnipeg campus

Study with classmates from all
backgrounds
and age groups
The Business Administration program at Herzing attracts people from all walks of life. There are students who were born and raised in Winnipeg. There are newcomers to Canada. Each class has students of all ages.
Maria told us her business admin class was a good mix of students from different backgrounds - and everyone got along really well.
"My classmates were a very diverse group. They came from all backgrounds and age groups.

Some were going back to school to switch careers, while others already had relevant work experience and want to enhance their knowledge and skills.

I found them to be friendly, fun, and also excited to learn."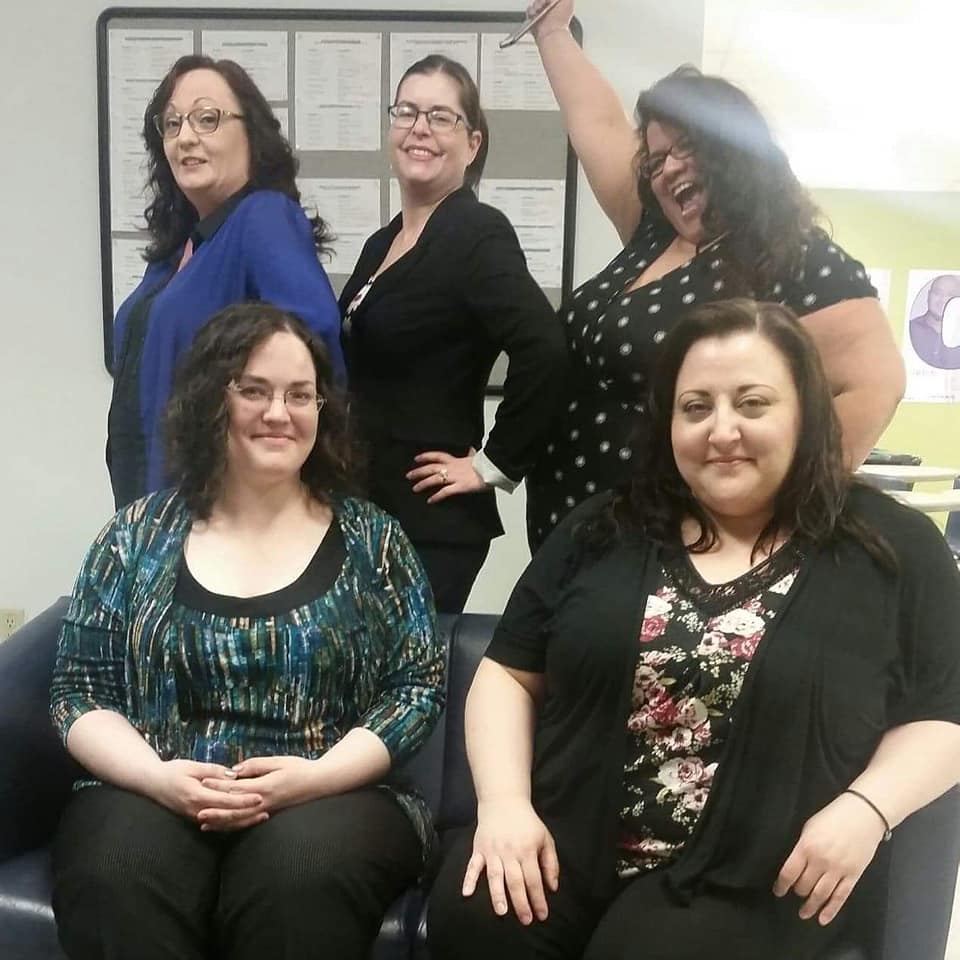 Business students pose for a photo on the Herzing Winnipeg campus (2019)
Get real work experience with an internship
If you don't have much business work experience, or have recently arrived in Canada, you absolutely need an internship to get your career started.
At Herzing, the internship is a very important part of the Business Administration program.
It's your chance to apply everything you've learned in class in a real work setting. It's professional experience you can add to your resume. Plus, some students even get hired at their internship after graduating from the program.
Maria interned at the largest food services company in Winnipeg, where she got special training in accounting procedures.
"I am doing my internship at a company called The Food System. I'm working in their accounting department, where they're training me on basics like sorting, filing, verifying sales summary reports, accounts payable and receivable, debit transactions, and other administrative duties. I'm learning a lot."
You can take the business administration program online
Too busy to come to class? Live far from campus? We offer online business administration training that fits around your schedule.
Choose from 2 options:
☑️ Study completely online (you still get access to career support, the internship, and all other student services)
☑️ Do a mix of on-campus and online study (our "hybrid" option)
No matter which option you choose, you take the exact same courses, complete the same internship, and get the same career support.
Karl said he started on campus and then shifted online during the pandemic, and the transition was very smooth.
"I attended on campus for the first few months, but then shifted online because of Covid. So we used the online interface, but the instructor was easily reachable for assistance and support.

I was able to progress through the courses very independently. I connected with a few classmates here and there, to share resources and tips for completing projects."
want to learn more?
The Business Administration program at Herzing College Winnipeg is 12 months long, and includes an 8-week internship. During the pandemic, this program is offered online.
If you're interested in learning more, please click below to explore the program for yourself. See a detailed course list, career info, and chat live with an Admissions Advisor.
An Advisor can answer your questions, book a campus tour, or schedule a personal appointment. We're here to help!