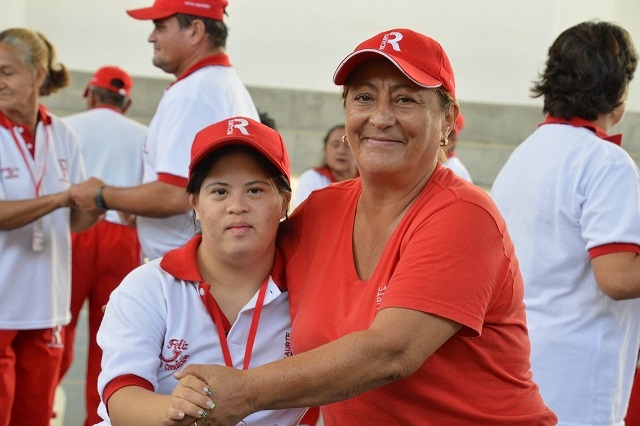 The Canadian Association for Community Living (CACL) estimates there are approximately 686, 000 Canadians living with intellectual disabilities.
In Ontario alone, there are more than 250, 000 people with intellectual disabilities, only a fraction of whom have access to community support services. The rest are on waiting lists.
Lack of access to important services, combined with several other factors, make intellectually disabled Canadians an "at-risk" demographic. It is the role of community services workers to counsel, support, and guide at-risk individuals (including people with disabilities) toward greater independence, improved quality of life, and personal fulfillment.
Graduates of community services worker (CSW) training in Ottawa often go on to specialize in intellectual disability, joining organizations like Bairn Croft Residential Services, Christian Horizons, and the Ottawa-Carleton Association for Persons with Developmental Disabilities (OCAPDD).
These organizations offer a range of tailored services, including supported independent living, skills development, counselling and therapy, and employment services for people with disabilities.
The overall goal of professionals working in this field is to create a more inclusive society—communities in which every person has access to support, feels that they belong and have value, and are empowered to reach their goals.
Are you inspired to pursue the same mission after CSW training? Read on to get a clearer understanding of the challenges facing people with intellectual disability in Canada.
1. What is intellectual disability?
Intellectual disability is characterized by limitations in cognitive and intellectual functions—like logical reasoning, learning, problem-solving, and communication.
Another key feature of intellectual disability is limited adaptive skills—the abilities we all need to accomplish tasks of daily living, like grooming, meal preparation, cleaning, managing money, following rules at school or work, and making new friends.
Intellectual disabilities appear in childhood, well before the age of 18.
2. Developmental versus Intellectual Disability
What's the difference between these two terms? "Developmental disability" is an umbrella term that includes both physical disabilities (like cerebral palsy and epilepsy) and intellectual disabilities that impact thought processes and cognitive functioning (which may include difficulties with reading, math, learning language, and memory).
Some disabilities have both physical and intellectual symptoms, such as fetal alcohol syndrome, which may result in:
abnormal facial features
small head size
short stature and low body weight
in rare cases, problems with the heart, kidneys, bones, or hearing
problems with memory
issues with impulse control and judgment
limited motor skills
problems paying attention
difficulties in learning (particularly in math)
It's quite common for people with intellectual disabilities to also have physical developmental challenges. Other examples include Down Syndrome and Fragile X Syndrome.
Click here for a more detailed description of these and other combined developmental and intellectual disabilities.
3. What causes intellectual disability?
There are several known causes of intellectual disability. These are typically grouped into categories, or "risk factors", such as biomedical, social, or behavioral. Examples include:
Genetic conditions—abnormal genes inherited from parents or problems when genes combine (Down syndrome, Fragile X syndrome, and Phenylketonuria fall under this category)
Problems during pregnancy—a mother who drinks alcohol or gets an infection (like Rubella) while pregnant, or a baby who doesn't develop properly inside the womb
Problems at birth—a baby who does not get enough oxygen during delivery
4. How do we diagnose intellectual disability?
It takes more than an IQ test to determine if a person has an intellectual disability. IQ testing is used only to measure intellectual functioning, like the capacity to learn, reason, problem-solve, etc. A score around or below 70 indicates limitations in intellectual function.
However, there are other important criteria professionals look at when making a determination. These include tests of adaptive behavior, such as:
language, literacy, and communication skills
social and interpersonal skills, self-esteem, ability to understand and obey laws, and avoid risks
ability to take care of oneself, follow a routine, travel, use money, organize time, etc.
When counselling and supporting people with intellectual disabilities, a community services worker takes all of these factors into consideration, as well as cultural and community influences that may impact each person's belief system, world view, and behavior.
5. People with intellectual disability are at high risk of poverty, unemployment & homelessness
CACL reports that people living with intellectual disability in Canada are far more likely to live in poverty than the rest of our general population. As many as 73% of working-age adults with intellectual disabilities live below the poverty line.
Why is this? The biggest factor is lack of access to employment opportunities. Stigma limits job options for people with intellectual disabilities, as many employers believe that hiring a disabled person will cost them extra training dollars, come with added risk, and result in lower performance.
The average income of working-age people with intellectual disability is more than 50% less than the average Canadian.
Up against discrimination and ignorance, and with limited community support resources, a considerable number of developmentally disabled people must rely on government sources of financial aid. Many become homeless.
The truth is, a high percentage of developmentally and intellectually disabled individuals are fully capable of work and supported independent living. They simply need the right kind of resources, and opportunities to excel.
This is where the role of community services workers is so crucial. CSWs provide a wide range of support to people with intellectual and developmental disability. They deliver skills training, provide counselling, develop social networks, create safe living environments, and find jobs and volunteer opportunities for people with disability.
The work CSWs do in this field helps to fight the stigma around disability, and bust all of the myths and misconceptions that put people with disabilities at such high risk in our communities.
Next Steps to learn more about csw training
Are you interested in pursuing this career path, and want to learn more about Community Services Worker programs in Ottawa?
To learn about admission requirements for CSW training, and your career options after graduation, please fill out the Request Information form at the top right of this page. Receive fast, free information about courses, employment opportunities, financial aid options, tuition, and more.
Or, chat live with an academic advisor right now, using the chat tool on this screen. Get your questions answered, and plan your next step. We're here to help!