Photo: One of Canada's greenest buildings is the Centre for Sustainable Development in Montreal, Quebec
Like the idea of helping to create the next generation of sustainable buildings? Don't want to invest years in university, training to become a licensed architect?
A career in green building design and drafting could be a perfect fit.
Green building design focuses on creating safe, functional structures that have minimal impact on the environment. The aim is to produce buildings that satisfy human needs and respect the surrounding ecosystem.
But what does that mean in practice? What makes a building "green"?
How is a green building drafter different from a regular draftsperson? And what kind of training do you need to get into this field?
All those answers are in this post. And by the end, you'll be better prepared to decide if a career in sustainable architecture is right for you.
Let's begin.
WHAT ARE SOME KEY FEATURES OF GREEN BUILDING DESIGN?
Green building design encompasses the entire life cycle of a building, from its initial construction and use, right through to its eventual demolition.

The idea is to reduce energy use, conserve natural resources, and limit waste at every stage.

Elements of sustainable buildings include things like:

☑️ High-performance windows to minimize heat transfer

☑️ Lights controlled by sensors that detect when people are in the room

☑️ Energy-efficient appliances

☑️ Solar panels

☑️ An orientation that makes maximum use of natural sunlight and shade

☑️ A rainwater harvesting system for toilet flushing or irrigation

☑️ Locally sourced stone, wood, and other materials

☑️ A geothermal heating and cooling system

☑️ Non-toxic building materials that can be reused or removed without causing harmful pollution

☑️ A green roof that uses vegetation to absorb storm water and provide natural insulation

☑️ Landscaping that emphasizes native trees and plants

WHAT ARE SOME EXAMPLES OF SUSTAINABLE BUILDINGS?
A growing number of eco-friendly buildings are springing up across Canada, including in Montreal.
For instance, the Deloitte Tower uses tinted glass and a low-emissivity coating to bring in natural light and control the exchange of heat.
The Rio Tinto Alcan Planetarium was made from more than 75 per cent recycled materials. It boasts a green roof, motion-sensing lights, and drought-resistant plants in its landscaping.
But the most prominent example is the Centre for Sustainable Development, which is recognized as one of the greenest buildings in the country. Some of its many eco-friendly features include:
☑️ Recycled glass countertops
☑️ Railings made from logs recovered from local riverbeds
☑️ Raised floor heating
☑️ A five-storey living wall that provides natural air filtration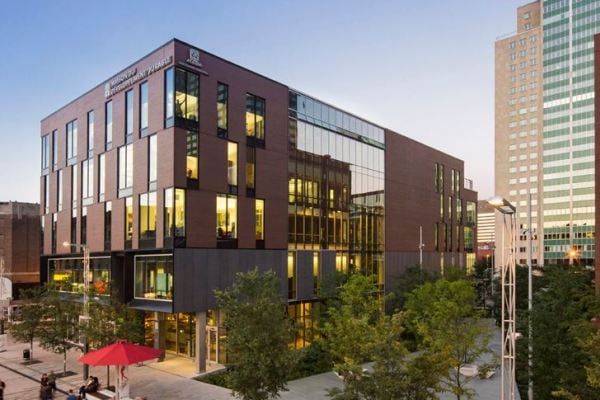 The Centre for Sustainable Development in Montreal, Quebec
WHAT MAKES A GREEN BUILDING DRAFTER UNIQUE?
Architectural drafters use computer-aided design (CAD) software to develop technical drawings and blueprints for construction projects. They take a concept from an architect or engineer and turn it into a detailed plan.
But drafters who focus on green building design have some special knowledge and skills.
By completing sustainable architecture training, drafters are able to:
☑️ Create eco-friendly designs for homes, offices, schools, stores, museums, hospitals, and other types of buildings
☑️ Choose materials and production techniques based on their environmental impact
☑️ Maximize water conservation and energy efficiency in a building
☑️ Make optimum use of the natural resources of an area
☑️ Produce designs that meet the standards of the National Building Code of Canada as well as the Leadership in Energy and Environmental Design (LEED) rating system
☑️ Analyze existing buildings and design upgrades, retrofits, and renovations to make them more sustainable
Drafters work under the supervision of an architect or engineer. But with experience, they may also consult with clients directly and help develop the concepts for new projects.
Their main role? To produce the architectural drawings and blueprints construction teams use to actually build a new structure.
HOW CAN YOU BECOME A GREEN BUILDING DRAFTER?
You don't have to become a licensed architect to work in the green building field. A college-level diploma program offers a quicker route into this career.
Most green building drafting programs are about two years long. They can help you learn practical drafting skills along with the fundamentals of green building design.
Once you graduate, you can become an architectural draftsperson or technician at regular architecture firms as well as those that specialize in sustainable building projects.
Sam Graceffa has many years of experience making buildings more energy efficient and environmentally friendly. He's now an instructor in the Sustainable Architecture program at Herzing College Montreal.
Sam says this training is laser-focused on getting students ready for the workforce.
"We teach all the essential technical skills and competencies, such as AutoCAD, building codes, and sustainable building standards and techniques. However, we also teach other skills that are key for building a successful career in this field.

These include good working habits, resourcefulness, and the ability to balance design with environmental impact and ecological footprint. This is the complete package today's employers are looking for."
LEARN MORE ABOUT sustainable architecture training at Herzing college
Herzing offers a Sustainable Architecture diploma program that runs for 24 months, including a 13-week internship.
The program includes comprehensive training in CAD software, building codes, construction techniques, drafting, and green building design. It's available in both English and French.
Interested in learning more?
We recommend speaking with admissions. An advisor can provide helpful info on program costs, financial aid options, careers, and more.
Click below for more program details or to chat live with an advisor.