Image credit: Megan Winters (Herzing College 2D Animation graduate)
It takes a special combination of skills to make cartoons come alive. That's what 2D animation training is all about.
Students develop both the technical expertise and practical skills to create compelling animations for movies, TV shows, websites, video games, and more.
They also learn how the entire production process works at an animation studio, so they can hit the ground running and become valuable team members, straight after graduation.
And this is the perfect time to get training. Many Ottawa animation companies are really struggling to find local talent. They're being forced to turn down projects or send work overseas because they can't find Ottawa animators to hire.
Thinking about starting a career in the animation industry? Wondering what to expect from 2D animation training?
Here's a good breakdown of what's covered in a quality program.
2D ANIMATION SOFTWARE
One of the most important things you'll learn is how to use industry-standard animation software.
In the 2D world, the leading choice is Toon Boom Harmony. Ottawa studios desperately need animators who are well-versed in this software.
In fact, Herzing's 2D animation diploma was created specifically to train students on Harmony.
That's what convinced recent graduate, Megan Winters to enrol.
"I wanted to learn Toon Boom Harmony right away, so I could get to work faster. Knowing this software is key to getting hired in the animation industry.

On day one of the program, Harmony felt a bit overwhelming. But as we learned, it became less intimidating.

Once you start actually using it, it gets much easier. Plus, they start you off with the easy stuff so you gain confidence quickly."
ANIMATION PRINCIPLES AND TECHNIQUES
2D animation training will give you a solid grounding in the basic principles and techniques of animation.
For example, you'll learn how to:
☑️ Maintain an object's volume when it gets stretched or squashed
☑️ Prepare the viewer for an action (i.e. the character must bend his knees before he can jump)
☑️ Time the motion appropriately
☑️ Make a character walk or run in a natural way
☑️ Use exaggerated movements to emphasize a point
☑️ Get a character's mouth to move in sync with the dialogue
☑️ Create charismatic characters that viewers want to watch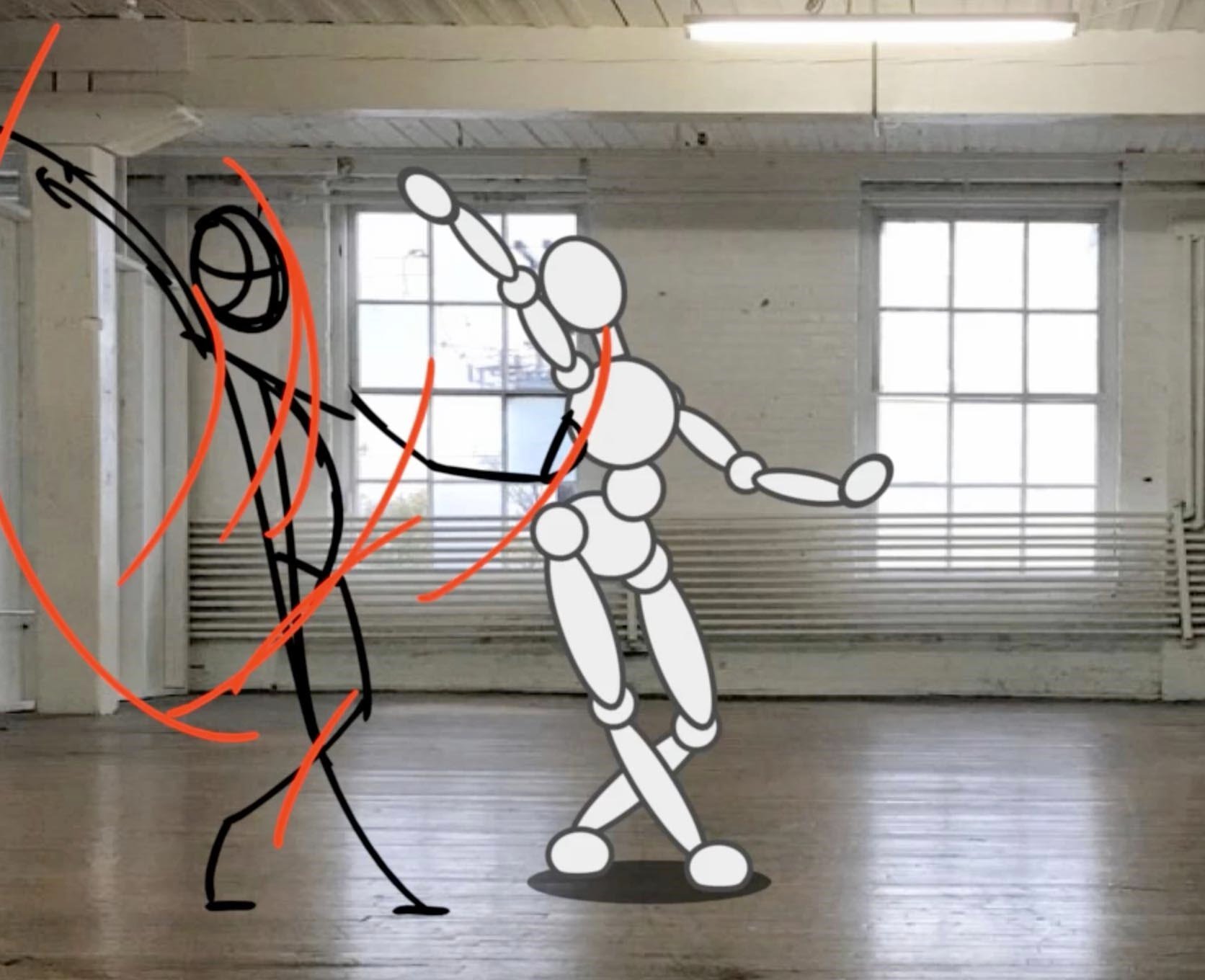 Example of work done in class by Megan Winters (Herzing College 2D Animation program)
a sharp eye for detail
A 2D animation program will train you to notice the little things.
When you're creating 24 frames for a single second of action, even the tiniest details can make a huge difference.
Megan says the training drove that point home for her.
"One of the biggest things I've learned is a critical eye for animation, where I'm able to pick out small details and really have a feel for things.

I'm really developing an ability to notice these elements quicker—which will help me work more quickly, and ultimately, get better jobs and make more money."
COLLABORATION
In animation, teamwork is the name of the game.
A quality training program teaches you how to create better work through sharing ideas and giving thoughtful feedback.
That's key for success in this field, as Big Jump Entertainment co-founder Cory Morrison points out.
"In animation, it's everyone's responsibility to improve the next stage and create something memorable. You are not an island, you work with a team of people, and you must be able to collaborate, take criticism well, and never settle for 'good enough.'"
CREATIVE THINKING AND PROBLEM SOLVING
2D animation training will push you to boost your creative abilities and come up with original solutions to problems.
Through hands-on projects, you'll get lots of practice putting your own take on characters or stories. You'll also learn how to overcome challenges and produce quality work.
Megan says it best:
"To succeed in animation, you need good problem-solving skills, and the ability to take your time and work through things until you get it right. 2D animation training helps you hone those skills."
HOW TO FUNCTION IN A REAL STUDIO
A good 2D animation course includes an internship so students can get work experience in an actual studio.
This is enormously valuable for beginners looking to break into the field.
For example, Herzing students benefit from a 6-week internship at Big Jump. They spend time in the Big Jump studio, get mentored by professional animators, and work on real productions.
And many students get job offers right out of their internships. In fact, one year, Big Jump hired every single one of Herzing's 2D animation grads.
READY TO GET STARTED WITH 2D ANIMATION TRAINING?
Some 2D animation programs take 2 years or more. Herzing College offers one of the very few 12-month programs that fully prepares students for the animation studio.
Herzing's program provides in-depth training in Toon Boom Harmony, animation techniques, and all the other skills studios want in new hires.
Students complete a 6-week internship with Big Jump and graduate with a professional demo reel they can use to apply for jobs.
Need more info? An Admissions Advisor can answer all your questions and help you decide if the training is a good choice for you.
Click below to get complete program details and chat live with an Advisor. We're here to help!