Want a career that involves installing, optimizing, and repairing a company's computer network, while helping users with technical issues?
That's the network technician job description in a nutshell.
Essentially, this role is about ensuring all the parts of a computer network (hardware, software, servers, printers, individual workstations, etc.) run smoothly and efficiently.
But what does that mean in terms of tasks? What exactly would you be doing each day?
In this post, we walk you through some typical network technician duties and responsibilities.
We also outline the key skills you need to get hired, the salary you can expect, and how to get started with training.
Get a snapshot of life at work and see if becoming a network technician is right for you.
TASK #1: SETTING UP NETWORK HARDWARE AND SOFTWARE
Getting all the network components in place is the first step. Technicians know how to set up a network from scratch if necessary.
They can also improve an existing setup, add new components, and perform important software updates.
All of this involves working with a variety of networking components, such as:
☑️ Servers
☑️ Routers
☑️ Switches
☑️ Cabling
☑️ Modem
☑️ Desktop computers/workstations
☑️ Connected mobile devices
☑️ Cloud storage
☑️ Peripherals (like printers)
☑️ Network adapters
☑️ Security systems (like firewalls)
☑️ Software
Network technicians also help individual users get up and running on the network.
This includes tasks like assigning passwords, installing operating systems, connecting to the network, and configuring printer settings.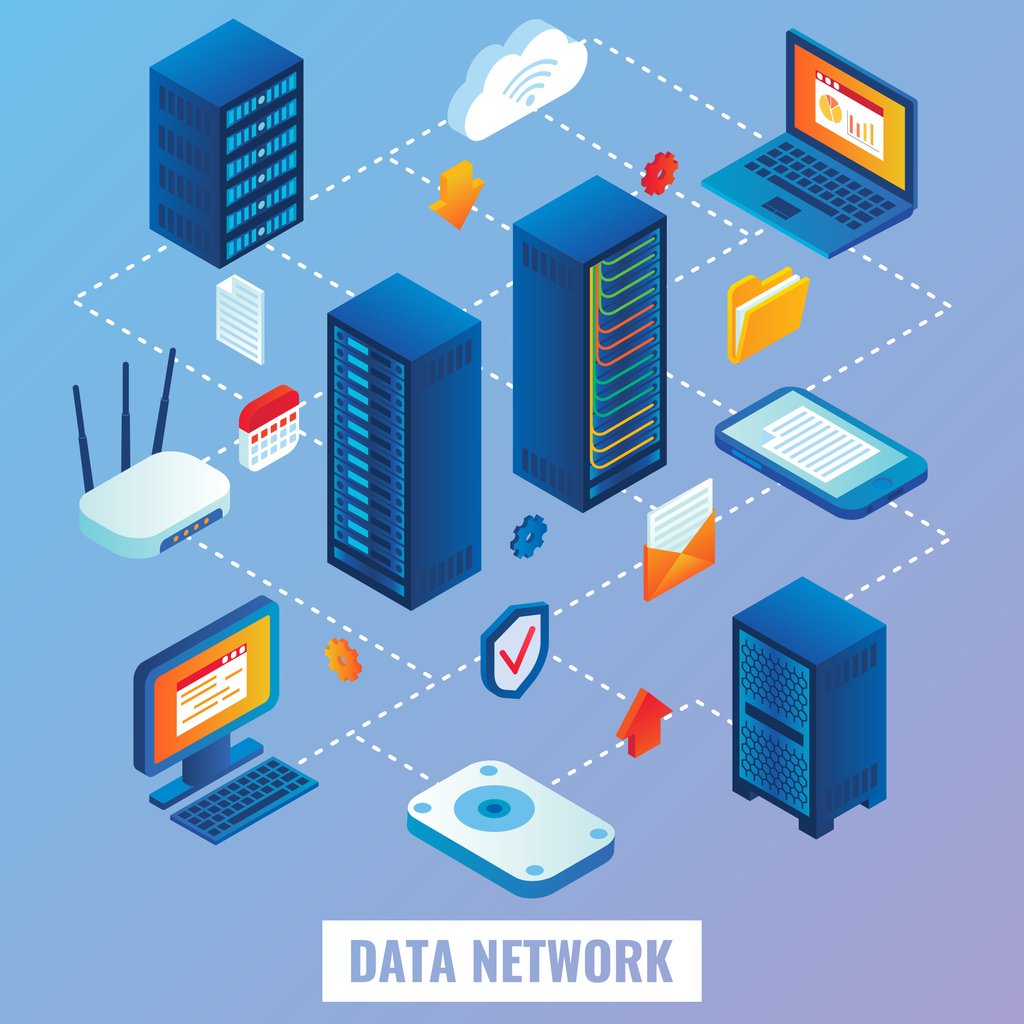 Common components of a computer data network, including server, individual workstations, router, mobile devices, cloud storage, modem, etc.
TASK #2: OPTIMIZING NETWORK PERFORMANCE
One of a network technician's main challenges is to keep the network functioning at peak efficiency while keeping downtime to a minimum.
That may mean installing monitoring software so you can detect network bottlenecks and see where things need to be improved.
You will also need to backup data and install security updates and patches.
Network technicians are also expected to take proactive steps to boost (or optimize) performance.
For example, you might install a faster USB card in a server so that backups take less time. Or find ways to increase network speed.
TASK #3: TROUBLESHOOTING
Problem solving is a major network technician responsibility.
If someone's keyboard doesn't work, or they can't access the network, you must come to the rescue.
If an employee's productivity takes a hit because they can't access a file, or they're stuck with a slow Internet connection, you need to find a solution.
And if the entire network goes down because of a hardware failure or security breach, you need to sort out the issue and implement a fix—quickly.
TASK #4: DOCUMENTING
Maintaining technical documentation is also part of the network technician job description.
That's because having up-to-date records of common procedures and solutions helps ensure all team members are on the same page.
It also keeps people from wasting time digging into problems that already have known solutions.
You may be responsible for documenting things like:
☑️ Hardware serial numbers
☑️ A physical map of the network
☑️ Software licenses and where they're installed
☑️ Disaster recovery procedures
TASK #5: TRAINING USERS
Network technicians are often called upon to train and support end users. Those users might be employees, customers, or managers.
You could lead a training seminar or work with individual users, explaining how to use a new system or how to follow proper security protocols.
You'll often deal with people who are less tech-savvy than you. A lot of people don't understand the technology they use; they just want to get their jobs done.
That means you need to be able to talk about complex issues using simple language that non-technical people can understand.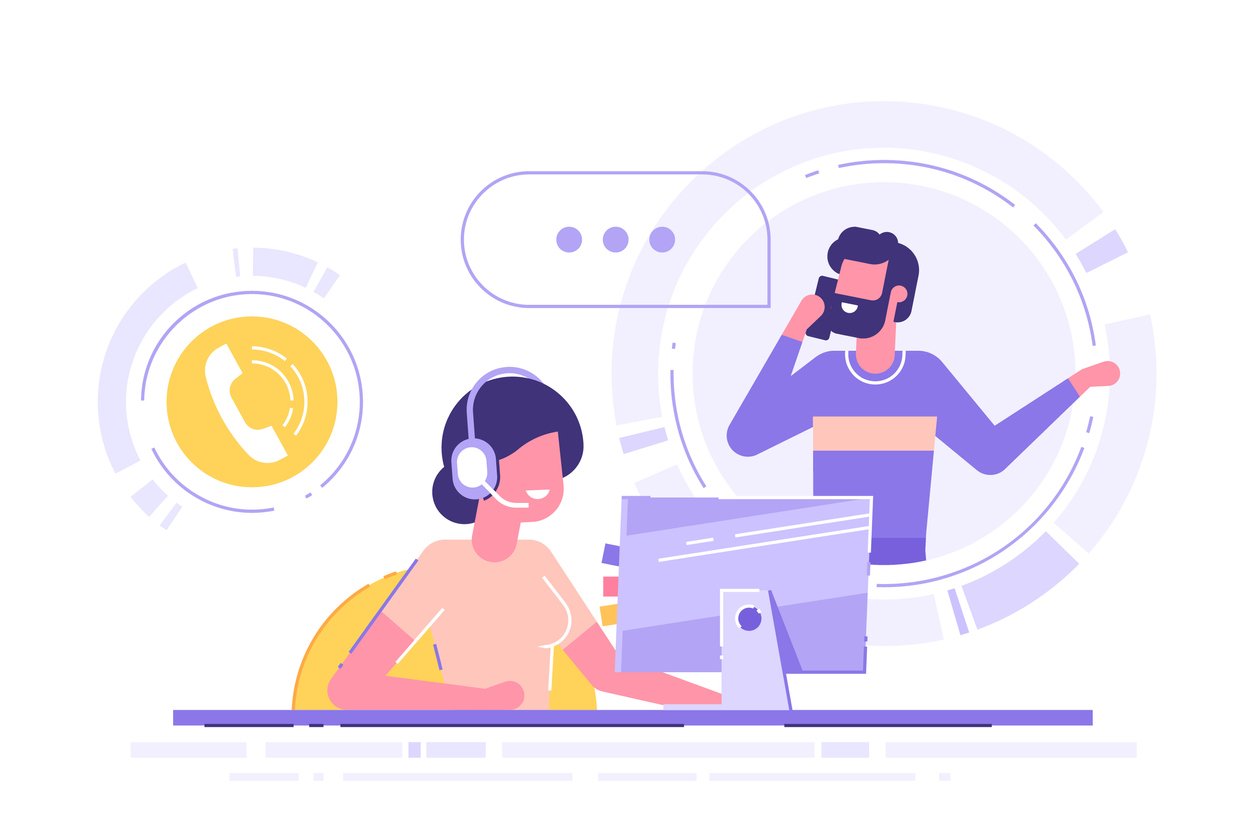 Network technicians provide technical support and training sessions online, by phone, and in person
THE SKILLS AND TRAITS EVERY NETWORK TECHNICIAN NEEDS
So what does it take to handle all those network technician responsibilities? What skills and traits do you need to thrive?
To be successful in this field, you should have:
☑️ A thorough understanding of networking hardware and software
Obviously, you should know how all the components of a computer network function and work together. That's what computer networking training will teach you.
☑️ Advanced troubleshooting and problem-solving skills
When something goes wrong, you need to pinpoint the core issue and find the best possible fix.
☑️ Excellent communication and customer service skills
People can get frazzled when they run into technical glitches. You need to remain calm and polite while you walk them through the steps to fix the issue.
☑️ Flexibility
Be prepared for irregular hours. You may need to install a network security update on a weekend or deal with an outage in the middle of the night.
☑️ Drive to continually learn and improve
You need to keep up with advances in networking technology. That means being willing to upgrade your skills and possibly earn new certifications throughout your career.
NETWORK TECHNICIAN SALARIES IN TORONTO
If you have the right skills, you can make good money as a network technician.
The Government of Canada Job Bank says techs in Toronto earn a median wage of $32 an hour, which works out to about $66,560 per year.
The highest-earning computer network technicians in the city make $46.78 per hour. That's over $97,000 a year.
More good news: network technicians have an excellent employment outlook in Toronto. The Job Bank gives the city 3 stars for this occupation—the highest rating for job growth and demand.
Get Started with COMPUTER NETWORKING TRAINING AT HERZING
Want more information on becoming a network technician? Ready to get started with training?
Check out the Computer Networking Technology diploma program at Herzing College. We offer this program in Toronto, Ottawa, Winnipeg, and online.
Earn your diploma in under 2 years, including an internship for real work experience.
Graduates are qualified for roles like Network Technician, Network Administrator, Technical Support Specialist, and Network Operations Analyst.
Click below to explore the program and chat live with an Admissions Advisor. We're here to help!