Did you know that Canada's tech sector is one of the fastest growing industries in the country? We've emerged as a global leader in specialties like AI, clean tech, and cloud services—just to name a few.
Which parts of Canada are the hottest for IT careers right now?
Well, the latest CBRE Tech Talent Scoreboard shows Toronto is North America's fastest-growing tech market. But, several other Canadian cities are also beginning to dominate.
For example, Ottawa is rising quickly as a top destination for technology training and careers. Competing with 50 other North American cities, Ottawa ranked a very impressive #13 for tech growth.

"Ottawa is shedding its government town image. It is home to over 1,700 technology companies and employs over 70,000 tech talent employees...

In the last five years, urban tech has grown to be the second largest user group in downtown Ottawa, bigger than the accounting and legal sectors combined."
- Shawn Hamilton, Managing Director of CBRE Ottawa
.
So, let's say you're considering a career in IT. But, you don't want to invest years of time and money in a university computer science degree. What's your best option?
According to another report from global staffing firm, Randstad, there are 8 technology careers that are really growing fast in Canada. And we're very happy to share that 2 computer networking careers made the list: System/Network Administrator and Helpdesk Analyst.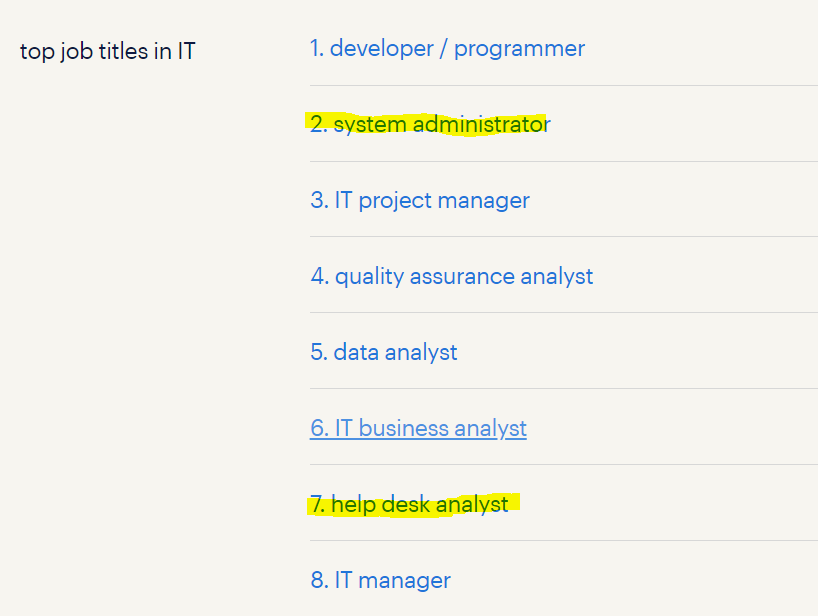 Source: Best Technology & IT Jobs in 2019, Randstad
These are both careers you can start with a technology diploma (versus a degree). In fact, you can train for both jobs by taking one program - the Computer Networking Technology Diploma. Here's a closer look at both options, and highlights from the report.
Network Administrator Ranked #2 Best Tech Job in Canada
Randstad's list of the Best Tech Jobs in 2019 shows System/Network Administrator in the #2 spot—outranked only by "Developer/Programmer" which got #1.
Network administrators are responsible for organizing, installing, and maintaining an organization's computer network. They're experts in computer hardware and software, applied internet technologies, system security, troubleshooting, servers, and network equipment.
Network admins work for any company big enough to need a computer network or IT infrastructure—including medium-sized businesses, large corporations, schools, government agencies, not-for-profits, etc.
This job has climbed all the way up from the #6 spot on last year's list—showing how quickly demand is growing in this area.
Want to learn more about becoming a network administrator? Check out the links below for more info on careers, courses, and what it takes to start a career in networking.
Help desk Analyst Careers Also Growing Fast in Canada
Help desk analyst is a new addition to Randstad's annual list of best tech careers. But given our increasing reliance on technology, it's no surprise that demand for troubleshooting and IT support staff is growing.
"Help desk professionals who are able to maintain a balance between tech-savviness and customer support are desperately needed in 2019."
- Randstad, Best Tech & IT Jobs in 2019
So, what exactly does a help desk analyst do? These are the people we call when things go wrong. Like, when an employee can't login to the network, a piece of hardware doesn't work properly, or we can't install a new piece of software.
Analysts help clients with computer hardware, operating systems, applications, and networks. Sometimes, they work "in-house" helping employees and users deal with everyday tech issues.
Or, they can work for an IT services firm that handles technical support for several different companies. Help desk jobs are often ranked by level of difficulty : level 1, 2, and 3 support.
Level one analysts deal with fairly routine issues, and often use a checklist to help them troubleshoot problems. Level two typically requires more technical skill and experience, while level 3 is where the toughest problems go.
Diploma-level computer technology training will prepare you for level one help desk analyst positions, straight out of college.
To succeed in this role, you need solid technical knowledge combined with excellent customer service skills—so you can explain solutions to clients, and patiently walk them through troubleshooting steps.
Check out the links below to learn more about computer support careers, and what to expect in training.
Getting Started with Computer Networking training
If you're looking for a quick path to a computer networking career, a diploma is your best bet. You can complete a comprehensive Computer Networking Technology Program in just 12 months.
A quality program includes everything needed to land entry-level jobs in network administration or computer technical support, including industry-standard certifications:
COMPTIA (A+, Net+, and Linux+)
Many Herzing graduates begin in a support/help desk role, and then move up into network technician and administrator positions.
If you have a natural interest in computers and internet technology, and are good at solving problems, a computer networking career could be the perfect fit.
And as the research shows, there's no shortage of job opportunities in this field.
"If you have tech and IT skills, you'll have your pick of employers in Canada!"
- Randstad, Best Tech & IT Jobs in 2019
Learn More About Herzing's Computer Networking Program
Wondering if you're a good fit for this training, or want to learn more about courses and careers? Your next step is to speak with an experienced Admissions Advisor. An Advisor will explain:
the cost of training and your financial aid options
the next program start date
skills needed to excel in class (are you a good match?)
how to arrange a campus tour or class visit
how to submit your application for the program
You should meet with admissions advisors at every school you're considering, before you make any commitments. This is the best way to get your questions answered, check out the campus and computer labs, and make sure you feel comfortable with your decision.
If you're interested in learning more about Herzing's program, we'd be happy to talk with you.
Chat live with an Advisor right now. Or click below to explore the program for yourself. There's never been a better time to start your tech career!