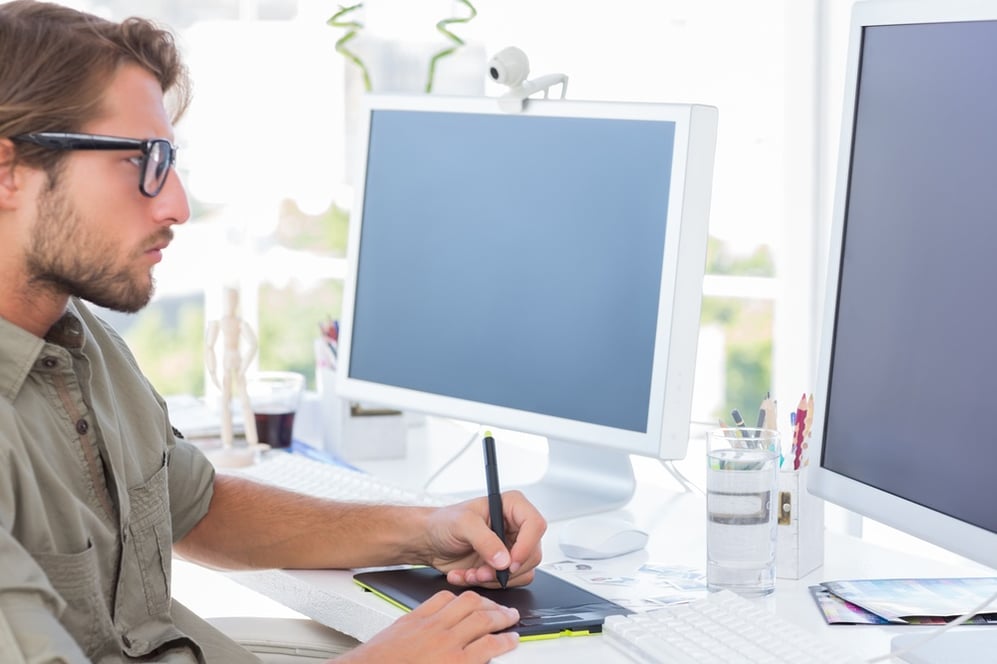 Are you thinking about pursuing a graphic design diploma this year, but aren't quite sure if you're well-suited to this career path?
In this post, we break down some of the key characteristics of successful graphic designers, what to expect in design training, and whether there is demand for designers in Ontario right now.
Read on to compare your natural skillset and aptitude with these key skills, and determine whether a graphic design diploma is the right next step for you.
1. Do you enjoy creative problem-solving?
You don't need to be a talented visual artist to succeed as a graphic designer (although strong illustration skills are definitely as asset). However, you must be able to think creatively, see design challenges from multiple angles, and come up with alternatives and solutions for project-related problems.
Good graphic designers like a challenge, are great at brainstorming ideas, and can quickly adapt their concepts to suit changing client needs.
Imagine looking at a blank web page, and being able to visualize several different layouts, ideas for typography, colour schemes, and branding concepts. Or generating various versions of a logo, print advertisement, or banner ad—and then working with your team or client to adapt those ideas until the ideal solution is found.
Graphic designers can't be rigid. They must be quick to propose ideas, and flexible about changing their views as projects evolve.
2. Are you genuinely interested in graphic and web design trends?
Do you often notice examples of creative design around you? Find yourself critiquing and comparing graphic design ideas, and considering how you might communicate a particular concept, or lay out a web page differently?
Do you follow graphic designers and related content online, and get excited about new industry trends or really innovative design work?
These are all good indicators that you are genuinely passionate about the world of design, and would feel at home in a graphic design training program.
It may sound obvious, but if you're going to enrol in a graphic design diploma, you should know a bit about what graphic and web design is, what styles you like most, and what kind of work you'd be after graduation.
To get more insight, take a look at a typical course list for a graphic design diploma. You'll see a breakdown of the key concepts taught in class, descriptions of projects you'd be doing, and the key skills you will need to be successful in this field.
3. Are you comfortable using and learning computer technology?
Are you familiar with the Adobe design suite, specifically tools like InDesign, Illustrator, and Photoshop? These are the programs you will be learning to use during your graphic design diploma. A large portion of your coursework will focus on practicing and applying techniques using these tools, which are standard requirements for any job in graphic design.
A quality graphic design diploma will also include instruction in HTML5 and CSS, and projects that involve building both simple and complex web pages. By the time you finish your diploma, you will possess basic coding skills—but must be prepared to continue expanding those skills through ongoing professional development, in order to progress in your career.
Continued learning, particularly in computer software, is key to succeeding as a graphic designer. You must keep your eye on emerging technologies, such as virtual reality and artificial intelligence, which are becoming increasingly important to design work.
4. Are you good at communicating ideas and working in teams?
Not all creative, technically proficient people are strong communicators. Some work best alone, and aren't particularly good at explaining their ideas or collaborating with others.
It's important to know that a career in graphic design absolutely requires strong interpersonal and communication skills.
First and foremost, you will need to explain your creative concepts to clients, managers, and team members. If you can't clearly relate your design ideas, and show how you've solved a problem or achieved a goal, you won't succeed as a designer.
Secondly, graphic designers never work in complete isolation. You will often find yourself on a team with programmers and other creatives (such as content writers and SEO specialists), working together to bring, for example, a website to life.
If you truly enjoy sharing creative ideas, can respond well to constructive criticism, and enjoy working with others, you have the right temperament to pursue a career in design.
5. Have you researched demand for graphic designers in your area?
Researching the local job market is an important step for any prospective student. While being well-suited for and passionate about your chosen career path is absolutely key, it's also wise to consider your chances of employment after graduation.
A college diploma is an investment of time, money, and effort—knowing whether there is demand for your chosen profession will help you determine the ROI (return on investment) for your diploma.
The Government of Canada Job Bank is a good place to begin your research. Every three years, the Job Bank publishes stats on hundreds of professions, all across the country. They look at demand, wages, and future outlook for every province, territory, and city.
We looked at the data on graphic designers for Ontario and found a positive rating for employment outlook across the province. The Job Bank has awarded this profession a 2/3 star-rating for job prospects, which is expected to hold steady for the foreseeable future.
This means there is steady demand for skilled designers in most major Ontario cities, including Toronto—excellent news for anyone set on completing their diploma this year.
Interested in learning more about what graphic designers do, or graphic design training in Toronto?
Explore the Diploma in Computer Graphic Design delivered by Herzing College at the Toronto campus. Click below to see a course list, career options, admissions information—or to chat live with a friendly advisor. We're here to help!