Remote jobs have become increasingly common, with many roles that used to be office-bound now offering more flexibility in terms of where the work gets done.
But working from home requires a shift in mindset as well as a specific set of skills. If you're hoping to take advantage of remote work opportunities, you need to be prepared.
In this post, we explore the essential skills for thriving in a remote job. We also provide practical tips on setting up your space, managing your time, maintaining work-life balance, and more.
TABLE OF CONTENTS
THE STATE OF REMOTE WORK
Remote work is increasingly popular among employees because of the time savings and flexibility it offers. However, the pendulum has swung back a bit, with some employers mandating a return to office one or more days per week.
Statistics Canada says that in August 2023, 13.6 per cent of Canadian workers were fully remote, down from 16.8 per cent a year earlier. However, 10.3 per cent of the workforce had hybrid schedules—up from 8.6 per cent the previous year.
Data from HR consulting firm Robert Half shows that in September 2023, almost one-third of new jobs across Canada allowed people to work from home at least part of the time. About 23 per cent of openings were for hybrid positions, while another nine per cent were for fully remote roles.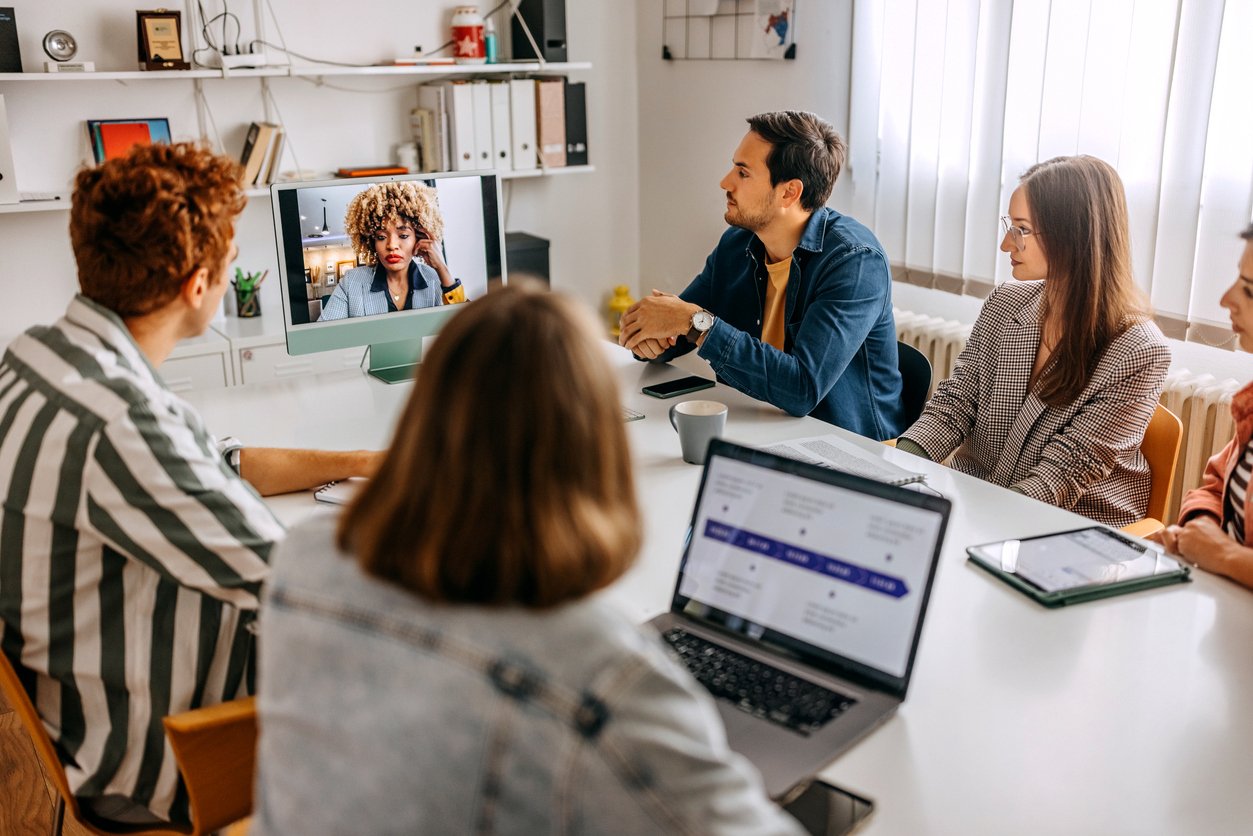 Hybrid jobs that blend on-site and remote work are on the rise
ESSENTIAL SKILLS FOR REMOTE JOBS
So what do you need to succeed in a work-from-home role? Below are some of the most important remote work skills.
Technical Proficiency
Almost every job requires employees to be comfortable with computers, but remote workers have to become adept with a wider range of digital resources. These include instant messaging, file sharing, screen recording, project management, and video conferencing tools.
Every company has its own technical setup and may or may not offer training on the digital platforms it uses. If you're planning to work outside of the office, you should be prepared to learn new software, apps, and tools.
Adaptability
Remote workers have to be able to continually adjust to new situations and circumstances. For instance, you may need to quickly grasp new tools or workflows or find ways to stay productive in the face of technical challenges like a lost internet connection or malfunctioning laptop.
It's also common to have team members scattered across various time zones or countries. In that case, you need to be able to adapt to different cultural norms as well as varying communication styles and preferences.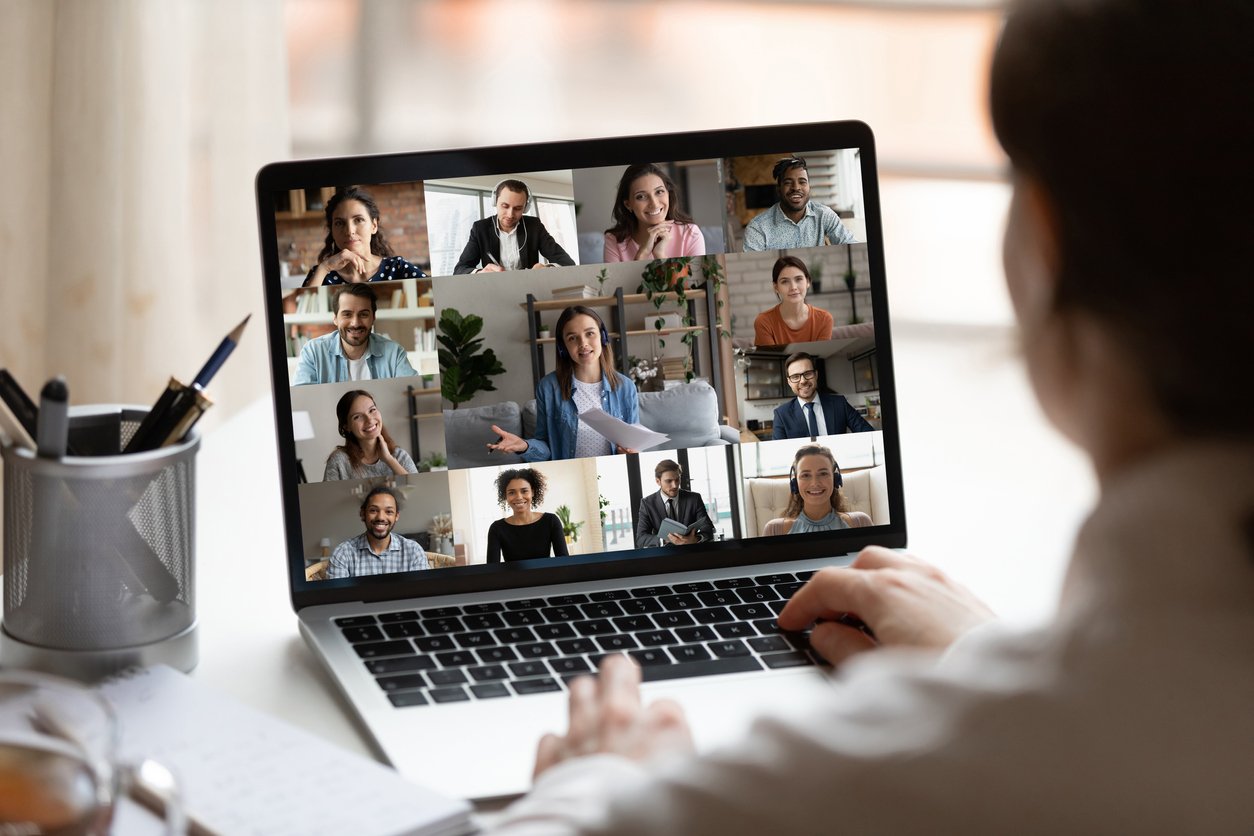 You may have to adapt to the communication preferences of people in different time zones
Self-discipline
With no colleagues or supervisors physically around to keep you motivated and accountable, it's up to you to be disciplined enough to get your work done on time. You need to be a self-starter who works well independently.
That means taking ownership of tasks, asking for clarification when necessary, and blocking out distractions. If you want to thrive in a remote job, you need to establish yourself as the kind of person who can manage their own schedule and produce quality work in a timely manner.
Communication
Many remote jobs use asynchronous communication, meaning people don't talk or interact in real time. Thus, remote work communication relies heavily on the ability to write clearly. Whether you're crafting a report, email, or instant message, you need to be able to convey information in a way that avoids confusion or misinterpretation.
SETTING UP YOUR REMOTE WORKSPACE
In a remote setting, creating a productive work environment takes a bit of planning. You need to think about where you'll work, what equipment you'll use, and how you can limit distractions.
Choosing the Right Location
Ideally, you'd have a dedicated workspace that's separate from the rest of your home. If that isn't possible, try to establish a work zone in a corner of one room or pull a table out a few inches from the wall for work and put it back when you're finished for the day. Little things like that can help your brain make the distinction between work and home.
When choosing where to work, consider factors like lighting, internet connectivity, ambient noise, and visual distractions.
You may find it easier to focus in a coffee shop, library, or coworking space. However, remote work security is a major issue; some employers won't allow you to use an unsecured network.
Ergonomics and Equipment
To avoid repetitive stress injuries and chronic pain, an ergonomic work setup is crucial. At a minimum, your desk should be adjusted for your height, your chair should provide sufficient lumbar support, and your keyboard and mouse should be within easy reach. If you're on the phone a lot, use a headset so you're not cradling the phone in your neck.
Other items that can help you work healthier include standing desks, laptop risers, footrests, and ergonomic keyboards. Your employer may be willing to supply or reimburse you for such items, so it's worth asking.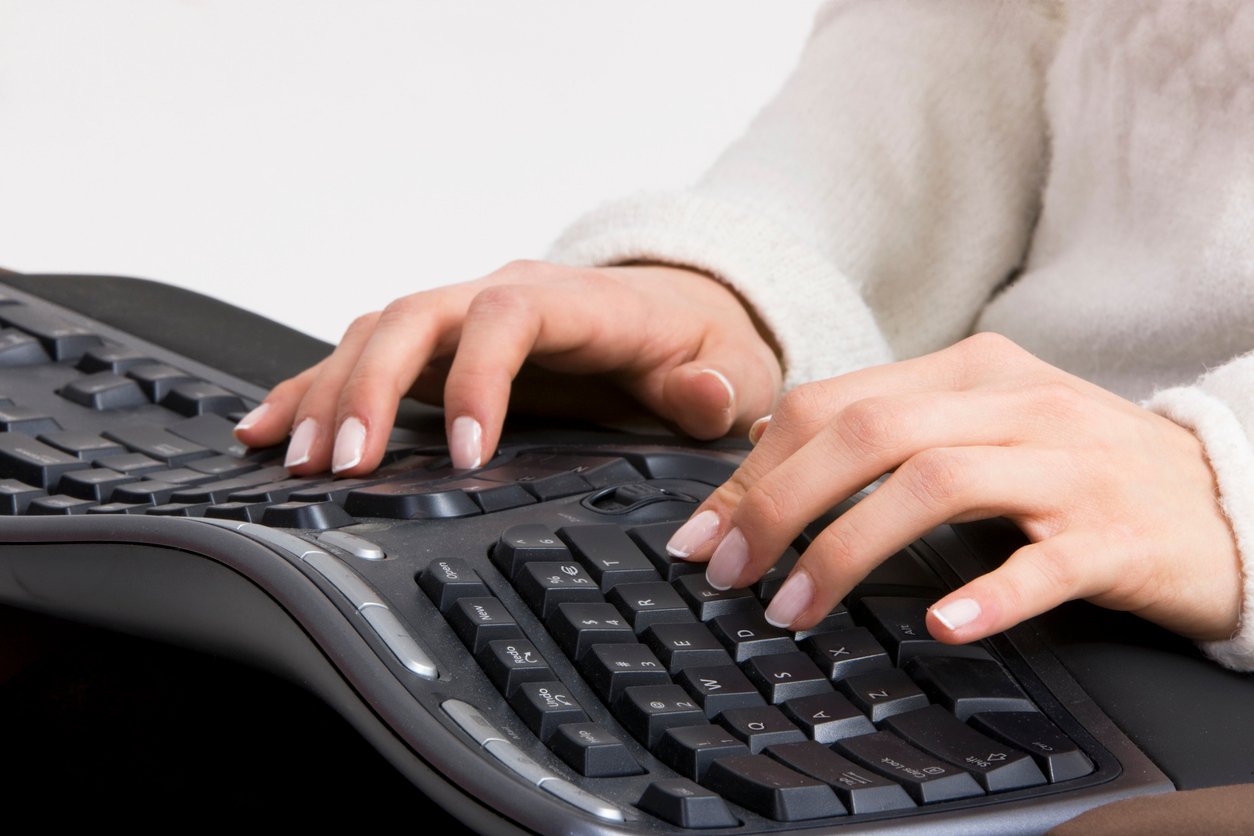 Ergonomic keyboards are designed to minimize strain in your hands and wrists
Minimizing Distractions
When setting up your workspace, you need to limit distractions as much as possible so you can stay focused and productive.
Here are a few remote work best practices:
If you live with other people, avoid setting up in a central location like a kitchen.
Turn off notifications or set your phone status to do not disturb when completing tasks that require deep concentration.
Use noise-cancelling headphones to block out background noise.
Hang a sign on your door or desk to let family members know you should not be disturbed.
Keep a few pet toys in a separate room to entertain your dog or cat while you're in a meeting or need to focus.
MANAGING YOUR TIME AND MAINTAINING PRODUCTIVITY
When you have control over where and when you work, staying on task can be a challenge. Below are some tips to work remotely and efficiently.
Create a Daily Schedule
You may be free to choose your own hours. But that freedom can lead to trouble if you're not conscientious about structuring your workday.
Creating a daily schedule can be a good way to keep yourself on track. Take a few minutes each day to write down what tasks and/or virtual meetings you have the next day. Assign a block of time to each activity so you have a concrete plan for what tasks to work on and how long it will take to complete them.
Use Time Tracking Tools
Time tracking tools can give you a clear picture of how much time you spend on different tasks. With that data, you can streamline your processes, make more accurate schedules, and improve your remote work productivity.
Some apps, like Toggl Track and My Hours, have you start and stop a built-in timer or enter your times manually. Others are automatic, meaning they run in the background and log the activity on your device. Examples include Timely, TimeCamp, and RescueTime. Your company may even use project management software with built-in time tracking, reducing the need for multiple tools.
Avoid Procrastination
If you struggle to get started on a task while working from home, try these techniques:
Set a timer for 10 minutes and tell yourself that's all the time you must dedicate to the task for now. You may find that once you get going, you can keep going.
Schedule another task you hate right after the one you've been avoiding. Sometimes just knowing there's something even worse waiting can motivate you to do what you've been putting off.
Set a deadline before the actual deadline and have a friend keep you accountable for it.
COMMUNICATING AND COLLABORATING EFFECTIVELY
One of the best tips for working remotely as a team is to overcommunicate. Have regular check-ins with team members and don't be afraid to pick up the phone or arrange a video call if written communication isn't clear enough. Just be respectful of co-workers in different time zones.
Remote collaboration tools can help your remote team with project management, communication, knowledge management, and more. To thrive in remote or hybrid work, you may want to become familiar with tools like:
STAYING MOTIVATED AND AVOIDING BURNOUT
When your job is remote, work-life balance can be hard to achieve. Many remote workers suffer from an "always on" mentality and face constant temptation to check messages or complete job tasks.
To avoid burnout, you must be intentional about separating work and home and leaving your job behind in your off hours. Here are a few ways to create more of a distinction between your personal and professional lives:
Wear some sort of "uniform" for work that's different from what you wear in your leisure time (no pajamas!)
Take a proper lunch break and eat in another room or even outside.
Add errands or personal activities to your calendar so you're forced to disconnect.
Set alarms to remind you to take periodic breaks or log off at a certain time.
At the end of your workday, close your laptop and silence your notifications.
Try not to sit in your workspace on your days off.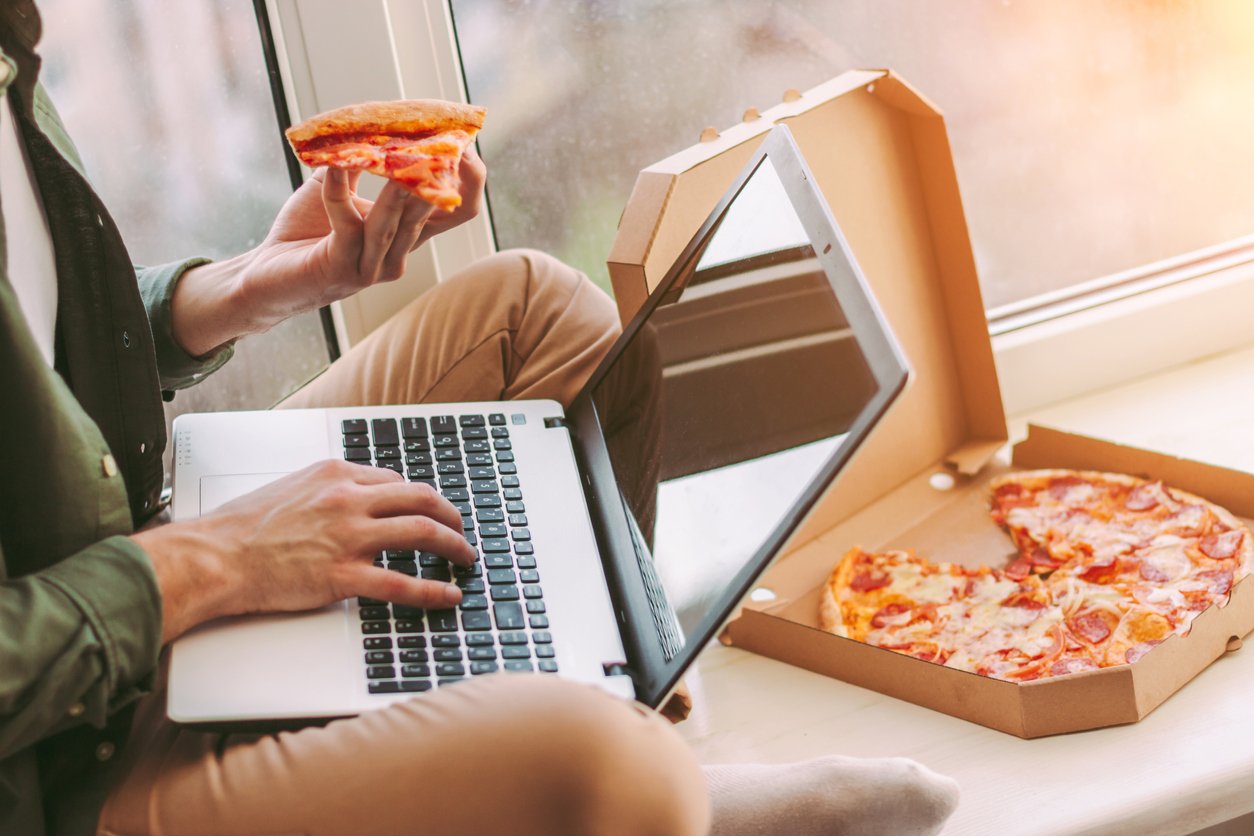 Don't do this!
APPLYING AND INTERVIEWING FOR REMOTE JOBS
The process of applying and interviewing for a remote job is a bit different than for a conventional on-site position.
Tailoring Your Resume
If it's not clear whether a particular role allows you to work from home, spell out your desire to work remotely in your professional summary. If you already have experience with remote work, mention that in your summary too. It's also wise to put "remote" in place of a city name next to those positions in your work experience section.
The key is to emphasize your remote work skills throughout your resume. Even if you've never worked from home, you may have worked with clients in different time zones or used remote collaboration tools. Provide concrete examples of times you demonstrated your adaptability, self-discipline, and digital communication skills.
Best Practices for Remote Job Interviews
Here are a few tips to help you prepare for your remote job interview:
Do a trial run of your technology ahead of time. Make sure your camera and microphone are working properly and that you know how to navigate whatever video conferencing tool will be used.
Select a location with a clean background and good natural light if possible. Try to position yourself with the light in front of you rather than behind you.
Remember to look into your camera instead of at your own face.
WANT HELP PREPARING FOR REMOTE JOBS?
Herzing College offers a variety of online programs designed to prepare you for today's workforce. Our career development team can also help you craft your resume and find remote positions that align with your skills and interests.
Click below to learn more about what we can do for you.