The gig economy is gaining momentum in Canada, with more people providing their services on a freelance or as-needed basis rather than a salaried long-term one. Working for yourself instead of being on staff at one company is rapidly becoming the new normal.
But as traditional employment models shift, how can newcomers find their way? What is the gig economy all about, and what does it take to succeed in this new world of work?
In this blog, we explore the kinds of freelancing and contract opportunities that are available as well as the advantages and disadvantages of gig work. We also provide practical strategies you can follow to build your client base and improve your odds of success.
TABLE OF CONTENTS
WHAT IS THE GIG ECONOMY?
The gig economy centres around temporary work and short-term contracts. It typically refers to people who connect with customers through a digital platform like Skip the Dishes, Upwork, Fiverr, or Clickworker. However, it also includes people who find non-traditional work through personal contacts or other means.
In the gig economy, workers are independent contractors or freelancers who offer their services on a project-by-project basis. They are not traditional employees with long-term job security.
So what does the data say about contract work trends and freelance market growth in Canada?
According to a recent Belongnomics survey, roughly one in five Canadian workers perform gig work. Most of them do it to boost their income, either because they just want a little extra cash or because their regular job doesn't pay enough to meet their needs. Some are forced into it because they can't find traditional employment. And some choose to perform gig work exclusively because they simply enjoy being free agents.
EXAMPLES OF GIG ECONOMY JOBS
The gig economy includes a wide range of jobs. Contrary to what you might think, it's not limited to rideshare driving, food delivery, house cleaning, and pet sitting. There's a wide array of freelance opportunities in Canada for roles such as:
Tutor
If you have expertise in an area that others want to learn, you could offer your services as a tutor either in person or online. The demand for tutors has grown tremendously since pandemic disruptions derailed many students' educational progress. Be aware that some online platforms require K-12 or ESL tutors to have bachelor's degrees and/or teaching experience.
Graphic Designer
Graphic designers commonly work as freelancers rather than salaried employees. Lots of short-term gigs exist for those who can design logos, websites, mobile app graphics, product packaging, and more. A professional-looking portfolio is essential; you can develop one and refine your skills at the same time through a graphic design certificate program.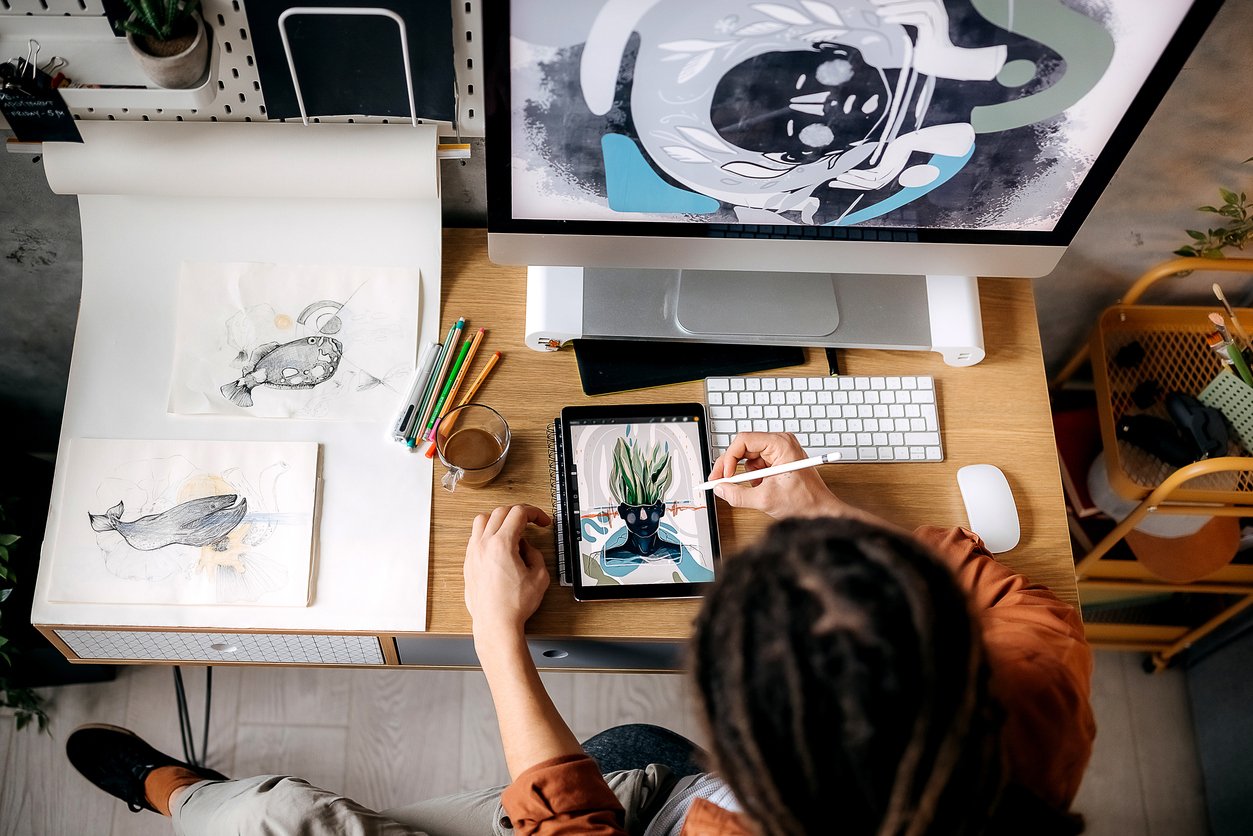 Plenty of graphic designers work as freelancers
Software Developer
While full-time jobs for programmers can still be found, there are a growing number of side-hustle opportunities for developers who can write solid code, find and fix bugs, and create web or mobile apps. A college-level software development program can teach you a variety of programming languages and frameworks to help you get started.
Virtual Assistant
Home-based virtual assistants can help many different companies with tasks like scheduling appointments, responding to emails, updating social media channels, or proofreading documents. Administrative assistant training is an excellent way to prepare for this role; most programs are only a few months long.
Bookkeeper
Bookkeeping is one of the most common freelance skills in demand. Small business owners frequently hire bookkeepers for a few days a month to handle tasks like filing invoices, categorizing transactions, reconciling accounts, and preparing financial statements. With a bit of training in accounting and payroll administration, you can be ready to offer such services.
BENEFITS OF SELF-EMPLOYMENT
In the Belongnomics survey, 58 per cent of Canadians who engaged in gig work did so out of personal choice rather than necessity. So what are the advantages of being a freelancer or independent contractor?
Flexibility and Autonomy
As a gig worker, you have control over your schedule. You can decide what projects to take on, how to get them done, and when to take time off. Depending on your industry, you may also be able to choose where you work, whether that's your living room, a coffee shop, or a coworking space.
Variety
When you are your own boss, you can work with clients from different niches or who have distinct needs. You're not tied to one particular company or customer and can choose new projects that suit you. As an independent worker, you're free to pursue opportunities that align with your passions.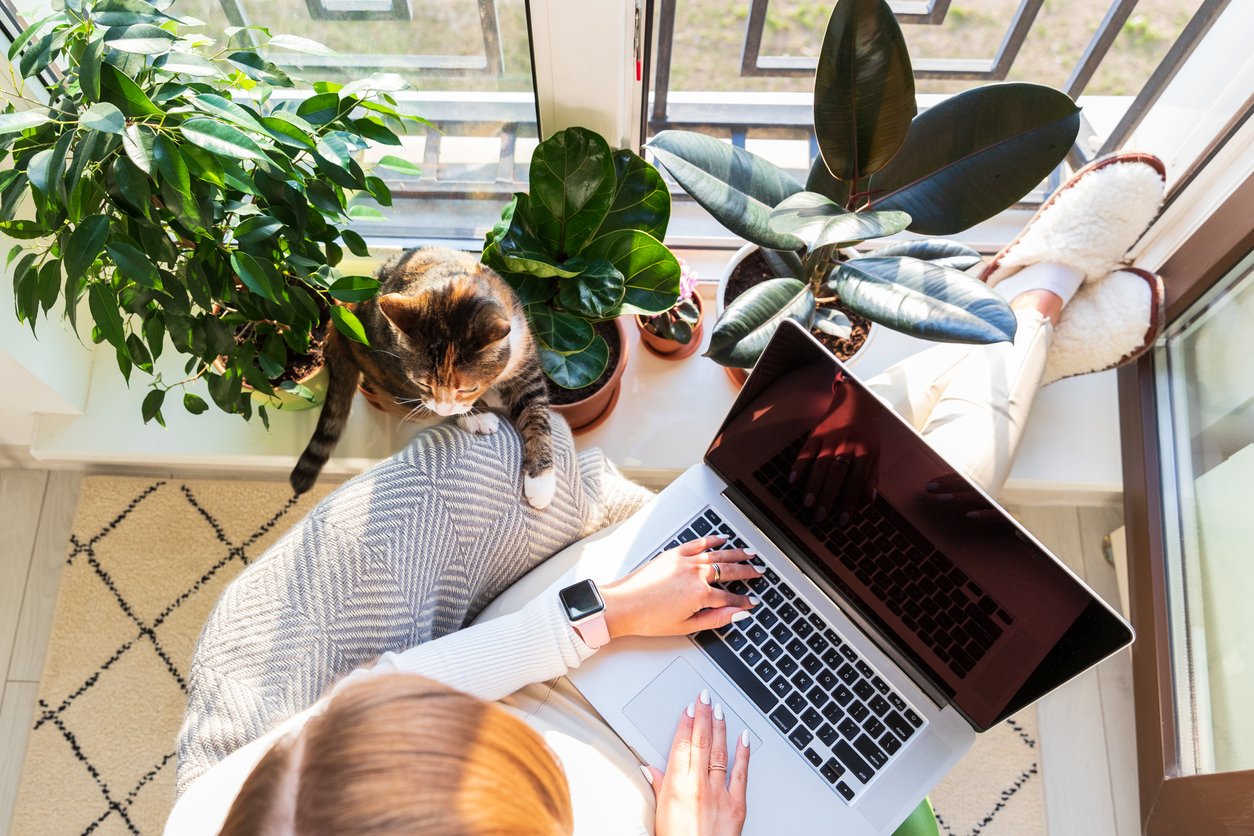 As a freelancer or independent contractor, you're free to work wherever you choose
POTENTIAL CHALLENGES
Gig jobs also come with some disadvantages, including:
Lack of Benefits
Because they aren't considered employees, gig workers do not receive paid time off and do not enjoy any healthcare or retirement benefits. You can get your own private benefits package, but you will have to pay for it yourself, and you won't benefit from a group plan.
Lack of Job Security
Without the security of being on staff, gig workers must always be hunting for new opportunities. The lack of guaranteed steady work can cause stress and anxiety.
Fewer Legal Protections
In most cases, gig workers aren't covered by labour laws and cannot receive employment insurance benefits when or if the work dries up. However, Ontario now requires digital platform operators like Uber and Skip the Dishes to pay their workers minimum wage for the hours they work (though not the time they spend waiting for assignments).
FREELANCING STRATEGIES AND TIPS
Looking to get started in freelance or contract work? Below are some tips to help you build a client base and advance your career goals.
Establish Your Online Presence
To attract potential clients, it's important to have a professional online presence. At a minimum, that means a well-crafted LinkedIn profile that showcases your skills and accomplishments. Include client testimonials and recommendations if you can.
It's also a good idea to have a website that highlights your expertise and what makes you unique. Testimonials are good here, too. Be sure to include a portfolio of your work that demonstrates what you're capable of.
You may also want to maintain a blog, run a podcast, or start a YouTube channel. Share your thoughts and engage with your target audience on Facebook, Instagram, or X (formerly known as Twitter).
Related: Building a Professional Online Presence: Leveraging Social Media for Career Success
Network and Outreach
Networking is key. Start by telling your family and friends about the services you're offering. You never know who can connect you with an opportunity.
From there, take advantage of social media. Expand your professional network by following industry influencers and companies you want to work for on various digital platforms. Comment on their content and offer your insights. Don't pitch your services right away; focus on nurturing connections and providing value.
Leverage Freelance Tools and Platforms
Fortunately, you don't necessarily have to drum up opportunities all on your own. There are several gig economy platforms that can help you as an independent worker. Here are a few examples:
THE IMPORTANCE OF LIFELONG LEARNING IN THE GIG ECONOMY
If you want to thrive in the Canadian freelance market, you need to keep learning. Continually expanding your knowledge and skills is the best way to stay competitive in a rapidly changing professional environment, and can give you a leg up when it comes to gig jobs.
Herzing College has a variety of online programs designed to get you workforce-ready in a relatively short time. Click below to see what we have to offer and chat live with an admissions advisor. We're here to help!