Kierstin Whitney didn't always have a clear focus for her career path. She just knew that she wanted to have a positive impact on people's lives.
After high school, she worked a bunch of different jobs, taking note of what she enjoyed and looking for new opportunities to grow and learn. She finally realized her true passion was health and safety.
It was intimidating to go back to school, but she knew she needed some specialized training. She took the leap, enrolled in the online OHS program through Herzing College—and never looked back.
We caught up with Kierstin to find out how she found the whole experience.
Here's how that conversation went.
Q.

Kierstin, what were you doing before heading back to school?
Kierstin: I didn't know what I really wanted to do. I just wanted to be the person who could help better someone's life.
Because of this, I worked a lot of jobs that were space fillers until I could really find something I was passionate about to go back to school and start my career.
I discovered health and safety was something that I really enjoyed and had a personal connection to. That's when I really started researching health and safety programs.
Q.

What made you choose the Occupational Health and Safety program at Herzing?
Kierstin: I chose Herzing for two main reasons. The first was that they offered environmental studies in the health and safety course, which no other schools that I looked at offered. I knew that would be a huge benefit to me in the future.
The second reason was that the online courses they offer would give me the time and freedom I needed to continue working full time. That allowed me to keep up with my bills and expenses.
Q.

Did you face any obstacles in continuing your education?
Kierstin: My main challenge was having to get back into the swing of things after being graduated for 4.5 years. It was something that only worried me more and more the longer I waited to go back to school.
I needed a lot of self-discipline. Taking personal accountability in school was something I'd lost touch with while not being in that constant routine and mindset of courses, assignments, and exams.
I finally realized that your brain has a lot more power than you know. A simple mindset change can be what it takes for you to switch your way of thinking from "how am I going to do this?" to "I know I can do this, I just have to start."
Q.

What was the best part of the OHS program?
Kierstin: My favourite part of the program was how in-depth it was. It covered everything from the safety of your home to what it takes to keep a field of 80+ workers safe in their line of work.
It was riveting and captivating to look at something usually so mundane with such detail.
Q.

What new skills did you learn?
Kierstin: I learned how to see something as a bigger picture and from all different angles.
When it comes to health and safety, you need to be able to look at things from the point of view of the workers, the supervisors, the managers, the company itself, and of course yourself. It's important to see the big picture so that you can come up with a conclusion or result that can benefit not just one, but the whole.
My communication, organizational, and networking skills have greatly improved after completing the program at Herzing. That will benefit me for a long time to come.
Q.

What was your overall experience in the program?
Kierstin: My overall experience was phenomenal!
If I could go back and do it all again, I would happily do so. It makes me excited to continue learning, and when it's time to go back to school to take another course or expand my knowledge, you best believe I'm coming right back to Herzing.
Q.

How was the instructor?
Kierstin: Andrew Pugachev made the whole learning experience exciting and enlightening. After not being in school for 4.5 years, it can be really daunting to go back full time, but Mr. Pugachev was always a great support system.
He would constantly check in with the students to make sure we understood. On all our assignments, he gave constructive feedback and touched on the takeaways he had gotten from them. It would help build your knowledge and give you something to look forward to working on and bettering for the next assignment.
He would always connect what we were learning to real-world examples to help us retain the information. He made it exciting to log on and be a part of the class.
He was also always easy to get in touch with. If I ever needed clarification on a subject or assignment, he never hesitated to provide a well-thought-out answer.
Q.

What other support systems does Herzing have that helped you succeed?
Kierstin: I will always be grateful for the support I received from the career services office. The career services specialist took the stress out of finding work after I completed my studies, and she helped me to believe that I could reach for more than I thought I could.
She helped to place me in one of the largest construction companies in the world, and she continues to check in with me and congratulate me during my weekly reports.
She truly started me in the best direction for my career.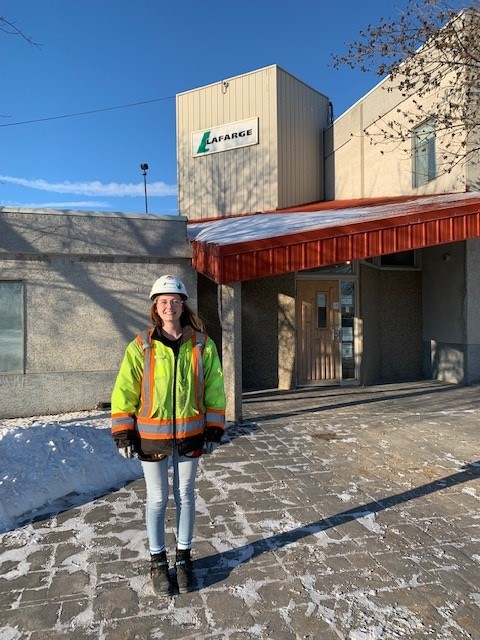 Kierstin Whitney now works for one of Canada's leading construction companies
Q.

What advice would you give someone who's considering Herzing College?
Kierstin: Don't wait to start. Think of where you want to be a year or five or even 10 years from now. The only thing holding you back from those dreams and goals is yourself.
Herzing College is more than you could imagine. The support system they offer will make you stronger and more sure of your abilities.
You've got this. Just start!
LEARN MORE ABOUT THE OHS PROGRAM
The Occupational Health and Safety program offered by Herzing College Winnipeg is 12 months long and includes an eight-week internship.
Training is delivered entirely online, and you can qualify for the Canadian Registered Safety Technician (CRST) certification right after you graduate.
Want more details? Click below.