Photo: Chao Zhang at his desk at Jesta, where he was hired as a full-stack software developer after graduating from Herzing's Programmer Analyst program.
When Chao Zhang enrolled in the Programmer Analyst program at Herzing, he had virtually no experience in software development. He had a degree in Electrical Engineering and had worked as a game tester - but that was it.
Looking to get into the industry as fast as possible, Chao signed up for the 15-month accelerated program. He graduated in March, 2019 and landed an impressive job as a full-stack software developer for Jesta I.S.
Jesta is a global software company with a 50 year track record of quality products. They were recently named the #1 software vendor for retail businesses.
We interviewed Chao this week to find out how work is going, and what he thought of Herzing's program. We asked him to rate the quality of the instructor, the skills he learned, and his overall experience at Herzing.
Here's what we found out.
Q: Chao, what were you doing before you decided to go back to school?
Chao: I was working as a game tester and a linguistic tester for VMC Game Lab. I have always been interested of doing software development, but never had the chance of actually learning and working in the field.
Q: What inspired you to choose Programmer Analyst training?
Chao: I started out studying Electrical Engineering. I earned a Bachelor's degree from ZhengZhou University in China, but never worked in the field.
There were two main reasons I ended up choosing Programmer Analyst training. One was because of the steady income and demand for programmers. Two was my passion for learning how to build something great in the digital world.

Q: There are several programmer analyst colleges in Montreal. How did you decide on Herzing?
Chao: I heard the internship program is great at Herzing. And I knew that to start a career in programming, I would need a good spring board. Getting practical experience is the key to success in this industry.
Q:

How would you rate

the program, overall? How was the instructor, course material, and the skills you learned?
Chao: The skill set we learned was really good. I liked the instructor and the content of the courses a lot. Also, we were a multi-cultural group of students and the atmosphere in class was great.
What's important to know is that this program is very condensed and intensive.
You complete the entire program in just 15 months...compared to 4 years at university. This is not an easy task!
You move very quickly through the material, and jump over some of the theory and topics.That means students really have to do a lot of study and practice on their own.
For example, to get a job you need to know at least 1-2 frame works, and you need to be good with different environments and tools. But you can't expect to learn them all from one program, because there are so many different frameworks, tools, etc.
Herzing's program provides a solid overview and introduction to programming. It helps you get your feet wet, and teaches you how to continue learning and building your skills independently.
Q: Tell us about your internship. What company did you work for, and what tasks were you doing?
Chao: My internship was at a global software company called Jesta I.S. They create software solutions for wholesalers and retailers, to help streamline and optimize operations.
I was given several different projects to work on. Most of my work involved optimizing logics, data exchange, adding new features, and bug fixing.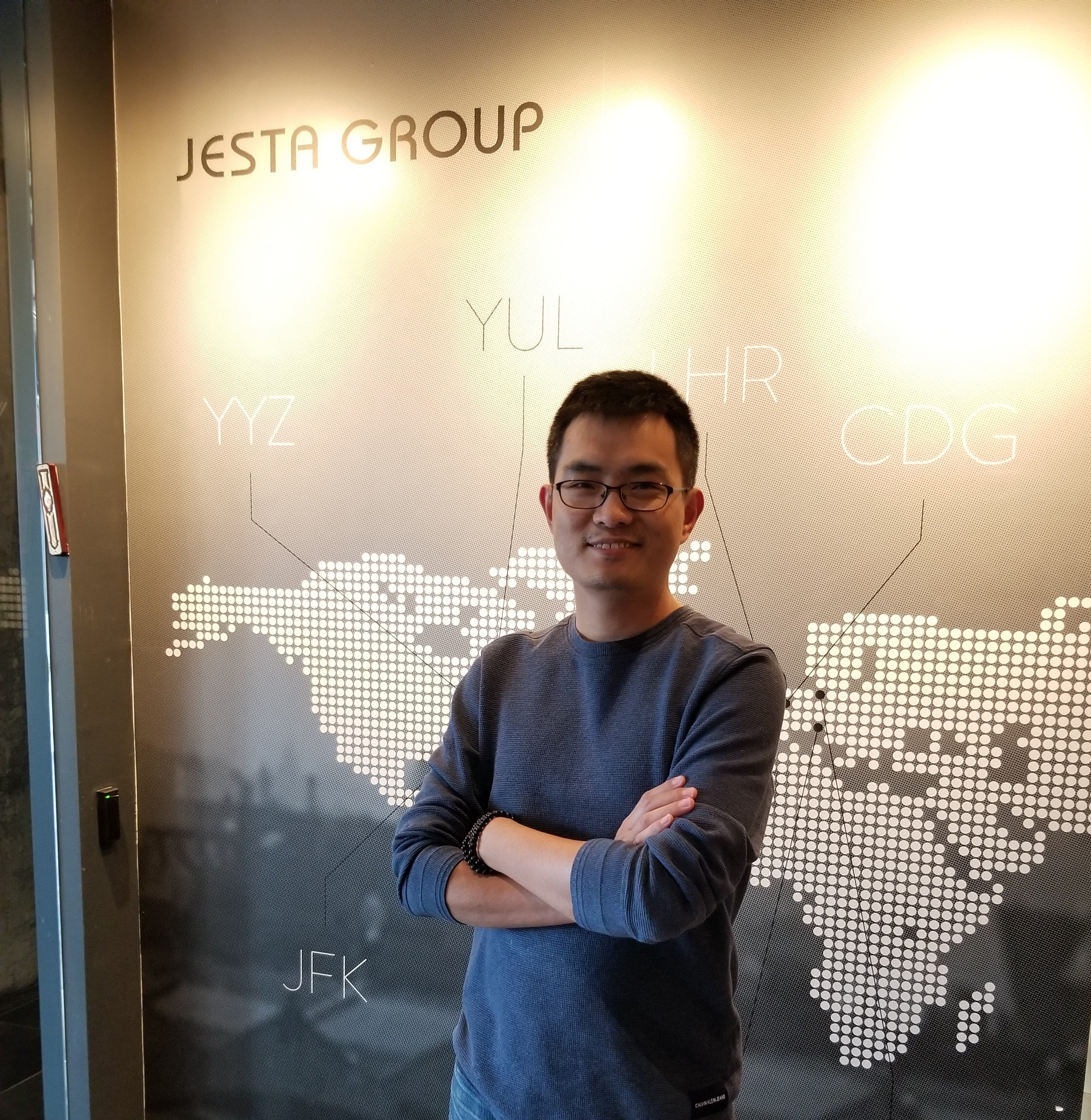 Chao got hired straight out of his internship with Jesta, a global software company that designs enterprise solutions for retail businesses
Q: So, where are you working now? Can you describe your role and what you're doing?
Chao: I am a full-stack software developer, still working for Jesta. I got hired there after my internship. I work on creating and designing the user interface, developing, and maintaining the backend logic and the database.

Q: Are you really using the skills you learned at Herzing? Is the training relevant to your job now?
Chao: Everything we learned is useful and relevant. Web, Database, Java, .NET...it's all being used in my work now.
Q: What advice would you give new students? What does it take to become a successful programmer analyst?

Chao: If you don't have a Bachelor or Master degree in programming, experience is everything. So you need to build yourself a nice resume as soon as possible. This includes finding a part-time job, or even volunteering at an IT company.
The internship is helpful, but if you can find other ways to get real programming experience, go for it...and do it before you graduate from the program.
A big thank-you to Chao for taking the time to answer our questions! We're very proud of what you've accomplished, and wish you every success in your new career.
Find out more about programmer analyst training & careers
Herzing College Montreal offers a 15-month Programmer Analyst program. Training includes a guaranteed 14-week internship at a local IT company.
Have questions about admission requirements, costs, or class schedules? Click below to request free information about the program and chat live with an Admissions Advisor.
Our Advisors can guide you through applications, financial aid, career information, and any other questions you may have. We're here to help!