Updated February 2023
When a person gets hurt on the job, both they and the business feel the impact.
The injured employee must deal with missed work and lost wages. Meanwhile, the company may face fines, staff shortages, production slowdowns, lower morale, a damaged reputation...the list goes on.
The importance of health and safety in the workplace cannot be overstated. That's why occupational health and safety (OHS) professionals focus on preventing workplace accidents and injuries and promoting employee well-being. They do this by creating policies and providing training on emergency evacuations, hazardous material handling, machine lockout procedures, fall prevention, harassment, and much more.
Looking to begin a career in OHS? Wondering how to convince a business owner that they need your help, or asking yourself, "Just why is workplace safety important?" Read on to learn more about why safety programs are so critical—and what value they bring to an organization.
WHY EVERY WORKPLACE NEEDS OHS TRAINING
When you think of occupational health and safety, you might picture a construction site or a manufacturing plant. These types of environments are full of obvious things like chemicals or heavy machinery that can cause serious injury.
But health and safety hazards exist even in a typical office space. For example:
A power cord that's stretched across the floor but isn't taped down could cause someone to trip and fall.
A space heater placed too close to paper or other combustible materials could start a fire.
A perfume worn by one staff member could trigger a migraine or allergic reaction in another.
The reality is that every workplace presents some degree of risk.
THE BENEFITS OF OHS PROGRAMS
OHS expert Andrew Pugachev has more than 20 years of experience in the manufacturing sector. He says a lot of people don't realize the full effect that a single accident can have on a company.
"It will affect production targets, quality, and morale within the ranks. Not to mention a potential 'stop-work order' that shuts the business down for an undisclosed amount of time. The company's reputation within the industry will be tarnished, customers lost, revenue gone…and likely fines and higher insurance costs/deductibles.
There's no doubt about it: an effective health and safety program absolutely helps reduce or eliminate such horrible occurrences."
Making sure employees are trained in health and safety protocols is crucial to:
Reduce Injuries and Illnesses
The most obvious (and compelling) benefit of health and safety training is to minimize injuries and illnesses among staff.
According to the Association of Workers' Compensation Boards of Canada, there are more than 900 workplace fatalities each year in this country. In Ontario alone, 328 people died as a result of a work-related injury or disease in 2020. That same year, more than 60,000 Ontarians received compensation for an injury, disease, or disability sustained on the job.
A good health and safety program can help bring those numbers down. When workers are trained in safety procedures and the proper use of equipment and protective gear, they're less likely to get hurt—and the business is less likely to suffer long-term disruptions.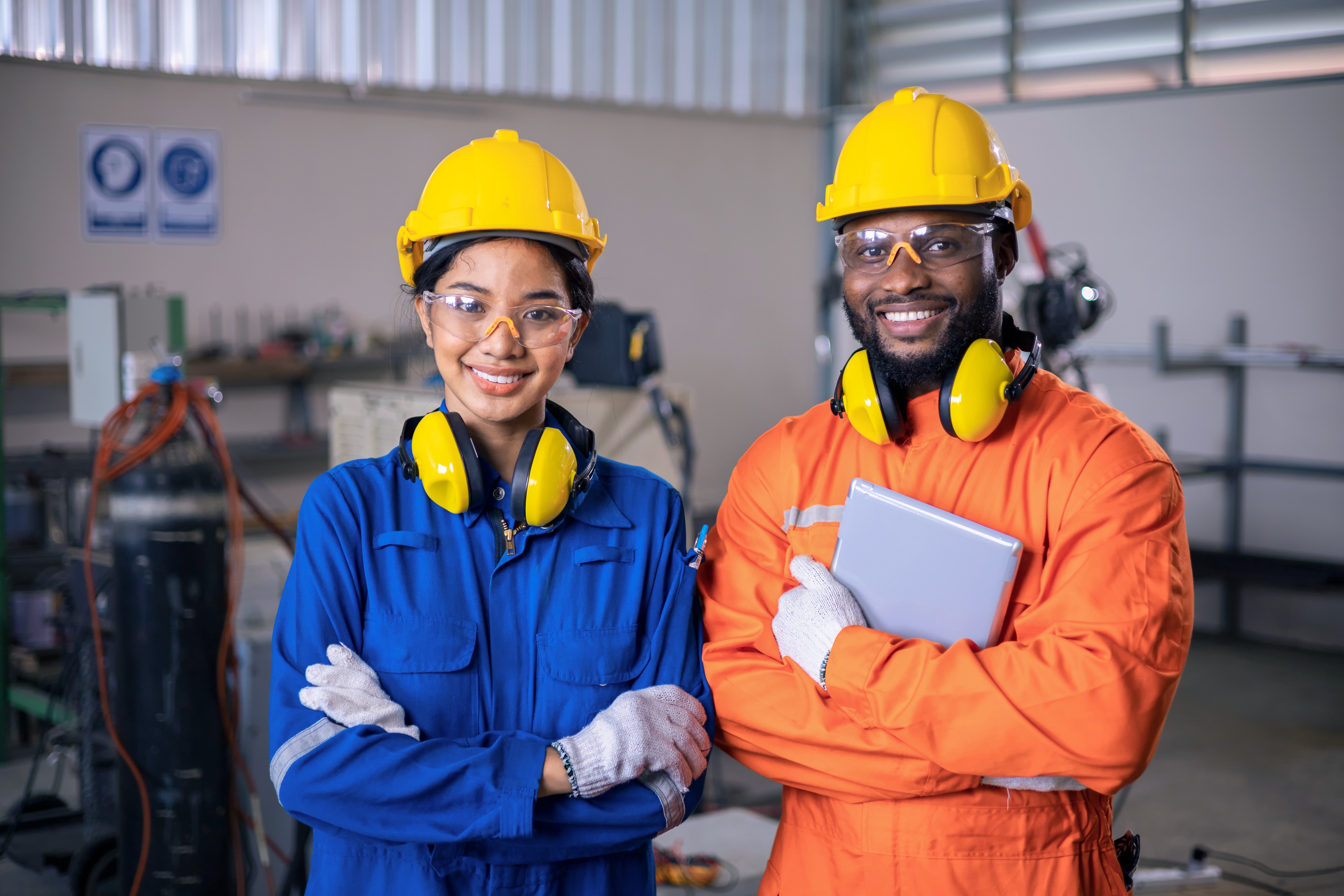 Workers who know how and when to use protective gear are much less likely to suffer injuries
Maintain Compliance
Every province and territory has its own occupational health and safety regulations. The federal government also has OHS legislation that applies to federally regulated industries, such as banking, transportation, and telecommunications.
OHS laws differ slightly between jurisdictions, but they all outline the responsibilities of both employers and employees. And running afoul of those regulations can result in stiff penalties.
For example, Ontario recently passed a bill that raises the maximum fines for those who violate OHS regulations. Under the new bill, directors and officers of corporations could be fined as much as $1.5 million (up from a max of $100,000 previously). Other individuals who break the rules could be fined up to $500,000.
Health and safety training can mean avoiding fines and staying on the right side of the law.
Increase Productivity
No one does their best work when they feel unsafe. But when people can relax knowing they're supported, they're free to focus on the quality of their output.
A Lockheed Martin case study noted that the emphasis on safety at its Paducah plant resulted in a 24 per cent increase in employee productivity. The company found that safety audits and extensive training gave workers more confidence and boosted their ability to carry out their tasks.
Effective workplace safety training can therefore be good for an organization's bottom line.
Keep Employees Happy
Companies that make health and safety a central part of the culture are often rewarded with happy employees who are willing to go the extra mile.
One study that analyzed the relationship between OHS performance and employee morale found that feeling safe was a key factor in a company being considered a great place to work.
Plus, happy employees are more likely to stick around, so a good health and safety program can also be an effective retention tool.
PREPARE FOR A CAREER IN HEALTH AND SAFETY
Are you hoping to play a key role in improving workplace safety? An OHS diploma can get you started.
Herzing College offers an Occupational Health and Safety Officer diploma that takes just 12 months to complete. It's available at our Ottawa and Toronto campuses as well as online.
Our program is fully approved by the Board of Canadian Registered Safety Professionals (BCRSP). Graduates are eligible to apply for the Canadian Registered Safety Technician (CRST) certification, which is highly regarded throughout the country.
Our program also provides real-world experience through an included internship. Many students get hired directly from their internships.
Click below to get further details on the OHS program and chat live with an admissions advisor who can answer your questions.