Updated July 2023
Just what is computer networking? It's the practice of connecting devices to share information. And it's one of the hottest fields around.
Companies have long relied on computer networking experts to design, build, secure, maintain, and support the digital information systems that link employees and customers. But with the enormous shift to remote work during the pandemic, the demand for networking professionals really took off.
As companies implemented work-from-home policies or a hybrid office structure, employees who were once connected to in-office setups had to learn remote practices. That often involved using new sharing software, connecting to a company-wide VPN, or other tactics. As a result, the need for those experienced in computer networking has grown dramatically.
As in any field, computer networking jobs have various levels. To succeed and move up, you need to demonstrate good problem-solving, communication, prioritizing, and teamwork skills. You also need to keep up with rapidly changing technology.
So where could you start out as a total beginner, and what opportunities are there to advance your career?
Keep reading to explore seven different computer networking jobs, from entry-level roles to the most senior positions.
TABLE OF CONTENTS
ABOUT COMPUTER NETWORKING JOB TITLES
It's worth noting that the information technology field is notorious for not standardizing its job titles. As a result, duties can overlap and many different job names can refer to the same thing. For example, what one company calls a network technician might be equivalent to a network administrator at another firm.
When you're researching computer networking jobs, be sure to look beyond the title and review the job responsibilities carefully so that you understand what's really involved.
COMPUTER NETWORKING JOB #1: TECHNICAL SUPPORT SPECIALIST
One of the most well-known entry-level positions in computer networking is the technical support specialist. Also known as help desk technicians, these individuals assist customers or staff members whose computer systems aren't working properly.
Responsibilities
Technical support specialists respond to phone calls and online messages about failed logins, dropped network connections, printer problems, slow internet, hardware and software issues, and more. The goal is to resolve problems quickly and efficiently so users can get back on track.
Help desk positions are often separated into tiers, with level one techs handling fairly routine issues and level two and three techs dealing with more complex networking challenges.
Tech support specialists can work in-house for one specific company or for an IT services firm that provides support to several different organizations.
Experience Level
A technical support specialist role is one of the most common starting points for computer networking program grads. Many people begin on the help desk, then branch out into more specialized areas like network administration or security. For example, if you enjoy resolving help desk tickets related to viruses or phishing emails, specializing in security is a natural next step.
Salary
According to the Government of Canada Job Bank, the median salary for user support technicians is roughly $60,000. The top techs earn more than $99,000.
COMPUTER NETWORKING JOB #2: NETWORK TECHNICIAN
Network technicians set up and maintain the physical infrastructure for both local and wide area networks. These are the people in the server room or data centre who actually install the devices and run the cabling.
Responsibilities
Network technicians are responsible for installing, configuring, and repairing everything from routers and switches to cables and servers. They are also typically in charge of backing up data, carrying out security updates, troubleshooting issues, and looking for ways to improve network performance.
Experience Level
This is another popular entry-level computer networking job. New graduates commonly begin as network technicians. These individuals tend to do more hands-on work with computer hardware than tech support specialists, who focus more on user support.
Salary
PayScale says network technicians across Canada have median earnings of about $55,000. The highest-paid techs make $72,000 or more.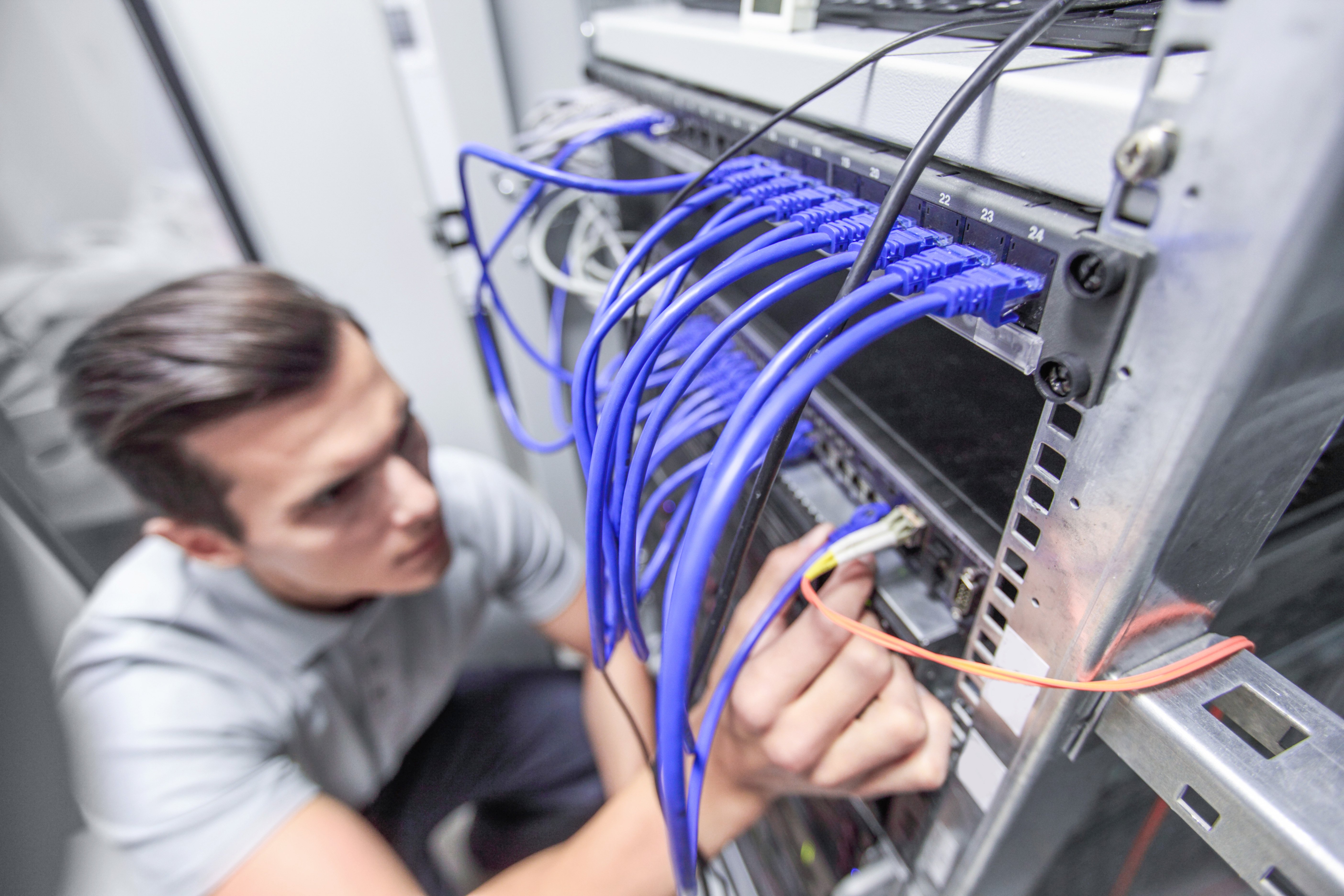 Network technicians do hands-on work with cables and servers
COMPUTER NETWORKING JOB #3: NETWORK ADMINISTRATOR
Network administrators are in charge of the day-to-day operations of the network. The role is very similar to that of a network technician. In fact, the two job titles are often used interchangeably. But there can be some important differences.
Responsibilities
Administrators can do all the same things as technicians. However, additional tasks might include managing user accounts, keeping product licenses up to date, planning for future capacity, researching network improvements, and optimizing security.
Experience Level
Network administrator is generally considered one step up from a technician role, although a computer networking course will prepare you to start out as a junior network administrator. Certifications like the Cisco Certified Network Associate (CCNA) can help you move into more senior positions.
Salary
According to PayScale, network administrators make a median salary of $62,000 in Canada. The top earners take home around $82,000.
COMPUTER NETWORKING JOB #4: NETWORK SECURITY SPECIALIST
Also known as information security analysts, network security specialists are in charge of protecting an organization's data and systems. Their job is to stay ahead of the hackers by looking for system vulnerabilities and plugging any holes before they can be exploited.
Responsibilities
Network security specialists monitor network activity, install and upgrade protection tools like firewalls and spam filters, create disaster recovery plans, and investigate breaches. They keep up with the ever-changing threat landscape and try to ensure that the organization is prepared if the worst should occur.
Experience Level
This is a more advanced role that may require additional training or cybersecurity certifications. Employers often look for candidates who have a few years of experience in network operations. It's quite common for a network technician or network administrator to advance into a security role over time.
Salary
PayScale data shows that information security specialists in Canada earn around $83,000 as a median salary. The top earners make $108,000 or more.
COMPUTER NETWORKING JOB #5: NETWORK ARCHITECT
Network architects come up with the big-picture design for a data communication network. They design the infrastructure that meets an organization's operational needs.
Responsibilities
Network architects talk to various stakeholders, analyze costs, assess risks, recommend equipment, and ultimately develop a technical solution that meets both the present and future business needs of the organization. They often work as contractors or consultants, although some organizations do keep them on staff.
Experience Level
Architects have one of the most senior jobs in computer networking. They typically report to a C-level executive, such as the chief technology officer. They usually have a degree in computer science or a related area. They also typically have 10+ years of experience in managing projects as well as building, monitoring, administering, and securing networks.
Salary
In Canada, the median salary for network architects is around $97,000, though earnings can be as much as $132,000, says PayScale.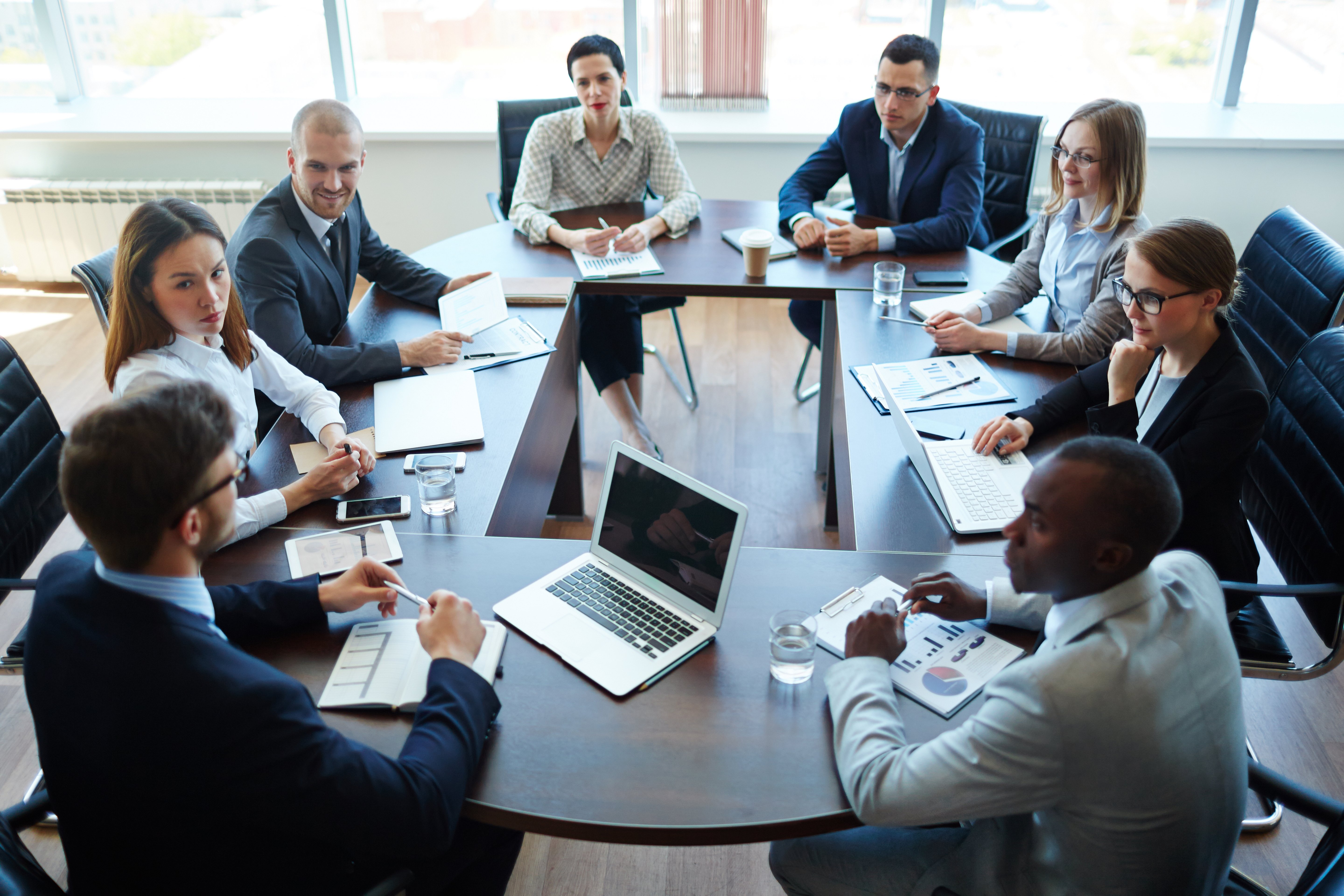 The role of a network architect combines technology and business
COMPUTER NETWORKING JOB #6: NETWORK ENGINEER
Network engineers determine the best way to build a network based on approved guidelines.
Responsibilities
Network engineers take the site design produced by network architects and turn it into a detailed set of specifications that can be built. They're the implementers: they figure out exactly how things will be configured and where each router and switch will go.
In some companies, the network engineer also does the design work of an architect.
Experience Level
Landing a position as a network engineer typically requires at least five years of experience with networking and security. You need to be adept at implementing new network solutions and optimizing existing ones.
Salary
Network engineers in Canada earn a median salary of about $74,000, according to PayScale data. Top-end salaries can be as much as $99,000.
COMPUTER NETWORKING CAREER #7: NETWORK CONSULTANT
Network consultants are paid to design or improve a company's computer network. They can develop new networks from scratch, come up with an emergency fix, or recommend ways to expand or boost the performance of an existing network.
Responsibilities
For every new project, the network consultant analyzes a company's networking needs and creates a plan that fits the organization's budget and goals. They then oversee implementation, testing, and maintenance.
Consulting can be an exciting way to evolve your computer networking career. You'll get to work with a variety of organizations, solve different kinds of technical challenges, and learn many new skills along the way.
Experience Level
This is not an entry-level position. Most network consultants gain experience as technical support specialists or network administrators before moving into consulting.
Salary
The Job Bank says IT consultants have median earnings of about $88,000. The highest-paid consultants make upwards of $128,000.
CAREER OUTLOOK: THE FUTURE OF NETWORKING JOBS
With the world's increasing reliance on digital technology to work, shop, chat, and so on, the computer networking field will continue to offer plenty of career opportunities.
For example, network security is a huge growth area. A 2021 report from ISC2 estimates that Canada will need 25,000 additional cybersecurity professionals in the coming years.
"Computer networking is an ever-growing, dynamic field in which new technologies develop constantly," says Herzing instructor Karnig Kazandjian. "Industries rely on qualified IT professionals as they invest in innovation, performance, and security to meet their computing and communication requirements. The emergence of cloud technologies will create new opportunities for years to come."
HOW DO YOU PREPARE FOR COMPUTER NETWORKING JOBs?
Your first step is to develop the cutting-edge skills today's employers need. That means taking a quality computer networking training course. There are several options out there, from certificates to university degrees.
At Herzing College, we offer a computer networking diploma at our Toronto campus as well as online. The course takes just over a year, and it includes an internship for real work experience.
Our students get hands-on training in installing, optimizing, maintaining, and securing computer networks. They also prepare for key networking certifications.
Click below to learn more about the networking program and chat live with an admissions advisor. We're here to help!