Colleges and universities are both part of the landscape of higher education in Canada. While they are alike in some ways, they have several important differences and, in fact, serve distinct purposes.
To help you decide which type of institution is right for you, we put together this detailed comparison. Keep reading to see how colleges and universities stack up in terms of program offerings, career prospects, costs, and suitability for different career goals.
TABLE OF CONTENTS
WHY YOUR HIGHER EDUCATION CHOICE MATTERS
Certain industries or roles have specific educational requirements. So, depending on your career goals, your choice of college vs. university may already be made for you.
Some regulated professions require a university education. For instance, if you're hoping to become a doctor, lawyer, architect, teacher, or chartered professional accountant, you'll need a degree.
But if you're aiming at a career like personal support worker, legal assistant, architectural drafter, or payroll clerk, a college diploma or certificate is more appropriate. And if you're interested in the skilled trades (i.e., plumbing, electrical, HVAC), you will need some college training, typically as part of an apprenticeship.
However, in many cases, you are free to choose either path—so it's important to understand Canadian higher education options.
OVERVIEW OF COLLEGES VS. UNIVERSITIES IN CANADA
While both types of institutions provide quality post-secondary education, colleges are more career-focused and universities are more academically focused.
It used to be that colleges offered only certificates and diplomas while universities offered degrees. But today, the lines are blurrier, with some colleges offering bachelor's degrees.
There are other similarities. Both colleges and universities frequently offer:
Online classes
Internships, work placements, or co-op terms
Assistance with creating your resume
However, there are some key differences.
Universities
Universities are degree-granting institutions that emphasize research, critical thinking, and analytical skills. Programs are designed to give you in-depth training in your chosen field of study as well as broad exposure to other areas—in other words, a well-rounded education.
Key features of universities:
Classes can have 100 or more students, especially in the early years
Faculty are involved in both teaching and conducting research
Admission is competitive; you must meet certain academic standards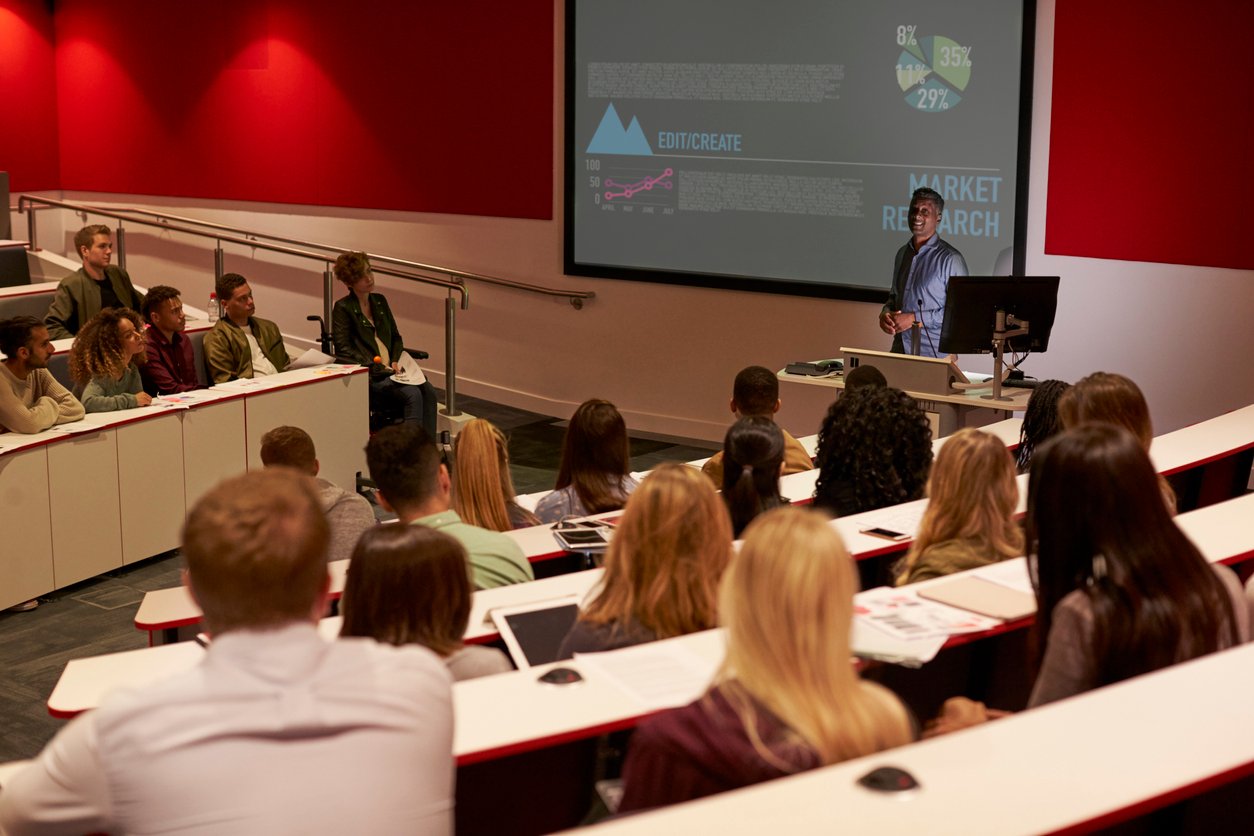 University classes can be quite large; students are more independent
Colleges
Colleges grant diplomas and certificates (and sometimes bachelor's degrees). They emphasize hands-on training and practical skills. Programs are designed to boost your skills and get you ready for immediate entry-level employment in your chosen career.
Key features of colleges:
Classes often have less than 40 students
Instructors are typically experienced professionals who still work in the industry
Entrance requirements are not as strict; in some cases, a high school diploma is enough
Related: The Benefits of a Private Career College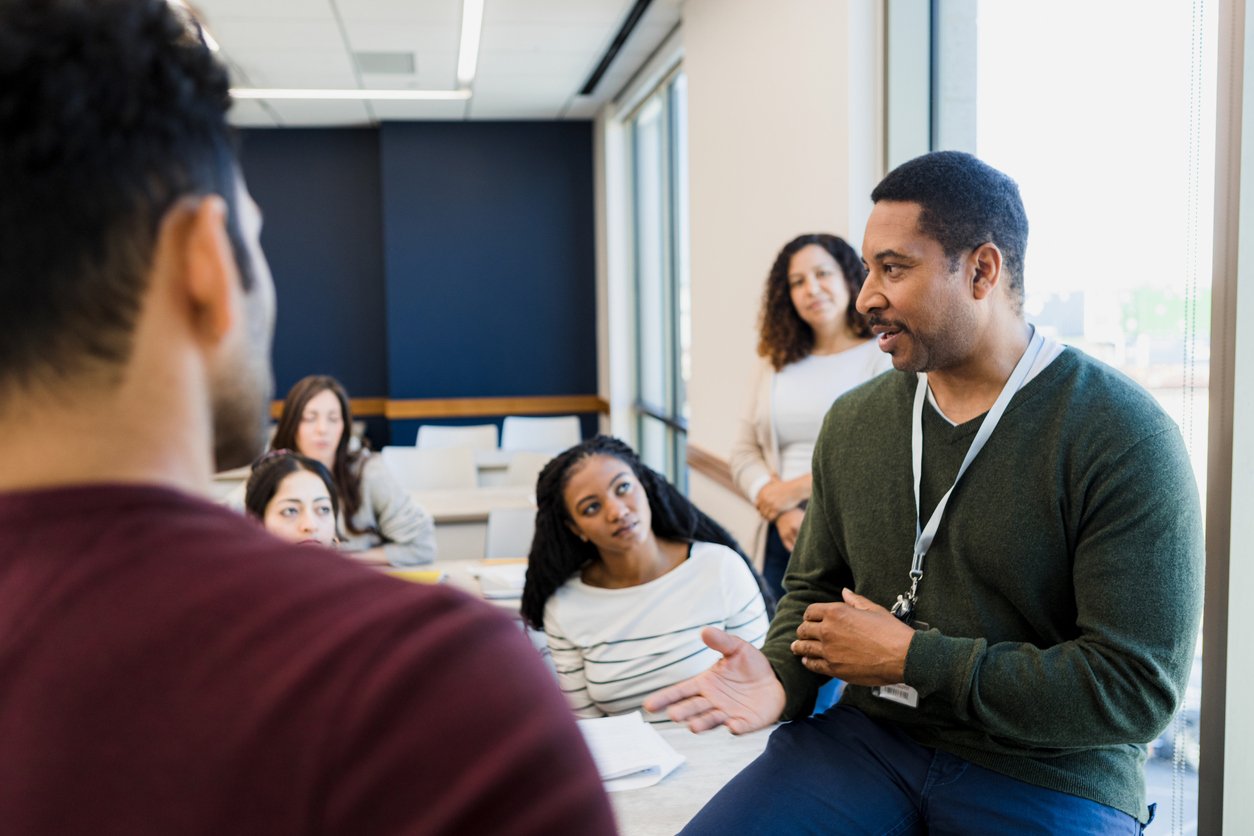 College classes tend to be small; students get more interaction with the instructor
CURRICULUM AND PROGRAMS
Although their program offerings sometimes overlap, colleges and universities take distinctly different approaches to education.
Program Offerings at Universities
Universities offer a wide range of degree programs in areas such as:
Arts
Humanities
Business
Law
Sciences
Medicine
Dentistry
Engineering
Undergraduate (i.e., bachelor's) degree programs typically take three or four years.
Graduate (i.e., master's and PhD) degree programs require more time. Master's programs usually take another two years, and PhD programs can take an additional four years or more.
University programs tend to go deep into research and theory. And because they focus on comprehensive education, you will take electives outside of your area of study. For instance, as part of a business administration degree, you may also take classes in literature or psychology.
Program Offerings at Colleges
Colleges also offer a variety of programs in areas such as:
Business
Design
Culinary arts
Legal studies
Media
Healthcare
Information technology
Trades
College programs are typically two years or less and can be as short as a few months. They tend to go lighter on theory in favour of practical skills. In career colleges especially, the focus is on employability, so every course you take will be applicable to your chosen field.
For instance, in an interior design diploma program, you take classes in space planning, architectural drawing, and industry software. The hands-on training in career colleges allows you to learn the skills employers want through real-world-type projects.
CAREER PROSPECTS
When it comes to the job market and career prospects, how do Canadian higher education options compare?
Job Prospects After University
Plenty of job postings call for university graduates. A degree can be especially beneficial if you're aiming for managerial or research-based positions.
Government statistics show that in the first quarter of 2023, there were 85,300 job vacancies across Canada that required bachelor's degrees. In occupations related to management or natural and applied sciences, there were significantly more jobs requiring degrees than requiring diplomas or certificates.
University graduates do take longer to enter the workforce, but they tend to earn more. Statistics for the class of 2016 indicate that five years after graduation, the median income for those with bachelor's degrees was $63,700, compared to $46,700 for those with college diplomas.
University students spend more time in school but tend to make more money after they graduate
Job Prospects After College
Because college programs focus on specific career skills and quicker entry into the job market, career prospects after college in Canada are positive. Institutions often establish relationships with local employers to provide a talent pipeline; industry connections in career colleges frequently lead to internship and employment opportunities.
In the first quarter of 2023, there were 213,040 job openings in Canada that required a non-university certificate or diploma—more than double the number of jobs requiring a degree. Each of the following sectors had far more openings for diploma and certificate holders than for those with degrees:
Business, finance, and administration
Health
Education, law, and social and community services
Art, culture, recreation, and sport
Sales and service
Trades
Natural resources and agriculture
Manufacturing and utilities
Some management or higher-level roles do call for a degree, but in many cases you can qualify for entry-level roles as a college graduate and then work your way up to more senior positions. It depends on the industry and the individual employer.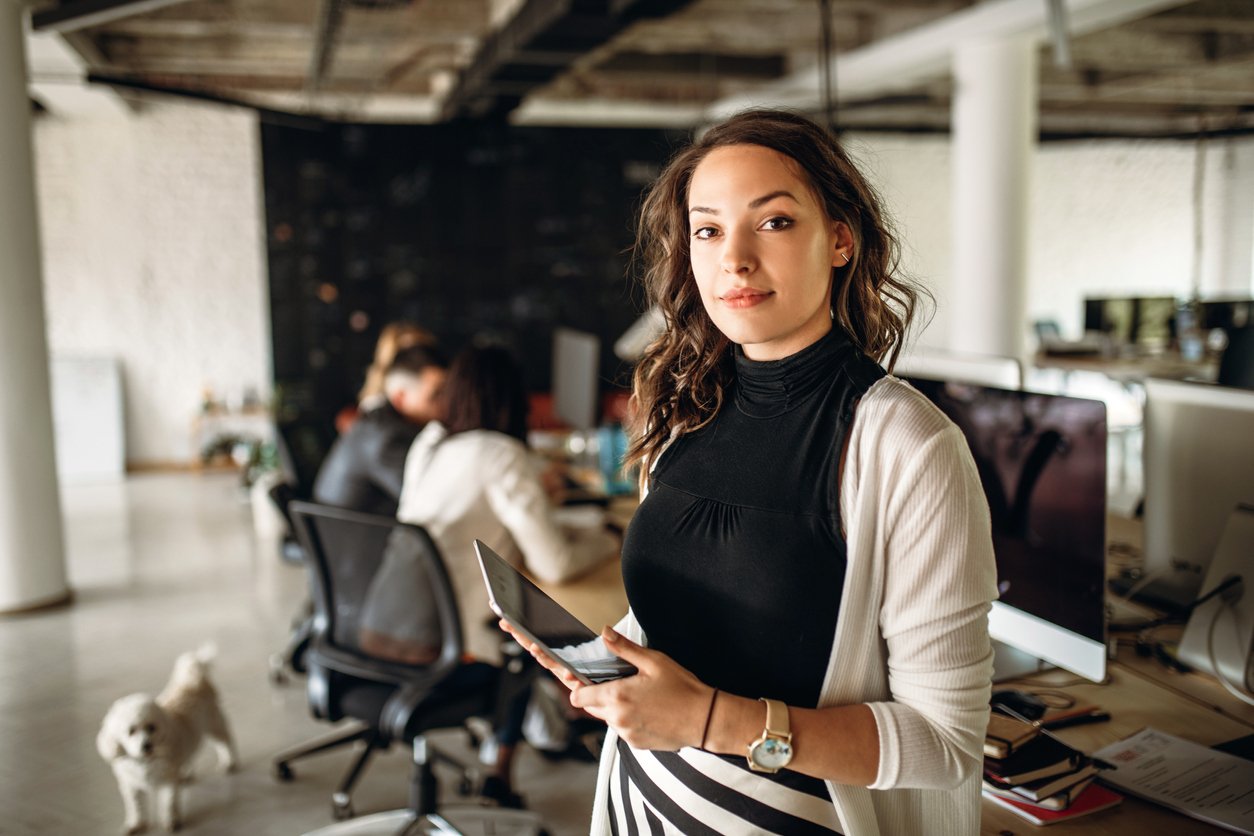 College students graduate sooner and can work their way up in many industries
COST COMPARISON
It's also important to consider how the costs compare between universities and colleges.
Tuition and Fees
In 2023-2024, the average tuition fees for Canadian colleges and universities that grant degrees were $7,076 for undergraduate programs (for domestic students). However, fees varied greatly by area of study. For instance, on average, education programs cost $5,358 while engineering programs cost $8,879.
Multiply those figures by four years, and you can see how expensive education can be.
There is no hard data on average tuition fees at non-degree-granting Canadian colleges. However, since college programs are shorter than university programs, they typically cost less overall. They also let you graduate and start earning a paycheque sooner.
Scholarships and Financial Aid Options
Both college and university students can qualify for financial aid to reduce their educational costs.
Scholarships and grants are free money that doesn't need to be repaid. They are frequently offered by industry associations and community organizations as well as educational institutions themselves, so be sure to look around.
Government-sponsored student loans are also available. Loans must be repaid, but the federal government does not charge interest on them. You may still have to pay interest on the provincial portion of your loan, however.
Related: How to Get Help Paying for College in Canada
SUITABILITY FOR DIFFERENT CAREER GOALS
As noted off the top, some professions require a university degree and others are more commonly entered after receiving a college education.
The thing to remember is that universities teach theory and critical analysis, while career colleges teach vocational skills for specific professions.
One of the benefits of university education is the opportunity to explore a number of different areas. If you're interested in a particular field but are not sure exactly what career you want, a university program could be a good option.
On the other hand, one of the major advantages of colleges is that they offer short, career-focused training. If you know what job you want and are aiming to get workforce-ready relatively quickly, a career college could be the way to go.
LEARN MORE ABOUT WHERE A CAREER COLLEGE CAN TAKE YOU
Herzing College offers a variety of career-driven programs in business, design, education, healthcare, media, technology, and the skilled trades. All programs can be completed in two years or less, and most include internships for real work experience before you even graduate.
Click below to explore our programs and see what we have to offer.