Online learning is an increasingly popular option among Canadian college students. According to the Canadian Digital Learning Research Association, in September 2019, only 11 per cent of college enrolments were entirely online. By January 2021, when the pandemic was in full swing, that figure had jumped to 74 per cent.
Of course, the number of fully online course enrolments may drop a bit as public health restrictions are lifted. But remote learning is expected to be in strong demand even post-pandemic.
That's because, for many students, the convenience, accessibility, and flexibility of online courses are tough to beat.
In this post, we walk you through the basics of online programs. We also provide details on the 12 major benefits of this mode of education. If you're curious about the advantages of online learning, read on to discover them!
Table of Contents
HOW ONLINE PROGRAMS WORK
Online programs can be synchronous or asynchronous, though some courses blend elements of both.
Synchronous classes are live, which means students log in at a scheduled time. They can ask questions and engage in real-time conversations, much like in a traditional classroom.
Asynchronous classes do not have set class times. Students access recorded lectures and other class materials on their own schedule. Instructors are available for guidance and support, but students are free to work at their own pace.
Some online programs, like many of the ones offered by Herzing College, also include internships or practicums. These work placements provide valuable real-world experience with organizations in your local area, but they have to be done on-site.
Keep in mind that some online classes still require you to come to campus occasionally. Make sure you check the details carefully before enrolling.
BENEFITS OF ONLINE LEARNING
Taking a course online allows you to do the following:
1. Fit Your Studies Around Other Commitments
Learning online gives you more flexibility to tailor your schedule to your needs. You may have to log in at a certain time for the odd group discussion or live lecture. But many programs allow you to interact with the course material and complete your assignments at a time that's convenient for you.
So if you're trying to further your education while working full time or dealing with family obligations, an online program could be exactly what you need.
In fact, in the 2022 Online Education Trends Report, this ability to fit school around work and family commitments was the number one reason why students chose to learn online versus on campus.
2. Study From Anywhere
There are actually two parts to this benefit.
First, because online learning doesn't depend on geographic location, you aren't limited to programs in your immediate area. There's no need for you to uproot your life and move to another city; you can access an online course from a school thousands of miles away without ever leaving the comfort of your own home.
The second part is that you can take your studies on the go if you so choose. As long as you have an internet connection, you can keep up with your training from a café, a bus, a relative's house, a hotel, or anywhere else you want to be. You can embrace the life of a digital nomad.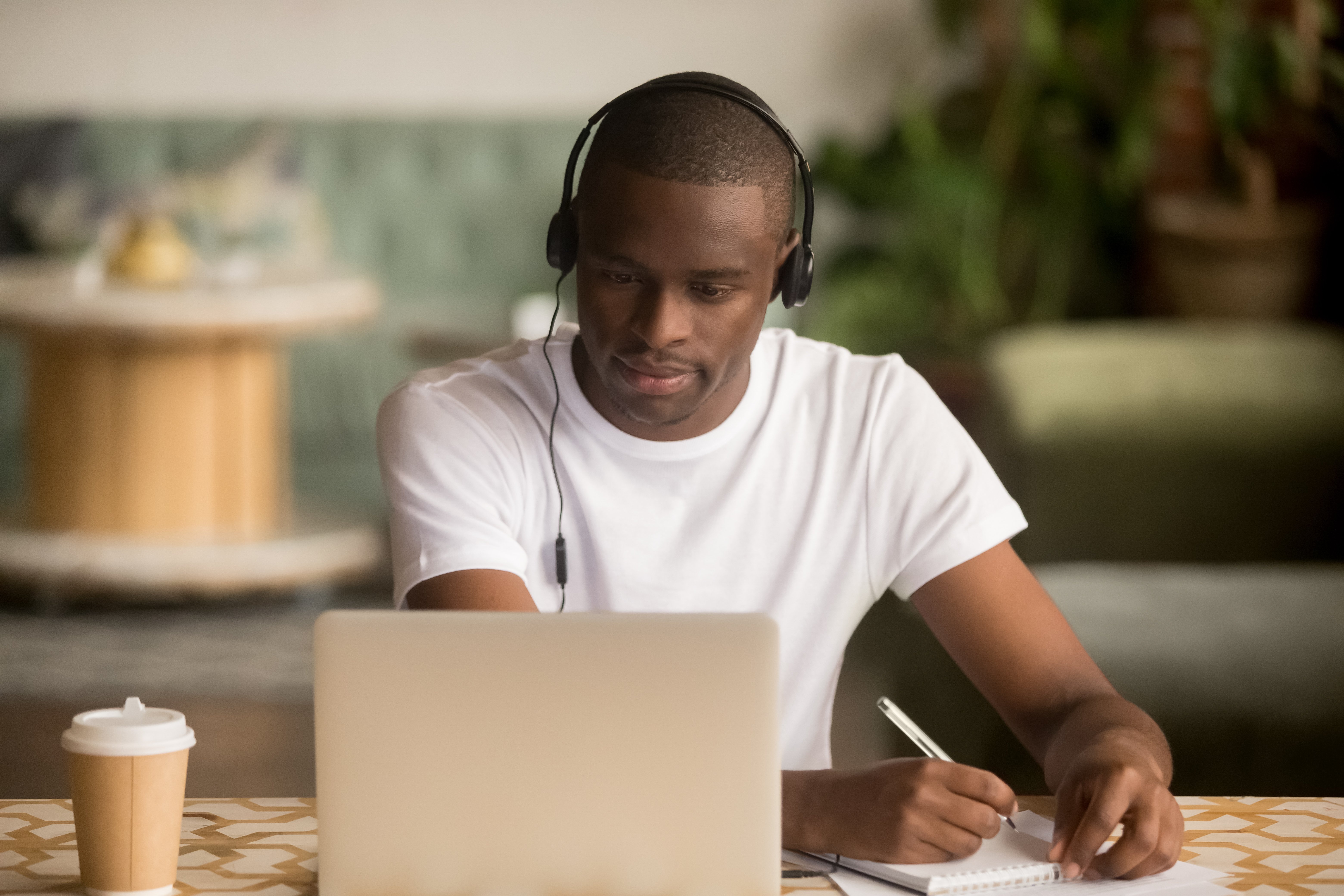 Online learning means you can study anywhere that's comfortable for you
3. Create Your Own Custom Learning Environment
Online learning gives you the freedom to set up your workspace in a way that works best for you. Students who attend in-person classes can also set up their own space at home; the difference is that online students get to do all of their learning in their custom environment.
Prefer to sit near a window? Avoid fluorescent lights? Block out all ambient noise? Have music on in the background? Go for it.
You can choose your own chair, adjust the height of your keyboard, or even work from your kitchen table if you like.
Having control over your learning environment can be a huge advantage, especially if you have any physical challenges or sensory sensitivities.
4. Have More Control Over Course Materials
In a traditional lecture, you only get one shot at jotting down everything you need to remember. If you get distracted or lose focus, you can miss out on key information. But when the lecture is recorded, you can pause or rewatch the video as much as you like. You can look up concepts as you go and take the time to organize your notes.
Similarly, when written materials are digital rather than printed, it's easy to search for keywords or concepts and quickly find what you need.
And since online learners have continuous access to course materials, you can do all of this at a time that suits you, whether that's 3 p.m. or 3 a.m.
5. Develop Greater Time Management Skills
In traditional learning, a schedule is imposed upon you—you're committed to attending classes at a specified time. But when you study online, you have to create your own structure and routine. It's on you to figure out where and when to study.
That means you get lots of practice with organizing your time, prioritizing tasks, and meeting deadlines. As you work through your online course, you'll be forced to develop better self-discipline and time management skills.
These are fundamental abilities you need to thrive in today's work world. Many employers look favourably on candidates who have the time management skills demanded by online programs.
6. Enhance Your Communication Skills
In a world where remote work is becoming commonplace, being able to communicate effectively through virtual channels is incredibly important.
Taking an online program will help you hone your communication skills. By participating in online discussions and connecting with instructors and classmates through various messaging platforms, you'll learn how to ask specific questions and get your points across in a clear, concise, and respectful way.
If your course includes real-time video chats, you'll also become familiar with virtual etiquette: where to look, when to mute, what kind of background to use, etc.
Such skills will serve you well in your future career, in which communicating (and collaborating) with people from all over the world may be required.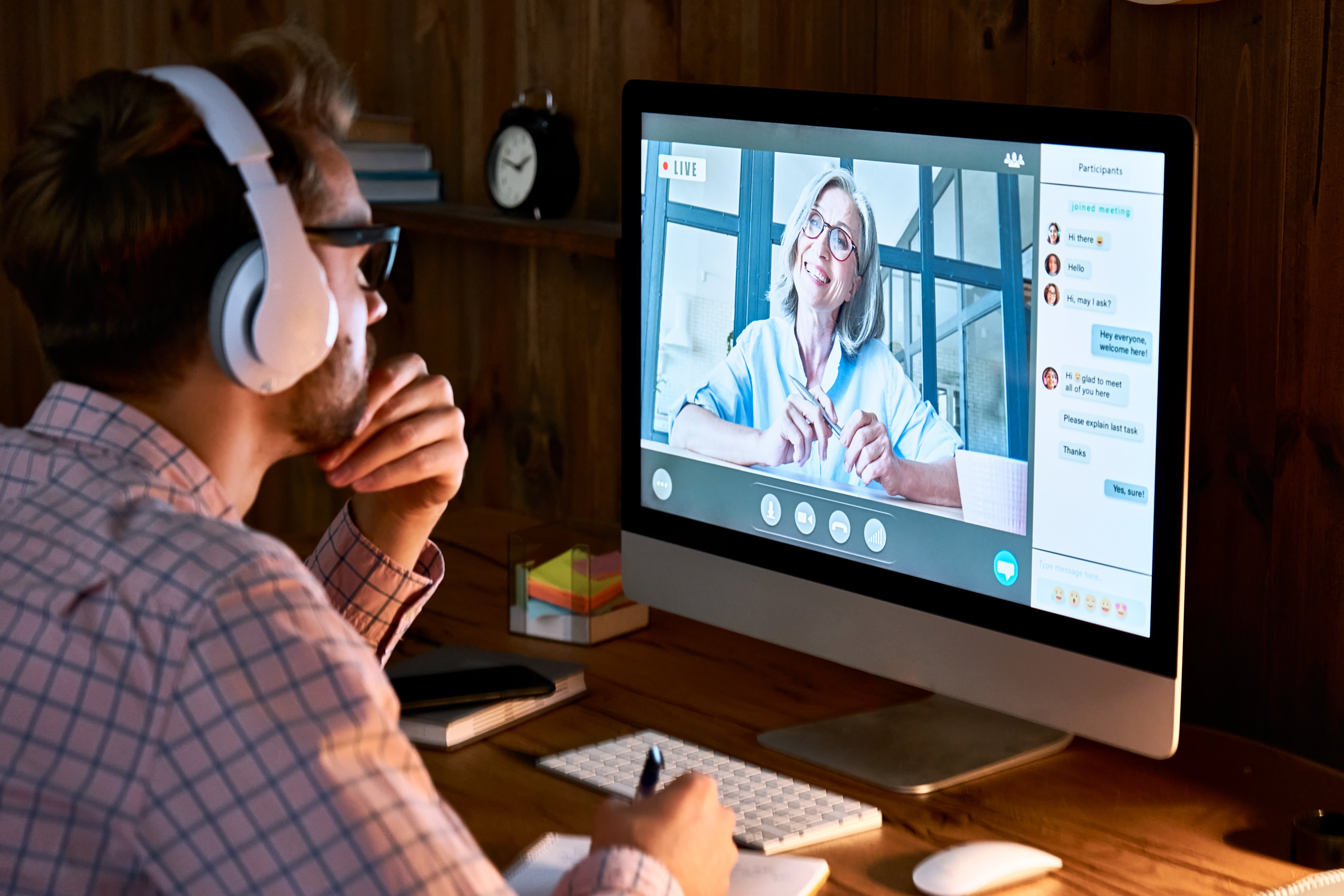 Online courses can help you get comfortable with the rules of virtual etiquette
7. Learn New Technical Skills
In an online course, you'll be exposed to new tools, systems, and software. That lets you develop the kind of technical abilities that can come in handy long after your studies are over.
One of the first things you'll become familiar with is your course's learning management system. You may also gain experience with file sharing services, videoconferencing software, messaging platforms, and project management tools.
By completing an online program, you can show potential employers that you're capable of learning and adapting to new technologies.
8. Maximize Your Time
One of the most obvious benefits of online learning is the fact that you don't have to sit in traffic.
The average commute time in this country is 24 minutes each way, according to Statistics Canada.
Studying online means you can use those minutes for other pursuits. Think about what you could do with an extra 48 minutes in your day: go for a jog, take a nap, catch up with a friend, cook a proper meal…the possibilities are endless.
Thanks to the hours saved from not having to travel to campus to attend classes in person, online learning frees you up to spend more time on self-care and the things you enjoy.
9. Gain a Broader Perspective
Because students can join an online class from literally anywhere, you have a unique opportunity to interact with people from many different places.
This kind of learning environment can broaden your horizons and expand your cultural awareness. When you work among classmates who have a different way of thinking, it can stimulate your creativity and help you come up with innovative new approaches to problems.
This broader perspective can benefit you both in your educational journey and your professional life.
10. Help the Environment
Learning online as opposed to on campus can also be good for the planet.
Every kilometre you don't drive helps cut down on the amount of greenhouse gases in our atmosphere. A report from the International Energy Agency found that the average car in Canada emits 206 grams of CO2 per kilometre—the highest rate among more than 50 countries.
Studying at home also cuts down on both paper waste (because all materials are delivered electronically) and plastic waste (because you're less likely to need food packaging or use disposable cups).
So by taking an online course, you can reduce your carbon footprint and be more eco-friendly.
11. Enjoy Reduced Stress
Online learning can relieve some of the typical stress that comes with attending classes the traditional way.
Just knowing that you don't have to deal with traffic, parking, and weather challenges can be a huge weight off your shoulders.
You can also sleep a little longer, wear whatever you like, and use your own private bathroom.
Plus, if you get anxious in social situations, or you worry about distancing because you are immune compromised, studying online may help you feel more comfortable.
12. Avoid Public Health Uncertainties
Online learning is pandemic-proof. If in-person classes were to shut down again, it won't affect you. Your studies can continue uninterrupted.
EXPLORE ONLINE COURSES AT HERZING college
Herzing College offers career-focused online programs in a variety of industries, including business, technology, healthcare, legal studies, design, and education.
You can train for a new career from the comfort of your own home and fit your coursework around your busy schedule.
Many of our online programs also include an internship, so you can get hands-on experience in your field even before you graduate.
Still have questions? An admissions advisor can provide all the info you need about course schedules, application procedures, financial aid options, and more.
Click below to learn more about our online courses and chat live with an advisor.