It's a classic problem: you need experience to get a job, but you need a job to get experience. Internship programs offer the ideal solution.
Internships are the real-world application of what you learn in college. Lasting anywhere from a few weeks to a few months, they are a unique opportunity to work in a professional environment and refine your job-specific skills (like accounting or computer programming) as well as your transferable skills (like communication or teamwork).
If you're new to a career field, an internship is an excellent way to boost your industry experience and knowledge and get your foot in the door of a company.
Read on to learn how internships provide valuable practical experience, foster professional development, and open doors to future employment opportunities.
TABLE OF CONTENTS
BENEFITS OF INTERNSHIPS
Internship programs offer students a whole host of advantages. These are meant to guide your professional development and provide opportunities for personal growth. For instance, you can:
Gain Practical Experience
The biggest benefit of participating in an internship is getting actual industry experience. Most employers prefer to hire someone who has already worked in the field, and an internship lets you do that—often before you even graduate. When it comes time for resume building, you can play up both the tasks you performed and the experience you gained.
And for many hiring managers, nothing beats hands-on practical experience. According to a survey by the U.S.-based National Association of Colleges and Employers (NACE), internship experience is often the deciding factor when employers are choosing between two equally qualified job candidates. Internships were deemed more important than 10 other attributes, including both GPA and general work experience.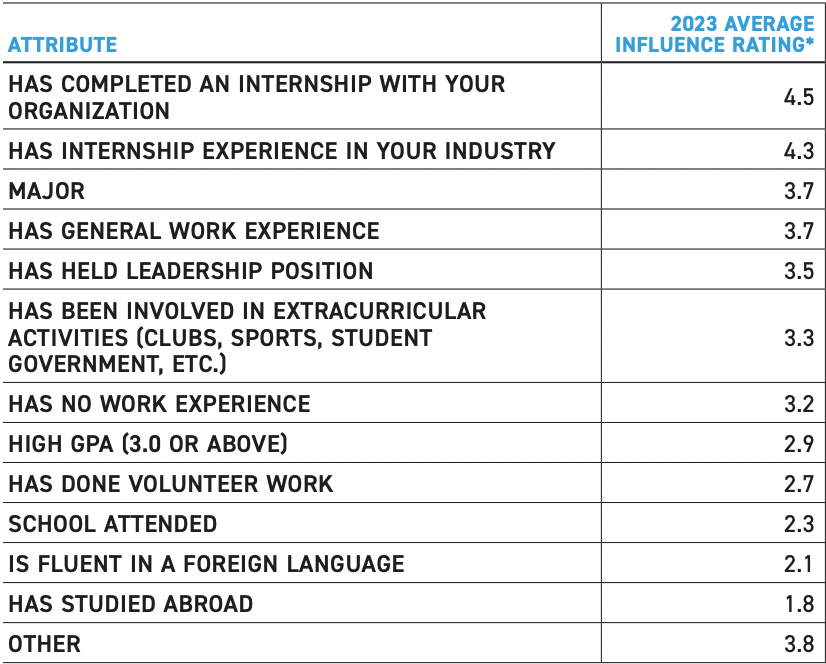 Attributes ranked on a five-point scale, where 1=No influence at all and 5=Extreme influence. Source: Job Outlook 2023, National Association of Colleges and Employers
Explore Career Paths
An internship allows you to delve into career exploration by test-driving a role to see if it's really for you. You get to experience the day-to-day job responsibilities of a specific career to better understand the role before further pursuing it.
You may find it less appealing than you expected, in which case you can change course before getting too far along that path.
Even if you're confident about your choice of field, an internship may lead you to discover an interest or passion you didn't know you had. For instance, when Herzing graduate Amanda Gauthier began her community services worker program, she was certain she wanted to specialize in addictions. But early on, her class was told they might need to be flexible.
"I remember Bryan [the instructor] telling us that everybody comes in here with an idea of what their internship looks like, but sometimes you have to take what's there to gain your experience. He said a lot of times, people come back and say, 'wow, I'm so glad I took that internship.'"
That proved to be the case for Amanda. She was offered an internship at a group home for at-risk youth, and while she wasn't sure that was where she wanted to be, she ended up enjoying the experience immensely.
"From the first day I walked in there, I really felt like I was part of the staff team. And I grew so much into that role, I loved it. I remember coming home within that first week and telling my husband I absolutely love, love this internship."
Enjoy Mentorship and Feedback
Internships give you a chance to receive career guidance and support from experienced professionals in your field. You might even be fortunate enough to find a mentor. This person can help shape your professional development by providing advice, sharing their own experiences, and helping you set realistic goals.
Plus, just like actual jobs, internships often involve feedback and performance evaluations. Your employer or sponsor will provide details about what you're doing well and where you could improve, all with the understanding that you're still learning. Accepting constructive criticism and acting on the advice you receive are important areas to gain experience in that will benefit you throughout your career.
Build Your Professional Network
An internship is a rich source of networking opportunities. As an intern, you will likely interact with staff at various levels and in various departments. Cultivating relationships with all kinds of professionals in your field is essential for your career and professional development. After all, the more people you know, the better your odds of learning about interesting job openings or—better yet—securing recommendations.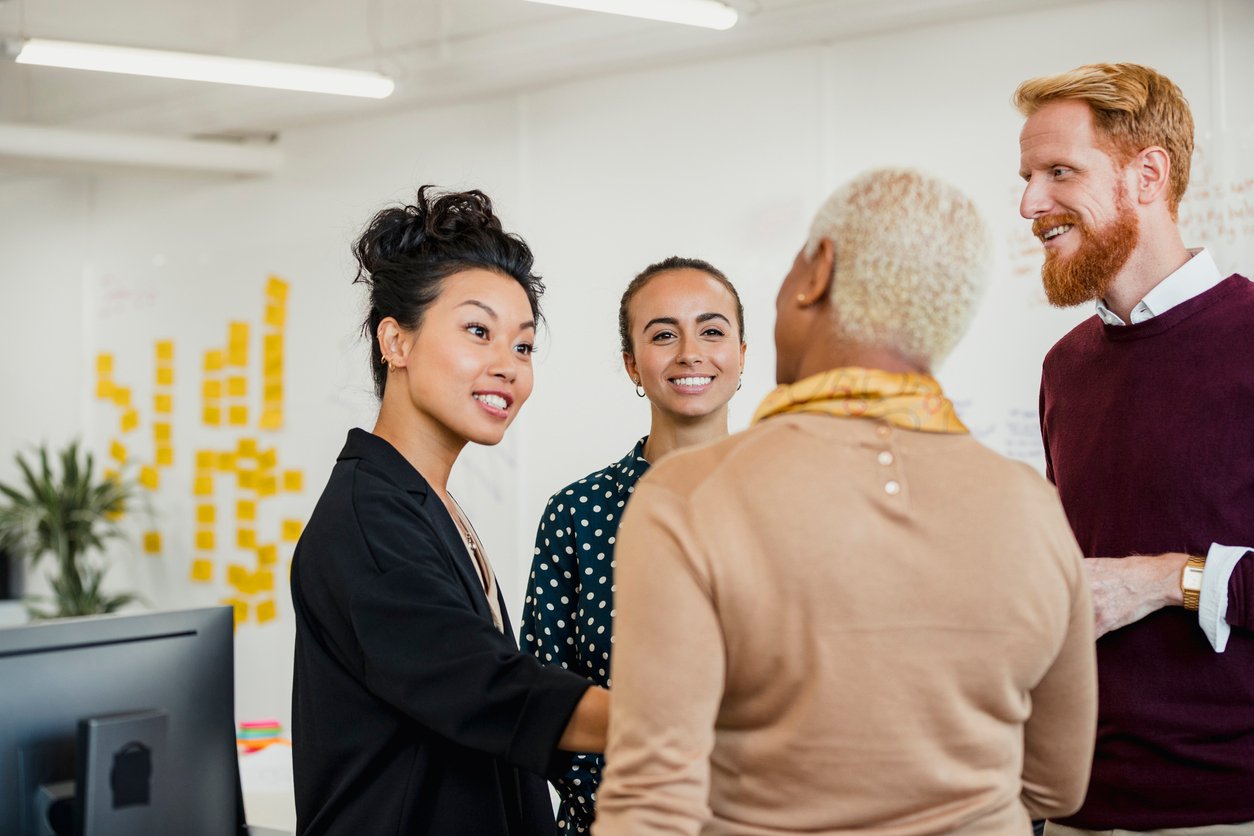 Internships can help you connect with industry pros
ARE INTERNSHIPS PAID OR UNPAID?
Some organizations offer paid internships to recent graduates. However, internships that are undertaken as part of a formal education program are usually unpaid. That's because such internships are considered an extension of your classroom learning. So if you need to complete an internship in order to graduate, you will typically earn course credit rather than income.
There are exceptions, however. "If students are working in the field, we will use their employment for their internship, which means they get paid during this time," explains Caroline Glowatski, director of career development at Herzing Winnipeg. "If we are securing the internship, it is always unpaid."
Of course, you still reap the benefits of an internship even if money isn't involved. You just need to know what to expect.
FINDING INTERNSHIP OPPORTUNITIES
Many colleges run internship programs for their students. These institutions have relationships with employers and a network of potential work placement sponsors. At Herzing, we work with you to try to find an internship in your local area that matches your skillset. You can suggest a few companies you'd like to intern with and our career services team will do their best to make it happen.
We also encourage students to find their own internships if they have a specific interest. That's exactly what Monica Keyes-Cabral did when she was completing Herzing's occupational health and safety program.
"I mentioned to some people in my social circle that I was back in school, and this is what I was studying. It turned out someone else in our social circle works at the City of Mississauga as the safety manager, so I reached out to him," she told us.
"I think with the larger corporations, there's a lot of red tape to getting outsiders into very confidential workplaces. But through interviews and sending my resume to him and going step by step, I was able to get into that internship."
To find your own internship outside of school, you can reach out to your network of contacts like Monica did or search for internships on sites like:
READY TO KICK-START YOUR NEW CAREER?
The vast majority of Herzing College programs include internships. We strive to get you into a work placement that suits your training and your interests and that can further your professional and personal growth.
By the time you graduate, you'll have actual hands-on industry experience. Many of our students even get hired directly from their internships.
Click below to explore our programs and find the path that's right for you.