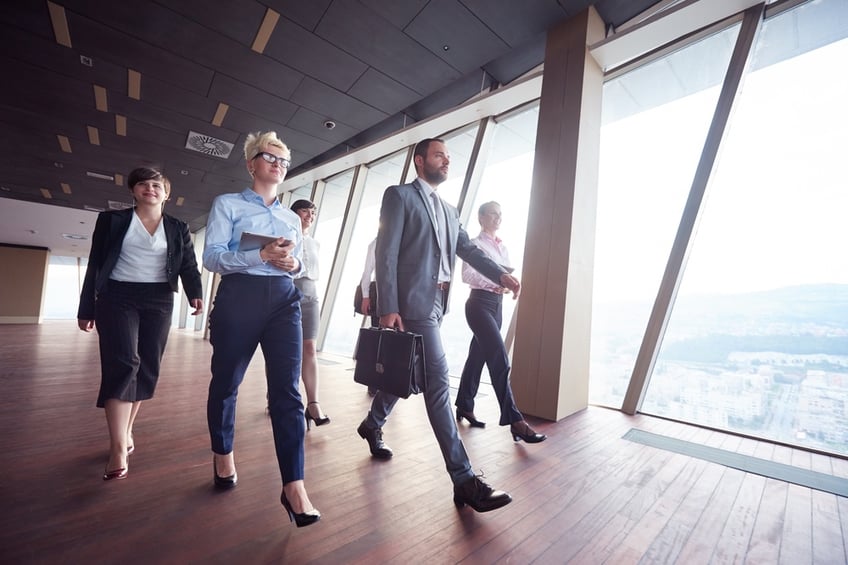 Naturally drawn to a legal career, but don't want to invest years attending university and law school? Administrative legal positions can be an excellent alternative.
Legal assistants are the backbone of every private law firm, corporate legal team, or government legal department. They maintain client files, schedule meetings and court dates, and take care of billing. Legal assistants also assist with preparing wills, real estate transactions, court reports, affidavits, and conduct case research.
Talented legal assistants are indispensable to lawyers, who often lack the business training needed to run a law office or department, and always need help managing casework.
In this post, we look specifically at becoming a legal assistant in Winnipeg—the diploma requirements, local job market, and most important skills for aspiring students in this field.
Training to become a legal assistant in Winnipeg
Becoming a legal assistant in Winnipeg usually requires just under one year of full-time study. Some colleges offer alternative part time or online learning formats for students who live far from campus, or must work while studying. However, if you're able to pursue the diploma intensively (about 20 hours a week), it is possible to complete all the required coursework in less than 12 months.
What kind of concepts and skills can you expect to learn in a legal assistant diploma program?
Standard curriculum offered at Winnipeg colleges covers all areas of law in which legal assistants work, and the types of documents they will need to help lawyers prepare. The courses you'll take will include:
Legal office procedures (client records management, appointment scheduling, relevant computer software, billing, etc.)
Family law (marriage and divorce, property division and support, how the law pertains to children)
Civil litigation (Manitoba court litigation procedures, damages and claims, documents for pre-trial and trial proceedings)
Real estate (Manitoba's registration system, documents related to sale, transfer, deed, and mortgage, landlord and tenant legislation, etc.)
Wills and estates (the preparation of wills, the law governing wills and estates, the powers and duties of lawyers, etc.)
Corporate law (how businesses are structured, documentation of a range of commercial transactions, the responsibilities of shareholders, directors, and corporations, etc.)
Quality legal assistant training always comes with an internship, which typically includes around 100 hours of on-the-job work. Students are placed within a legal department or firm, and get the chance to apply some of the skills learned during the diploma. This stage of training is key for making professional contacts, and possibly securing an offer of employment.
The job market for legal assistants in Winnipeg
It's really important for prospective students to look at the local job market for the profession they're considering: how hard will it be to get a promising position straight out of college? Is the "career outlook" for the profession positive over the next few years? What factors are influencing new job creation—or are jobs in the field disappearing?
One place to begin your search is the Government of Canada Job Bank. Every few years, the Job Bank conducts research on thousands of professions, all across the country, and reports on hiring trends, new job creation, salaries—everything related to "employability" for each type of job.
According to the Job Bank, demand for legal assistants is strongest in three regions in Canada: Nova Scotia, Northwest Territories, and Manitoba. These three regions received the highest rating (3/3 stars) for employment prospects— and in the case of Manitoba, Winnipeg emerges as the most promising location for legal administrative work.
What's driving the positive trend? Winnipeg's legal industry is experiencing steady growth—and a large number of legal assistants are expected to retire—opening up positions for new grads. According to government projections, unemployment in this field is expected to remain very low in Winnipeg for the next several years. You can take a look at the Job Bank findings in more detail here.
What are the "most wanted" skills for legal assistants?
Beyond knowledge of relevant areas of law, and fundamental administrative skills, what traits and abilities do lawyers look for most when hiring legal assistants? It depends. Some firms want skills in a particular area, such as litigation, corporate law, or real estate. Others are generalists, looking for legal assistants comfortable working across multiple areas of law.
However, there are certain aptitudes (and attitudes) that appear in almost every job posting for legal assistants in Winnipeg, across the board. These include:
meticulous attention to detail and extremely well organized
able to take direction and work independently to complete complex tasks (for example, sometimes legal assistants prepare documents based on detailed instructions—and other times, they must take initiative and conduct research independently to complete their work)
strong problem-solving skills
excellent verbal, written, and spoken communication skills
can be trusted to produce consistently high quality work
a "people person" who can get along well with colleagues, and make a good impression with clients from all backgrounds
good computer skills (Microsoft Office Suite is considered essential)
knows how to prioritize tasks in a busy, often high-pressure work settings
Interested in learning more about becoming a legal assistant? Seeking quality legal assistant training in Winnipeg?
Take a look at this post for advice on how to compare legal diplomas: 5 Points to Consider When Choosing a Legal Assistant Program.
Or, click below to explore Herzing's Legal Assistant Diploma, a 9-month program that can be taken either in-class or online. Visit the program page to see courses, career paths, or to chat live with a friendly advisor. We're here to help!