Did you know that the supply chain management business is booming in Manitoba—and all across Canada? If the answer is no, you're not alone.
This is one of today's most under-rated and unrecognized career paths. In part, because many people aren't sure exactly what supply chain management actually is, or what kinds of jobs they might pursue within this vast field.
In a nutshell, a supply chain is the process a product goes through, from manufacturing, to shipping, to the store shelf, to your shopping cart (online or in-store).
And at every stage of this process, expenses must be managed, parts must be ordered, deals with suppliers must be made, and deliveries must be coordinated.
It's actually an incredibly complex set of steps....hence the need for "supply chain management".
Businesses who can deliver goods faster, cheaper, and more reliably than anyone else have a massive advantage. This is what's driving demand for supply chain management professionals in Manitoba.
Companies of all kinds need people in a range of supply chain and logistics positions. Should you consider entering this field?
Take a look at 4 good reasons to start a career in supply chain management, explore your options, and see if this could be your next step.
1. Excellent Employment Outlook for Supply Chain Jobs
There is a real shortage of supply chain professionals in Canada right now. Some estimates say we currently have 27,000 positions sitting unfilled—and 66,000 new jobs opening up every year, for the next 5 years.
There are roles available in every sector of the economy, from private businesses to charities to government. And these aren't just management jobs. There are plenty of opportunities available for entry-level supply chain professionals, making this an excellent time to get your foot in the door.
2. Wide Range of Supply Chain Career Options
So, what exactly are your career options within the supply chain field? For every "link" in the supply chain, there are different positions, and ways to specialize.
Typical supply chain positions include:
A procurement officer, for example, is in charge of making sure a company has the materials needed to manufacture their products, and fill incoming orders.
The procurement officer keeps an eye on stock levels, predicts how much material will be needed to meet demand, and then makes sure those materials are ordered in time.
They find suppliers, negotiate contracts, and keep costs as low as possible. Sometimes certain materials are scarce, and the procurement officer really has to hustle to find suppliers at a reasonable price.
Succeeding in this role takes excellent communication and negotiation skills, a deep understanding of the employer's supply chain, and the ability to work in a team.
Procurement officers play a very important part in supply chain management—and have very good employment prospects in Manitoba. The latest report from the Government of Canada Job Bank shows 3 stars for Procurement Officers: the highest possible rating for career outlook.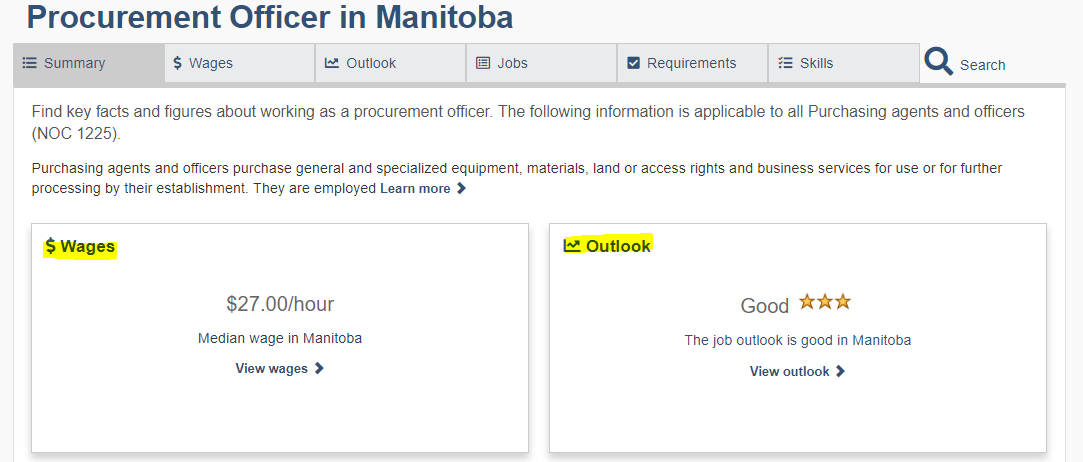 Source: Government of Canada Job Bank, Career Outlook Report
Want to explore other jobs in supply chain management? Check out this post on 5 possible career paths, and what to expect from each role: What Can You Do With a Supply Chain Diploma? 5 Job Options for New Grads
3. Earn your supply chain management diploma in just 12 months
You don't need a university degree to start a supply chain management career. It's possible to break into this field with a college-level, supply chain management diploma.
Students can complete training in just one year, and go straight into entry-level positions as logistics clerks, purchasing agents, procurement specialists, and contract negotiators (just to name a few).
And if you want to move up into leadership roles, you can pursue the SCMP Designation through the Supply Chain Management Association of Manitoba (SCMA).
SCMP™ accreditation is Canada's most recognized and respected supply chain credential. It opens doors to higher paying, more challenging roles—such as Supply Chain Manager or Director. You can pursue the designation after gaining a few years experience in the field.
Think you'll want to get a university degree one day? The SCMA recently made an agreement with Athabasca University, which allows SCMP Designation-holders to get course credit toward an Executive MBA.
This means that once you earn the SCMP Designation, you'll get a total of 9 MBA course credits from Athabasca. You'll shave 6 months of your MBA, and save approximately $9,000.
Not everyone wants an MBA, but it's good to know that you can build on your supply chain diploma, and get an advanced degree, should you choose this path down the road.
Important: Herzing College is the only private career college in Manitoba offering a Supply Chain Management program endorsed by SCMA. Graduates receive 2 diplomas: one from Herzing, and another from the SCMA—ensuring their education is recognized all across Canada.
Learn more about the SCMA partnership with Herzing, and how it benefits students here: Considering Supply Chain Management Training? Advice for New Students
4. Choose Online or Hybrid Supply Chain Management Training
Some diploma programs require students to attend class on campus, with no alternative for online study. For example, you might have to complete regular labs, or do hands-on assignments in a controlled environment, under instructor supervision.
Supply chain management is not one of those programs. Students can earn this diploma online, on-campus, or using a hybrid combination of both formats.
At Herzing College, you can take advantage of our unique Flex-Ed learning system, which offers supply chain management students 3 options:
1. Study on-campus, attending class 4 days a week
2. Study completely online, learning at your own pace
3. Study online, but come to campus to attend the occasional class in person (hybrid option)
No matter which approach you choose, you'll have full access to Herzing's campus resources and career support team. If you work full-time, or have other obligations, Flex-Ed offers a major advantage—and a way to earn your Supply Chain Management Diploma on your own terms.
So, there you have it. From excellent employment opportunities, to diverse career options, to fast and flexible study programs—4 good reasons to start a career in supply chain management.
Learn more about supply chain management training at Herzing
If you're serious about starting a supply chain career, or just want to explore your options, we recommend talking with an admissions advisor.
This is the best way to understand application requirements for the program, course schedules, financial aid, career paths, and much more.
You can chat live with an Admissions Advisor right now. Or, click below to explore the program and request information by email. We're here to help!