Updated September 2023
There's no limit to what you can imagine and create in the magical world of 3D animation, visual effects, and CGI.
But just what is 3D animation? It's the process of making digital images appear to move in a three-dimensional space. A 2D cartoon animator creates flat objects that have only length and width; a 3D animator adds depth as well, so that the characters can move and rotate following the same principles as in the real world.
So how do you get started? In this post, we explain how to become a 3D animator, what career paths are available in the field, and what steps can best set you up for success.
TABLE OF CONTENTS
WHAT DO 3D ANIMATORS DO?
3D animators use specialized software to create images that move in realistic ways on screen. They are visual storytellers who make characters and objects come alive by adding motion and expressions to rigged 3D models.
3D animation is used in a wide variety of media, including television shows, movies, video games, websites, and corporate videos.
A 3D artist or 3D animator job description can vary depending on the industry and the specialization. Some typical responsibilities include:
Interpreting storyboards and animatics
Animating characters, animals, props, and scenery following an established style
Conveying the appropriate emotion and tone for each character, scene, and project
Syncing the animation to dialogue, music, and other sound effects
Offering creative input
Revising animations based on feedback from directors and animation supervisors
Meeting tight production deadlines
Some 3D artists specialize in building 3D models of characters and objects. Others focus on compositing (i.e. combining separate elements like characters, backgrounds, and props to create a final, complete image). Still others concentrate on adding special effects like rain and explosions.
No matter what area you focus on, when you work in 3D animation you get to play a key role in bringing imagined worlds to life.
3D images are highly detailed and realistic
WHAT SKILLS DO YOU NEED TO BECOME A 3D ANIMATOR?
What do recruiters and studios look for when hiring 3D animators? We analyzed dozens of job postings to see which abilities were most in demand. Here are the top skills of an animator:
Proficiency with standard industry software such as Maya, Mudbox, Photoshop, After Effects, and Premiere (and for video games, engines like Unreal and Unity)
Solid grasp of traditional animation techniques
Experience with texturing and materials
Strong understanding of physics and body mechanics
Excellent attention to detail
The ability to follow precise directions in a fast-paced environment
Collaboration and teamwork skills
The ability to accept constructive criticism and adapt to changing requirements
Herzing 3D animation instructor Bassem El Chami has extensive experience in both advertising and TV production. He agrees that creativity, attention to detail, and most especially patience are essential skills of an animator.
"They need to have a lot of patience and be prepared to sit for long hours at a computer. I used to have a really expensive chair like they use in Pixar studios so I could sit and be relaxed," he says.
"They also need to expect a lot of changes during the animation process. They might finish some work but then the art director keeps wanting to make changes, so they need to be patient."
Note: One thing you don't necessarily have to be great at is drawing. While being able to draw is certainly a plus, it's not nearly as important in 3D animation as it is in 2D.
EDUCATION AND TRAINING FOR 3D ANIMATORS
So how can you develop the skills required to become a 3D animator? Formal training is not strictly necessary, since most employers only care about your portfolio and demo reel. However, taking a college-level animation program is an excellent way to learn the technical, creative, and project-planning skills you need under the guidance of experienced professionals.
"3D animation and CGI in general requires knowledge in multiple areas of the industry. For example, when modelling a 3D vehicle, you have to know how it will be integrated in the scene later. You need to know how lighting, VFX, texturing, compositing, and rendering all work together to produce the final video," says Bassem.
"Formal training helps you learn the tools and techniques so that you can be ready to join the industry. You learn how to work with others and challenge yourself to develop new skills."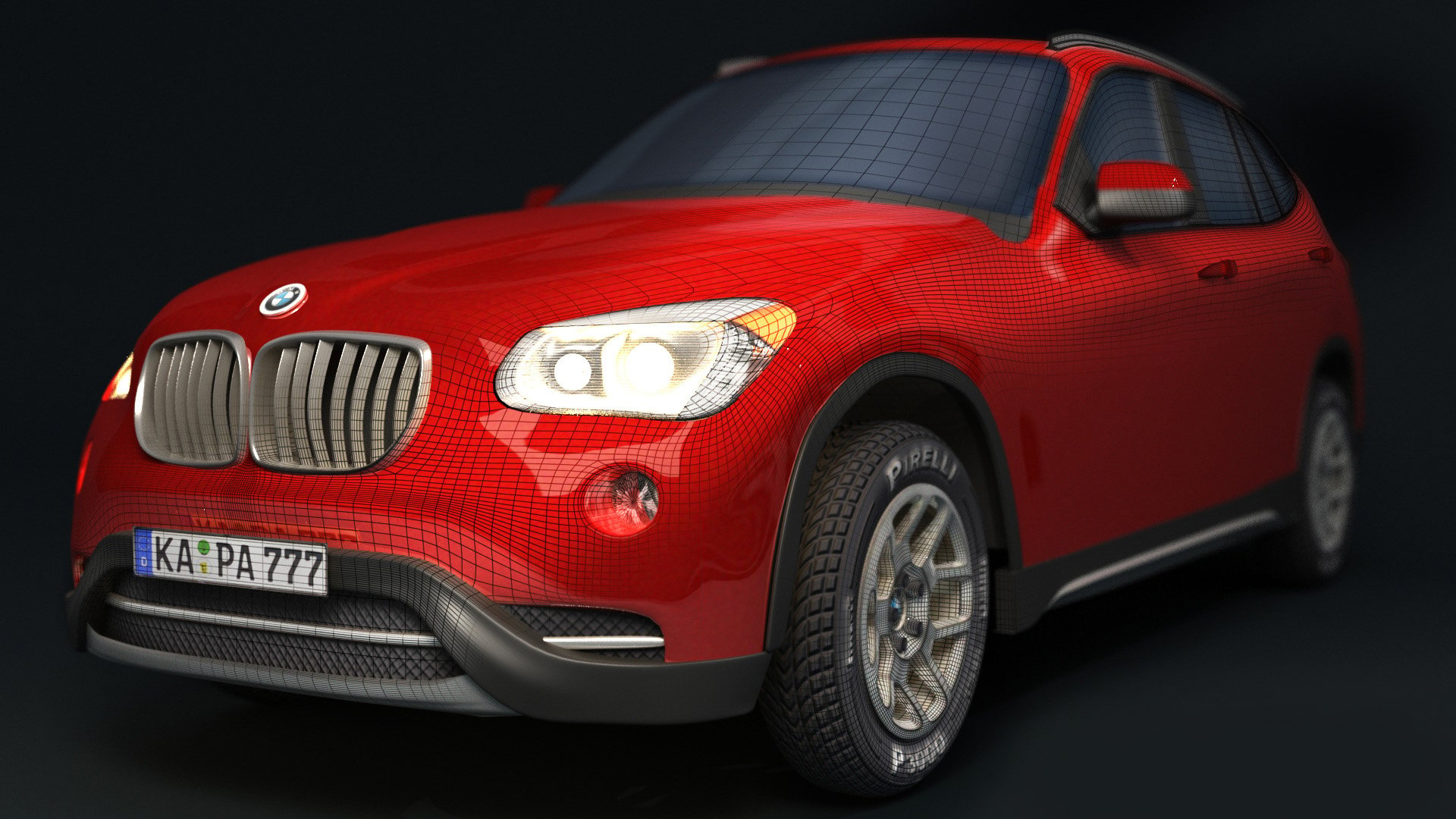 Example of a 3D car modelled in Autodesk Maya
3D animation training can take one to two years to complete (depending on the intensity of the weekly class schedule and the depth of training provided). In addition to practising with animation software, you can expect to dive into areas like:
Storyboarding
Character design
Digital sculpting
Skinning, textures, and materials
Modelling and character rigging
Lighting and special effects
Compositing
Quality colleges will help students compile a high-end demo reel during training, applying the technologies and concepts learned in class. The demo reel will showcase your creativity and skill level and help you secure work in the field after training.
A good 3D animation program will also include an internship so that you can get some real studio experience and make valuable industry contacts.
Mentorship and networking opportunities are two of the most compelling reasons to get formal 3D animation training. These benefits can be immensely useful in helping you become a 3D animator.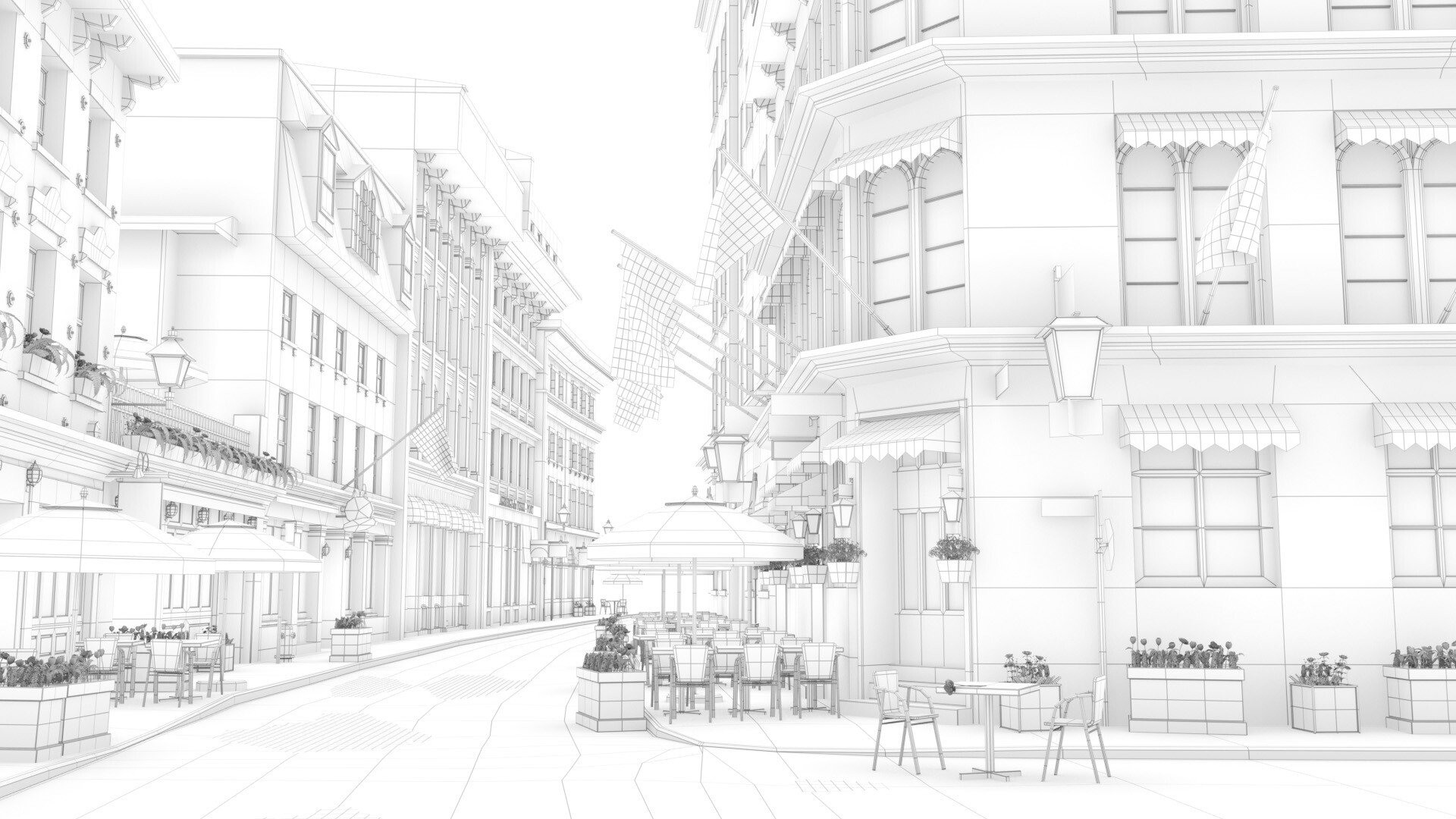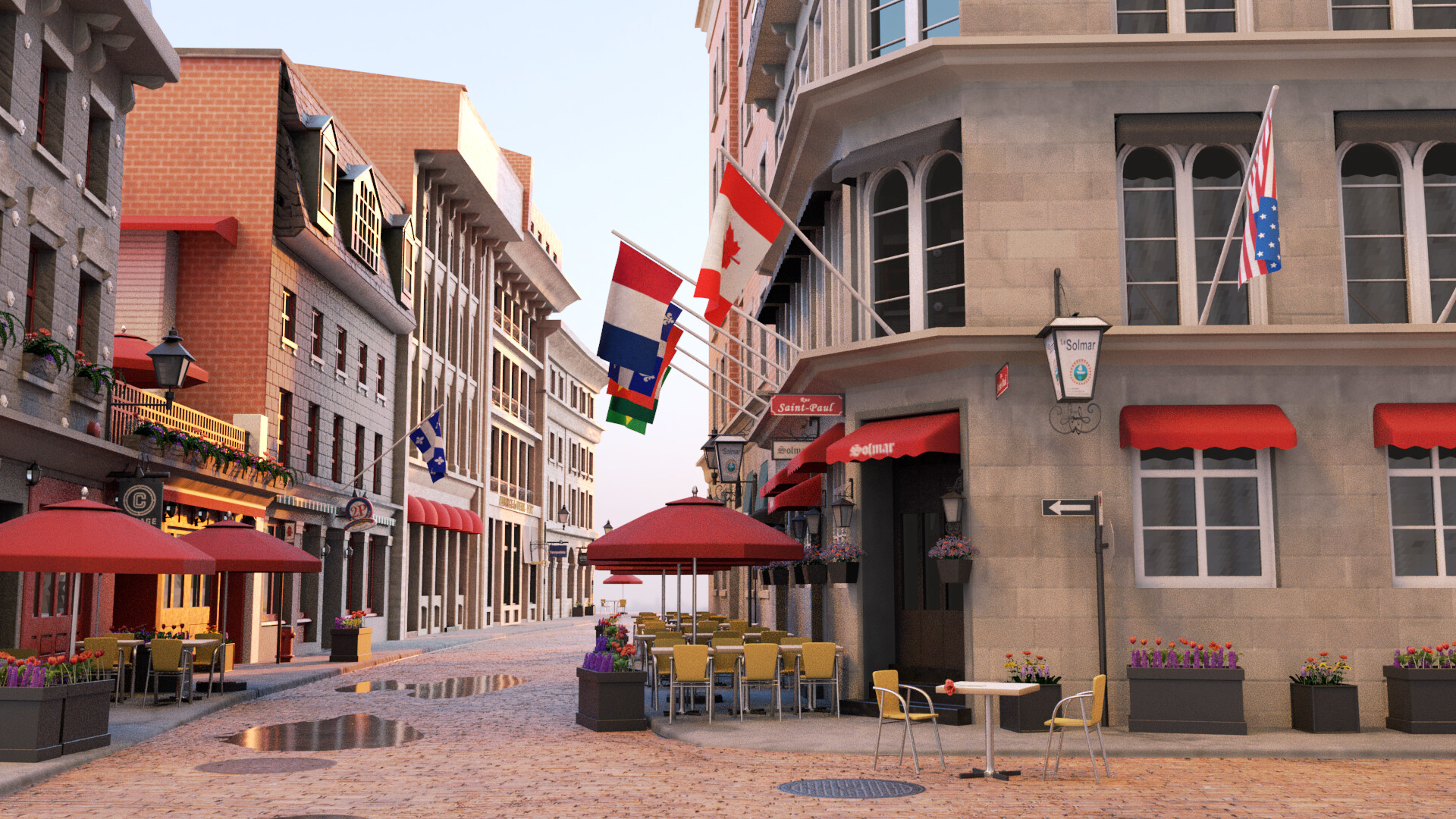 This wireframe and final rendering of the Old Port of Montreal was done as part of the architecture modelling course in Herzing's 3D animation program
TIPS FOR SUCCESS AS A 3D ANIMATOR OR ARTIST
For beginners trying to get into the world of CGI, animator roles can be tough to come by. The following are a few things you can do to position yourself for success.
Expand Your Network
As with many fields, succeeding in 3D animation often comes down to who you know. Industry contacts are key to finding work opportunities, so it's important to get your name out there. Here's how:
Attend industry events and gatherings.
Keep your portfolio and demo reel ready and up to date.
Be active on social media and follow production companies as well as professional and local artists. Instagram, LinkedIn, and Facebook groups are good ways to connect with artists.
Add a comment on a video you like. This allows you to connect with others and have them remember your name.
Share and Learn
Try not to get trapped into thinking your animations must be perfect before you let anyone see them. One of the best ways to improve your technical skills and creative process is to share your work and get constructive feedback from others. You'll be doing that a lot when you become a 3D animator, so it's essential to get used to putting your animations on display.
"One of my biggest tips for beginners is to post videos you produce and ask professionals for feedback," says Bassem. "Never be intimidated by criticism."
Polish Your Demo Reel
Take the time to polish your samples into a final product. Rather than trying to impress employers with a large body of your work, keep your reel short and sweet by including only your top animations. Aim for one minute as a maximum length.
Employers will want to see you demonstrate that you can animate simple actions like walking, running, and speaking. But of course, this gets boring, so you can spice up your reel by including animations like:
Martial arts fighting
Swimming underwater
Birds or insects flying
Laughter
Juggling
It's also important that the content included in your reel matches the job you are applying for. This might involve some extra effort on your part to tailor your reel slightly for each application you send—but employers will notice and appreciate it!
"Your demo reel is the most important way to show your talents," says Bassem. "Production managers go through hundreds of demo reels, so for yours to succeed, it needs to stand out. You have just seconds to show how talented you are."
Explore Specialized Areas of the CGI World
Animation is a broad field. Many 3D artists find success by specializing in areas they never considered at the start. For example, your 3D animation career path could include positions like:
Storyboard artist: Produce a panel of images that clearly show how the animation will unfold shot by shot
3D modeller: Create 3D models of characters, props, vehicles, and other objects based on design specifications
Texture artist: Apply colours and materials to give 3D models a detailed or realistic appearance
Rigging artist: Build digital skeletons so that each 3D model can function like a puppet
Character animator: Bring a character to life through movements and facial expressions
Video game animator: Make a game's characters and creatures move in a believable way
Lighting artist: Add illumination and shadows to evoke the required atmosphere, emotion, or tone of each scene
Visual effects artist: Simulate motion for things like hair, fur, rain, and explosions
Compositor: Combine the various elements like backgrounds, computer graphics, and special effects into a final image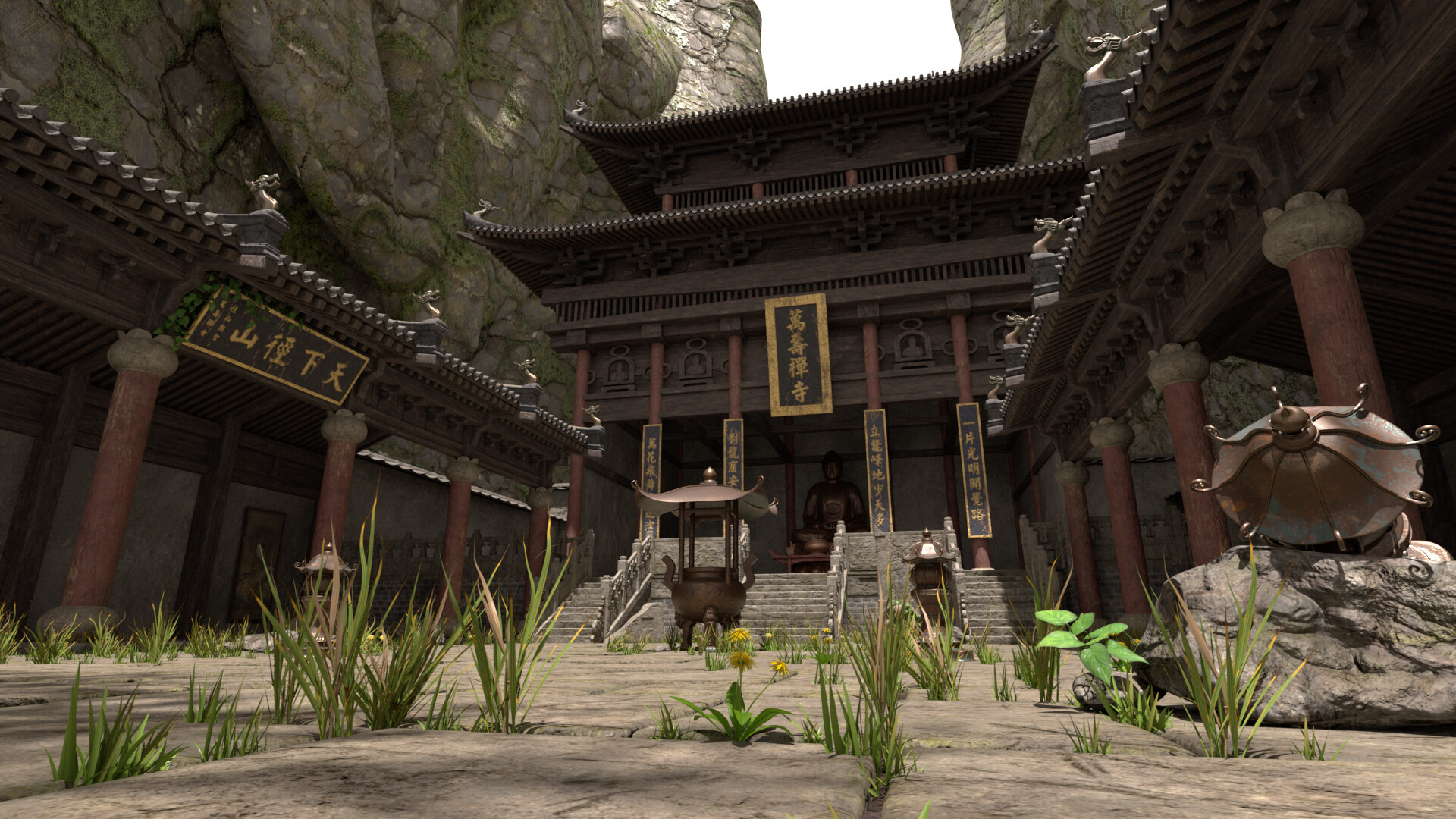 3D rendering of a temple
WHERE CAN YOU WORK AS A 3D ANIMATOR?
The entertainment industry is the most obvious option, but it's not the only one. Possible career paths include fields like:
Marketing/advertising
Television
Film
Video games
Website design
Medical and scientific animation
Architectural and engineering animation
AVERAGE 3D ANIMATOR SALARY IN CANADA
So how much can you expect to earn if you become a 3D animator?
The Government of Canada Job Bank includes 3D animators in a broader category called graphic designers and illustrators. The median salary for this group is about $58,000.
According to data from PayScale, the average salary for 3D animators in Canada is about $54,000. Salaries ranged from $41,000 at the low end to $73,000 at the high end.
In our survey of current job postings, we found that salaries for 3D animators varied from as low as $31,000 to as high as $100,000. Most were in the $50,000 to $60,000 range.
WANT TO TRAIN FOR A CAREER IN 3D ANIMATION?
If you're eager to learn more about how to become a 3D animator, check out the 3D animation program from Herzing College. It's delivered online, runs for just 17 months, and includes a guaranteed eight-week internship. We help you prepare a professional demo reel, resume, and cover letter—all before you graduate.
Click below to get complete program details and chat live with an admissions advisor who can answer any questions you have. We're here to help!