Community Support Worker students in class at the Herzing College Winnipeg campus
Updated February 2023
Thinking about a career in social services, but don't want to invest four years in a university degree? You're probably leaning toward Community Support Worker training.
There are quite a few colleges offering this program (or something similar) across Canada. Most students do their research, compare all the programs, read all the reviews, and try to figure out which school is right for them.
The whole process takes a lot of time—and it can be difficult to really know what each program is like. What's the atmosphere like in class? Are students fully prepared for the challenges of this career? Where do they find work after graduation?
If these are your questions, you've come to the right place!
Consider this your one-stop road map to Herzing's Community Support Worker program. Hear what grads have to say about the training. Find out exactly what you'll learn, where you can get hired, and what it takes to be successful in this career.
This is what it's really like to take Community Support Worker training at Herzing College.
You can take this program online Or IN A HYBRID FORMAT
Many of our students are concerned about class schedules, so we'll start by laying out your study options. One of the best things about the Community Support Worker program at Herzing is its flexibility.
We wanted this training to be as accessible as possible—even if you work full time, have a family to care for, or both.
The CSW program is 12 months long, but you can complete it on your own terms. Choose from two different formats:
1. Study completely online. Attend lectures and complete assignments online, working around your schedule. The instructor is always available to offer help, and you still have full access to student services.
2. Choose a blend of on-campus and online learning. The best of both worlds. Attend class on campus when it's convenient for you, and follow along online when you can't make it to school.
No matter which option you choose, the curriculum is the same. The internship is the same. And every student gets the same support from our career development team to help them find their first job.
This flexibility really sets Herzing's CSW program apart from other colleges. We work with students to find a training solution that fits around their schedule - not the other way around.
Volunteer Work is Built Into the CSW Program
If you're like most CSW students, you're excited to get started making a positive difference in your community. You don't want to spend years studying social work theory. You want to get out there and start helping people in meaningful ways.
This is exactly what you'll do in Herzing's Community Support Worker program. Students visit different agencies and non-profits and do volunteer work to build their confidence and apply what they're learning in class.
CSW graduate Chika Modozie says this was by far her favourite part of the program.
"I really loved doing volunteering every Friday. This is built into the Community Support Worker program at Herzing. All the students get to choose an organization and do work in the community.

I volunteered at St. Amant's - a Winnipeg organization that helps people with developmental disabilities and autism.

This was exactly what I wanted...to really get out there, interact with real people, apply my new skills, and get ideas for where I could work after graduation."
Get

a seven-week Internship at a Community Organization
In addition to volunteering, every Community Support Worker student at Herzing completes a seven-week internship at a local organization. Chika Modozie did hers at Victim Services. She said it was a real turning point for her.
"I worked with victims of crime, supporting them, helping them access community resources to recover and get back on their feet.

I'd help them get compensation and mental health care, housing and employment...but the truth is, most of the time, they just wanted to talk.

While interning at Victim Services, I met some great people, and they encouraged me to apply to the Winnipeg Police Service."
Working with survivors of crime helped Chika discover her true calling to become a police officer. Now, she's a constable with the Winnipeg Police Service, leading a special unit on community building.
Her mission is to bring people together and break down mistrust of the police—especially among new immigrants to Canada. She says she uses the skills she learned in CSW training every single day at work.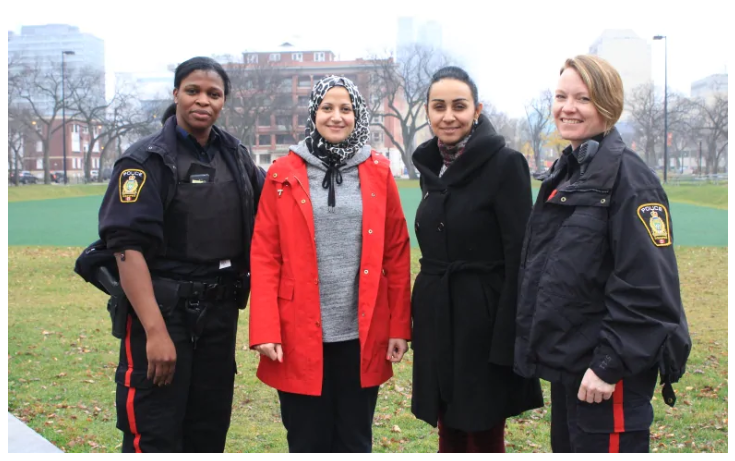 Herzing Community Support Worker graduate Chika Modozie (far left) is part of a special Winnipeg police unit that focuses on community-building, especially with newcomers to Canada.
Key Topics
You'll Study
in Class
So how exactly do Herzing students go about building the self-awareness, communication skills, and empathy that are so crucial in social work?
They begin by learning about a wide range of practical tools, techniques, and local resources during Community Support Worker training.
In 12 short months, this program covers a lot of ground. Key topics you can expect to study in class include:
☑️ Addiction
☑️ Mental health
☑️ Psychology
☑️ Sociology
☑️ Family dynamics
☑️ Counselling and interviewing
☑️ Social services in Canada
☑️ Professional skills and teamwork
Our Grads Can Earn a Community Mental Health Certificate, Tuition-Free!
Have you heard of the Herzing Open Education Program (HOEP)? Everyone who earns a diploma at Herzing gets tuition credits they can apply to another course, certificate, or whole other diploma. You don't pay a penny in tuition for your second program.
Many of our Community Support Worker graduates take advantage of HOEP to earn a free Community Mental Health Certificate. This certificate is only for people with a diploma or degree. It teaches very valuable mental health skills and tools, including:
☑️ How to recognize signs of poor mental health
☑️ Mental health first aid
☑️ Youth and addictions
☑️ Different types of mental health disorders, symptoms, and treatments
☑️ Canada's mental health policy
☑️ How at-risk populations are impacted by mental health issues
☑️ Mental health assessment and diagnostic tools
The Community Mental Health certificate is an online course taught by Rose Ceci. Rose is a certified psychiatric mental health nurse with the Canadian Mental Health Association. She is a passionate mental health advocate and experienced instructor.
Learn more about Rose and the Mental Health certificate here.
The CSW program and mental health certificate go hand in hand to prepare our graduates for success in the field. Getting the certificate for free is a key benefit of taking CSW training at Herzing.
What's the Atmosphere Like in Class?
In the CSW program at Herzing, learning happens through discussion, role play, and hands-on practice. In this classroom, your voice matters. Your experience is valued.
Our instructors use a dialogue-based teaching style which creates an open and non-judgmental atmosphere. Students are free to share ideas, ask questions, and talk about their personal experiences.
Herzing attracts people from all age groups and walks of life, so this approach really helps students learn from each other—and see issues from different perspectives (another key skill for community support workers).
Who Hires Our Community Support Worker Grads?
Herzing Community Support Worker grads are employed by a variety of organizations.
This program prepares students to work at detoxification centers, halfway houses, child/youth services, women's shelters, outpatient clinics, and residential care facilities.
Specific employers for our Winnipeg-based graduates include:
☑️ Arcan Horizons
☑️ Mood Disorders of MB
☑️ The Immigrant Centre Inc.
☑️ Turning Leaf Community Services
☑️ West Broadway Youth Services
Think you're a good fit for community support worker training at Herzing?
We'd love to meet you. We strongly suggest booking a personal advising appointment with a Herzing admissions advisor. This is the best way to tour the campus, learn more about the Community Support Worker program, and confirm this career path is right for you.
It's also a good opportunity to discuss next steps, like applying for financial aid, submitting an application, and mapping out a class schedule that works for you.
It's easy to get started. Click below to visit the program page. You can chat online with an advisor or request free information via email. We'll follow up to answer your questions and book your campus visit. We're here to help!