Photo: Chika Modozie (far left) standing with local community members (Source: cbc.ca)
Chika Modozie started out with a degree in Business Administration, but she always knew business wasn't her true calling. She wanted a career where she could help people in need.
After immigrating to Canada almost 10 years ago, Chika found herself looking at new training options. She landed in Herzing's Community Support Worker (CSW) program, which completely changed the course of her life.

Now, Chika works as a police officer in a special outreach unit focused on crime prevention and community-building.
We interviewed her about her experience in community support working training, and how her career path unfolded since graduation.
Find out what to expect in class, learn more about the social services field, and see if this career is right for you.
Q: Chika, can you share a bit about your
backgr
ound? What made you head back to school?
Chika: I'm originally from Nigeria. I Moved here in 2008, and decided I wanted to go back to school, so I could switch fields and start a new career.
I started out with a degree in Business Administration, which my father really wanted me to get. He felt it was the most practical, safe option.
But, I always wanted to be in a helping field. I wanted to work with people in need. So, even after I got the Business degree, I went into teaching. And then later, in Canada, I started looking for other career options where I could make a positive difference.
Q: Out of all the available diploma programs, what inspired you to choose Community Support Worker training?
Chika: The main reason was that the Community Support Worker program was really hands-on, and related to very real, front-line work.
I didn't want to study a lot of theory. And I didn't want to do another degree, and spend 4 years in school.
I wanted to see tangible, immediate results of helping people in the community. I wanted to get out there, and make a difference where help was needed most.
I was talking to a friend about what I was looking for, and she suggested checking out a CSW course. So, I started to look into it.
Q: There are other CSW colleges in Winnipeg. What made you choose Herzing?
Chika: I'd heard a lot of good things about Herzing. And I'd met a lot of people who'd gone there, and had positive experiences.
The admissions staff were so open, accepting, and encouraging. I knew right away it was the right fit for me. At that point, the decision was easy. There was no need to look into other schools.
Q: What was your experience like in CSW training? What stands out most for you now, looking back?
Chika: I'd have to say the instructor, Fred, really stands out most in my memory. He was so knowledgeable about the field, and the material he taught in class.
Plus, Fred was always researching new developments in the industry, and bringing us that information.
He made sure we knew about emerging community organizations, possible jobs, and helpful local resources. This gave us a big advantage, and really helped prepare us for work.
Another thing I really loved was doing volunteering every Friday. This is built into the CSW program at Herzing. Once a week, all the students choose an organization and do work in the community.
I volunteered at St. Amant's - a Winnipeg organization that helps people with developmental disabilities and autism.
This was exactly what I wanted...to really get out there, interact with real people, apply my new skills, and get ideas for where I could work after graduation.
Q: How does your CSW training help you in your career? What skills and knowledge are you using at work?
Chika: Definitely the mental health portion of CSW training has been very important for me. I am applying that knowledge every single day as a police officer, working on the front lines in my community.
Herzing exposed us to many different types of mental health issues. We learned how to recognize and approach people who are struggling with poor mental health. We also got First Aid response training, to understand what to do in cases of emergency.
This is directly relevant to the work I do as an officer, and the connections I strive to make with people from all walks of life.
Also, I have to say that the writing skills have been really useful. In the CSW program, we learned how to clearly articulate ideas, write professionally, use proper grammar, etc.
I use this skill for report-writing, which is probably a good 60% of my job!
Q: How did you end up joining the Winnipeg Police Service?
Chika: Every Community Support Worker student at Herzing does a 1-month internship. I did mine with Victim Services. I worked with victims of crime, supporting them, helping them access community resources to recover and get back on their feet.
For example, I'd help them get compensation and mental health care, housing and employment...but the truth is, most of the time, they just wanted to talk.
While interning at Victim Services, I met some great people, and they encouraged me to apply to the Winnipeg Police Service.
I started in general patrol, as a 911 responder. We handled emergencies, made arrests, took reports.
Now I'm a Constable. I work in a community relations unit. We go out into the community, and give presentations on crime prevention. We talk to young people, older adults, businesses, schools...even our fellow police officers.
Another big goal for us is breaking down mistrust of police, especially among newcomers to Canada. We're working hard to build positive relationships - to change the sometimes negative perception of law enforcement in our communities.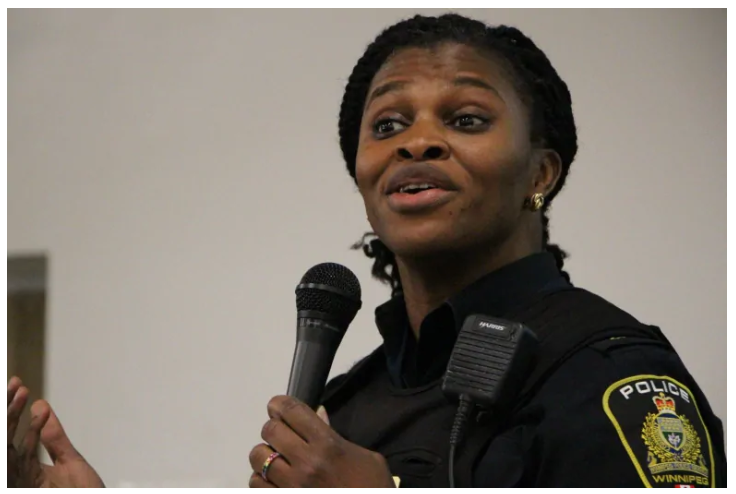 Chika speaking at a community meeting on crime prevention (Source: cbc.ca)
Q: Was it hard to find your first job after graduating from Herzing? What was that process like for you?
Chika: Herzing posts all the places where graduates are getting hired, which is really encouraging, and gives you ideas for where you might want to work.
Immediately after graduating, I looked at those postings, sent out my resume, and applied to several places online.
It took me only a month or two to find my first placement. I was actually very choosy! So, it look me a bit longer than others to find work.
Some of my classmates got hired straight out of their internships. That happens a lot, actually.
Q: In your opinion, what does it take to be a great CSW? What natural skills are required for this work?
Chika: First and foremost, you should be open-minded, and genuinely want to help people in need. Whatever comes your way, don't judge.
Empathy is another crucial skill. If you don't have the ability to connect with people and relate to how they're feeling, there's no point in pursuing this career.
Remember, it's not always a pretty job, but it's incredibly rewarding. You need to be willing to get your hands dirty and get out there on the front line. Also, you must accept that you won't be able to help everyone. You can't take it personally, or you'll burn out.
You need a certain amount of resilience to pursue a career in social work. You must process your emotions and deal with stress in a healthy way.
Self care is really important. My job is busy, I'm a mom...I don't have a lot of time! Self-care for me can be as simple as watching TV and just tuning out for an hour. But I also do kick boxing.
My colleagues go to the gym, go to the cabin, things like that. The bottom line is, if you're going to be a great resource for others, you must keep yourself emotionally, physically, and mentally strong.
A huge thank-you to Chika for taking the time to talk with us! We're incredibly proud of the work you're doing. We wish you continued success in your mission to reduce crime and build stronger Winnipeg communities.
Learn more about Community Support Worker training at Herzing
Have questions about CSW training and careers? Herzing College Winnipeg offers an 12-month CSW diploma program, which is available in both online and hybrid formats.
Click below to explore the Community Support Worker diploma in greater detail.
See a list of courses, find out where graduates get hired, and chat live with a friendly admissions advisor. We're here to help!