Updated November 2022
When most people think about graphic design jobs, they envision working in marketing or advertising, doing websites and logos and creating promotional materials for print or digital.
But there's a whole other world of graphic design out there in television and film. And we're not just talking about movie posters (although those can be incredibly cool works of art in their own right).
Take well-known graphic designer for film, Annie Atkins, for example. She was the lead graphic designer for The Grand Budapest Hotel and worked on everything from props and set pieces to the typeset of the hotel sign (and movie title) itself.
In an interview with Creative Bloq, Atkins is quick to point out that in film and television, graphic design extends to even the most minute details—like the newspaper an actor reads during a scene and the packaging on merchandise in a store display—all of which must match the genre and historical period in which the story is set.
It's all about creating a believable, authentic world. Design is an absolutely essential part of that storytelling process.
Think you'd like to pursue a career as a graphic designer for film and television? Here are the kinds of projects you'd be working on, and a few tips from experts in the field.
The Role of Graphic Designers in Film/Television Production
Simply put, a graphic designer on a TV or film production is responsible for creating any graphic pieces outlined in the script. They also create promotional materials, like movie posters and digital content.
Quite often, graphic designers work on period pieces (set in the past), where a lot of research is needed to replicate the exact style and presentation of things like building signage and newspapers.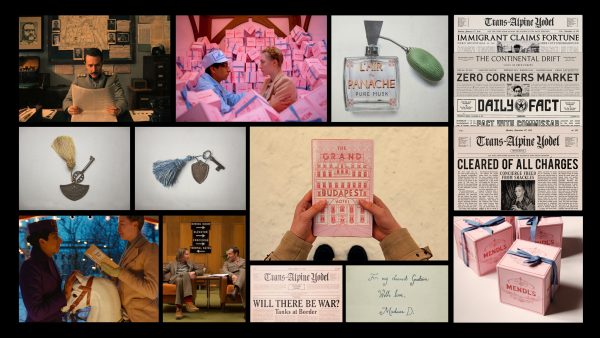 From product packaging to newspapers to background signs to personal notes: every element of graphic design must be carefully considered in TV and film
Designers also work on fictional, sci-fi, and futuristic projects, developing a unique look and feel for the production—and essentially, doing their part to create a whole new world in which the story can unfold.
This is what it's all about: moving the plot forward, and creating a compelling atmosphere through expertly designed visual elements.
Annie Atkins has done graphic design work for a wide range of TV and film, including The Boxtrolls, Vikings, Titanic: Blood and Steel, Bridge of Spies, and a historical mini-series called 1916. (See a full list of her work on IMDb)
She's won awards for several of these projects, including two for The Grand Budapest Hotel (Excellence in Production Design Award and an HFCS Award for best poster design).
Atkins does the kind of finely detailed, high-quality design work you'll need to get good at to build a graphic design career in TV and film. A lot of the work is done entirely by hand.
She's an expert in producing things like historically accurate passports, maps, postage stamps, telegrams, and banknotes. She studies historical periods and tracks down every detail to ensure the designs she creates are as real as possible—both for the audience and for the actors on set, who use these prop pieces to get into character.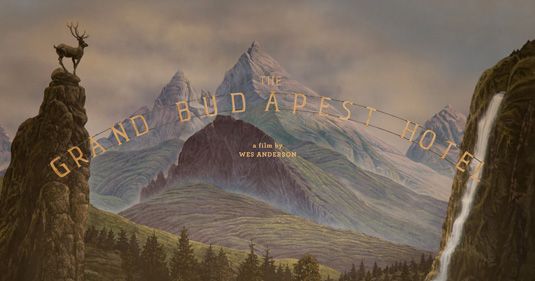 Annie Atkins created the title design for The Grand Budapest Hotel, complete with historically correct typesetting inaccuracies
Who will you work with as a graphic designer for TV/Film?
Just starting out, you would work under a lead graphic designer (like Atkins) as part of an art department.
The art department for a big budget film can be enormous and include all kinds of specialists, from plasterers and drafters to scenic artists and model-makers.
It's possible to work remotely (from home or on the road), but as a junior, you'll probably be required to stay on set.
You'll need to collaborate closely with the prop master, production designer, and set decorator, and be ready to take measurements, look at materials, and take notes.
Breaking into TV & Film After Graphic Design School
Quality graphic design training is the obvious first step here, where you'll learn the technical, computer, and creative design skills needed to break into the business.
You'll also need a strong portfolio of work to show an art department director when applying for graphic design jobs in TV and film.
Students begin developing their portfolios during training, but in order to land your first job, you'll need to add projects that reflect the kind of work you'd be doing on set.
Click here to see a beautiful gallery of Atkins' projects for film and television
Atkins recommends looking for internships to gain this experience and put together a body of film/TV-related work. This credibility will help you climb higher, and land roles with more responsibility and potential for growth.
Like in most fields, recent grads usually have to start at the bottom and work their way up to lead graphic design roles in film and television.
What's Atkins' advice for aspiring designers?
"Study graphic design, work like a dog, get some technical design experience, then come in to the film industry knowing your trade."
Learn More About Graphic Design Training
Solid training is the first step to starting a successful career in any field. But that doesn't always mean going the traditional route and completing a university degree.
If you're looking for a shorter, more affordable option, consider a graphic design certificate program. Most colleges offer programs you can finish in just one year (or less). The focus is less on design theory and philosophy and more on doing actual design using the latest software and creative tools.
Note: It's always advantageous to choose a program that includes an internship. If you're new to the industry, you'll need real work experience to build your confidence and get experience for your resume.
If you're not sure which path to take, we strongly recommend talking with an admissions advisor. They will discuss your strengths, career goals, and needs as a student, and figure out if a shorter graphic design program is right for you.
Click below to explore the 10-month graphic design certificate offered at Herzing College Toronto.