There are a lot of different Interior Design programs out there, from DECs to AECs to university degrees.
Longer programs tend to delve deeper into the theory, philosophy, and history of interior design, while shorter programs focus more on practical design skills.
The interior design students we work with at Herzing are an incredibly diverse group, coming from different backgrounds and all ages. Some are recent high school graduates, others are working parents, and quite a few are international students.
What they all have in common in this: a desire to learn hands-on interior design skills that will lead to an entry-level design job straight after college. They prefer to skip over theory and get straight to designing.
This is exactly what Herzing's program is all about. We prepare students to hit the ground running in junior roles at architecture firms and design companies, where they'll learn the ropes, gain experience, and qualify for advancement.
As any good professional designer will tell you, in the real world of design, it's not about whether you have a university degree or college diploma. If your designs are great, you will be successful. The first step is getting your foot in the door with a skillset employers want.
Think you'd make an amazing interior designer and want to know more about college-level diploma programs? Here's what it's like to take interior design training at Herzing College Montreal.
It's all about doing hands-on design projects
Our interior design students dive right into designing at the beginning of the program. From day one, they're learning how to sketch ideas and use design software to bring concepts to life. Recent graduate Sergkei Theocaris told us this was his favourite feature of the program.
"Everything we learned was highly relevant to working as an interior designer. There wasn't too much reading. It was more about hands-on training and doing real designs, which was perfect for me."
What kinds of design projects will you be doing? Students start small and work their way up to major design challenges--like creating a complete commercial design concept from scratch. Examples of projects include:
☑️ Hand-sketching design features and learning how to import them into Photoshop for digital editing
☑️ Experimenting with colour theory and learning the best ways to use colour in interior design
☑️ Space planning exercises, where students learn how to divide interiors into functional zones
☑️ Designing furniture and selecting accessories for interior decoration challenges
☑️ Special projects in designing kitchens and bathrooms
☑️ Creating a lighting plan for an interior design, including designing your own light fixture
☑️ Developing your own residential design, including floor plan, elevations, colour scheme, lighting, furniture, fabrics, and accessories (complete with a 3D model and walk-through)
☑️ Developing your own commercial interior design (for a hotel, spa, restaurant, retail store, etc.)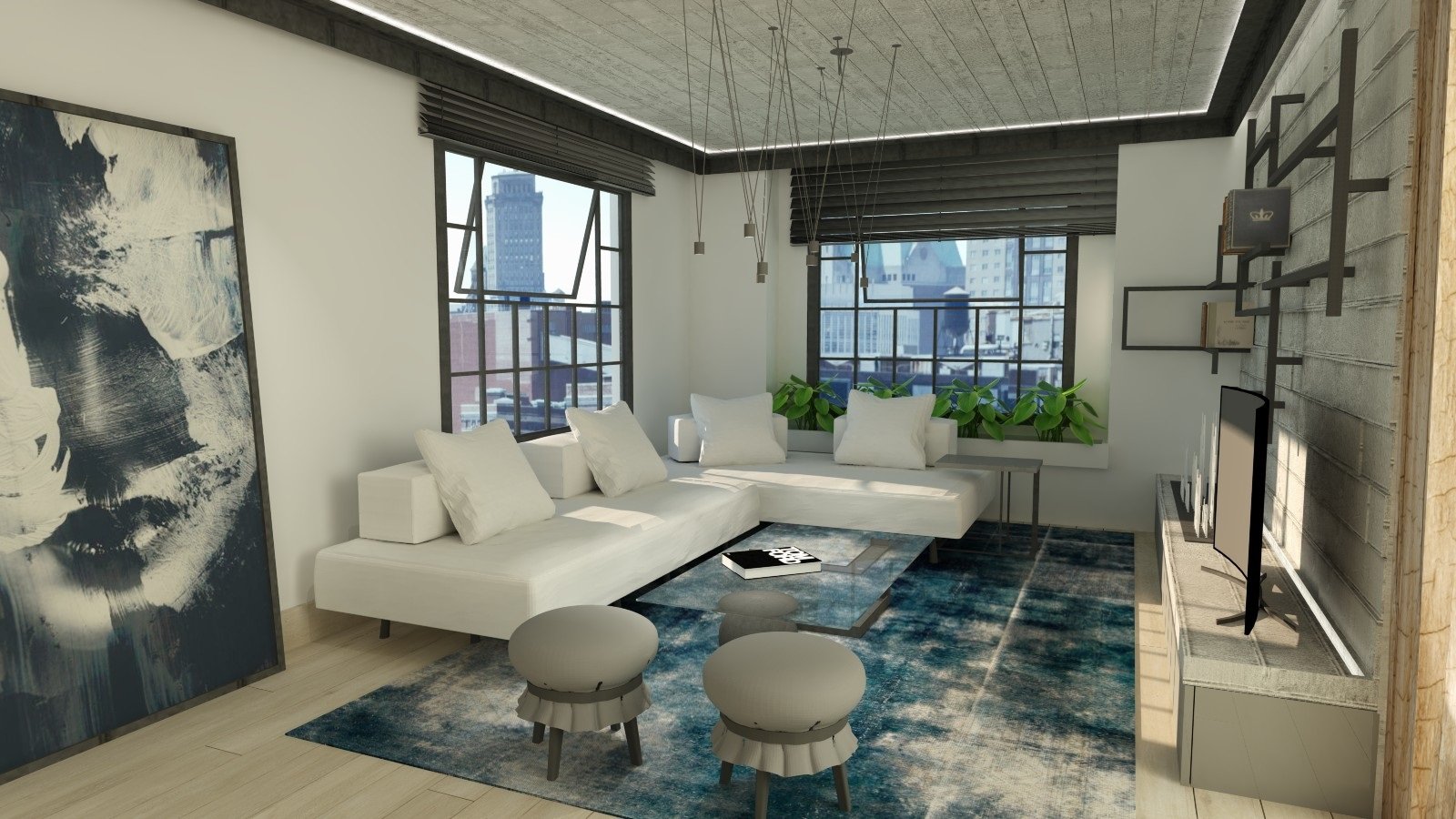 Herzing College residential interior design project by Sergkei Theocaris
Learning the Interior Design Skills Employers Want
We asked our interior design instructor, Matthew Salmaso, about the most important technical skills he teaches in class. We wanted to know which design skills are most important for landing that first job after graduation.
He told us it's a mix of space planning, building codes, and design software:
"In terms of getting hired, the most important skills our students learn are space planning, learning how to read an architectural document, understanding the National Building Code, and using software to create and present a design from scratch."
Software is key. Designers don't do much hand-sketching anymore. They use AutoCAD to create and present floor plans and design details to clients. You need experience with AutoCAD and 3D application software (like Sketchup) to deliver professional designs and be considered for jobs.
Sergkei told us the software knowledge he gained at Herzing was instrumental in landing his first job after graduation.
"To be successful as an interior designer, you need to know the software inside and out. You need to know many tools, and be able to combine and integrate them—this is key."
This is why we include so many hands-on projects in the Interior Design program. It's the best way for students to get comfortable with the software, learn all the features, and start building a real portfolio of design work to show employers.
Interior designers use special software to create floor plans and communicate design details to clients and builders.
Most Fun versus Most challenging part of the program
Every training program has its ups and downs. You'll struggle in some areas and breeze through others. Before starting training, most students want to know which topics are the toughest and which are the most fun.
We asked instructor Matthew about the most fun versus most challenging parts of Herzing's interior design program. He said while every student is different, he has definitely noticed some patterns over the years.
"The Architectural Drawing course is definitely a challenge for most students. They have to produce very fine architectural and construction details to scale, using design software and applying building codes. We do doors, windows, staircases, electrical legends, and more. It's very meticulous work, but these are essential skills for interior designers.

On the other hand, students really love the hands-on design projects, where it's all about creativity. We do kitchens, bathrooms, homes, commercial spaces...each student discovers their own style and it's really exciting."
The interior design internship
This is one of the most crucial parts of interior design training, where students go out into the field and get real work experience. At Herzing, the internship runs for eight weeks and takes place at a design firm or design department within a company.
Why is the internship so important? Because it's your opportunity to:
☑️ Apply what you've learned in class
☑️ Gain confidence in your design skills
☑️ Learn additional skills and software tools from experienced designers
☑️ Connect with an employer (some students get job offers from their internship)
☑️ Get experience for your resume
☑️ Create more work samples for your interior design portfolio
Sergkei actually got hired at the same company who hosted his internship. He now works full time at Primo International, designing commercial spaces and showrooms for products. He calls it his "dream job."
"In my role, I report directly to the president of the company, which is pretty cool! My desk is in the marketing department, where I'm always working with photographers and graphic designers, doing photo shoots and staging for marketing and advertising campaigns.

Primo International is growing fast, and trying a lot of new and interesting things. Working as a designer for Primo, I have the freedom to experiment and create something really original."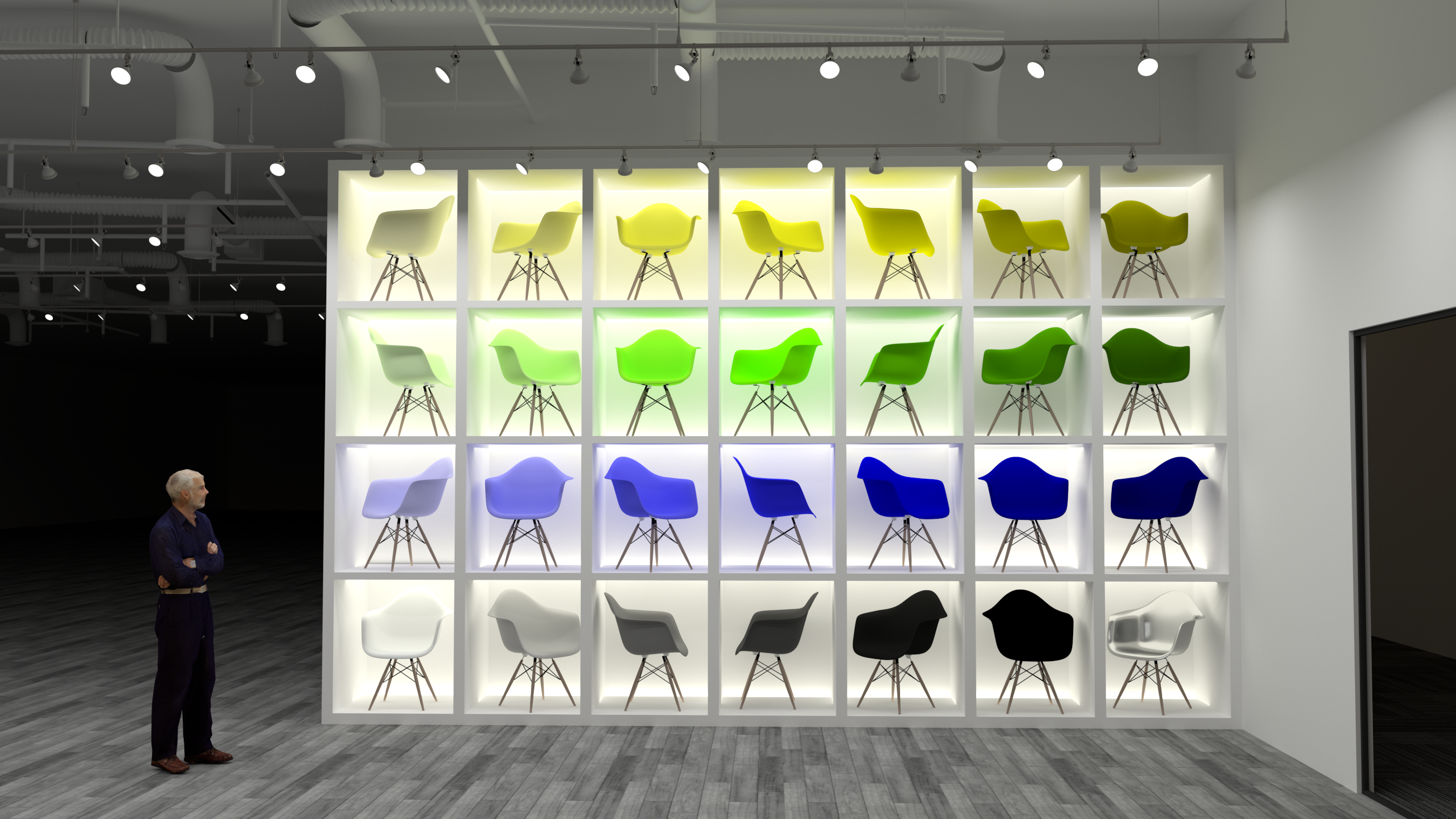 Product installation design Sergkei created for the Primo International showroom in Las Vegas
what we look for in interior design students
What raw talent and personal qualities do you need to succeed as an interior designer? What characteristics do we look for in applicants to this program? We asked instructor Matthew this question, and he told us it's all about balancing creativity with practicality.
For example, we want interior design students who have unique and wildly creative ideas. But they need to tailor those ideas to practical specifications, like their client's wishes, building codes, budget, and time constraints.
Interior designers have to work within guidelines. Here's how Matthew put it.
"We want students who are creative, people who really want to push their creativity to the max. You can't be a successful designer without passion and creativity. But you also need amazing time-management, really strong problem-solving skills, and incredible attention to detail.

It also helps to be a good communicator. You must be able to explain your design concepts, negotiate with clients, and work in a team with other designers. These are some of the raw skills we look for in applicants to the interior design program."
Ready to get started?
Excited to start interior design training and want to learn more about Herzing's program? Your next step is to speak with an admissions advisor. An advisor will walk you through application requirements, tuition, financial aid, and how to apply.
Click below to visit the interior design program page, browse courses, and connect with admissions. You can request information by email or chat live with an advisor online. We're here to help!