Imagine leaving your home, and travelling across the globe to study in a foreign country, in a foreign language, and build a career from scratch? With no family or professional contacts to help you?
That's exactly what Herzing Interior Design graduate, Sergkei Theocharis, did last year. He travelled all the way to Montreal from Greece, with the dream of starting a design career here in Montreal.
Sergkei just graduated from Herzing last month, and has already landed a pretty amazing interior design job at Primo International.
We interviewed him to learn more about his story, his experience at Herzing, and what he's doing now.
Here are the highlights from that conversation.
Q:

Sergkei, can you tell us a bit about your background?
Sergkei: I'm 32 years old, and I came to Canada from Greece as an international student. I studied interior design before, about 10 years ago. I used to work as a freelance designer in Greece, and always loved the field of design. But back then, we were doing everything by hand.
So, I had gaps in my knowledge, especially AutoCAD software, other digital design tools, and building codes. I went to Herzing to update my skills and launch an interior design career here in Montreal.
As soon as I graduated, I got a work permit for 1.5 years. Luckily, my employer has already written a letter to vouch for me so I can apply for permanent residency. That will be my next step.
Q:

Why did you choose Herzing for interior design training?
Sergkei: I first discovered Herzing online, just by Googling interior design colleges. When I inquired, I found the admissions staff was super positive and helpful—and the process was very quick. With other schools, it was more difficult and confusing.
Also, Herzing's program was a good price, and conveniently located in downtown Montreal. Class hours were good, and worked well with my schedule. And tuition included health insurance, so that was great, too.
Q:

What were the most important design skills you learned in class?
Sergkei: Everything we learned was highly relevant to working as an interior designer. Even though I knew some of the skills already, all the software, theory, and even the vocabulary, was very important to learn.
The projects were also very interesting—for example, getting to design a hotel from scratch. I really liked that. And there wasn't too much reading. It was more about hands-on training and doing real designs, which was perfect for me.
A kitchen Sergkei designed for a Herzing interior design project
In the end, my instructor told me I scored the highest grades in the history of the program...so that tells you how inspiring I found the classes, and how motivated I was to work hard.
I would definitely recommend Herzing's Interior Design program. Even if you start knowing nothing, this program will prepare you for the real world of design.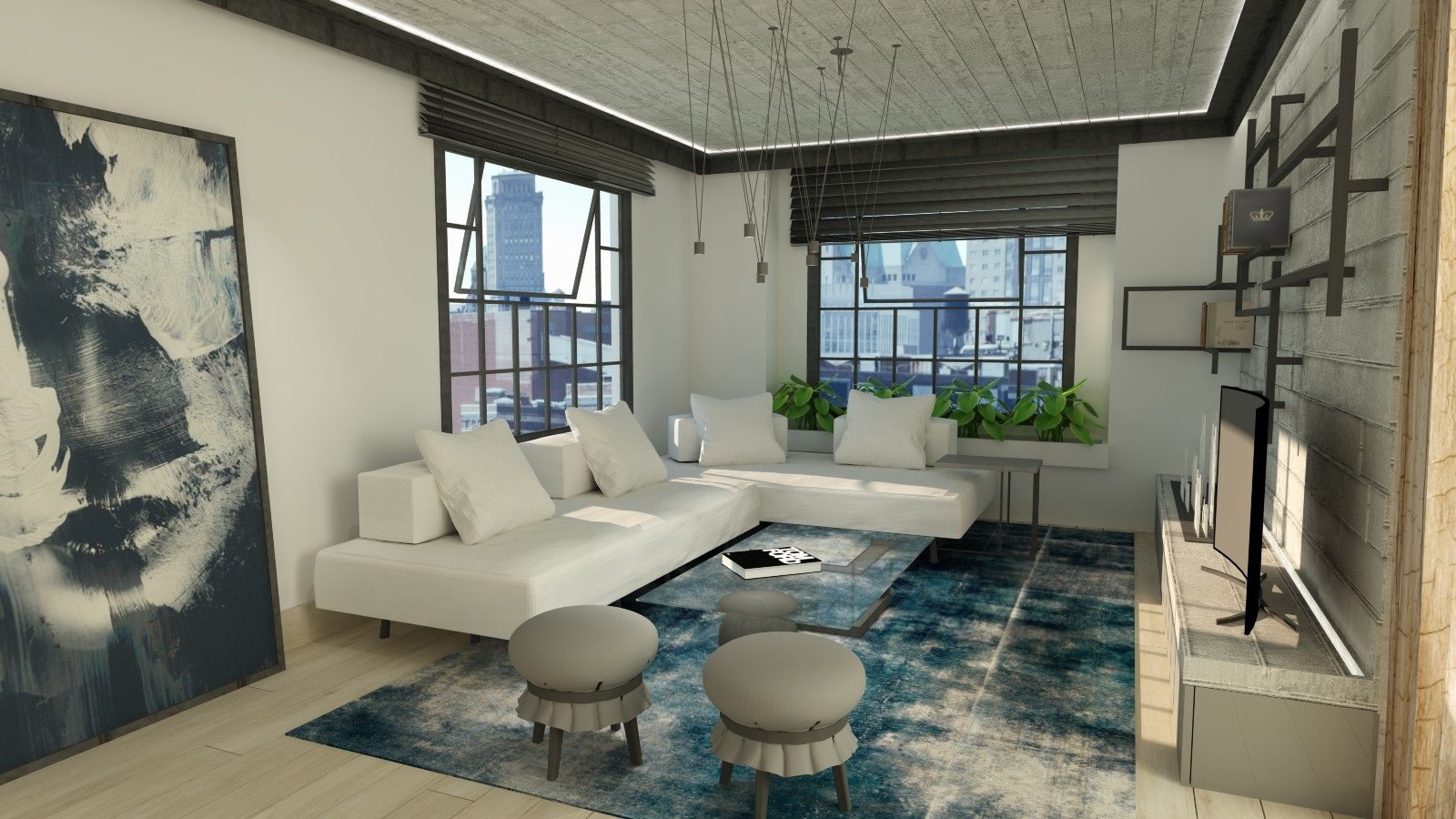 Another residential design project Sergkei completed in class at Herzing
Q:

Where did you do your interior design internship?
Sergkei: I did my internship at Primo International, a leading Canadian home furnishing company that serves clients across Canada and the United States.
I worked on a lot of different projects during my internship. I helped the marketing team, did renderings for catalogues—every day was something new. It was a really good experience.
A rendering Sergkei made for Primo's new furniture catalogue
Q:

So, where are you working now? What's your role?
Sergkei: I'm working for Primo! They hired me soon after I graduated from Herzing. The company sent me an email through LinkedIn, recruited me, and now I'm there full-time.
My official title is Designer/Merchandiser.
I design concepts for special projects, and have gone twice to the US to help stage products at showrooms there. When we stage the showrooms, we really transform the space into something unique and special.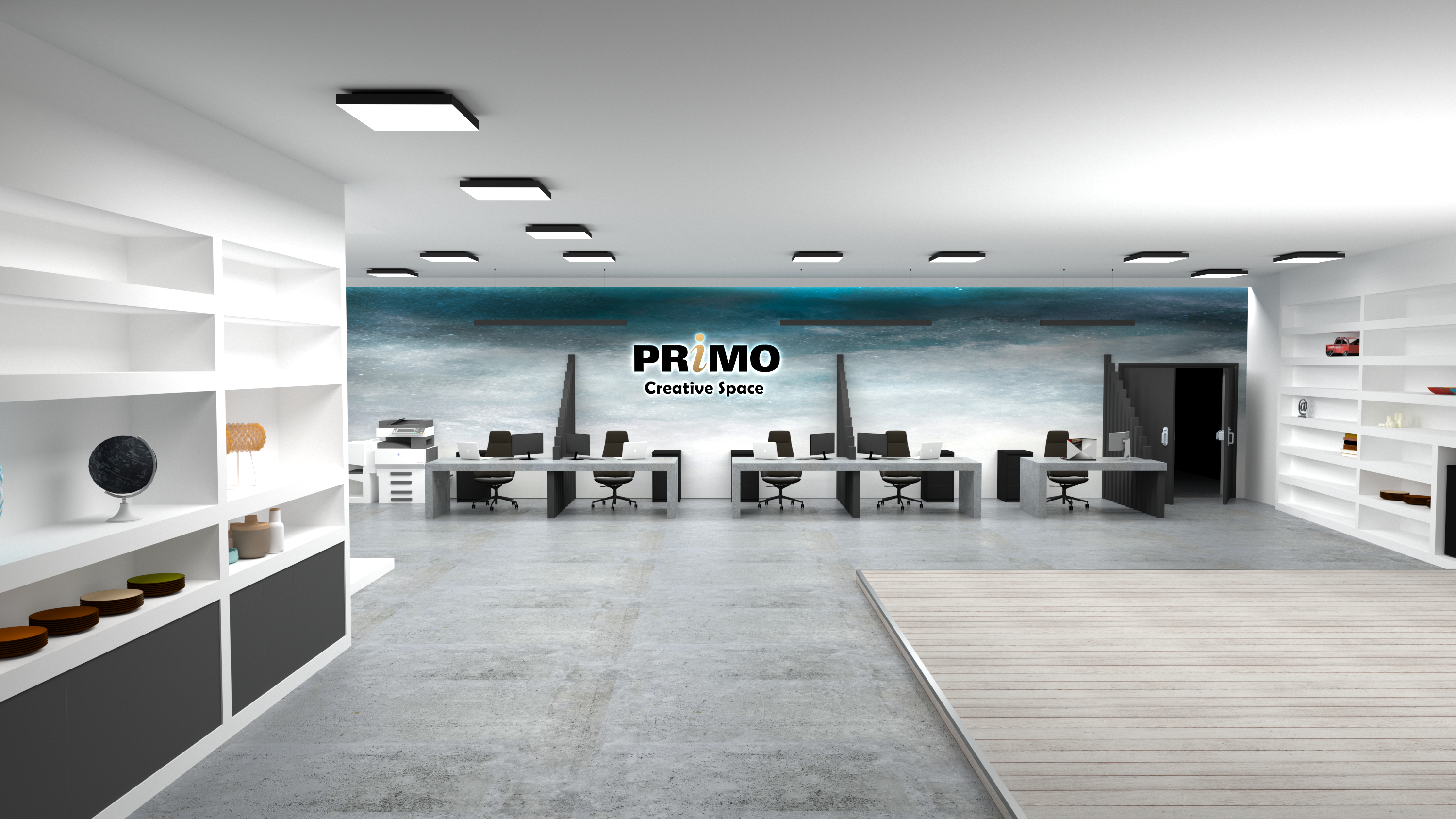 New studio designs Sergkei developed for Primo International
I'm also creating presentations and layouts of rooms for hotel developers who are interested in our products. We actually have an intern from Herzing who is helping with that—creating rooms in 3D, and learning additional software tools that we use in the industry.
In my role, I report directly to the president of the company, which is pretty cool! My desk is in the marketing department, where I'm always working with photographers and graphic designers, doing photo shoots and staging for marketing and advertising campaigns.
Primo International is growing fast, and trying a lot of new and interesting things. Working as a designer for Primo, I have the freedom to experiment and create something really original.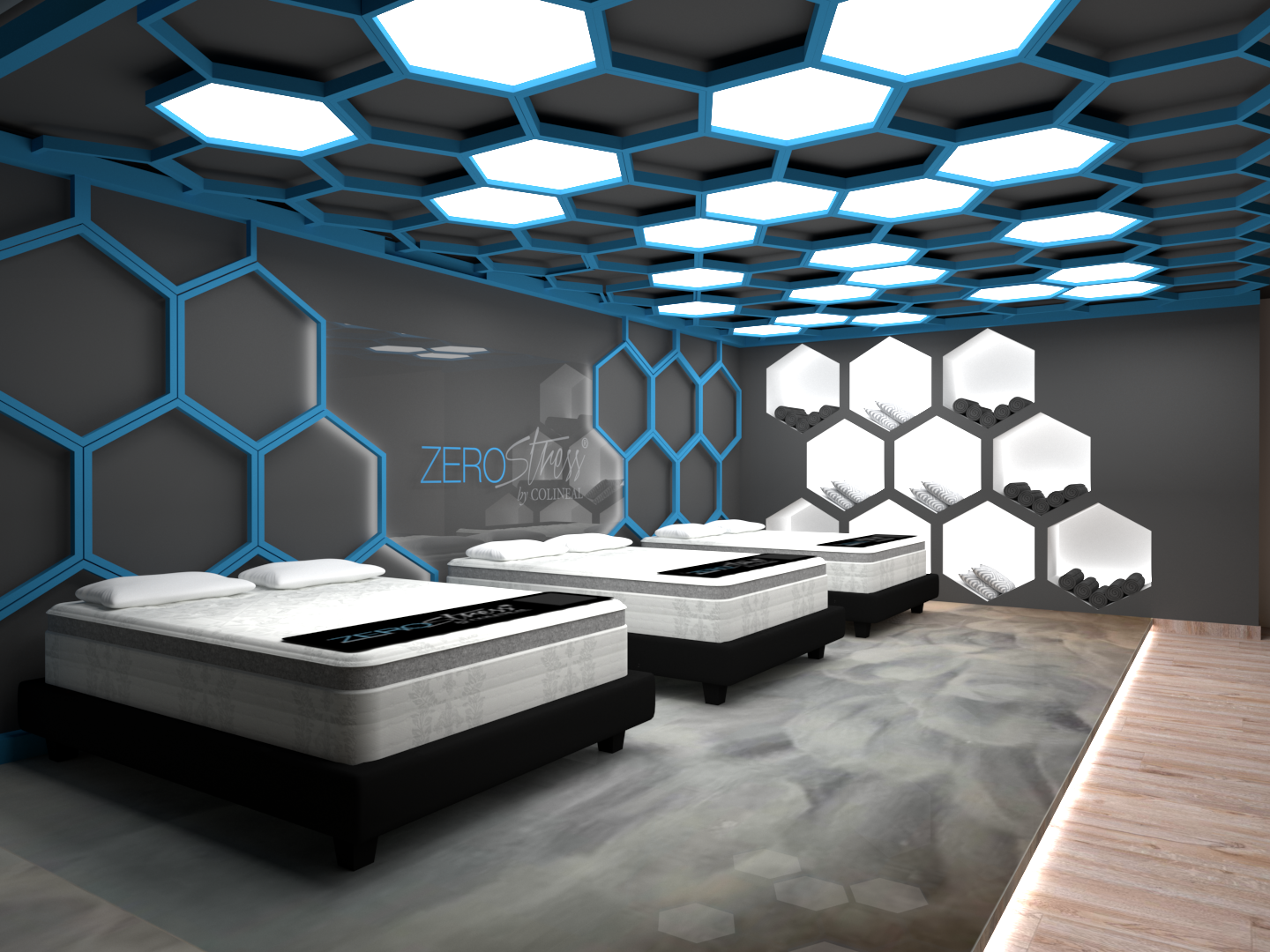 A display booth Sergkei designed for a mattress company
Q:

What are your future career plans in interior design?
Sergkei: In the future, I'd really like to do some freelance commercial design for bars and restaurants. I already have some experience with these projects, and would like to continue building my skills and experience.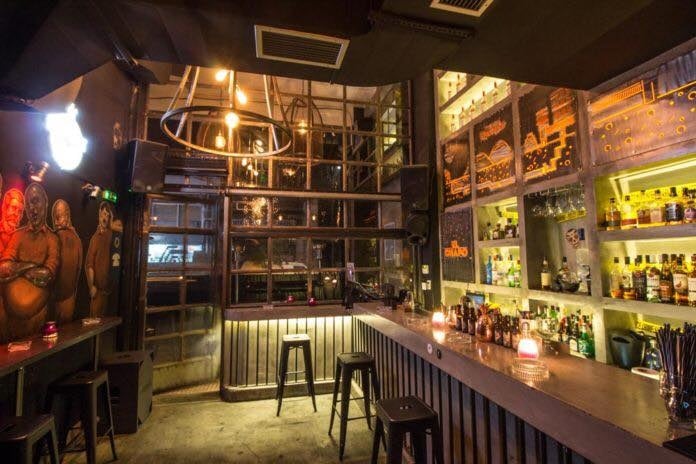 A theme bar called El Chapo, which Sergkei designed back home in Greece
Q:

What do you think are the most important keys to success in interior design?
Sergkei: Networking is crucial. You need to be connecting with people in the industry, attending events, and putting yourself out there.
Also, you need to know the software inside and out. You need to know many tools, and be able to combine and integrate them—this is key.
Communicating design ideas with confidence is also very important. Sometimes you need to push the client a little to see things in a different way, and be open to new possibilities.
Yes, you have to compromise at times, but you must believe in your designs, and have faith in your vision.
Once you've completed interior design training, you'll have all the skills needed to call yourself a professional designer. Believe in those skills, and just go for it.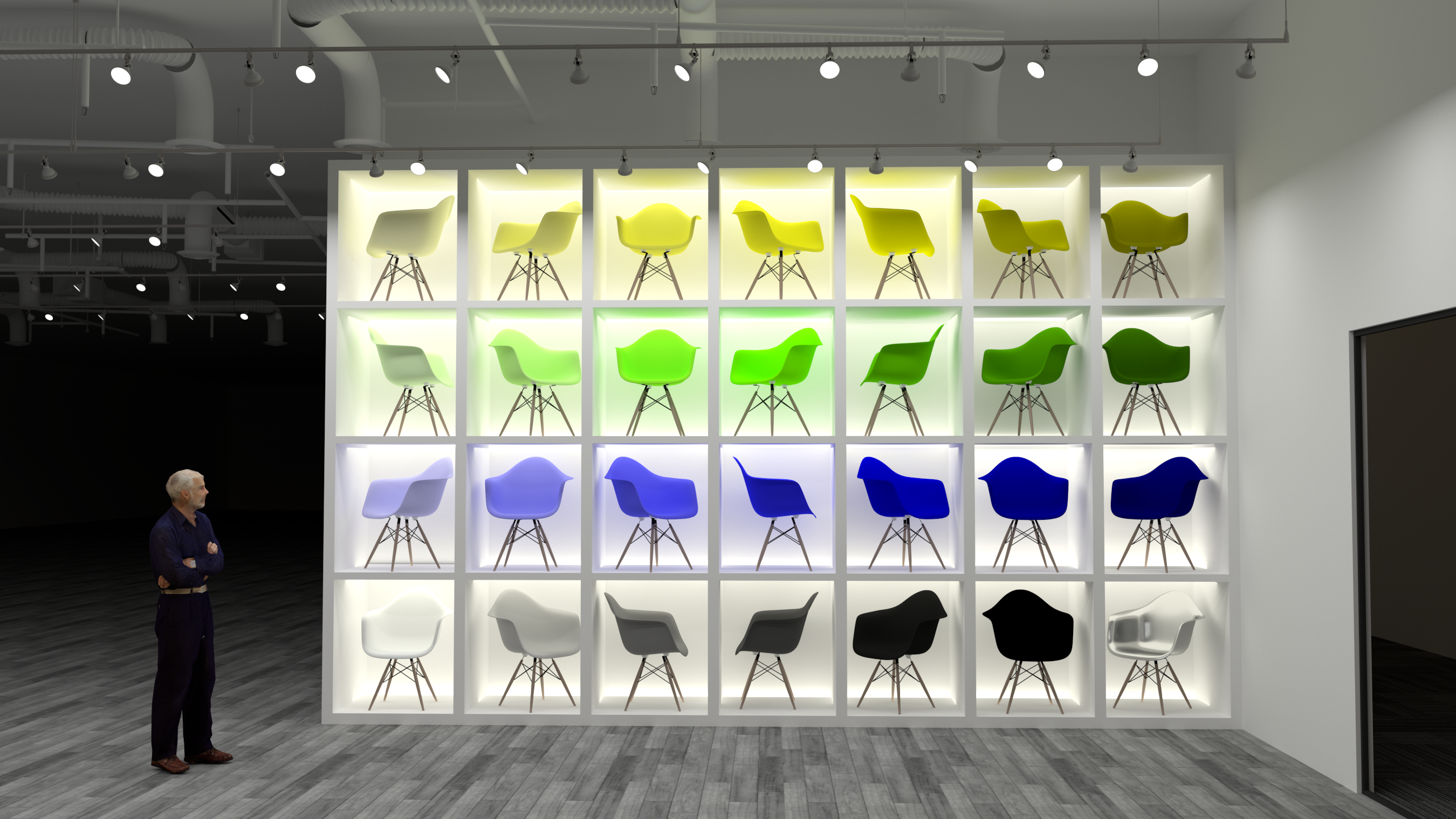 Chair rack solutions Sergkei designed for the Primo showroom in Las Vegas
A huge thank-you to Sergkei for chatting with us this week. We're so proud of your success, and wish you a very long and happy career in interior design.
Check out Sergkei's Instagram to see more of his amazing design work: @theo___design
Learn more about interior design training
Herzing College Montreal offers an 18-month Interior Design Program. The training includes an internship at a local design company, and offers a flexible class schedule.
Click below to explore the program and connect with an Admissions Advisor.
An Advisor can help you with application requirements, tuition, financial aid, booking a campus tour, and any questions you have about becoming an interior designer.