Updated October 2022
Medical office administrators (MOAs) fulfil a challenging and multifaceted role in today's clinics and hospitals. They work closely with doctors and nurses, help serve patients, and play a vital part in keeping the medical office running smoothly.
This career path is ideal for individuals who are both highly organized and deeply caring. Successful MOAs are naturally detail-oriented, have a strong sense of ethics, and most importantly, are motivated by a desire to make a positive difference in the lives of patients.
If you're considering a career in healthcare, and are drawn toward medical office administration, your best next move is to familiarize yourself with training concepts, and research demand for MOAs in your area.
This post outlines the core clinical and clerical skills taught in a medical office administrator program, offers tips for selecting a quality program, and provides the latest data on career outlook for MOAs in the Toronto area.
Coursework Covered in Medical Office Administrator Training
Effective medical office assistant training must cover quite a lot of ground in order to prepare students for the challenges of the clinic environment. Coursework ranges from clinical procedures to the latest medical software to psychology to physiology—and much more.
Students enrolled in an MOA program in Toronto can expect to learn theory and practical skills that include the following:
Basic computer skills: Fundamentals of Microsoft Word and keyboarding; spreadsheets, charts, graphics, and reports; PowerPoint presentations; and publishing tools
Medical office procedures: Reception duties; managing patient files; processing health insurance; monitoring and replenishing inventory; etc.
Human anatomy and physiology: An overview of body systems and components and how they function (musculoskeletal, lymphatic, nervous, cardiovascular, digestive, etc.)
Clinical software: Setting up and utilizing a clinical software package, such as ABEL MED, for appointment scheduling, OHIP billing, organizing files, and creating reports
Medical terminology: Introduction to clinical vocabulary, including the names, structures, and functions of diagnostic and treatment procedures
Patient psychology: How to recognize and effectively communicate with patients suffering from abnormal psychology and emotional disorders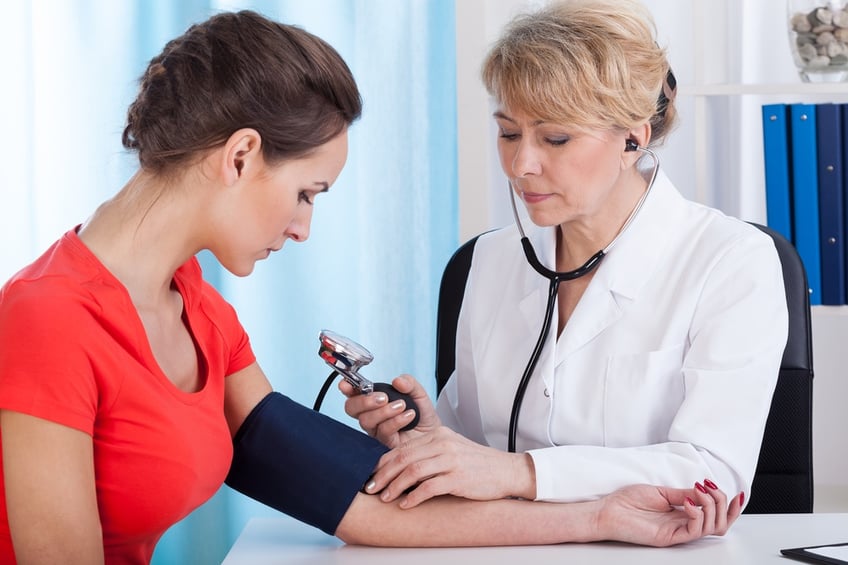 Medical office administrators typically carry out simple clinical procedures, such as taking blood pressure
Tips for Selecting a Quality Medical Office Administrator Program
Students in the Toronto area have numerous options available to them for MOA training. However, there are a few markers of quality students can look for in order to narrow down the most reputable and trustworthy programs. These are a few important questions to ask during the decision-making process:
1. Does the college have an established track record of success?
Students should investigate how long the college has been in operation, and scan the website and social media channels for positive student reviews and testimonials. Peer reviews and industry endorsements are an excellent way to gauge how well the institution treats its students and prepares them for successful careers after graduation.
2. Does the MOA program come with a guaranteed internship?
The medical office administrator program should definitely include an internship (or practicum). Real work experience is vital for applying newly acquired skills, building confidence, and making connections—and could even lead to a job offer. Look to the website for mention of an internship, and confirm the details with an admissions officer before enrolling.
3. How experienced is the instructor of the MOA program?
Students should be looking to learn from an MOA instructor with many years of experience, both in teaching and within the medical community. Ideally, the college should offer a web page that lists the credentials and professional expertise of its instructors.
Other factors students should consider include class size, campus facilities, and the overall friendliness/supportiveness of staff.
Career Outlook for MOAs in Toronto
The latest figures released by the Government of Canada Job Bank are quite positive for medical administrators in Toronto. This occupation received a 3/3 star rating for employment outlook, which means demand is expected to hold steady.
New jobs will be created by retiring professionals as well as an increased investment in health services and facilities throughout the GTA.
Research shows that across Ontario, the majority of MOAs work in the following settings:
Ambulatory care (such as a physician office, urgent care centre, or public health clinic): 59%
Hospitals: 32%
After graduating with a medical office administration diploma, students can expect to secure entry-level positions as clinical office assistants (including chiropractic and dental practices), medical office coordinators, physician assistants, clinical receptionists, etc.
Want to learn more about study options and career paths in medical office administration? Looking for a trustworthy medical office administrator program in Toronto?
Take a look at Herzing College's Medical Office Administrator program, delivered at our Toronto campus. Training takes just 10 months to complete, includes a five-week internship, and delivers a comprehensive curriculum.
Visit the program page for a complete list of courses, career information, instructor details—or to chat live with a knowledgeable advisor. We're here to help!