Are you instinctively drawn to a career that combines science, health care, and the opportunity to work directly with patients as an important member of a medical team? Do you also enjoy highly detailed work that requires organization and accuracy?
Becoming a medical laboratory assistant could be the right fit for you. This career is ideal for people who want a challenging job in health care without spending years at university.
But before you enrol in a program, we recommend exploring exactly what a medical lab assistant does on the job. It's also important to look at the pros and cons of this career, so you have a clear picture of what to expect.
In this post, we'll walk you through the lab assistant job description, including typical challenges and what to expect in training. Let's get started.
What Medical Lab Assistants Do & Where They Work
Medical lab assistants collect, prepare, and test specimens from patients. Let's break down this process a little further. Lab assistants may receive samples from other clinicians (like nurses and doctors), or obtain the specimen directly from the patient (by drawing blood, for example).
Lab assistants carefully label each specimen, check the information on accompanying documents, and enter relevant data into a computer system.
They may perform pre-analytical procedures on the specimens, such as preparing slides of blood or other fluids under a microscope.
Lab assistants are responsible for setting up, operating, and maintaining equipment, and may be called upon to ensure the laboratory is properly stocked with materials.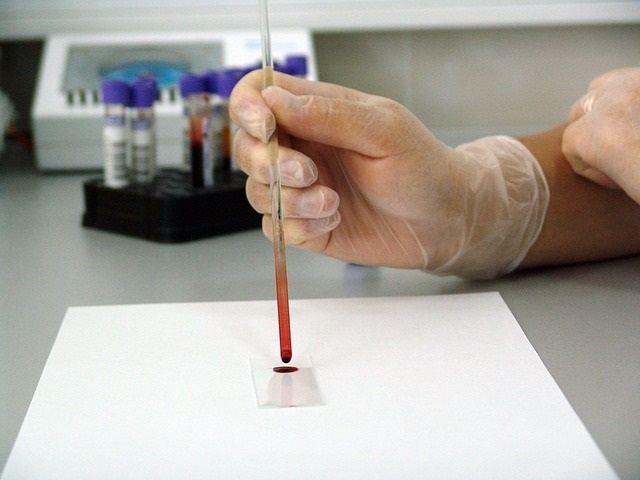 A medical lab assistant prepares a slide of blood for examination
Depending on their particular work environment, medical lab assistants may also make chemical solutions and stocks of culture media and plant specimens to culture bacteria.
Lab assistants are expected to follow strict lab procedures and safety protocols (such as when handling hazardous materials) and show care and compassion when working directly with patients.
Graduates of lab assistant program are qualified to work in various healthcare settings, including:
Hospitals

Community clinics

Research labs

Biotech companies

Private laboratories
Common Challenges Reported by Lab Assistants
Like every career, medical lab work comes with ups and downs. These are some of the most common challenges reported by real lab assistants.
Repetition
Because of the nature of their work, medical lab assistants may find themselves performing the same, or very similar, set of tasks each day.
Routine, repetition, and procedure are fundamental to the job. However, it's important to know that many labs do rotate assistants through different departments of the lab, which helps keep things interesting.
Long periods of standing or sitting
It's important to know that working as a lab assistant generally means remaining quite stationary throughout the day (standing or sitting at a workstation for long periods).
You'll need to get regular exercise during your off hours to ensure you stay fit.
Fast-paced environment
While pace varies depending on the lab, many assistants report needing to work quickly and stay focused while under pressure. It's important for lab assistants to remain calm and follow every procedure while moving efficiently and swiftly.
Shift work
Some lab assistants (depending on the lab) are required to work in shifts. This can take some getting used to for newcomers to the field, who are more accustomed to the conventional nine-to-five workday.
The biggest benefit?
Medical lab assistants know that the work they do is incredibly important. They understand that behind every specimen is a real patient. Every procedure matters. Every day, they're playing a role in treating illness, finding cures, and saving lives.
medical lab assistant training
One of the huge advantages of becoming a medical lab assistant is the short training program. Most programs can be completed in under six months. At Herzing College, our Medical Laboratory Assistant program takes just four months to complete, including a six-week internship.
This is one of the shortest healthcare training programs available today. You will learn hands-on, practical laboratory procedures, and study topics like:
☑️ Anatomy and physiology
☑️ Communication skills
☑️ Laboratory safety
☑️ Specimen collection
☑️ Preparing specimens for storing and transportation
☑️ How to analyze specimens
The internship part of your training will give you real work experience in a medical laboratory. This is your chance to apply what you've learned in class, gain new skills, and get experience for your resume. Sometimes, students even get job offers from their internship.
By the end of your program, you will be prepared to write the medical lab assistant certification exam from the Canadian Society for Medical Laboratory Science. This is your final step to become a qualified medical lab assistant.
Ready to get started?
Chat live with an admissions advisor to get information on the program. Or click below to browse training and learn more. We're here to help!